More and more Taiwanese restaurants and dessert houses have popped up in Penang recently with the latest being the Formosa Restaurant (臺灣風味館) which opened two weeks ago at Penang's first smart office – The C.E.O, Penang. The restaurant is the 7th branch in Malaysia with the other 6 branches based in the central. Some of the best Taiwanese delicacies with some homemade touches would be served here daily. I went over to the restaurant recently and tried out some of their signature dishes. Basically, the menu was simple and consisted of 4 categories – noodles, rice, appetizers and beverages.
We started off with their signature noodles – Dry Noodles with Bean Sauce (炸醬乾麵 – RM7.90+). The dish has quite a generous amount of nice al dente textured ramen topped with bean sprouts, sliced cucumber and carrot with some sinfully delicious braised pork belly in bean sauce. It had a mild saltiness as there were loads of vegetables in it. Although flavorful with nice bites, the kitchen should take note of the surplus oil at the base. It has chopped spring onion and fried shallots as garnishes.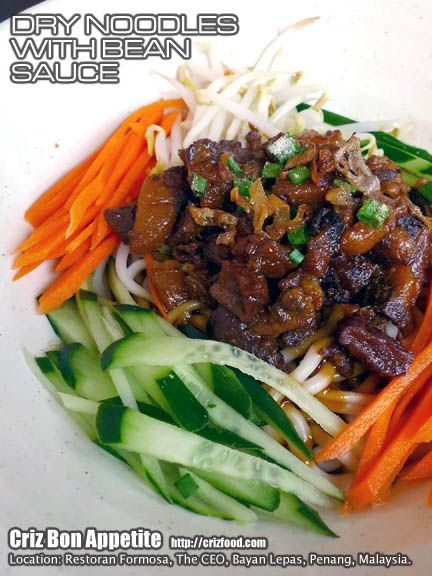 There was also the spicy version of the dry noodles – Spicy Dry Noodles (麻辣乾麵 – RM9.90+). The noodles basically was stirred in some spicy chili in oil and garnished with some Chinese cabbage, wood ear fungus, boiled deep fried pork skin, squids and fried shallots. Well, this dish was not in my favorite list as there was only the spiciness in the noodles and nothing else. They should have followed how I Mum Mum Pan Mee handled their cooked noodles by tossing in some dark soy and soy sauce for that extra flavors on each strand of the noodles. There were also too much water taste in the soggy pork skin and the squids were tasteless. Seriously, there should be some soy sauce, pepper and chili oil available on each table for us to tweak the taste to our liking. Maybe I'm an extreme spicy eater as I found the level of spiciness was too low for me.
I also tried out their Beef Noodles (牛肉麵 – RM10.90+) since I'm also a fan the Taiwanese style of recipe. Since this is a franchised restaurant, there was nothing much that can be done to pep up the flavors further. The ramen noodles were perfect as it should be but the soup base was a bit too mild for me. It lacked the thick flavor that it should have from the herbs and spices used. It practically tasted more towards the soup for tempura dip rather than for a beef soup. There were hints of star anise, soy sauce and some brown sugar without flavors from some dried orange peels, garlic, scallions, ginger and rice wine. The beef slices also lacked the beefy taste as all the flavors had gone into the soup. The kitchen should time the cooking time of the beef better in the future to maintain its flavors. The noodles were served with beef slices, Chinese cabbage, chopped spring onions, pickled mustard greens and some mala chili sauce. The only garnishing missing was the chopped cilantro which would also add in some extra flavors. This dish would be suitable for those who prefer a lighter soup base.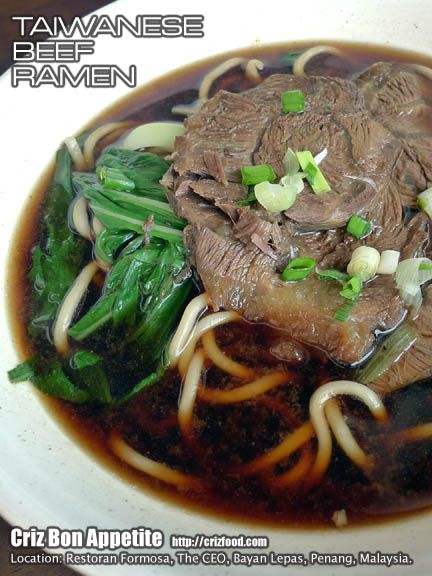 The next dish which was the Braised Pork Rice (滷肉飯 – RM5.90+) was a hit amongst the diners. It may look simple with just the braised pork plus pickled mustard greens on some steamed rice, but each bite was filled with awesome melting moments from the flavorful pork belly cuts. This is a must have dish for those who would not mind some fatty meat occasionally.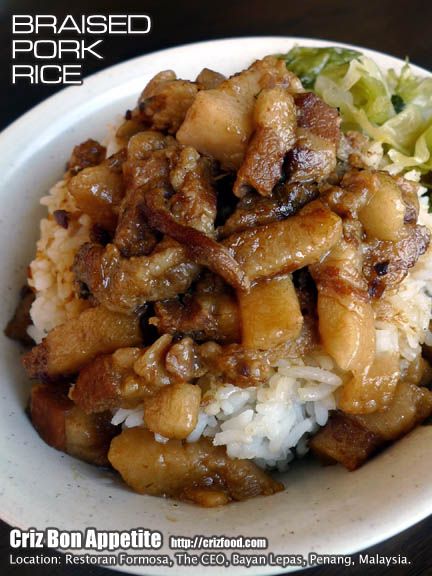 We also tried out their signature Deep Fried Pork Chop Rice (排骨飯 – RM 10.90+). The dish came with a plate of deep fried pork chop, sprinkled with some seasonings and paprika, a bowl of soup and a plate of steamed rice with four side dishes, namely deep fried eggplant, stir fry cabbage, stir fry celery with carrots and tomato omelette. It was a fulfilling set meal at an affordable price.
There were also some delicious appetizers available here such as their signature homemade Taiwan Sausage (自製臺灣香腸 – RM6.90+). This plump looking sausage is a killer. Not only were the thinly sliced sausage pieces sweet and flavorful, they were juicy for each bite. The dish would go well with some sliced raw garlic. It would be best if the garlic were to be sliced thinner (7-8 slices instead of the current 2 cuts) for a more delicate presentation.
The was also the Stewed Pork Steamed Sandwich (割包 – RM4.90+/pc). The delicacy had a piece of specially seasoned steamed pork belly slice sandwiched in between a flat steamed bun, together with some chopped cilantro, pickled mustard greens and some pounded roasted peanuts. The pork belly was actually stewed in a recipe almost similar to the Nyonya Hong Bak (Stewed Pork Belly in Fermented Bean Sauce). The concoction was nice but it lacked a bit of thick sauce on the meat for a more moist bite. It would be better if the meat were to be stewed with red fermented bean curd (tao joo/nam joo/南乳) rather than fermented beans paste (tao cheong/豆醬) for more flavors.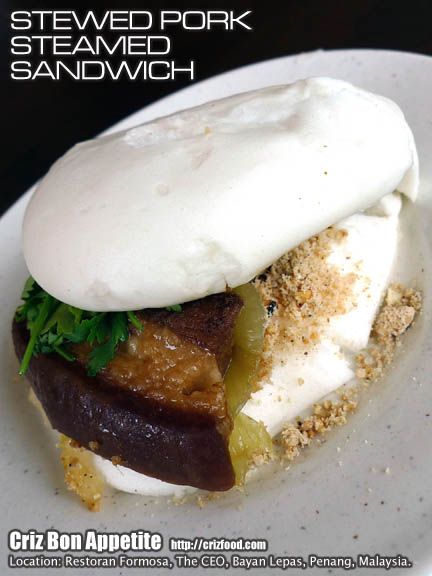 Another light and refreshing appetizer would be their Century Egg with Tofu (柴魚皮蛋豆腐 – RM5.90+). It had a small block of chilled tofu and four quarters of a century egg, dressed with their homemade sauce and topped with a generous amount of katsuobushi shavings (bonito flakes). The sauce tasted like a concentrated version of the tentsuyu sauce with some hints of dashi, mirin and shoyu. There was a mild taste of kelp (large seaweed), most probably from the dashi sauce which has an extract from the boiling of kelps and bonito flakes. There were requests from diner for additional bonito flakes on the dish but I felt that the abundant cuttlefish taste like flakes overpowered the natural taste of the whole dish. Personally, I would rather go for the delicious Japanese style Agedashi Tofu which would be served in a hot tentsuyu broth.
Other than the Deep Fried Pork Chop, they also have the Shi-Lin Chicken Chop (士林大雞排 – RM7.90+). I love how they prepared this dish as the coated batter was just right, not too thick and not too thin. Combined with the seasoning and paprika, it was heaven! I prefer this chicken chop more than the pork chop as it was more tender and juicy than the former. It was more delicious than Uncle Bob's for sure. Beware when you bite it as it may contain some tiny bones which are quite common in Taiwanese chicken snacks.
For a boneless version, there was the Taiwan Salted Chicken (臺灣咸酥雞 – RM6.90+) that got me munching endlessly. Talk about juiciness and flavors and this dish had it all. Although the coating was similar as the Shi-Lin Chicken Chop, I prefer these cubed chicken pieces more. You can forget about other Pop Pop Chicken as I would call them, this dish rules! It's a dish not to miss~ 🙂
Do you fancy glutinous rice? If you do, you can try out their Rice Burger with Sausage (大腸包小腸 – RM9.50+). It had a sausage bun like deep fried glutinous rice mixed with peanuts, stuffed with fresh cucumber and pickled mustard green, topped with the delicious Taiwanese sausage. The dish had a special thick soy sauce (豆油醬) dressed on it. The slightly crisp glutinous rice blended in real well with the vegetables and the sausages, except it was a bit salty due to the dressing. It would be best if the dressing were to be served separately for diners to adjust to their level of saltiness. This dish is best taken when served hot or it would be a bit chewy when cold.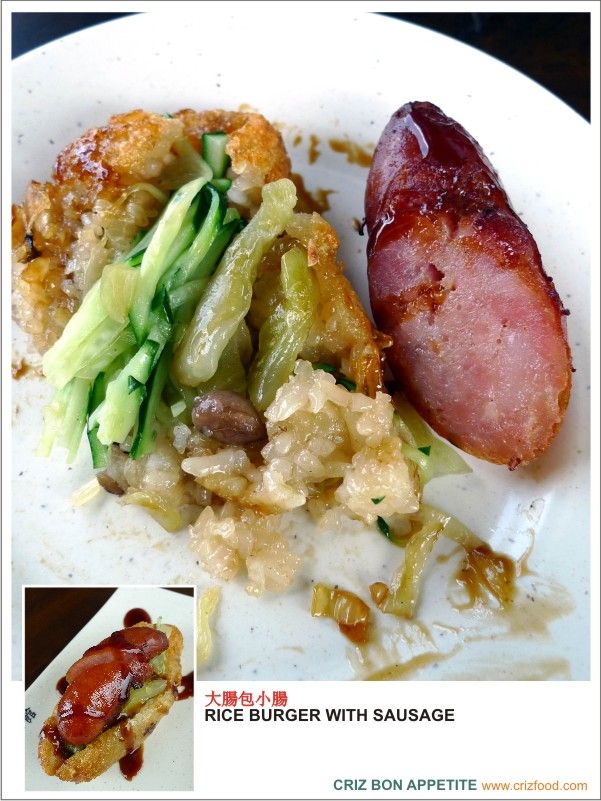 If you are a fresh oyster lover, the next dish which was the Oyster Mee Sua (蚵仔麵線 – RM6.90+), better known as Oh Ah Misua in Taiwan, might suit you well. The dish had Taiwan imported tan-brown salted wheat grass noodles (misua/mee sua/mee suah) served in a starched broth with some mildly blanched fresh oyster in boiling water with some dashes of pepper, sesame oil and shallot oil. This dish would be best taken hot when served. Although the dish was slightly cold after my photography session, I found the soup base lacked in thick broth flavors. Somehow, it did not have the flavors as I would get in a bowl of rich sharksfin soup with high quality broth (上湯). The usage of some shaoxing wine plus some deep fried shallots/garlic in oil might pep up the taste better. I also found this dish to have too much soup than mee sua. Moreover, they did not serve this dish with some black vinegar.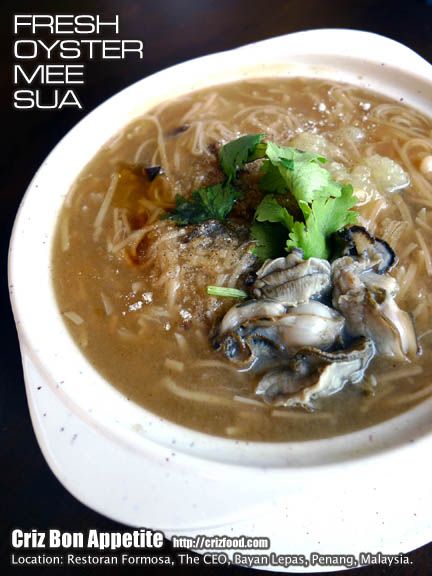 As for beverages, there are tea, milk tea and others which you could add on either magic crystal, coffee jelly or pearl at an additional RM1.00 per cup. Obviously, you can see clearly from the photos below that my favorite was the Lavender Milk Tea (RM4.50+). The milk tea had just the right sweetness to my liking with a fragrant lavender flavor coming from the added lavender seeds. This refreshing drink would be great for sleep and relaxation. The next drink that I quite like was the Taro Milk Tea (RM4.50+). The creaminess and sweetness for this beverage was just right for me too. The honey used in this restaurant was rather unique. It had a flowery chrysanthemum after taste in it. The lemon juice too had that sourness unlike the usual ones as I can taste that there were some Calamansi (Calamondin/Limau Kasturi) juice added in. Thus, you should not miss out their beverages such as the Honey Lemon Jasmine Green Tea (RM4.50+) or even the Honey Lemon Juice (RM3.50+). I also tried out the Honey Black Tea with Coffee Jelly (RM3.90+ plus RM1.00+ for add on). It was a perfect combination with a distinctive coffee flavor coming from the al dente jelly cubes.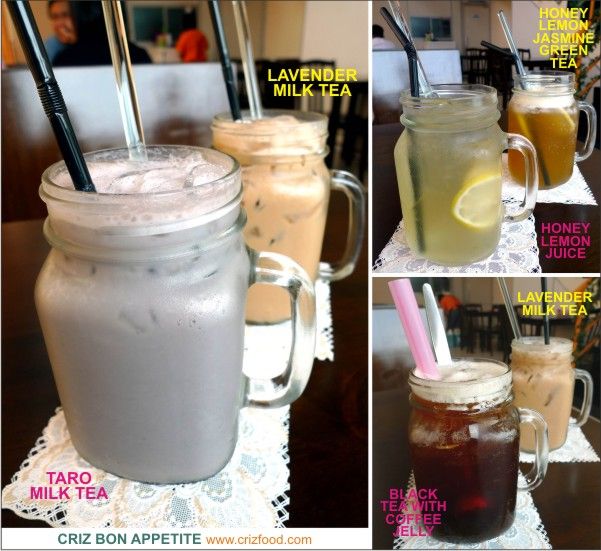 Overall, the items served here can be considered real reasonable in price compared to those within malls, considering that only a 5% service fee would be charged. Taste wise, some of the dishes can be real delicious while others were quite common. As a franchised restaurant, it has the necessary standards to please any diner. This restaurant would be a great venue to hang out with family, friends and colleagues over some nice Taiwanese cuisine.
Formosa Restaurant is located just opposite Kayu Nasi Kandar at the ground floor of Penang's first smart office, The CEO. If you are driving up towards Bukit Jambul via Jalan Yeap Chor Ee/Jalan Bukit Gambier, just take note of the USM traffic lights. Immediately after the traffic lights, take note of the 4th traffic lights (1st traffic lights to Taman Perkaka/USM, 2nd traffic lights to Bukit Jambul/Equatorial Hotel, 3rd traffic lights to Taman Lip Sin/Super Tanker Food Court, 4th traffic lights to Kayu Nasi Kandar/The CEO – Penang's first smart office). At the 4th traffic lights (Jalan Bukit Gambier/Lebuh Nipah 5), turn left into Lebuh Nipah 5 and drive until the T-junction (Lebuh Nipah 5/Lebuh Nipah). Turn right into Lebuh Nipah and take the first right turning into Lebuh Nipah 7 (as stated in Google map but Kayu address is stated as Lebuh Nipah whereas the opposite CEO address is stated as Lebuh Nipah 5~ A bit of confusion here~ LOL!). You can see the double floors restaurant on your left. In case you cannot find parking spaces surrounding that area, you can park your car at the CEO multi-storey cark behind the restaurant.
Name: FORMOSA RESTAURANT @ THE CEO PENANG
Address: The CEO, 31-1-16 Lebuh Nipah 5, Sg. Nibong, 11950 Penang, Malaysia.
Contact: 604-611 1988, 012-286 9912 / 016-629 1632 (Mr. Brandon Ong)
Business Hours: 11.00am-10.00pm
GPS: 5.336566, 100.292797
BRANCHES:
Kuchai Lama (HQ):
No. 5, Jalan 10/116B, Kuchai Entrepreneur's Park, Off Jalan Kuchai Lama, 58200 Kuala Lumpur.
Tel: 603-7980 1888
Sunway Pyramid (New Wing):
Unit 167, Asian Avenue, 1st Floor, Bandar Sunway, 46150 Petaling Jaya, Selangor.
SS Two Mall:
No. 40, Jalan SS2/72 (PT21680), 47000 Petaling Jaya, Selangor.
Sungai Wang Plaza:
TC 037 & 038, Third Floor, Sungai Wang Plaza, Jalan Bukit Bintang, 50250 Kuala Lumpur.
Seri Kembangan:
KG03, Ground Floor, Mines 2, The Street Mall, Jalan Balakong,
Mines Resort City, 43300 Seri Kembangan, Selangor.
Setapak:
25, Jalan Prima Setapak 3, Off Jalan Genting Kelang, 53300 Kuala Lumpur.
RATING:
Ambience: 7/10 (1-4 cheap, 5-7 average, 8-10 classy)
Food Choices: 7.5/10 (1-4 limited, 5-7 average, 8-10 many choices)
Taste: 7.5/10 (1-4 tasteless, 5-7 average, 8-10 excellent)
Pricing: 7/10 (1-4 cheap, 5-7 average, 8-10 expensive)
Service: 8.5/10 (1-4 bad, 5-7 average, 8-10 excellent)