Finally, a group of us floggers managed to attend the first Penang flogger's wedding reception. Who could that be? It was none other than our beloved Steven Goh tying the knot with his beautiful wife, Kim Peng. The memorable event was held at The Forum Chinese Cuisine on 5 December 2009. Let us all wish the couple happy and prosperous days ahead with lots of bubbly "tiger" babies. Next year is the Year of the Metal Tiger in the Chinese Lunar Calendar and based on the Chinese Zodiac, such tigers are said to be lucky, lively and engaging with courageous attributes to protect his family against many evils. The Metal element gives the 2010 born tigers their sharpness in action and speed of thoughts, which would likely make them stand out in a crowd. With an inspiring assertiveness and competitive demeanor, they determine their goals and then do anything necessary to achieve them. Well Steven, you should know your 2010 planning now right? LOL!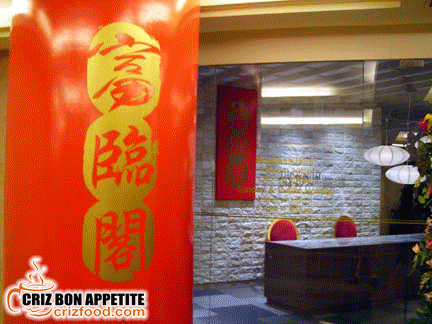 Anyway, let us go right into food now as when there are floggers around food would be the main news. Hehe! Although there was a minor hiccup by the management of the restaurant in the serving of the dishes, it did not spoil the moods of the occasion. We had Braised Shark's Fin Soup with Dried Scallops & Crab Meat served first. It was just a normal wedding banquet type of serving but what caught my attention was the usage of "glass noodle texture-like" shark's fin and surimi (crab sticks). I guessed many sharks and decapod crustaceans were spared in this eco-friendly dish. LOL!
Next was the Deluxe Hot & Cold Dish Combination which consisted of hot steaming crystal skin "money bag" dumplings, stir fried prawns with cashew nuts and bell peppers, Minced pork and waxed sausage rolls and minced pork cutlet in plum sauce which tasted somewhat like our local "bak kua" minus the red rose wine flavor and coloring. It was an interesting combination.
Braised Chicken with Chest Nuts wrapped in Aluminum Foil followed. Although the roasted chicken was a bit bland in taste due to over steaming, the tender meat went well with the stuffing of chest nuts, mushrooms, waxed sausages and carrots with some mild seasonings. The best part lied in the gravy where it had a rich and flavorful chicken essence.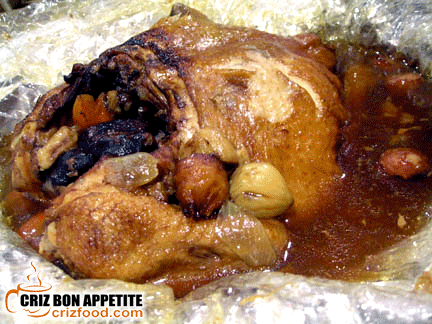 When it came to giving fresh and succulent large prawns, the restaurant had its best. The Deep Fried Prawns coated with Oats & Crispy Minced Egg was perfect. Some of us were caught savoring the delicious condiments instead.
We were then served with Stewed Assorted Mushroom with Broccoli in Oyster Sauce. Other than broccoli, straw mushrooms and Chinese mushrooms, there were another thinly sliced abalone-like texture ingredient. We were not too sure what that was but to me it tasted more like an edible sea snail meat.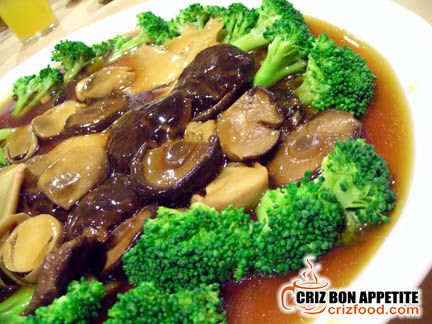 As for the Steamed Grouper Fish "Teow Chew" Style, it was just a normal serving due to the mass production. Somehow ours was sort of "handicapped" (from the sign of the tilted head) and overcooked. The fish lost the firmness in texture. Moreover, a touch of more pickled sour plums and Shao Xing wine would make the dish more tasteful.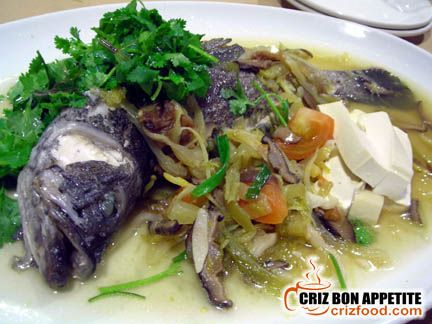 Steamed Lotus Leaf Rice with Waxed Sausage was served next. Simple as it may look, each grain of rice was well flavored with the taste from the lotus leaves.
The last course was of course dessert. We were served with Sweetened Honeydew Melon Cream with Sago. I suspected the cream came in powder form as the coloring was somewhat artificial. I surely preferred something more natural like blended honeydew instead.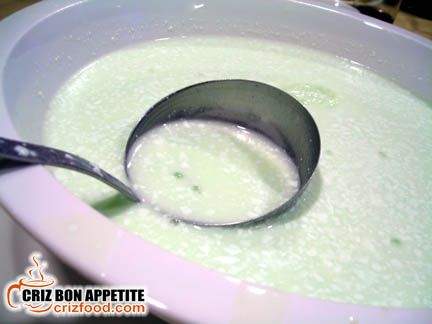 Other than the free flowing wine, beer and cordial, we were each presented some gift by the couple – a piece of fruit cake and a silky pouch filled with a pair of heart-shape lollipops. From my observation, this memento pleased many of the guests. The elderly were happy with a little something to keep their coins, whereas the younger ones were happy with something to share with their friends and partner-to-be. After all, wedding is all about sharing the love together for eternity.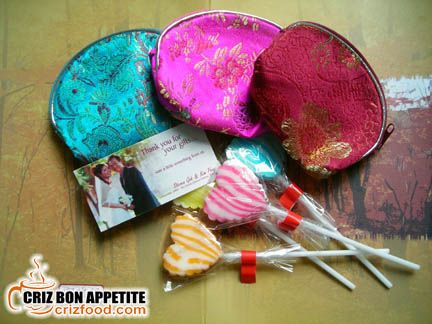 To Steven & Janice…
Your happiness begins
With your wonderful wedding day.
You'll share everything together;
Through it all, your love will stay.
Congratulations to you,
As you begin your happy life.
May all good things be yours,
As new husband and new wife.
For those who had missed the memorable event, here's a short video of the couple walking down the aisle.
The Forum Chinese Cuisine is located at Level 3 within Island Plaza, Penang. It won't be hard to find the way as it's just along Jalan Tanjung Tokong on your right.
Name: THE FORUM CHINESE CUISINE @ ISLAND PLAZA
Address: 803-01, 3rd Floor, Island Plaza, 118 Jalan Tokong, 10470 Penang.
Business Hours:
11.30am-3.00pm, 6.30pm-10.00pm (Monday-Saturday)
9.30am-3.00pm, 6.30pm-10.00pm (Sunday & Public Holiday)
Contact: 604-899 0088
GPS: 5.450371, 100.305946
RATING:
Ambience: 8/10 (1-4 cheap, 5-7 average, 8-10 classy)
Food Choices: 8/10 (1-4 limited, 5-7 average, 8-10 many choices)
Taste: 7/10 (1-4 tasteless, 5-7 average, 8-10 excellent)
Pricing: 7/10 (1-4 cheap, 5-7 average, 8-10 expensive)
Service: 8/10 (1-4 bad, 5-7 average, 8-10 excellent)
ATTENDEES:
Criz Lai
CK Lam
Alan & Amanda
NKOTB & hubby
CW Chan
Eunice & Siew Ying