SORRY! THIS RESTAURANT HAS CEASED ITS OPERATION EFFECTIVE NOVEMBER 2008
T-Jay Café would be an ideal place for hangout since it's located within The Garage, a place filled with endless flow of people going for a drink or some partying. You would see a lot of tourist enjoying themselves there too. What I like most is their flexibility of dining hours. I usually find it hard to dine out after 10.00pm (due to having to work up to after 9.00pm most of the time) as most of the restaurant would be closed by then. I recently paid them a visit after looking through all the menus of other restaurants and found their price list amongst one of the more affordable ones around that area. Moreover, much to my surprise, they do not charge any taxes.
Two of us went for dinner around 10.15pm. We were presented with a menu with so many dishes to choose from ranging from Western to Oriental. They have lamb, chicken, fish, beef and sausages in the Western food sections and local hawker delicacies such as Curry Chicken Rice, Kong Poh Chicken Rice, Fried Noodles and so on. We ended up ordering some of the recommended dishes. As for appetizer, we had soup of the day which was Mushroom Soup (RM4.90). The soup was creamy and had a bit of the herb taste. Very tasty compared to others that I had tasted before.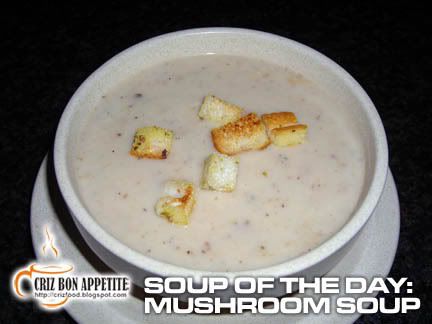 We were then served the Caribbean Cheese Baked Fish (RM19.90). Although the fish (Dory Fish) size was not as big as I had expected, it was baked with lots of Mozzarella, Cheddar and Parmesan Cheese. The dish tasted great with lots of salads and fries to fill up the tummy.
The Chicken Breast Supreme (RM12.90) came next. Two tender pieces of chicken fillet was served. Not big but the taste was great with the special sauce by the chef. The sauce tasted like BBQ sauce but had a milder taste with a combination of tomato and onion puree.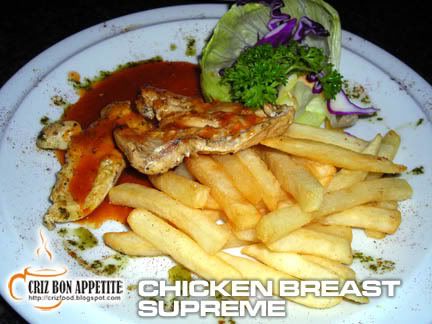 As for drinks, we order a Kickapoo Fizzy Soft Drink (RM3.90) and Oreo Chocolate Milkshake (RM8.90). In fact the Oreo drink was our own creation as there only offered Oreo Coffee Milkshake.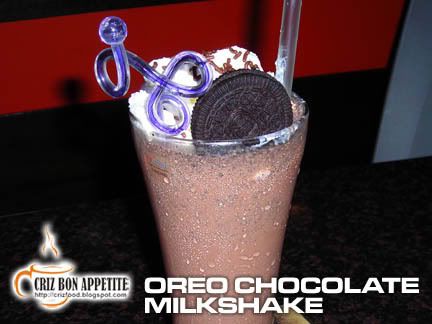 After resting out filled tummies while watching Astro's Asia Food Channel, we decided to try out their recommended Choc Cake Ala Mode (RM6.90). The dessert came with a small piece of moist chocolate cake (a bit of Brandy taste in it) with a large scoop of Nestle's vanilla ice cream topped with Hershey chocolate syrup and chocolate rice. It was real yummy.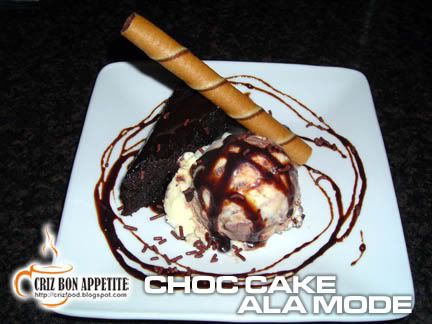 Visiting this restaurant won't be hard as it is within the compound of The Garage along Upper Penang Road. The only problem would be the parking as the place would be packed during weekends. The nearest place with ample car park would be the car park along Penang Road, opposite Cititel. Anyway, it's good to take a stroll and watch for any happenings along this hot night spots area of Penang. On top of that, you can easily get access into the many bistros and pubs surrounding that area such as Fame, Slippery Senorita, Momo, Mois and so on after having your meal there.
Name: T-JAY CAFÉ @ THE GARAGE
Address:
LotA22, The Garage ( Upper Penang Road),
2 Penang Road, 10000 Penang, Malaysia.
Contact: 604-261 2188, 012-499 9311 (Mr. Terry Tan)
Opening Hours: 12.00pm – 3.00pm, 6.30pm – Late Night (Monday – Saturday)
GPS: 5.422955, 100.335088
RATING:
Ambience: 7/10 (1-4 cheap, 5-7 average, 8-10 classy)
Food Choices: 9/10 (1-4 limited, 5-7 average, 8-10 many choices)
Taste: 8/10 (1-4 tasteless, 5-7 average, 8-10 excellent)
Pricing: 7/10 (1-4 cheap, 5-7 average, 8-10 expensive)
Service: 8/10 (1-4 bad, 5-7 average, 8-10 excellent)