During the recent Fathers' Day celebration this year, I was given a task to come out with some recipes which would make Dad's special day very memorable. Instead of sticking to those "quite norm" to me recipes, I had decided to create my own. Thus, you have the DEEP FRIED TURMERIC CHICKEN WITH JACKFRUITS (菠蘿蜜薑黃炸雞). The dish was a hit as it had some unique fruity flavors from the added jackfruits. Combined with the mildly sweet and sour sauce from my own concoction, it sure boosted up everyone's appetite.
This recipe is quite versatile as you could always replace the meat with pork chop or beef slices. Moreover, due to the availability of jackfruits in certain countries, there are other alternative fruits to use such as ripe pineapples, young mangoes, green apples, dragon fruits, orange slices, etc.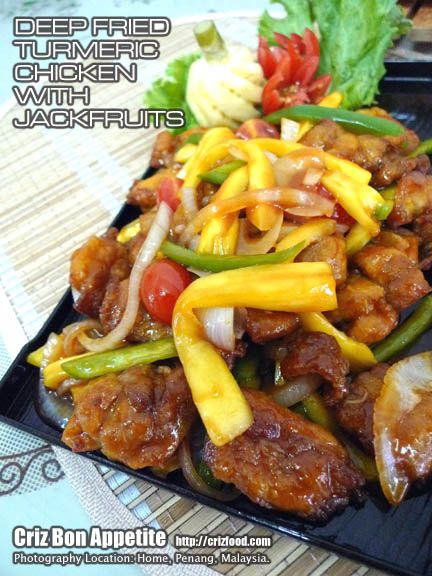 Here's the recipe:
INGREDIENTS:
4 pcs chicken thigh meat (500gms – remove bones)
3 jackfruits (cut into strips)
6 cherry tomatoes (halves)
1" young ginger (grate & juice)
1 big onion (slice into semi rings)
1 small green capsicum
5 tbsp all purpose frying flour
1 tsp turmeric powder
1 tbsp light soy sauce
1/2 tsp sesame oil
Salt & pepper to taste
Oil
SAUCES: (mix well in a small bowl)
5 tbsp tomato ketchup
2 tbsp light soy sauce
1 tsp sugar
1 tsp corn flour
1/2 tsp sesame oil
4 tbsp water
1 tbsp Worcestershire sauce
1 tsp Shao Xing wine (or 1/2 tsp brandy/whisky)
GARNISH:
Coriander
Green/Coral Lettuce
PREPARATIONS:
1. Cut the chicken thigh meat into bite pieces.
2. Marinate the chicken meat with ginger juice, one tablespoon light soy sauce, half teaspoon sesame oil, one teaspoon turmeric powder, 5 tablespoon frying flour, pinch of salt & sugar. Add in some water if it's too dry. Leave aside to marinate for 30-40 minutes.
3. Heat up some oil and deep fry all the marinated chicken meat until golden brown. Scoop and leave on kitchen towel to drain all the excess oil.
4. Leave about 2 tablespoon of the remaining oil in the wok on medium fire. Add in the onions and stir about half a minute.
5. Add in the sauces stated above and simmer for another minute or so.
6. Add in the cherry tomatoes, capsicum and jackfruit strips and stir for about a minute.
7. Put the fire on low and add in the fried chicken pieces. Stir for another two minutes.
8. Dish out to serve.
9. Lace the plate with some lettuce and garnish with some coriander leaves.
(Serve: 3-4)
Here's the Chinese version as appeared in the Foodsion Magazine June/July 2014 Issue No. 39~ You can click to enlarge it for a clearer view.
YOU CAN CHECK HERE FOR MORE RECIPES.