If you are a coffee lover, you should not miss out the stall along the outskirt of Tanjung Tokong. This is one of the best stalls which served good thick and creamy local Hainanese coffee. You can have it either iced or hot. The great thing is that you only pay as you would as in any local coffee shops.
On top of the aromatic coffee, you can also savor their famous "Roti Kiap" aka Toasted Bread with Coconut Jam (Kaya) and Butter. It comes with many versions. You can spread it on top of the toasted bread, in between the bread or even taken with hard boiled eggs. A great choice for tea time.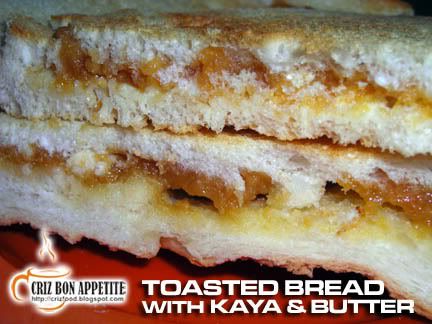 The kaya is homemade to perfection as you can taste the richness of the eggs in it. You can buy back the kaya in a small plactic container (RM3.00) or in a big one (RM4.00).
If you are driving from town towards Tanjung Tokong, you will pass by the traffic light with Island Plaza on your right. Drive further until you reach another traffic light (Tari Burger is on your left). Drive further and you will reach a curve with another traffic light. Keep to your right and turn right into the road. Turn right again and you will see some stalls. Wang's Café is just at the corner.
Name: HOMEMADE KAYA @ WANG CAFE
Address: J-6, Gerai UDA Fasa 3, Tanjung Tokong, 10470 Penang, Malaysia.
Contact: 604-898 2318
Opening Hours: 12.00pm – 9.00pm (Closed Sunday)
GPS: 5.461840, 100.307547
RATING:
Ambience: 7/10 (1-4 cheap, 5-7 average, 8-10 classy)
Food Choices: 7/10 (1-4 limited, 5-7 average, 8-10 many choices)
Taste: 8/10 (1-4 tasteless, 5-7 average, 8-10 excellent)
Pricing: 7/10 (1-4 cheap, 5-7 average, 8-10 expensive)
Service: 8/10 (1-4 bad, 5-7 average, 8-10 excellent)