Over the past few months, Pulau Tikus in Penang has become a little Thai cuisine paradise for Thai food lovers. With different style of cooking and flavors from 6 regions with 76 provinces (excluding Bangkok which is the capital city) in Thailand, Penangites now have more options to try out these restaurants. We now have some home cooked dishes from the province of Nakhon Si Thammarat in Southern Thailand at Annathai-Kitchen, beef noodles from Sukhothai in Central Thailand at Sukhothai Beef Noodles House, Krung Thep Maha Nakhon (Bangkok) style Thai dishes at Aroi Thai Restaurant and at the newest outlet in Penang – Wang Thai Restaurant.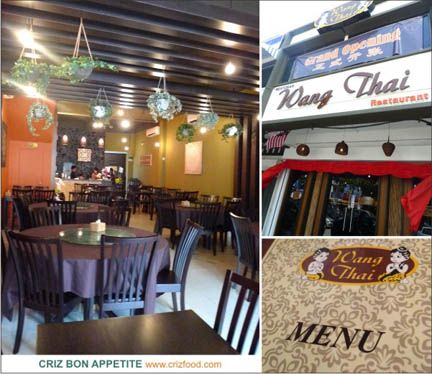 It's quite normal for diners to start off a meal with Mieng Kam (Chiang Mai Leaf-Wrapped Appetizer – RM15), an appetizer originated from the Northern provinces of Thailand. The palate of appetizer would come with wild betel leaves (daun kaduk) to wrap in some dried shrimps (hae bee/har mai), peanuts, cubed galangal, shallots, kaffir lime, chili paddy (bird's eye chili), toasted grated coconut and topped with some sweet plus salty based sauce. Now you know why this dish is also known as "One Mouthful" as your handy work would be put right into your mouth for that flavorful chewing. One distinctive difference compared to major Thai restaurants elsewhere would be the sauce served here. Instead of the normal caramel looking sauce, which basically consisted of melted palm sugar, fish sauce and water, this version had grated coconut and chopped dried shrimps added in. It's a superb dish to start a meal.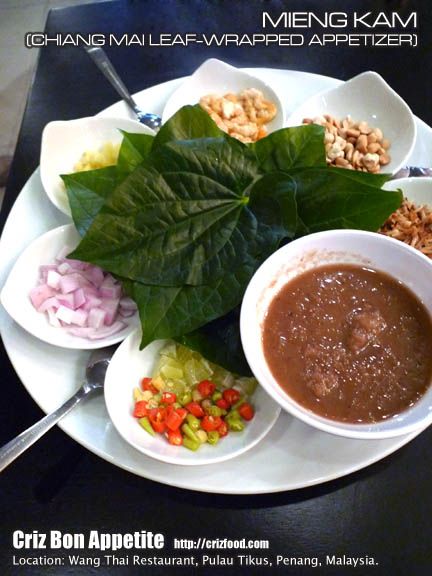 Another great dish would be their Yum Pla Duk Fu (Deep Fried Catfish in Spicy & Sour Mango Salad – RM12.90). This dish had deep fried flour coated steamed catfish flakes, topped with a combination of raw mango strips, sliced onions, carrot strips, chili paddy, dressed with some sweet spicy sauce and garnished with some roasted peanuts. This is a must try dish! Just as good as the one I tried at the outskirt of Hatyai, Thailand some years back. Note: Do consume this salad fast in order to have that crispiness from the deep fried catfish.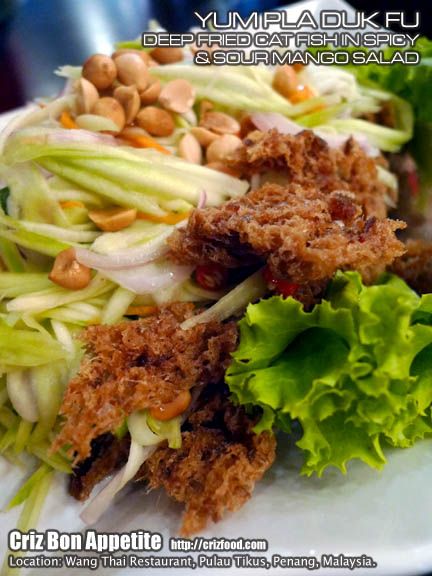 An alternative salad would be Yum Cha-Om Tod Krob (Crispy Cha-Om with Thai Sauce – RM12.90). This is another great dish to compliment. Cha-Om (climbing wattle/Acacia pennata) is actually the young leaves from a tropical "coconut leaves lookalike" shrub which had became a staple food in Thai cuisine. These leafy vegetables would be deep fried in batter and laced on the plate, prior to being topped with a sliced onions, carrots, spring onions, chili paddy, dressed with some sweet and sour Thai sauce and garnished with some roasted peanuts. This is a must try dish! Note: Do consume this salad fast in order to have that crispiness from the batter fried vegetables.
If you want to try out the World's #1 Most Delicious Food – Massaman Curry from Thailand based on the recent CNN Go results, this delicious dish is also available here. The Gaeng Massaman Gai (two drumsticks – RM12.90) actually had a bit of Indian Muslim influence as some of the ingredients used are quite similar. The gravy looked somewhat like the Nyonya Kapitan Curry without the use of kaffir lime leave and lime juice. Instead, the dish has a more Indian flavor with a distinctive flavor from some blended galangal, palm sugar, cardamom and cassia leaves (Indian bay leaves). This dish had added potatoes and roasted peanuts. Although the taste was still acceptable to many, I personally found that it had a little bitter after taste. It could be due to too high a fire when the chef sautéed the blended curry paste. Moreover, there was this rough ingredient which I had suspected to be some toasted grated coconut being added in. The preparation for this dish is somewhat different here.
You should never go without a Thai style steamed fish whenever you visit a Thai restaurant. We had a different version called Pla Kra Pong Neung Manow (Steamed Fish in Lime & Chili Marinade – RM35 for small fish). This signature dish has concocted flavors from some lime juice, ginger, galangal, lemongrass, garlic, chili paddy, chilies and sugar. Although this dish was rather appetizing, I personally prefer the normal salty steamed ones with just sour plums, tomatoes and tofu as most of the dishes were already having too much of spiciness, sourness and sweetness. We had sea bass here.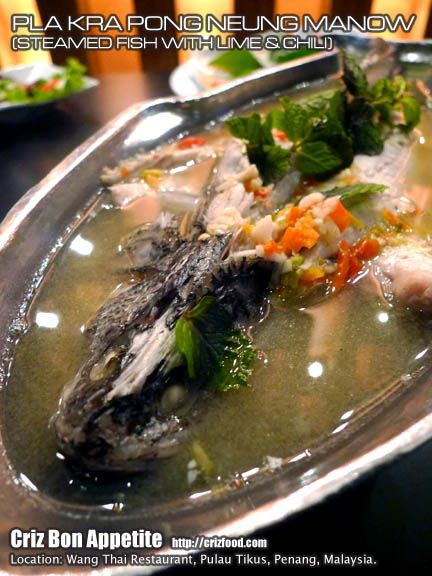 Another dish that was presented differently was the Hor Mok Talay (Steamed Seafood Otak-Otak – RM23.90) served in a fresh coconut. The dish was a wetter version of the Nyonya Fish Otak-otak without the usage of wild betel leaves (daun kaduk) and sliced kaffir lime leaves. I had a feeling the ingredients within the coconut were stir fried rather than steamed as mentioned earlier. It had a heavy usage of Thai basil leaves combined with blended spices, sliced cabbages, onions, fresh coconut milk, prawns, squids and fish with a touch of beaten eggs. The dish was garnished with fresh coconut flesh. Overall, the dish was still acceptable by many.
I was surprised that they do serve Ped Sam Rod (Deep Fried Roasted Duck with Triple Sauce – RM18.90) as well, which you don't usually get this dish from elsewhere. The duck meat was rather tender and flavorful. There were strong hints of garlic, tomatoes, chilies and plum sauce being used in the dish.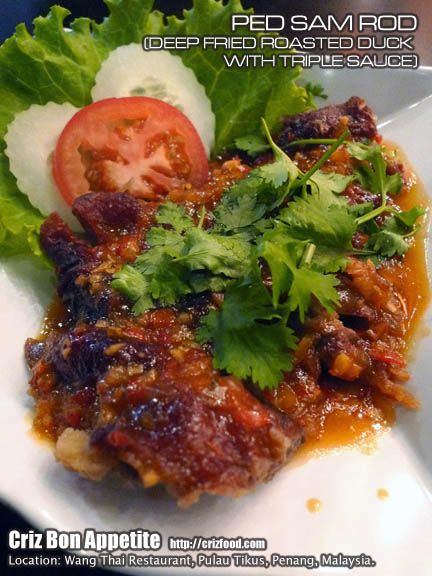 Never leave a Thai restaurant without trying out their Tom Yam soup. What we had was the Tom Yam Ruam Mit Talay (Mixed Seafood Spicy Thai Tom Yam – RM21.90). The soup had large prawns, fish, squids, oyster mushroom, tomatoes with some chopped spring onions and coriander. Well, the soup tasted like those easily available tom yam paste with a strong sweetness and lime juice sourness. I prefer Tom Kha, a clearer soup based and not so spicy version. There was a bit of evaporated milk added in this soup for that extra creaminess.
As for dessert, we had the Tub Tim Krob (Red Starched Water Chestnut & Jackfruit in Coconut Milk – RM4.50). I love the taste of the mildly sweetened concoction with generous amount of cubed water chestnuts and sliced jackfruit given.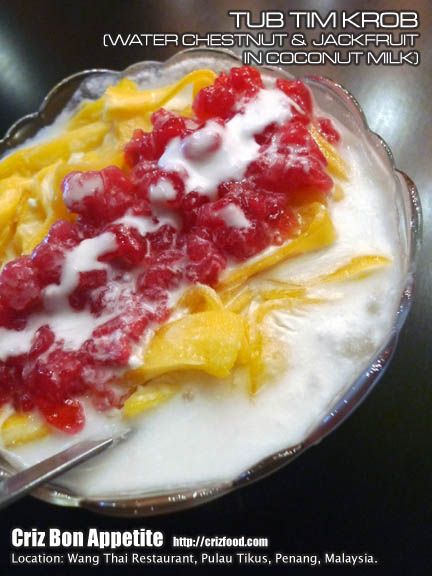 The next dessert was the Khao Neow Mamuang (Mango Sticky Rice – RM9.90). The dessert came with a long roll of steamed glutinous rice, garnished with some deep fried mung beans, served with slightly salted sweetened coconut milk and mango slices. The combination was good, except that I would prefer a thicker coconut milk on my glutinous rice dessert. I had tasted a thicker coconut milk version elsewhere, which had some corn starch added in for a thicker and creamier spread.
Overall, the food here is quite nice if you know how to have some mix and match dishes that would not be almost similar in taste. Most of the recommended signature dishes here are towards a spicy, sweet and sour taste. You should ask the person-in-charge to combine some dishes more of a salty based such as the Gai Hor Bai Toey (Pandan Chicken – RM3/pc), Kar Moo Nan Dang (Stewed Pork Trotter – RM27/RM45.90), Gai Phad Kraprow (Stir Fry Chicken with Basil Leaves – RM12.90/RM22.90) or just a simple sty fry mixed vegetables with prawns/roasted pork (Pad Phuk Ruam Mit Goong/Moo Grob – RM12.90/RM19.90).
It's not hard to locate the restaurant as it situated along a row of shop houses at the main road of Jalan Burma in Pulau Tikus, Penang. If you are coming from town towards Pulau Tikus, watch out for Jalan Burma/Jalan Cantonment traffic lights. You can see the restaurant diagonally on your right (Pinang Medical Supplies is at the corner lot). Immediately after the traffic lights, turn right into the service road and find your parking space there. It might be a bit hard to get a parking space at certain peak hours, so another option would be go straight into Lintang Burma for more parking spaces.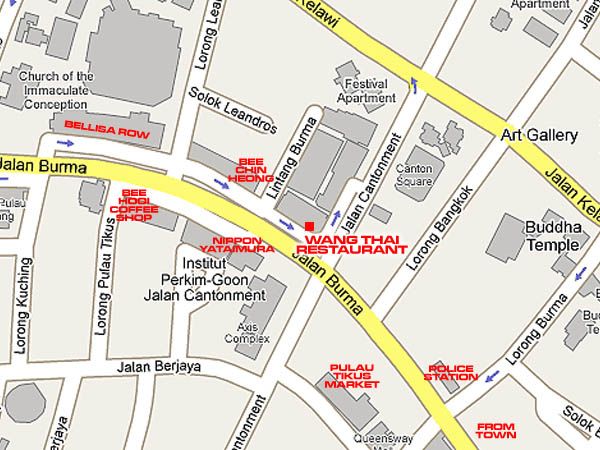 Name: WANG THAI RESTAURANT
Address: 294 Jalan Burma, 10350 Penang, Malaysia.
Contact: 604-226 5168
Business Hours: 11.00am-2.30pm, 6.00pm-10.00pm (Closed Monday except on Public Holiday)
GPS: 5.432003, 100.311637
RATING:
Ambience: 7/10 (1-4 cheap, 5-7 average, 8-10 classy)
Food Choices: 7.5/10 (1-4 limited, 5-7 average, 8-10 many choices)
Taste: 7.5/10 (1-4 tasteless, 5-7 average, 8-10 excellent)
Pricing: 7.5/10 (1-4 cheap, 5-7 average, 8-10 expensive)
Service: 8/10 (1-4 bad, 5-7 average, 8-10 excellent)
For more information, please visit <http://www.tourdirections.com.my/directory/>. Planning your Penang food tour? TourDirections Penang helps you discover Penang cafes and restaurants, Penang hawker food, Penang budget hotel and Penang homestay at TourDirections.com.my.