Other than hunting for unique and fashionable items or visiting the many temples in Bangkok, the next attraction would be the street food. Along the many thanon (main streets/ถนน), soi (side streets from main streets/ซอย) and trok (alley/ตรอก) in Bangkok, you would surely find some quick bites that would suit your preferences. Other than the easily available meaty Sai Au (Nothern Thai Fermented Sausages/ไส้อั่ว) and Sai Krok Isan (Northeastern Thai Fermented Sausages/ไส้กรอกอีสาน), the Moo Ping (BBQ Pork on Skewers/หมูปิ้ง) somehow remains my favorite. Well, the scents of well marinated food would surely command my nose to their whereabouts~ LOL! I would say I was lucky though it was my first time in Bangkok as I found the perfect Moo Ping right in front of my hotel – The Key Bangkok Hotel.
Compared to the many Moo Ping stalls I have tasted in Bangkok or even Hatyai in Thailand, this stall managed to suit my taste bud real well as each skew had just the right balance of texture and bites (85% meat & 15% fat). Moreover, the sweetness was just right for me without the overpowering of the overall flavors. The amazing thing is that it was only priced cheaply at THB10/skew. The Thais love to have their Moo Ping with warm sticky rice (Khao Niao/ข้าวเหนียว) and each small pack would cost only THB5. Two skews of Moo Ping and a pack of Khao Niao would be the perfect breakfast or supper for anyone. For those whom had tried out the delicious and succulent Moo Ping as well as the sticky rice, that's why I can be so crazy to freeze packed them and flew them home to share with you. That's 6kg extra baggage~ LOL~ 😛
Anyway, I had tried to recreate that flavor but could not get it to be 100% exact to the taste of the ones I had tried in Bangkok. There must be a secret ingredient in it. Perhaps, they might be using some sort of MSG which is the common practice in most street stalls. I'm not a fan of MSG so here's the 95% result of my Moo Ping. Do try out my recipe~ 🙂
RECIPE: MOO PING (BBQ PORK ON SKEWERS
Makes: 20-25 skews (7" bamboo skewers – soak overnight before using)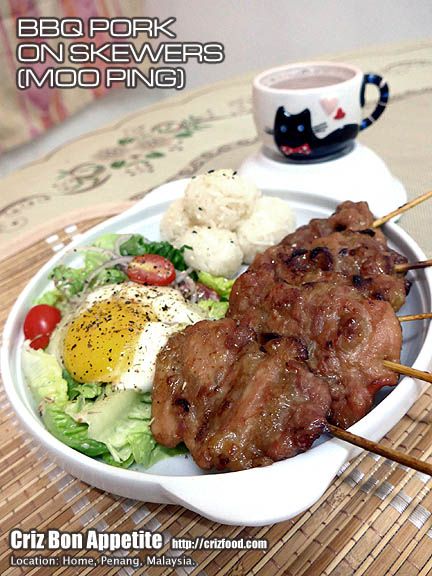 Ingredients A:
4 cilantro roots (about 2 Tbsp) or chopped cilantro stems (if roots are not available)
6 cloves garlic
1 tsp white pepper corns
1 tsp black pepper corns
Ingredients B:
2 Tbsp palm sugar (pound until powdery) or brown sugar or honey
2 Tbsp mushroom/oyster sauce
2 Tbsp soy sauce
2 Tbsp black soy sauce
1 Tbsp cooking oil
1 Tbsp corn starch
100ml coconut milk (mix in a tiny pinch of salt – keep 1/4 for brushing)
Ingredients C:
700gm pork shoulder (about 1.5lbs – wash clean, drain well, semi freeze and slice about 3mm thickness. Lightly hammer each piece to break the veins)
200gm pork fat (optional – slice 3-5mm, to be skewed in between 2 pieces of meat. Lightly hammer each piece.)
PREPARATIONS:
1. Use a mortar, pound everything in Ingredient A. You may add a bit of water if it's too dry to scoop out.
2. In a big stainless steel basin, mix the pounded Ingredient A with Ingredient B. Mix thoroughly.
3. Add in the sliced pork from Ingredient C and mix well.
4. Slowly skew the marinated meat onto the bamboo skewers. Maximum until half the length of the skewer. Make sure the meat pieces are pressed compactly without showing the bamboo skewers. You can opt to skew a piece of fat in between the meat for that sinful flavor.
5. Place all the skewers into a Ziploc bag or a big plastic container. Pour the remaining marinates into it. Make sure you lay the skewers flat.
6. Leave them in the chiller for a minimum of 6-8 hours. The best result is to leave them overnight for maximum flavors.
7. Prior to barbeque, pour out the remaining marinate and mix with the remaining coconut milk. It's for brushing purposes.
8. Barbeque over medium charcoal heat. Make sure the exposed bamboo skewers won't get direct heat or they may be charred. Turn the skewers every 2 minutes until cook. Do brush some of the remaining marinate on the meat (as stated in #7) prior to turning them.
9. The Thais may love their Moo Ping with sticky rice. For me, I would love them with some lightly dressed salads.
Note: You can opt not to add fat to your Moo Ping but that's where the natural flavor comes in.
YOU CAN CHECK HERE FOR MORE RECIPES.
Name: MOO PING @ SUKHUMVIT SOI 19
Address: Sukhumvit Soi 19, Watthana, Bangkok 10110, Thailand.
Contact: Not available
Business Hours: 5.00am-9.30am
GPS: 13.739075, 100.559977
DIRECTIONS:
Take the BTS Sukhumvit Line and stop at BTS Asoke Station. to Mo Chit Station (BTS Sukhumvit Line). Take the Skytrain to BTS Asoke Station. Use the Skywalk towards Exit 1 and walk downstairs towards Terminal 21. Walk straight towards "The Westin Grande Sukhumvit Hotel". At the road before the hotel, turn right into Sukhumvit Soi 19 and walk about 70m and you will see the "The Key" after a row of shop houses on your left. The stall is located just at entrance of The Key Bangkok Hotel at the junction of Sukhumvit Soi 19 and Sukhumvit Soi 17 next to the Family Mart convenient shop.
RATING:
Ambience: 5/10 (1-4 cheap, 5-7 average, 8-10 classy)
Food Choices: 5/10 (1-4 limited, 5-7 average, 8-10 many choices)
Taste: 9/10 (1-4 tasteless, 5-7 average, 8-10 excellent)
Pricing: 4/10 (1-4 cheap, 5-7 average, 8-10 expensive)
Service: 8/10 (1-4 bad, 5-7 average, 8-10 excellent)