If you or any of your relatives or friends would want to plan a wedding banquet, fret no more as Sea Queen Restaurant at Straits Quay, Penang, has the exact locations for your memorable occasion at one of the wedding venues, whether it's indoor or outdoor. Sea Queen Restaurant has been boasted as one of the great wedding venues in Penang with a few venues within Strait Quay Marina Mall to cater to your wedding reception needs. You can have your wedding reception indoor with a capacity of up to 40 tables or you could also combine another 55 tables outdoor together with your garden wedding reception. Do check out with them on other facilities such as a cruise out to the sea on a chartered yacht for a minimal fee of RM500++ (8 pax). If you are looking for a bigger venue, they do have the Level 6 equipped with private kitchen to cater to up to 200 tables. Well, what about guests who required Halal dishes to be served? You'll be in for a surprise as they have that thought of too as they do have another section at Level 4 which could cater to the Muslim crowds up to 100 tables. If you had a hard time finding a venue for your wedding reception, do check out with them as they are very accommodative to help you solve your worries.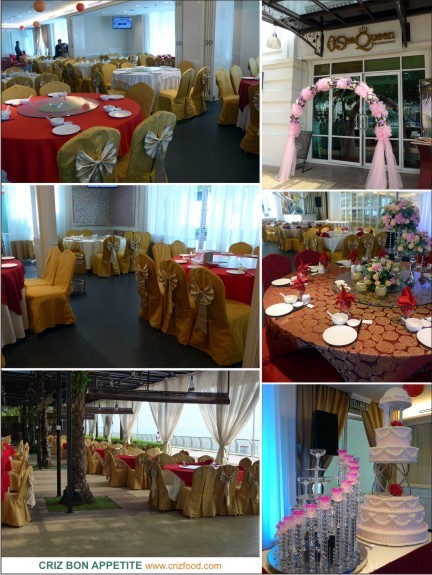 Before I go into details on one of their wedding packages, let's have a look at their standard Wedding Menu. There are all together 5 menus (Pearl, Emerald, Ruby, Sapphire and Diamond), ranging from RM488++ until RM1188++ per table. The dishes may look as though they had been fixed but the restaurant does allow some of the items to be changed to suit your needs.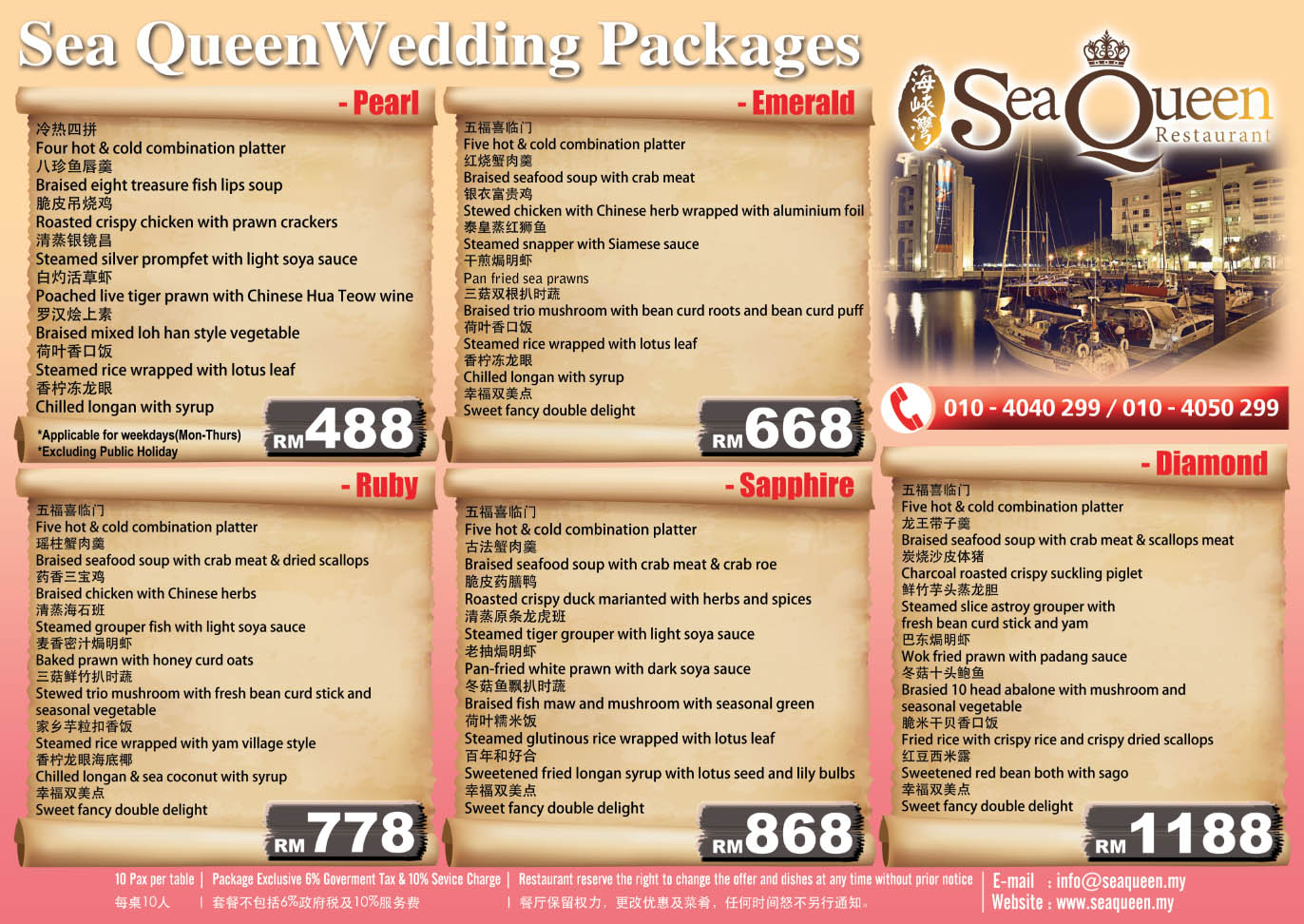 We did try out their Emerald Wedding Package (RM668++) which came with 9 items instead of the usual 8-dishes package. We started off with the Five Hot & Cold Combination Platter. The platter came with four hot dishes and one cold dish which consisted of Crab & Minced Meat Rolls, Curry Potatoes in Glutinous Rice "Pear", Ham & Nori Meat Rolls, Stir Fry Mixed Vegetables with Seafood and Chilled Spicy Jelly Fish with Smoked Duck. I quite like the Crab & Minced Meat Rolls and Chilled Spicy Jelly Fish with Smoked Duck. However, the rest of the item on the platter would need some improvements. The Ham & Nori Meat Rolls tasted too "fake" to my liking. I would prefer this item to be replaced with grilled bacon with minced prawns, something simple yet delectable. Steamed stuffed Shitake mushroom in some eggy sauce would also be nice. The Curry Potatoes in Glutinous Rice "Pear" may look unique but texture and bite wise, it was almost dessert-like to my liking. I would prefer the filling to be more savory base with fillings such as minced meat with spring onions/chives for that extra bite.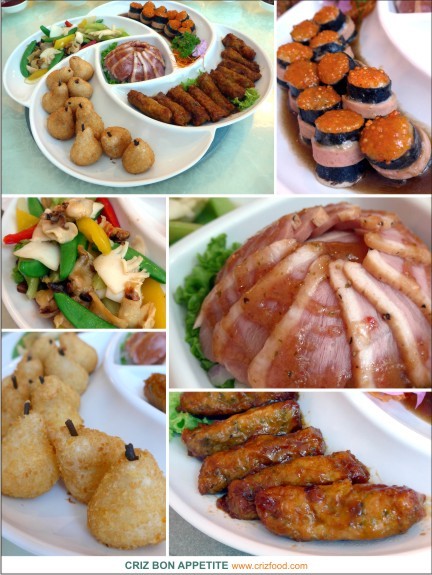 Next on the list was the Braised Seafood Soup with Crab Meat. Taste wise, it was proven to be pepped up with rich stock and fresh crab meat. However, I sensed that something was missing from the soup to give it a bit more flavors and texture. I would suggest the kitchen to garnish the soup with some deep fried scallops to justify the quality of the soup.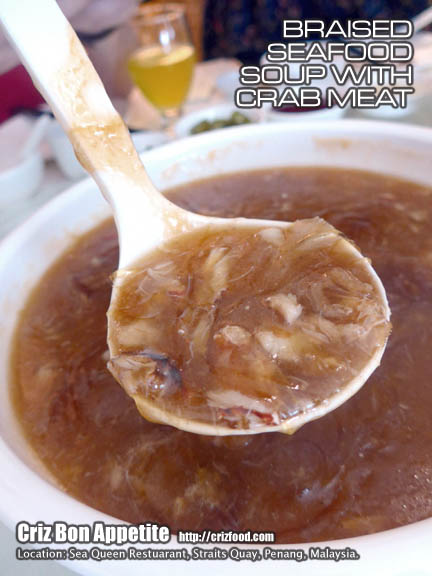 The Stewed Chicken with Chinese Herbs Wrapped in Aluminum Foil was somehow too mild for me. It lacked the distinctive herbal flavors as I would have expected. I would think Steamed Stuffed Roasted Chicken or commonly known as 8-Jewels Chicken/Pat Po Chicken would be a better choice as a replacement.
We were also served with Steamed Snapper with Siamese Sauce. No doubt the fish was extremely fresh but the sauce somehow did not taste Siamese as I would have expected. It tasted more towards Indian curry with a dash of lime juice. I won't mind having the dish in other Thai-style cooking method such as the Pla Phat Phet, a galangal and coconut milk enriched spicy curry base or even the Pra Nung Ma-Naew, a lemon juice and chopped red chilies based appetizing gravy. Even a simple plum, salted vegetables and tofu way of steaming would do more justice to this fish dish.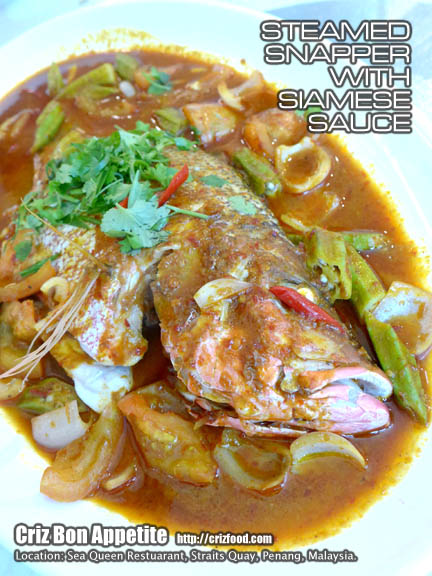 The Pan Fried Sea Prawns was something simple and yet flavorful to my liking. The sauce had just the right aromatic flavors to capture my attention. How I wished I had a plain bowl of rice at that time to savor this delicious dish.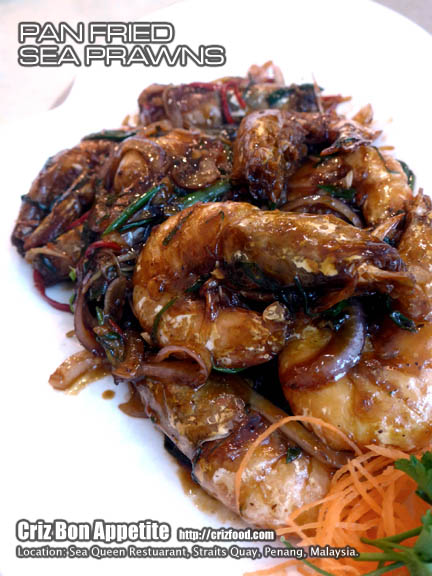 There was also a common dish you'll see served in most banquets which was the Trio Mushrooms with Bean Curd Roots & Bean Curd Puff. I did find the dish to be most appropriate to be served after a long list of cholesterol-rich dishes. However, it would be great if the kitchen were to tone down on the rich usage of sauce as we were not dining with plain rice.
As usual, the last dish prior to dessert would be a starch based dish, namely Steamed Rice Wrapped in Lotus Leaf. Somehow having rice in replacement for glutinous rice in this dish was not to my palate. It did not bring out the flavors in the generously added ingredients. There are many signature styles of fried rice available in the restaurant and I hope the kitchen would replace this rice dish with something more unique. Maybe the kitchen can think out of the box and come out with something as simple as Pumpkin Fried Rice, Wax Meat Fried Rice, Crab Meat/Seafood Fried Rice, etc.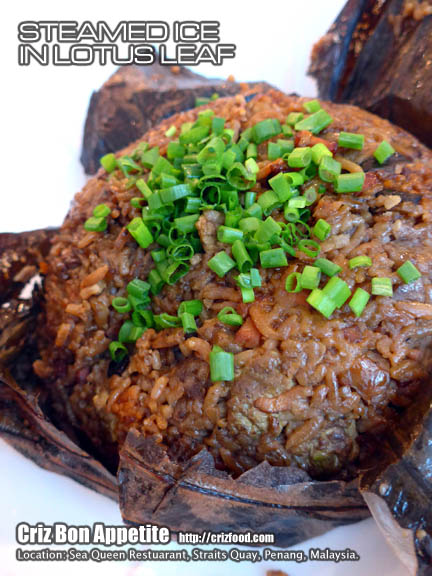 The restaurant does have some unique desserts to end the course meals. We ended our meal with Chilled Longan with Syrup and Sweet Fancy Double Delights. The former was something quite common and nothing much to shout about but the latter was something I would love to give them credit for their hard work. We were served with hot mini steamed buns filled with lovely oozy yet buttery custard. On top of that, we were also served a chilled mocha-like dessert filled with fragrant pandan (screwpine) custard. What a great way to end the dinner.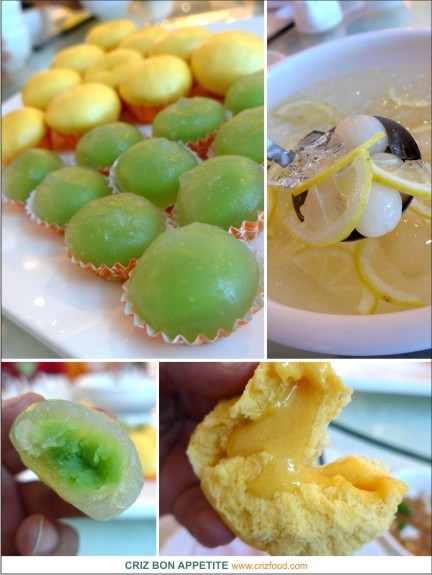 Overall, the spreads for their Emerald Wedding Package (RM668++) was quite standard in any wedding banquet. There are still rooms for improvements compared to the ala carte dishes I had earlier. Though their pricing could be quite competitive on the market, I would love to see more variance in their dishes compared to other wedding menus out there.
You can check out more on my reviews on their Set Lunch Promotion and Ala Carte Dishes by clicking on the links.
It's easy to locate the restaurant as it's located within the Straits Quay Marina Mall premises. Drive all the way up Jalan Tanjung Tokong until you see Tesco Seri Tanjung Pinang on your right. At the traffic lights, turn right into Jalan Seri Tanjung Pinang. Drive all the way until you see the colonial style mall building. Turn into the left of the building and drive straight until the end towards the beach area and you will see the restaurant. Parking is at RM1 per entry.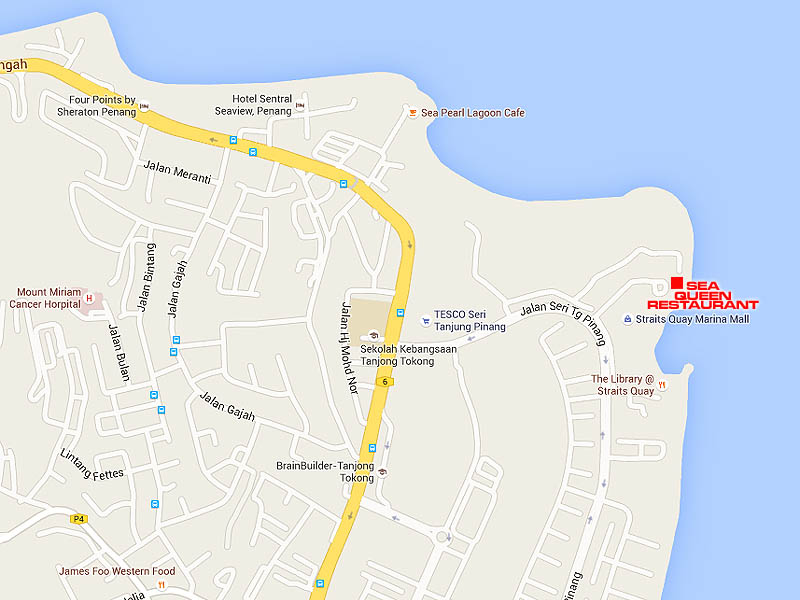 Name: SEA QUEEN RESTAURANT
Address: G3 & 3A, Straits Quay, Seri Tanjung Pinang, Tanjung Tokong, 10470 Penang, Malaysia.
Contact: +6010-404 0299, +6010-405 0299
Website: www.seaqueen.my
Business Hours: 11.00am-2.30pm/6.00pm-10.30pm (Daily), 11.00am-11.00pm (Public Holidays)
GPS: 5.459273, 100.314161
RATING:
Ambience: 8/10 (1-4 cheap, 5-7 average, 8-10 classy)
Food Choices: 7.5/10 (1-4 limited, 5-7 average, 8-10 many choices)
Taste: 7.5/10 (1-4 tasteless, 5-7 average, 8-10 excellent)
Pricing: 7.5/10 (1-4 cheap, 5-7 average, 8-10 expensive)
Service: 8/10 (1-4 bad, 5-7 average, 8-10 excellent)