If you are a pan mee noodle lover and you think that you have found the best place for your favorite noodle in Kuala Lumpur, Selangor or even Penang, you should now pay a visit to this pan mee outlet in Ipoh Garden East, Ipoh, Perak, Malaysia. Since its operation on 9 June 2010, the restaurant has endless flow of customers patronizing the place. What made this restaurant so unique? Instead of the plain noodles that you would get, the restaurant would also offer other flavors such as spinach (菠菜), pumpkin (金瓜) and wolfberry (杞子). Every single strain of the noodles were made fresh daily and there was no usage of preservative at all. When you think that these noodles would be served either dry or in soup, you would be surprised with the varieties of concoction they have come out with and the portion was real huge.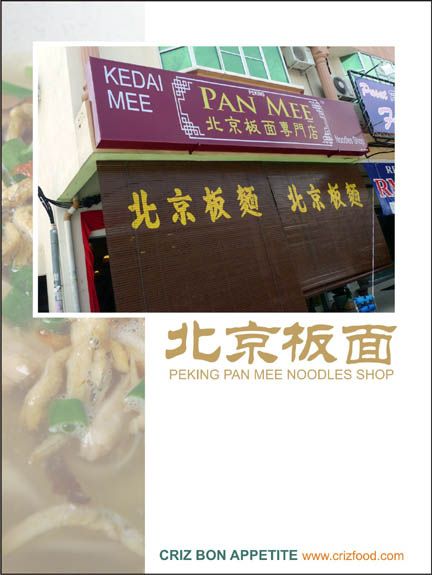 Let me share with you a few of the noodles that I had tried out here. There was the Ginger Wine Chicken Pan Mee (姜酒雞板面 – RM10) which would only be available on Wednesday, Saturday and Sunday. This was the chef secret recipe where choice pieces of chicken were slowly cooked with 3 types of Chinese wine, ginger and seasoning. It came with wolfberry noodles. The specially made noodles from the extract of soaked wolfberries have the right al dente texture. The soup base was rich in flavors with a strong hint of ginger but mild in wine flavor while the chicken pieces were tender. The dish was fine for me but it might not be the perfect dish for those who would detest strong ginger taste.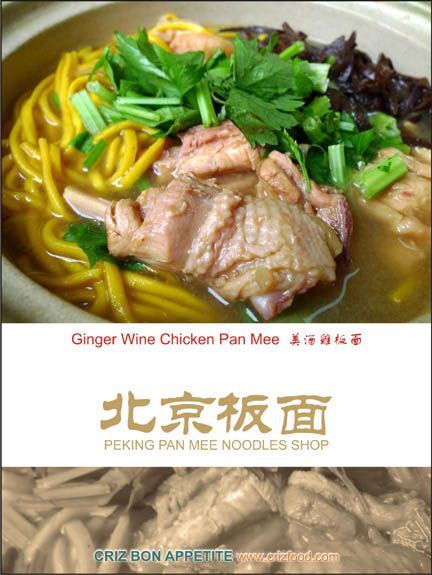 The next dish which was the Dry Ginger Duck Pan Mee (子姜鴨板面 – RM5) would surely please those duck meat lovers. The amount of duck meat given was over generous for that price and the portion was huge! Each piece of the duck meat was perfectly braised for hours with dark soy sauce, ginger, seasonings with a mild touch of Chinese wine. Everyone immediately fell in love with this unique version of pan mee.
The Wolfberry Pan Mee (杞子板面- RM5) was served next. This was another awesome dish. Not only was the soup so flavorful, the ingredients used were very generous. There were carrot, wood ear fungus, mushroom, sweet leaves (star gooseberry leaves), high graded anchovies (I was surprised with the quality of the anchovies used here) and homemade fish balls, garnished with lots of chopped coriander. This order would indeed be great for those health conscious patrons.
Just to clear my curiosity on how a plain bowl of Soup Pan Mee (上湯板面 – RM3.80) would taste like, I ordered one to try out. Gosh! This was my best bowl of soup pan mee in ages. The soup indeed has the required meaty punch. No wonder… on top of the wood ear fungus, mushroom, sweet leaves, anchovies, it had many chicken slices. The garnishing which consisted of chopped spring onions and fried shallots sure pepped up the taste further. Thumbs up!
You might want to take note of other unique combination of pan mee available here such as Dry Curry Chicken Pan Mee (乾咖哩雞板面 – RM5), Curry Fish Head Pan Mee (咖哩魚頭板面 – RM7), Spicy Fermented Soy Bean Fish Head Pan Mee (鼓椒魚頭板面 – RM7) and Pickled Vegetables Fish Head Pan Mee (鹹菜魚頭板面 – RM7). Each dish is nett price. There would also be special herbal drinks and desserts available daily.
If you are exiting through the Ipoh South Toll, just drive all the way left into Jalan Tasek which would lead you to Jusco Ipoh. From here onwards, watch out for the first left junction (McDonalds). Slow down and go towards the second junction (Jalan Medan Ipoh 1). Turn left into the road and again turn left into the second junction (Jalan Medan Ipoh 1E). Drive further on and you will see the restaurant at a corner shop lot.
Name: PEKING PAN MEE NOODLES SHOP
Address: 30 Jalan Medan Ipoh 1E, Medan Ipoh Bistari, 31400 Ipoh, Perak, Malaysia.
Contact: 012-728 8727, 012-514 0782
Opening Hours: 7.30am – 4.30pm
GPS: 4.619845, 101.117119
RATING:
Ambience: 8/10 (1-4 cheap, 5-7 average, 8-10 classy)
Food Choices: 8/10 (1-4 limited, 5-7 average, 8-10 many choices)
Taste: 8.5/10 (1-4 tasteless, 5-7 average, 8-10 excellent)
Pricing: 6/10 (1-4 cheap, 5-7 average, 8-10 expensive)
Service: 9/10 (1-4 bad, 5-7 average, 8-10 excellent)