Penang is truly a food paradise of Malaysia. Every loops and corners in any district, you would find eateries regardless of Chinese, Malay or Indians hidden within small lanes, beach fronts, flats, industrial areas or simply residence areas. One such area which I had found to be real fascinating would be the Weld Quay/Macallum Street area. There were the best woodfire pizzas, cheapest stir fry Chinese cuisine (choo char), freshly fried prawn fritters, best tom yam fish head noodles, best pan mee, cheapest fried udon and now a new encounter with a yam rice of a different kind – Eng Yam Rice.
What made Eng Yam Rice so special? If compared to my most frequent yam rice stall in Chai Leng Park, Butterworth or their recently opened yam rice branch along Jalan C.Y. Choy, I would choose Eng Yam Rice. The difference lied in the yam rice. Each whole rice grain from here had the right texture and softness, combined with the thorough coating from the fragrant dark soy sauce, mixed with the right saltiness from the dried shrimps and beautiful powdery bites from the yam cubes. I can just have bowls of this yummy yam rice even without ordering any side dishes.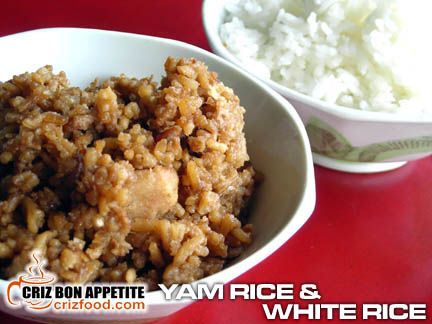 Speaking of side dishes, what you get here would be a bit different compared to the salted vegetable assorted pork soup and dark soy sauce pork trotter you get from the BM Yam Rice stall over in mainland Penang or even some stalls which would serve you with assorted Yong Tau Foo soup. To go with your yam/white rice, you can order one of their sets which would include a hard boiled egg, a piece of fried bean curd and some pork belly meat, cooked in thick and flavorful herbs and spices filled dark soy sauce – all in a bowl for only RM2. It was cheap and good!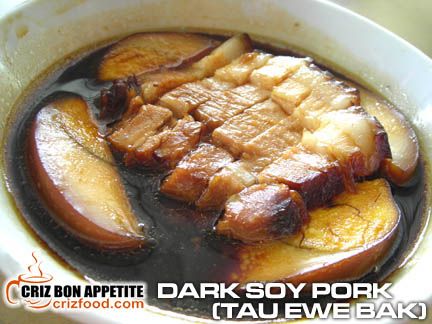 Even the Pork Trotter (RM4) had the same quality as they also came from the same thick and flavorful braising sauce. The meat was tender and each bite was beautiful.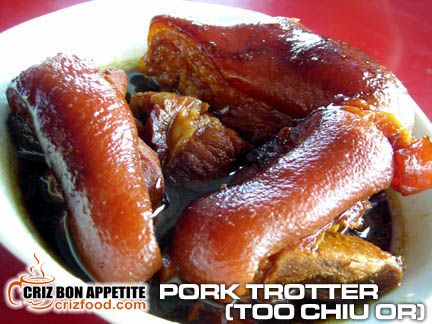 The wonderful part of dining here would be the choices of soup available with your meal. The stall would have RANDOMLY at least 3 types of soup each day. Firstly, there was the Radish and Carrot Soup (RM2/bowl). There was a generous amount of vegetables in the bowl with some pieces of pork. This bowl of soup was perfect with my yam rice.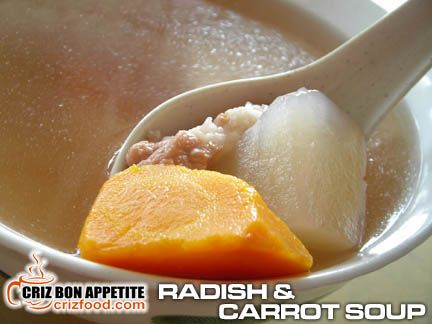 Next would be the Duck Egg and Cabbage Soup (RM2/bowl). The soup contained some pan fried fresh duck eggs, boiled with some cabbages. It was just a nice and simple bowl of soup. I wished it could be something else more homely as a bowl of salted duck egg and mint leaves soup. 😛
Starched Pork with Cabbage Soup (Bak Kee Soup – RM2/bowl) was also available for the day. Although this soup was a lot cheaper than the one I had at the coffee shop along Lorong Carnarvon, the cooking style was different. They used pork chunks coated with corn flour instead of pork slices. I personally felt that it had lost the bite sensation.
The Salted Fish Tofu Soup (RM2/bowl) was another of my favorite here. The tofu cubes were mildly fried and the salted fish did not have that overpowering fishy taste. Combined with some cabbages, the soup was full of flavors. The only problem would be that they do not serve this soup daily. It's up to your luck to get to try this out.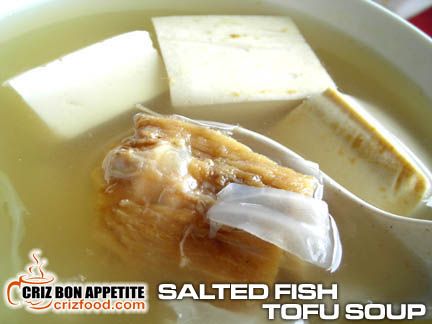 Another soup that you would get only during weekends (Saturday & Sunday) would be the Pepper Pig Stomach Soup (Too Tor Th'ng – RM3/bowl). It would be a waste if you did not try out this soup. The pepper taste combined with the thick soup broth was marvelous. The only hiccup was that they do not have added ginkgo nuts. That would make the soup perfect.
On top of the meat and soup dishes, Prawn Fritters (RM1/pc) were also available. They would come with the chef's own created garlic chili paste. Although I found the fritters to be lack of prawns but they were indeed real crispy. What's there to complain at the price I paid?
Finding the stall won't be hard as it's just at the junction of Pengkalan Weld and Gat Lebuh Macallum. The only problem would be the parking space. If you are coming from the ferry terminal toward the Jelutong Expressway, you would see the Pengkalan Weld/Gat Lebuh Macallum traffic lights (the stall is actually opposite in a corner coffee shop named Kedai Kopi Sing May Mah). Turn left into Gat Lebuh Macallum and then turn right after the road divider into Gat Lebuh Cecil 1. There would be a lot of parking space there within the PDC flats area (you can get a lot of cheap and nice food here during dinner time). Moreover, I Mum Mum Pan Mee shop is just steps away from the yam rice stall.
Name: ENG YAM RICE @ KEDAI KOPI SING MAY MAH
Address: 214, Gat Lebuh Macallum, 10300 Penang, Malaysia.
Business Hours: 10.00am-2.00pm
Contact: 014-901 8082 (Mr. Ooi aka Ah Eng)
GPS: 5.407395, 100.332419
RATING:
Ambience: 7/10 (1-4 cheap, 5-7 average, 8-10 classy)
Food Choices: 7/10 (1-4 limited, 5-7 average, 8-10 many choices)
Taste: 7.5/10 (1-4 tasteless, 5-7 average, 8-10 excellent)
Pricing: 6/10 (1-4 cheap, 5-7 average, 8-10 expensive)
Service: 8/10 (1-4 bad, 5-7 average, 8-10 excellent)