สวัสดีครับ. Sa wat dee krap! Welcome to another Thai food adventure within the month. LOL! Ever since the day I set foot on Tree Monkey @ Tropical Spice Garden, Terrace Bay Restaurant (Copthorne Orchid Hotel Penang), here I was at another Thai restaurant outlet at Krystal Point, Penang – Maa Roy Thai Seafood Restaurant. The outlet is managed by another partner from the existing Maa Roy Thai Food Restaurant (6A, Lorong Abu Siti, 10400 Penang. Tel: 604-227 8616), Ms. Patricia Phannluck Lim. The halal-certified restaurant served up to almost 50 types of authentic Thai dishes daily.
Since the restaurant is located within the vicinity of many offices and factories, you would expect to see a few interesting set meals for lunch and dinner. You can have a single pax lunch meal on weekday at RM6.90+. There would be 8 sets to choose from with a free ice lemon tea. There would also be the 2 pax lunch set meal (with different set dishes daily), which would come with 3 dishes, 2 rice and 2 lemongrass drinks (weekdays: RM25.90+, weekends: RM29.90+). As for dinner, there would be 2 different family set meals available – Set A: 3 dishes + 2 rice + 2 Chinese tea (RM37.00+) and Set B: 4 dishes + 4 rice (RM55.00+).
As there were only two of us, I tried out the RM37.00+ set which came with Green Curry, Stir Fry Mixed Vegetables and Deep Fried Chicken with Lemongrass, 2 rice and 2 Chinese Tea. The Green Curry with chunks of chicken slices was good. The dish was flavorfully prepared with a strong hint of Thai basil and red chili slices as garnish. The color may look mild for many but it did give a good punch of spiciness. The Stir Fry Mixed Vegetables (other than the other option of Thai Kangkung which my friend would not take) tasted normal in some light gravy but there were lots of abalone mushroom slices added in. The Deep Fried Chicken with Lemongrass was normal too as it was a bit dry to my liking. Slices of mildly marinated and deep fried batter coated chicken were stirred together with some deep fried batter coated lemongrass slices. Somehow, the fragrance from the lemongrass did not seep into the meat. It tasted just like plain batter coated chicken slices. I would rather have some lemongrass slices stir fried in some butter and then mixed with the chicken slices to get the moist in the dish and the necessary flavors. Luckily, there was the Thai chili sauce to save the day. The Chinese Tea might taste foreign to some as there was a strong hint of screwpine leaves (pandan) added in.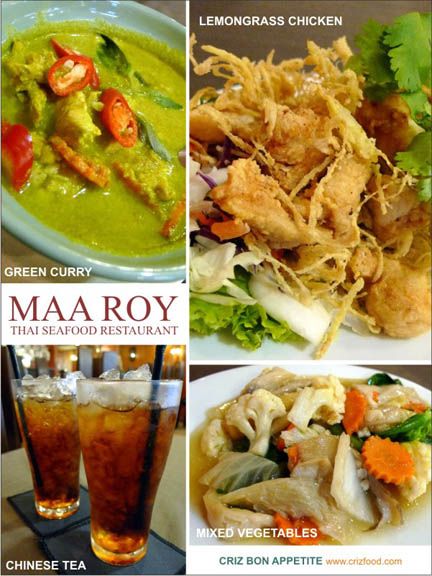 As we have two guys here with big appetite, we also ordered some additional dishes. The Pineapple Fried Rice (RM7.00+) which came in the shape of a heart was rather mild. It came with turmeric flavored rice fried with some prawns, mixed vegetables, pineapple, chicken and egg. As for taste wise, it was fine, except that I would prefer a spicier version with more signs of riper pineapple cubes. Next was the Pandan Chicken (RM7.50+ for 3 pcs). The spices used on the chunky pieces of chicken meat and the pandan emitted fragrance were just nice except that it was a bit too salty to be taken alone. I suspected that too much salt has been added into the coconut milk used in the preparation. Lastly, we had Tub Tim Krob (RM3.90+) as dessert. We had two bowls with lesser ice, served with red jelly coated water chestnut cubes, jackfruits in creamy coconut milk. Although the chef was careless enough to miss out the syrup, the sweetness from the water chestnuts and jackfruits blended in well with the creamy coconut milk.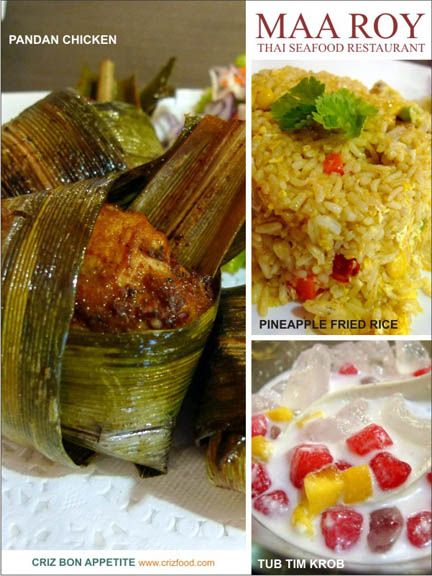 There would be a 5% service tax included in all orders. Psss… That was not the end of the story. I had more craving for Thai food. The following day, I had visited Lang Sae Lee Thai Restaurant at Tan Jetty, Weld Quay, Penang, which had gone through a beautiful facelift with more than 15 tables now, more choice of dishes and more friendly service staff to handle the increasing multi-national patrons. The Thai dishes here are still as delicious, cheap and traditionally cooked as ever even with a bit of price increase.
If you are driving from town towards Bayan Lepas, upon seeing Queensbay Mall, keep to your left and go over the flyover leading to Bayan Baru (Lebuhraya Sungai Nibong). Drive until you reach the traffic lights at the roundabout and make a U-turn back to the other side of Lebuhraya Sungai Nibong. Turn left into the first junction you see and drive a bit further and you would see the restaurant on your right, between TCE Tackles Sdn. Bhd., a vacant lot and Chin Dental Surgery.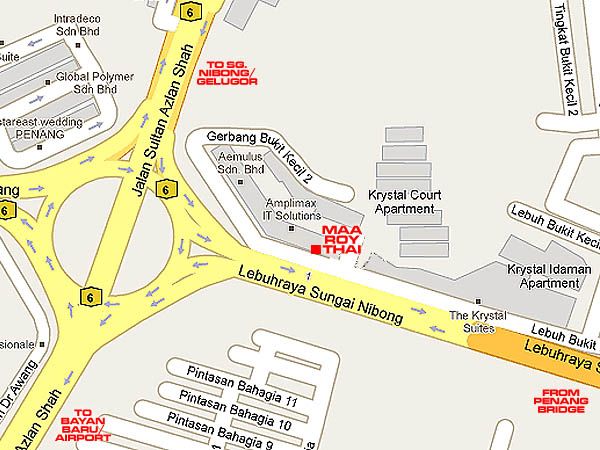 Name: MAA ROY THAI SEAFOOD RESTAURANT
Address:
B303-1-27, Krystal Point, Jalan Sultan Azlan Shah, 11900 Bayan Lepas, Penang, Malaysia.
Contact: 604-643 0752
Opening Hours: 11.00am– 3.00pm, 6.00pm-10.00pm
GPS: 5.331544, 100.297069
RATING:
Ambience: 8/10 (1-4 cheap, 5-7 average, 8-10 classy)
Food Choices: 8/10 (1-4 limited, 5-7 average, 8-10 many choices)
Taste: 7.5/10 (1-4 tasteless, 5-7 average, 8-10 excellent)
Pricing: 8/10 (1-4 cheap, 5-7 average, 8-10 expensive)
Service: 8/10 (1-4 bad, 5-7 average, 8-10 excellent)
For more information, please visit <http://www.tourdirections.com.my/directory/>. Planning your Penang food tour? TourDirections Penang helps you discover Penang cafes and restaurants, Penang hawker food, Penang budget hotel and Penang homestay at TourDirections.com.my.