Many of you would be wondering who would be replacing the former Kopi Cine outlet along Lorong Stewart within the heritage area of George Town, Penang. You don't have to guess any longer as the premises together with the other 4 lots along the row would now house Coffee Atelier, which consists of 55 Café & Restaurant (Mediterranean), Kopi (Coffee Museum), Gehrig Art Gallery, 47&49 Residence (Suites 47A&B, Suites 49A&B). The whole place would be manned by yet another foreign couple, Swiss Stefan Gehrig and his lovely wife from Hong Kong, Lorina Gehrig. While waiting for the renovation works for the rest of the lots to be completed, 55 Café & Restaurant had a soft launching yesterday, serving delicious Mediterranean dishes and aromatic coffee, the best of its kind in Penang. Even the aroma emitted from the fine graded coffees could not stop an American traveler from New Orleans, Louisiana, USA, from stopping by for a sip of the beautifully brewed coffee.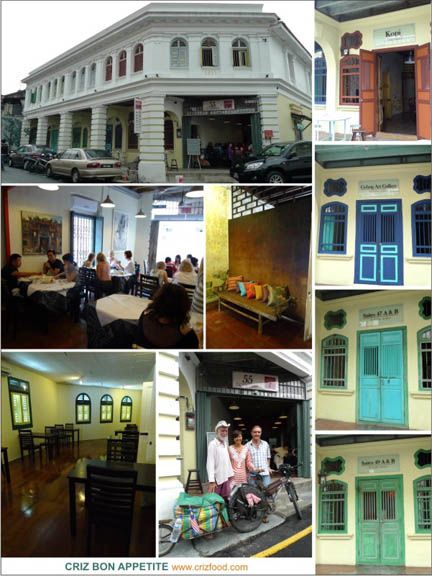 Since we were quite late for breakfast due to the heavy rain yesterday, we had a try out on the lunch items instead. There were a few selections in menu, starting with choices for breakfast, salads, starters, hot & cold tapas, pasta, desserts and beverages. We started with some tapas of hot and cold, all served with a plate/bowl of your selected item and a basket of baguette slices. The first one was with Chicken Liver Pate (RM14+). The pate was well prepared with traces of fresh herbs, butter, shallots, garlic, salt and pepper to cover up the bitterness from the chicken liver. It would even be better if they could just add in some dashes of brandy for that extra flavor.
The next batch was with Aubergines (eggplant), Tomato and Garlic (RM9+) in a paste form. It had some traces of black pepper being added in and was quite spicy but it complemented well with the baguette slices.
We also had with some tapas with Grilled Eggplant (RM9+), garnished with some sweet basil and chili slices for that light touch of spiciness.
The next set of tapas was the Gambas Aljillo (RM13+) served with some baguette slices. It was a hit amongst us as the fresh and firm prawns were beautifully cooked with chopped garlic, chili and some herbs in extra virgin olive oil. The dish was so lovely that we wiped out the whole plate dry with the baguettes served.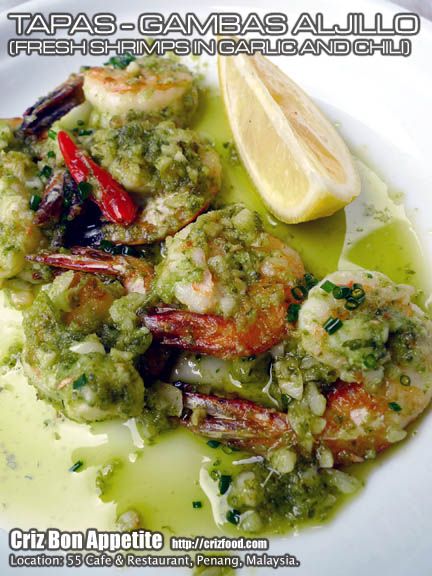 After the light finger food to boost up our appetite, we went for the Al Chef (RM28+). The dish had pan-fried sea bass fillet, served on spaghetti stir fried with potatoes and carrot casserole and seafood emulsion, garnished with a cherry tomato and some chopped chives. The sauce was awesome as it had some distinctive flavors from some toasted prawn shell, almost similar to the flavors of the lobster bisque I had at QEII. I won't mind having some dashes of white wine in the sauce to go with the nicely pan-fried sea bass fillet.
We also had some Spaghetti Carbonara (RM22+). The al dente pasta had a generous amount of back bacon slices, mushroom slices, egg, parmesan cheese, black pepper, hint of extra virgin olive oil and some fresh herbs cooked in white cream sauce, garnished with some chopped chives, tomato cuts and some lettuce slices. Although the whole combination was flavorful, the meaty back bacon with less fat somehow did not provide that nice fragrant bacon taste for the dish. Moreover the bacon tasted more cooked in sauce rather than being sautéed slightly prior to cooking. Ideally, but not totally healthy for those health conscious diners, sautéed slab bacon or streaky bacon would have a better justice to the overall taste of the pasta.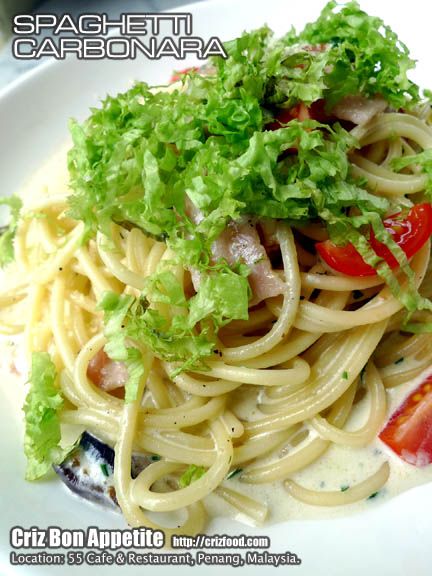 The Aglio Olio with Smoked Salmon (RM25+) in extra virgin olive oil was somewhat different to the ones I had tried elsewhere. It did not have some deep fried dried chilies added in for that nice pungent flavor. Moreover, it lacked the taste from some sautéed garlic slices which played an important part in this dish. Although some crispy chopped garlic were added in as garnishing, those were not adequate enough to pep up the overall taste. The pasta was presented with two cherry tomatoes, garnished with some chopped chives and grated parmesan cheese. The dish had the required amount of extra virgin oil added in but with overused of grated parmesan cheese. It was slightly on the salty side as the chef might have forgotten that the smoked salmon might have been treated with some salt during the preparation process.
They do have some different type of desserts served daily. So you might need to enquire about them from the counter. We tried out the Baked Cheese Cake (RM9+). It was not as what we expected as the cake was rather dry without much traces of the cheesy taste. Moreover, the slight sour after taste was rather mild instead of the usual lemon zesty flavor. The Chocolate Coffee Cake (RM6+) tasted better, considering that it was fluffy, moist with some traces of some chopped almond but it lacked a stronger taste of coffee. Moreover, the chocolate coating was rather sauced based. A bar of wrapped cheesecake by Gateau which had not been officially sold was passed around for our comments. This version indeed had our praises as the usage of cheese on the digestive biscuit base was of standard. I guessed the café should take note on the quality of cakes supplied to them in the near future.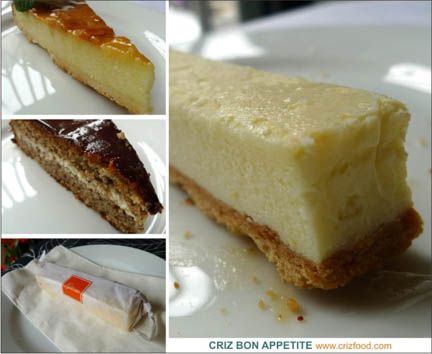 As for beverages, there was a wide selection to choose from ranging from coffee, chocolate, tea, ice cream milkshakes, mocktails to beers. We tried out the Caramel Hot Chocolate (RM10+). It was frosty and nice. The Chamomile Dream (RM9+), a fragrant and flavorful flower tea served in a pot was as fine as it should be. This flower tea has always been my favorite tea due to the fact that it's a cure all tea for building up the body immune system against cold related infections, relaxing the nerves, strengthen the liver function, relieving back pain, rheumatism, etc. There was also the Vanilla Ice Cream, Banana and Chocolate Chips Milkshake (RM16+). It had just the right flavors but was not as creamy as the one I had at Delicious, Straits Quay, Penang. When it comes to coffee, the café sure can declare they are the best with their state-of-the-art coffee maker. The Hot Latte (RM8+) I had was the best I had taken so far with the right thickness, sweetness and creaminess it should have. Simply awesome!
Here's a sneak preview of the almost completed hotel interior. The charges would be between RM300 and RM400, with or without breakfast. The rates would be confirmed very soon by the management upon completion of the heritage hotel.
Overall, the food served here can be quite unique on its own. All the dishes served here are of fresh ingredients and can be well accepted by the locals as well as foreigners but there are still rooms for improvements for some of the dishes as I had mentioned above. The prices for food can be a bit high for some dishes and beverages. Please also note that there would be a 10% service charge applicable for all purchases.
If you are driving along Lebuh Farquhar into Jalan Mesjid Kapitan Keling, keep a watch out for the Goddess of Mercy Temple on your right. Immediately after the temple, turn right in Lorong Stewart and make a zig zag turn and you will see the café on your left at the junction of Lorong Stewart/Lorong Chulia. Parking can be quite limited during peak hours. I would advise you to find whatever parking space you can and walk to the café.
Name: 55 CAFÉ & RESTAURANT @ COFFEE ATELIER
Address: 47-55, Lorong Stewart, 10300 Penang, Malaysia.
Contact: 604-261 2261, 016-469 8228 (Lorina Gehrig), 016-464 8118 (Stefan Gehrig)
Business Hours: 8.30am-10.00pm daily
GPS: 5.419143, 100.337772
RATING:
Ambience: 7/10 (1-4 cheap, 5-7 average, 8-10 classy)
Food Choices: 7/10 (1-4 limited, 5-7 average, 8-10 many choices)
Taste: 8/10 (1-4 tasteless, 5-7 average, 8-10 excellent)
Pricing: 8/10 (1-4 cheap, 5-7 average, 8-10 expensive)
Service: 7.5/10 (1-4 bad, 5-7 average, 8-10 excellent)