Most people would love to have sweet desserts for tea. For my case, savory items would suit me better as it's another way to control my blood sugar level. Nobody would believe that I created these yummy snacks for tea mostly with leftovers~ Haha! Well, I have some puff dough left in my freezer as well as some mushroom gravy I have in stock from my previous grilled meat dishes. I just added some finely cut chicken slices to the mushroom gravy and that became my filling for my CHICKEN & MUSHROOM PUFF BOAT.
I learned the puff pastry from Gordan Ramsey's Rough Puff Pastry recipe. Let me show you my mushroom gravy recipe instead which would serve as a great sauce for any grilled, batter coated or breadcrumb coated meat dishes. As for the balance of the cut dough, I simply wrap around some boiled cocktail sausages to come out with another snack I called COCKTAIL PUFF. Another bonus snack~ 😛
INGREDIENTS FOR MUSHROOM GRAVY: (Make about 4 cups)
250gms dried Shitake mushrooms (soak in hot water & slice thinly) or 400gms fresh mushrooms (slice thinly)
60gms butter (about 1/8 of a 454gms block of butter)
1/3 cup flour (sift)
900ml meat or vegetable stock
1/2 tsp dried mixed herbs
1 tsp dark soy sauce
1 tbsp brandy/whiskey
Salt & freshly grounded black pepper to taste
INGREDIENTS FOR CHICKEN & MUSHROOM FILLING:
300gms chicken breast meat (slice & coarsely cut into bits)
GARNISHES:
Cherry tomatoes & micro greens
PREPARATIONS:
• Melt the butter in a large saucepan/wok on MEDIUM-HIGH heat.
• When the butter sizzle, add the mushrooms and sauté until dry with golden brown color for about 10 minutes.
• Reduce the heat to MEDIUM and stir in the sifted flour. Cook for about 5 minutes.
• Reduce the heat to LOW and slowly whisk in the meat/vegetables stock.
• Add in the mixed herbs and let it simmer for 25-30 minutes (or until your preferred thickness) while stirring occasionally to avoid the base being burnt.
• Add in the brandy/whiskey, salt and freshly grounded black pepper to taste. Now you have your sauce to serve with any meat dishes.
• As for the chicken & mushroom filling, just leave about 1/4 of the gravy (about a cup with mushrooms) and pour in the chicken meat. Slowly saute until cook. If the gravy is too thick or salty, just add a bit of hot water to dilute it. Roughly drain the gravy into any existing gravy stock you have left.
• As for the puff pastry (based on my displayed photo), cut the rolled dough into 2″ x 4″ rectangular. For every 2 pieces, cut a hole in one and lay it on another whole pastry. The remaining cut piece you can use it to wrap around a boiled cocktail sausage to avoid wastage.
• Glaze your baking tray with some butter.
• Place your puff pastries on it and brush evenly with some butter.
• Preheat your oven on 210°C-220°C for 10 minutes.
• Place your baking tray inside and bake for 10-12 minutes or until the crust is golden brown.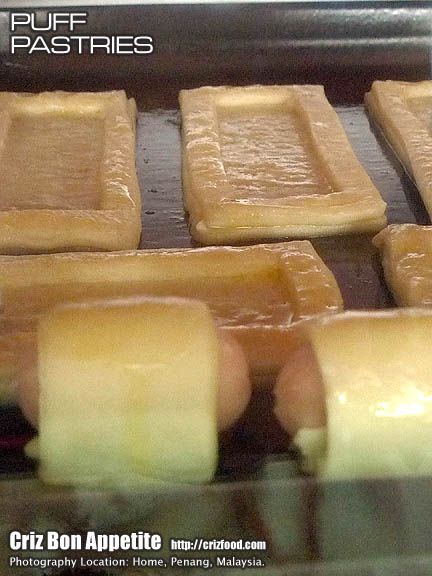 • When the puff pastries are done, use a butter knife to flatten the inner layer.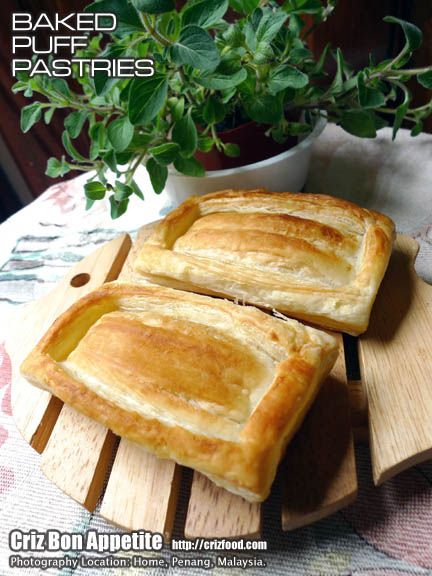 • Fill them up with the chicken & mushroom filling. Garnish with cherry tomato and micro greens. Note: Try not to have any gravy in the puff pastries as it would wet the base.
• Serve hot
(Makes: 12-15pcs)
Do enjoy your simple snacks~ 🙂
YOU CAN CHECK HERE FOR MORE RECIPES.