This is one type of hawker food that you would not find anywhere else in Penang – the Oriental Chicken Mushroom Hor Fun. The stall has been operating there for two generations ever since it moved over from Jalan Siam. Most of the patrons are regulars as the stall is way out of the view from the main road. You can either order it dry or soup with Hor Fun, Bee Hoon or Mee. Both will come topped with yummy, tender juicy chicken meat, mushrooms and wood fungus.
What make this dish unique is that the boneless chicken meat cubes, mushrooms, wood fungus are stewed until all the herbs and spices had gone right into the meat. One bite and you will taste the mild herby taste of Dong Quai (Chinese Angelica or Female Ginseng), a traditional herb used in some Chinese dishes for strengthening the blood circulation, gynecological ailments, fatigue, mild anemia and high blood pressure. Women should know better how this herb will help. 😛
Price wise, a small bowl will cost RM3.00 and a big one RM3.50. Here are the two big bowl of the Hor Fun that we had ordered. If you plan to eat something heavier such as dinner, Tuck Sai Café does provide ala carte dishes with rice. The dishes are quite tasty but the pricing for the food and drinks could be pricey a bit.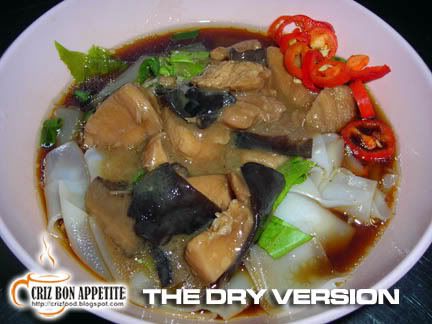 If you are moving from town area along Jalan Dato Keramat towards Greenlane / Air Itam, you will see the Dato Keramat Police Headquarters at the traffic light. Drive further about 800m and you will see a big Nasi Kandar shop on your left. Turn into the road, Jalan Singapura (next to the road, same stretch as the Nasi Kandar shop is Honolulu Bistro & Café – formerly an old cinema) and turn right into Jalan Bukom. The stall is prominently located on the ground floor of the Sri Pelangi Apartment on the right.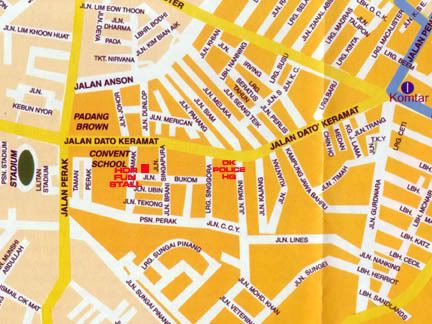 Name:
ORIENTAL CHICKEN MUSHROOM HOR FUN @ TUCK SAI CAFE
Address:
Ground Floor, Sri Pelangi Apartment, Jalan Bukom, Penang, Malaysia.
Opening Hours: 6.00pm – 11.00pm (Close Sunday & Monday)
GPS: 5.411768, 100.319059
RATING:
Ambience: 6/10 (1-4 cheap, 5-7 average, 8-10 classy)
Food Choices: 6/10 (1-4 limited, 5-7 average, 8-10 many choices)
Taste: 8/10 (1-4 tasteless, 5-7 average, 8-10 excellent)
Pricing: 6/10 (1-4 cheap, 5-7 average, 8-10 expensive)
Service: 6/10 (1-4 bad, 5-7 average, 8-10 excellent)