More and more diners in Penang are beginning to appreciate the wonders of Thai cuisine, which has an unquestionable harmonious balance of Yin and Yang. Thus, a new restaurant by the name of Thai Food Restaurant has recently opened its door within the vicinity of Green Lane, Penang to enable diners to enjoy the coexistence of all the major flavor characteristics, namely sweetness, sourness, spiciness and saltiness". The provincial style of cooking basically came from Chiang Mai in Northern Thailand, almost similar to those dishes served at Aroy Chang Moo Kata in Pulau Tikus, Penang.
Instead of starting off with the commonly available Mieng Kam aka One Mouthful, we started with Nam Prik Kapi (น้ำพริกกะปิ/Thai Style Ulam aka Fresh Green Salad – RM9.00nett). I always have phobia having the hot sauce as in the Nam Prik as different provinces in Thailand have their own different level of spiciness. Surprisingly, I felt in love with the version here as the hot sauce has just the balance of sweetness, sourness, spiciness and saltiness to my liking. The vegetables consisted of long beans, cucumbers, carrots and cauliflower.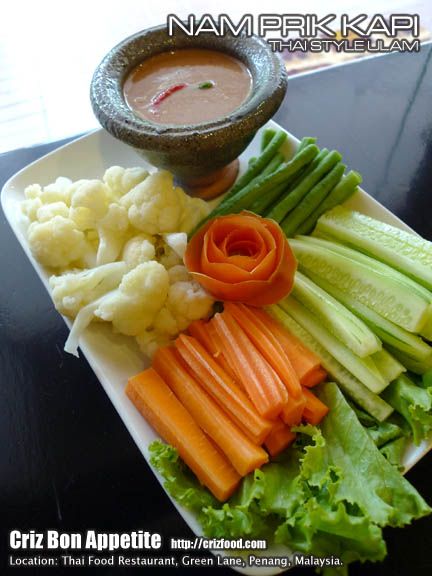 Next, we started off with some appetizers. A simple and nutritious Yam Hed (ยามเห็ด -Black & White Fungus/เห็ดหูหนู & เห็ดหูหนูขาว – RM9.00nett/RM12.00nett) would be a great appetizer to start off a meal. The flavors were quite similar to that of Lab Moo Sub (ลาบหมู/Spicy Minced Pork Salad) but minced chicken was used instead. I love the crunch on both the black and white fungus used as well as the well balanced flavors from the onions, chopped chilies, fish sauce, lime juice, palm sugar, spring onions and coriander. This combination would also go well with chicken feet in place of the fungus.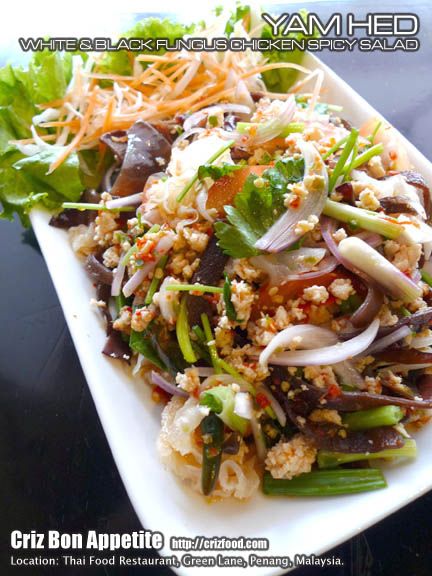 Another appetizer we had was the Yam Abpen (ยำแอปเปิ้ล/Spicy Green Apple Salad – RM9.00nett/RM12.00nett). The crunchiness of the Granny Smith green apples used combined with chopped chilies, fish sauce, lime juice, palm sugar, fried dried shrimps and garnished with some cashew nuts was nice. Again, the level of spiciness was just right for everyone.
Another nice dish to start off a proper meal would be the Pak Boong Krob (ปากบุ้งกรอบ/Batter Fried Crispy Morning Glory aka Kangkung – RM8.00nett). It went well with some Thai chili sauce. Instead of serving it just this way, I have seen a few restaurants tossed these vegetables with some sauce and served as a salad.
The next dish which was the Tod Man Goong (ทอดมันกุ้ง/Shrimp Nugget/Shrimp Cake – RM3.00nett each) was my favorite amongst all those that I had tried elsewhere. The dish was quite simple to make but required the right balance between the usages of minced meat to prawns. The balance here was 1:2 and the patties were coated with breadcrumbs prior to being deep fried until golden brown. These delicious shrimp cakes would be a must order item.
The Pik Gai Yat Sai (ปีกไก่ญาติซ้าย/Stuffed Otak Chicken Wings – RM3.50 each) is another of the restaurant's signature dishes. The spicy egg paste or so called otak otak was stuffed into the partially boneless and marinated chicken wings and deep fried to perfection. The combination was great and it could be even better if a bit more of chili paste and sliced kaffir lime leaves were added in to pep up the flavors more.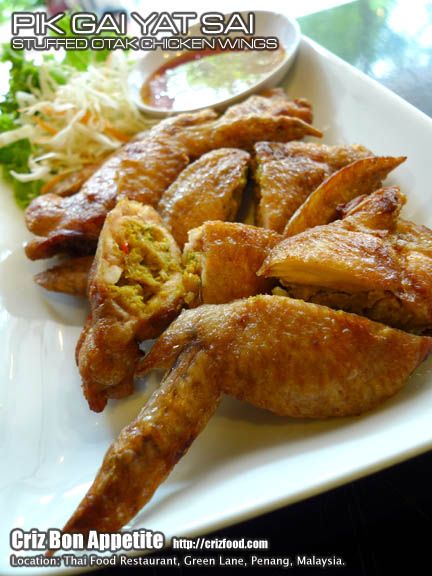 Other than the Germans, the Thais are also great cooks for pork knuckles. Instead of having the stewed version, we opted for the Kha Moo Krob (ขาหมูกรอบ/Crispy Pork Knuckle – RM18.00nett). Each bite was amazing crispy and flavorful. Moreover, it was convenient for everyone as they had removed the bones too.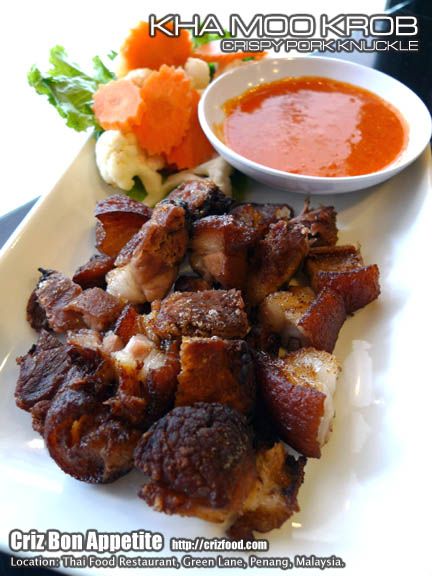 Sometimes, a simple Thai dish such as the common household dish of Khai Jiu Cha Om (ขายจิ๋วจะออม/Cha Om Omelette – RM8) would please me most. The feathery young shoots of the food plant (also known as climbing wattle/Acacia pennata) are commonly used in omelettes, soups, curries or simply by stir frying in mild sauce in Thai cuisine. The shoots have a unique smell similar to that of the stink beans (buah petai) but with a subtle flavor. It was great to have it with some hot sauce as served with the green salad.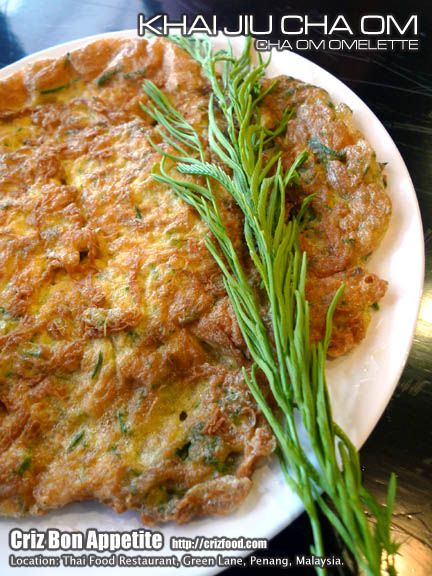 The Thais loved squids as well and we were also served with Pla Mek Sam Rot (ปลาหมึกสามรส/Squids in 3 Flavors Sauce). The boiled squids were tossed in chopped garlic, chilies/bird's eye chilies, fish sauce, palm sugar and coriander and served on a hot plate. Even though this was another version of the wetter version with some added stock, it was real appetizing.
We also tried out their Gaeng Som Pla Grapong (แกงส้มปลากะพง/Gaeng Som Sea Bass – RM25nett-RM45.00nett). The sour and spicy curry may differ in different parts of Thailand but I love this clearer version with just the right amount of sourness from the tamarind as well as a generous portion of vegetables used. However, I would prefer to have fresh fish rather than deep fried ones for my Gaeng Som.
Their Green Curry Chicken (แกงเขียวหวานไก่/Gaeng Kiew Wan Gai – RM14.00nett/RM20.00nett) was reasonably tasty. The dish was not as spicy as expected as they were using a light amount of sliced red chilies instead of bird eye chilies. There were some bigger version of mini Thai eggplants being used here plus a generous amount of fresh Thai basil leaves. The gravy had a strong hint of coconut milk being used but was a bit less concentrated than I expected due to the chef's method of cutting down on the level of spiciness from the pre-prepared green curry paste. Alternatively, some long beans could be added in to reduce the spiciness rather than diluting the gravy too much.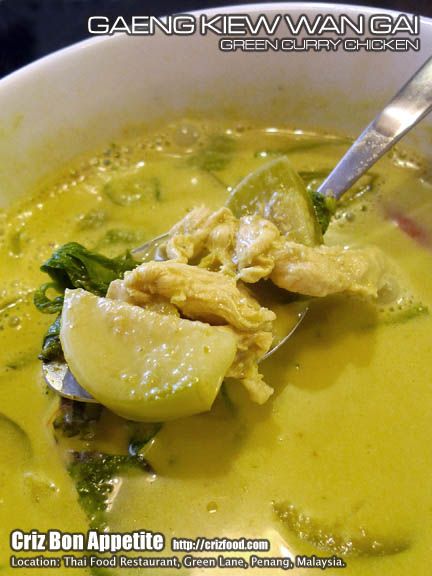 Most people would think that Thai food would always be spicy until the max but not at all as you can still order some oyster sauce based dishes such as the Phat Phak Naw Mai Goong (ผัดพักหน่อไม้กุ้ง/Stir Fry Asparagus with Prawns – RM12.00nett/RM16.00nett). this dish would be served with some prawns stir fried with young asparagus shoot and carrots in light oyster sauce.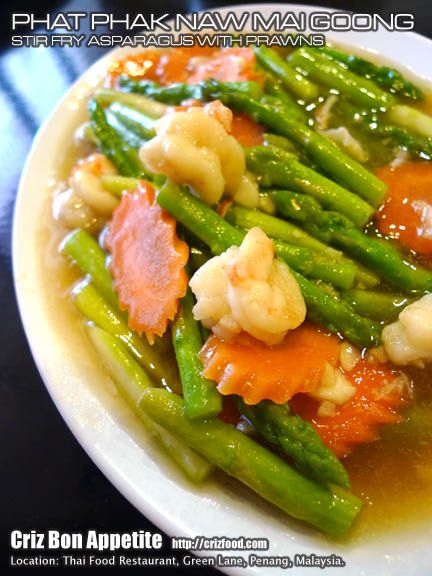 The next dish was something that I almost would not miss out in my list of orders in a Thai restaurant. It's the Tom Yam. I would normally order the clear version as the red version would only consist of added chili oil. We ordered the Tom Yam Nam Sai (ตมยามนามซ้าย/Clear Tom Yam with Mixed Seafood – RM18nett/RM28nett) instead. It had prawns, fish and squids. The soup was rather mild, considering that the chefs were quite careful in the usage of bird's eyes chilies which would give a really powerful spicy punch. Although there were traces of fish sauce, lemongrass and galangal found within the soup, I found the soup to be too mild in sourness. It needed a tad bit more of tamarind/lime juice or even some added tomatoes to pep up the flavor more. Moreover, some added oyster mushrooms would be nice too.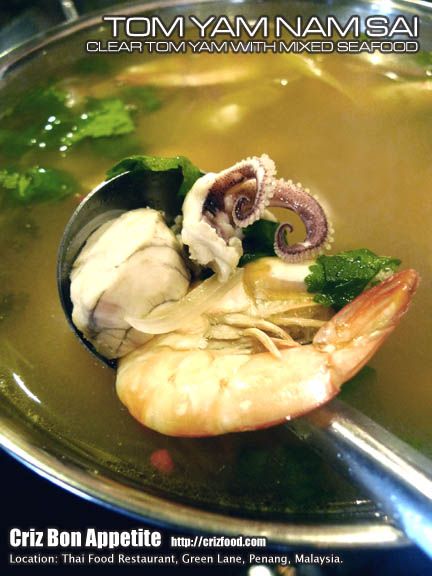 Instead of steamed rice, you could also order their Khao Pad Sapparot (ข้าวผัดสับปะรด/ Pineapple Fried Rice – RM5.00nett/RM12.00nett). This was one of the best pineapple rice dishes I have tasted as the dish had the nice "wok hei" (high heat cooking) and flavors. Moreover, there was the bonus of having some meat floss and chopped coriander as garnishes. It would be great if some chopped spring onions and fried shallots being added in.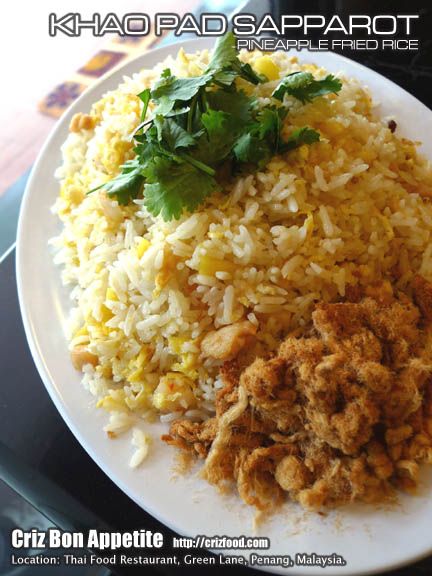 You can also order the Khao Krok Kapi (ขาวกรอกกะปิ/Belacan Fried Rice – RM5.00nett/RM12.00nett). The dish basically had shrimp paste (belacan) fried with rice and served with side dishes such as bird's eye chilies, onions, egg, mango, cucumber, dried shrimps and meat. Compared to the Pineapple Fried Rice, the former had better flavors.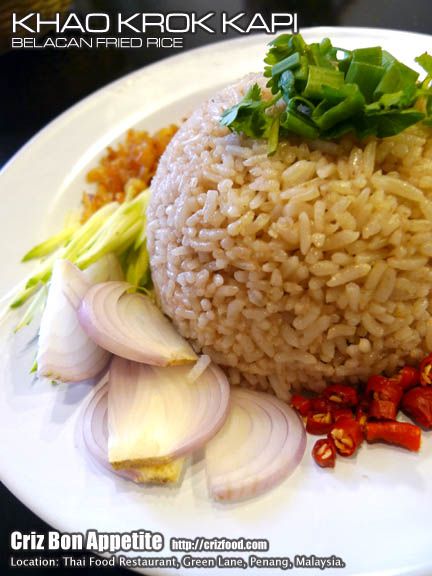 To end the meal, we had the Tub Tim Krob (ทับทิมกรอบ/Jellied Water Chestnut Rubies with Jackfruit in Coconut Milk – RM4.50/bowl). It was a decent dessert with added jellies. It would be even better if the coconut milk added was more concentrated.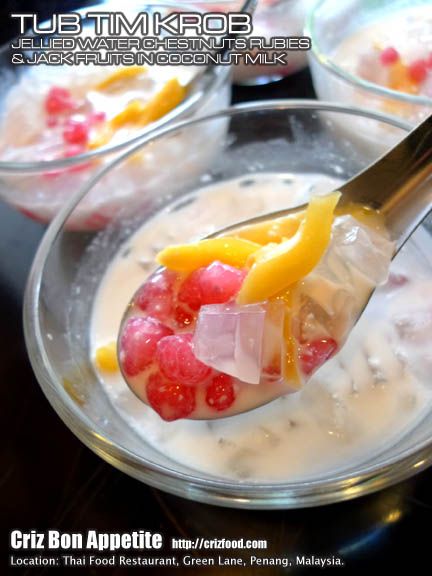 Currently, the beverages served here were rather limited but they do serve freshly brewed Lemongrass Tea (RM1.50nett Hot/RM2.00nett Iced). They should consider importing Nam Daeng (red – sala flavored syrup) and Nam Kaew (green – cream soda flavored syrup) and add in some soaked sweet basil seeds in making the drinks. These two drinks have cooling effects for the burning sensation in your mouth whenever you have taken too high level of spiciness.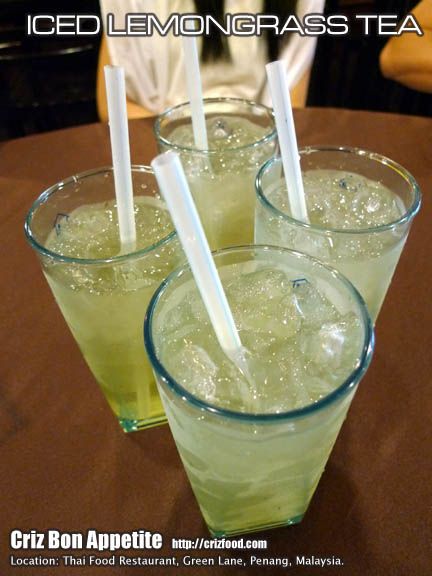 Overall, the dishes served here were quite fulfilling for a Thai cuisine hunter like me here. The wonderful thing is that they managed to control the level of spiciness well for the general local consumers. You could always get them to spice up the dishes if you find them to be too mild for you. However, they are not quite close to the homely style of cooking as I had at Annathai-Kitchen yet but some of their dishes served here surely exceeded my expectations.
The Thai Food Restaurant is located just at the back portion of the Batu Lanchang Market Food Court and won't be hard to locate at all. If you are coming from Jalan Mesjid Negeri towards the Penang Bridge, you would pass by Lam Wah Ee Hospital. Just drive on until you see a Petronas petrol kiosk on your left. Drive on about 100m more and you would see a left turning. Turn left into Lebuhraya Batu Lanchang and drive on until you see CIMB Bank/KFC. Turn left into Medan Batu Lanchang and drive on until the other side of the shop houses and you will see the restaurant just at the back of the food court on your right. Try finding some legal parking spaces here. If you can't, I would advise you to park your car within the Batu Lanchang Market car park compound as the local MPPP officers could be rather summons happy here. LOL!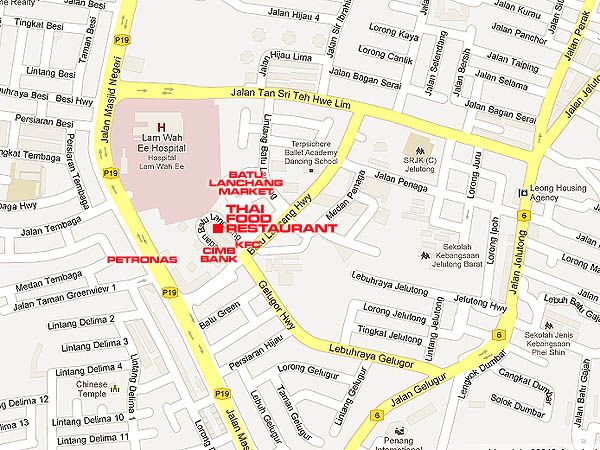 Name: THAI FOOD RESTAURANT
Address: 19L, Medan Batu Lanchang, 11600 Penang, Malaysia.
Contact: 012-486 9191 (Mr. Christopher Choong)
Business Hours: 11.00am-3.00pm, 6.00pm-10.00pm
GPS: 5.389492, 100.305363
RATING:
Ambience: 7/10 (1-4 cheap, 5-7 average, 8-10 classy)
Food Choices: 8/10 (1-4 limited, 5-7 average, 8-10 many choices)
Taste: 8/10 (1-4 tasteless, 5-7 average, 8-10 excellent)
Pricing: 7/10 (1-4 cheap, 5-7 average, 8-10 expensive)
Service: 8/10 (1-4 bad, 5-7 average, 8-10 excellent)