The Northeastern Style Dumplings, more commonly known as DONGBEI JIAOZI (東北餃子), are the staple food of the capital city of Beijing, China. The ravioli textured and size like dumplings can be stuffed with just anything you like. Since Dongbei cuisine are often quite heavy in the usages of meat, garlic, vinegar and thick sauces, you would expect the stuffing to contain meat of any sort combined with different types of vegetables as well as different versions of vinegar content condiments. Instead of the normal white flour skins, let me show you a basic recipe with the usage of natural fruit or vegetable juices to make the dumplings more colorful. I would also be sharing a basic filling recipe here.
SKIN INGREDIENTS:
300g bread flour
150ml fruit/vegetable juice
1 tsp of salt
Water (add some if too dry)
Note: You can substitute the juice with water for plain ones
FILLING INGREDIENTS: (SPICY FRAGRANT CHICKEN)
300g minced chicken (any meat of your choice)
300g cabbage (finely chop)
3 stalks spring onion (finely chop)
1-2 red chilies (remove seeds, finely chop)
1/2 tsp 5-spice powder
2-3 tbsp chili oil (from the dipping sauce recipe below)
2 tbsp soy sauce
1 tbsp of sesame oil
1 tbsp cornstarch
Pinch of salt
Sprinkle of grounded pepper
DIPPING CONDIMENTS:
Option 1: Ginger & Black Vinegar
200g young ginger (remove skin, finely julienne)
1/4 cup black rice vinegar
1/2 tsp salt
1 tsp sugar
Preparation: Mix all the liquid. Add in the julienned ginger when serve.
Option 2: Spicy Chili Oil
60g-80g chili flakes
3/4 cup oil (any type)
2 star anise
2" cinnamon
1 tbsp sesame oil (optional)
1tsp salt
3 cloves garlic (remove skin, finely chop)
10-15 bird's eye chilies (slice, optional)
Preparation: Heat up the oil, sauté the star anise and cinnamon for 1-2 minutes. Add in the chili flakes and sauté until fragrant under LOW FIRE. Add in the salt, stir evenly and scoop out. Add in the chopped raw garlic and sliced chilies when serve.
Option 3: Pickled Peanuts & Garlic (14 days required to be eaten)
300g raw peanuts with skin (wash, soak in hot water 20 minutes, drain well)
3 bulbs garlic (cut off roots, remove skin)
1 cup black vinegar
1/2 tsp salt
1 tbsp sugar
1/2 tbsp sesame oil
1/4 cup lime juice
Preparation: Mix all in a large bowl and pour into a tall jar. Marinate in the chiller for at least 2 weeks. Serve the pickled peanuts and garlic without the liquid.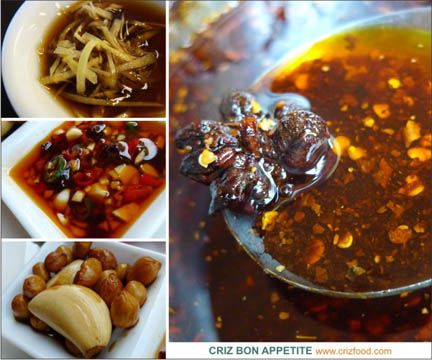 PREPARATIONS:
• Mix all the filling ingredients thoroughly and leave it to marinate in the chiller for at least 30 minutes.
• To make the dough for the skin, sift the bread flour into a mixing bowl. Make a well in the middle of the sifted flour and slowly add in the juice and salt mixture slowly. Knead until the dough stay clean from the mixing bowl. Add a bit of water if the juice is not enough. Let it rest in the bowl covered for about 20-30 minutes.
• Dust your table with some flour, slightly flatten the dough and cut into 4 strips.
• Dust more flour on the table and roll them into long sausage like rolls.
• Cut all up to evenly sized small balls (about 40-50 pieces). Dust more flour to avoid them sticking on the table.
• Take one piece of the dough and slightly flatten it with your palm.
• Use a small rolling pin with your right hand and slowly flatten the dough while your left hand slowly rotating the dough.
• When the dough is flattened to your preferred size, fill it up with about 1 tablespoon of the meat filling.
• Fold it up and crimp the side as shown in the diagram below, starting from the left side and do the same for the right side.
• Dust a tray with more flour and place your done dumplings on it.
• The cooking of the dumplings is quite crucial as you would want to maintain the al dente of the skin. So take note of the method to boil them. You could steam them but the skin tends to get dry faster.
• Heat up 3/4 pot of water. When boils, pour in the dumplings. When the water boils again, add in a glass of room temperature water. Let the water boils again and do the same step by adding another glass of water. When the water boils this time and you can see the dumplings floating up, they are cooked. The whole process would take about 6-8 minutes.
• Scoop out the dumplings and apply some oil on them to prevent them from sticking.
• Serve hot with your preferred dipping sauce.
(Makes: 40-50 pieces)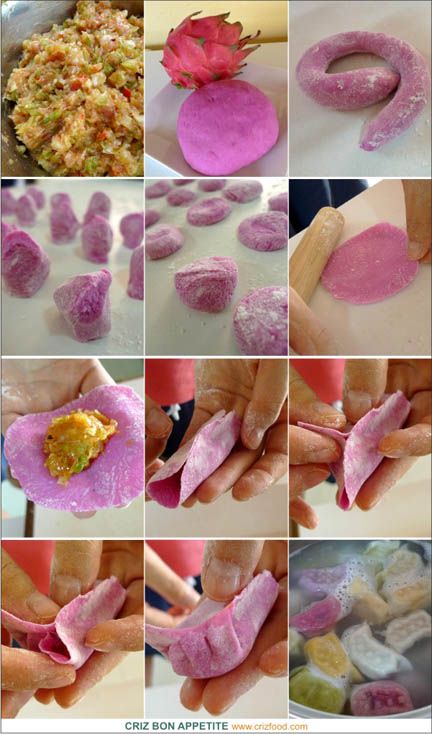 YOU CAN CHECK HERE FOR MORE RECIPES.
Alternatively, you can also serve these dumplings with some noodles as how I did it. This noodle dish was simply irresistible!
For those who would love to savor these delicious dumplings but reluctant to stay in the kitchen to produce them, you are in luck! You can soothe your dumpling craving by just calling up the supplier at the link here.