Note: The stall would be relocated to a few shop houses away at Kedai Kopi Bee Hong on 12 May 2012 to enable some construction works
Maybe some of the foreigners may not know what is Tang Yuan but I can assure you that this dessert is very delicious. Tang Yuan is made out of glutinous rice flour mixed with water and form into small balls, either plain or colored. They can also be eaten unfilled or filled. You can opt for plain syrup or brown syrup cooked with or without old ginger slices. The most common filling would be red bean paste, black sesame paste or peanut paste. My grandmother used to fill them up with minced pork, cook them in boiling water and served them with chicken soup and vegetables. I really missed that and could not find anyone else selling it this way. I guessed the recipe went with her as well.
Anyway, Tang Yuan was originally served only during Lantern Festival, Winter Solstice and Chinese New Year. Today, they can be found easily in the frozen food section of any Asian supermarkets around the world. No matter what, I would still prefer those made fresh as they are softer. It has always been a tedious job and time consuming rolling the glutinous rice flour into balls but now you can just get them easily throughout the year. Where would you find the best Tang Yuan shop in Penang? The stall is right in the heart of Georgetown.
Recently, I visited the famous stall to savor the yummy dessert. My friend and I ordered two different combinations just to show you what Tang Yuan looked like. One bowl was filled Tang Yuan in gingered brown syrup whereas the other was unfilled Tang Yuan in plain syrup.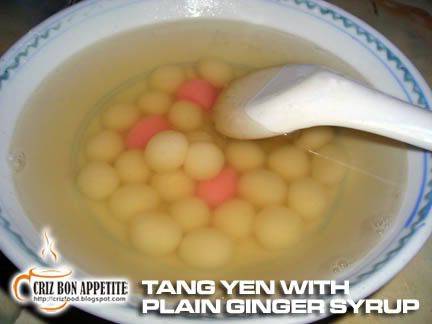 Just look at the fully filled Black Sesame and Peanut Tang Yuan. Don't they look yummy?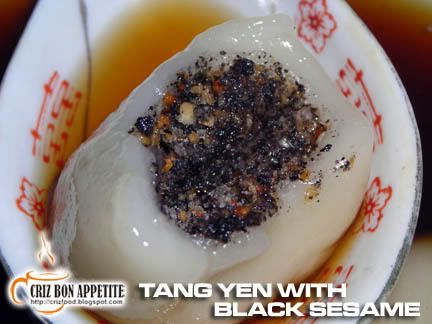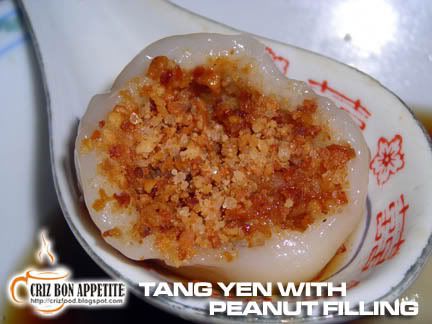 Do not miss the opportunity to try out this wonderful dessert when you are in town during dinner time. The stall is situated by the roadside just diagonally opposite Traders Hotel, Magazine Road as well as Lebuh Lintang leading to Sushi King Prangin Mall. It is right after the second traffic lights on your left if you are coming from Jelutong Expressway towards town.
Name: TANG YEN HAWKER STALL
Address: Magazine Road, Penang, Malaysia. (Opposite Traders Hotel)
Contact: 016-477 7764 (Ah Hock), 016-454 4031 (Anna)
Opening Hours: 7.00pm – 12.00am (Closed on Wednesday and Sunday)
GPS: 5.413039, 100.330603
RATING:
Ambience: 5/10 (1-4 cheap, 5-7 average, 8-10 classy)
Food Choices: 5/10 (1-4 limited, 5-7 average, 8-10 many choices)
Taste: 8/10 (1-4 tasteless, 5-7 average, 8-10 excellent)
Pricing: 7/10 (1-4 cheap, 5-7 average, 8-10 expensive)
Service: 7/10 (1-4 bad, 5-7 average, 8-10 excellent)