Many Chinese restaurants would serve this ingredient in the menu but not many diners are aware of its versatility as it can be used in many ways depending on how it's been prepared. Some would just deep fry it as a snack and serve with chili sauce. Some would use it as another ingredient in their vegetarian dishes which would consist of mainly of vegetables and mushroom. This special ingredient is fresh bean curd sheet and sometimes known as yuba. Today, I'm going to share with you how to cook VEGETARIAN SCRAMBLED EGGS WITH GINGER IN SESAME OIL. It's so simple that you can just stir it up within minutes without any skills.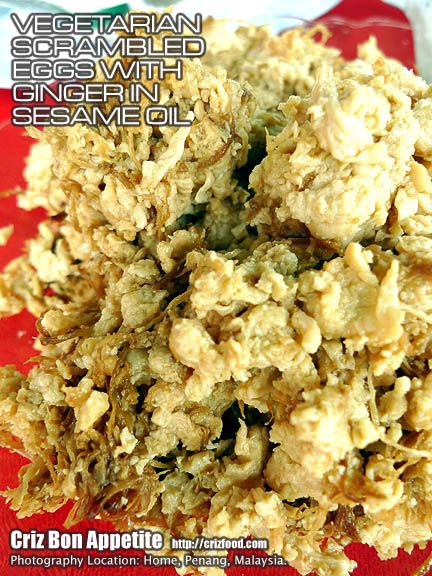 INGREDIENTS:
10pcs fresh bean curd sheets (tao bor/yuba/腐皮卷 – Cut into 5mm length)
1/4 cup vegetable oil
1/4 cup sesame oil
200g young ginger (scrap off skin, fine julienne)
Pinch of salt and sugar
Some pepper
Soy sauce to taste
PREPARATIONS:
• Heat up both the vegetable and sesame oil in a wok and sauté the julienned young ginger until fragrant.
• Add in just a light pinch of salt and sugar. Stir evenly.
• Add in the sliced fresh bean curd sheets and stir thoroughly.
• Sprinkle some grounded pepper and soy sauce to taste.
• Scoop out while straining out all the remaining oil and serve with hot steaming rice.
(Serves: 5-6)
You might wonder what fresh bean curd sheets are? Here's a photo on this wonderful ingredient.
YOU CAN CHECK HERE FOR MORE RECIPES.