If you remembered the beautiful chill out place formerly call Sunset Bistro up at Bayu Senja, Batu Ferringhi area which was burnt down due to the so-called arson attack in late January 2011, you would surely not miss out the reincarnation of such cool bistro which now carries the name of Bora Bora By Sunset. A brainchild of Ms. Melynda Soon, the bistro was opened towards the end of May this year at a new location. It's located just a shop lot away just before the Tarbush Lebanese Restaurant, hidden right behind some night market stalls along the famous Batu Ferringhi stretch. It has a better ambiance compared to the former with more cozy and dimly lighted corners for romantic couples. The bistro covers a long stretch of cemented pathways up to the edge of the beach, with an ejected wooden platform in between, to watch the beautiful sunset over the horizon of the Andaman Sea. Comfortable and uncomplicated, this snazzy bistro is actually a reminiscent of those smaller water holes by the beaches of some South East Asian countries. With an open rainforest concept, you are assured of cheap beers, reasonable priced beverages and a decent spread of cuisine, done in the simplest way to tempt any taste bud.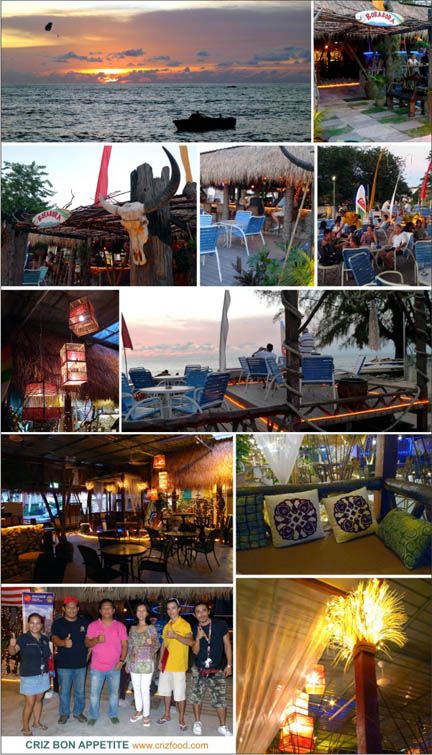 An uprising star on the night scene in Penang, Bora Bora By Sunset without fail has attracted a steady stream of regulars amongst the locals, tourists and expatriates. Even the workers there were all well trained to make the best out of your visit. Occasionally, there could be some well-heeled guests swinging and twisting out from nowhere. Are you sporting enough to put on your best dancing shoes and join in the crowd? After all, this would be the best opportunity to let your hair down and mingle with everyone.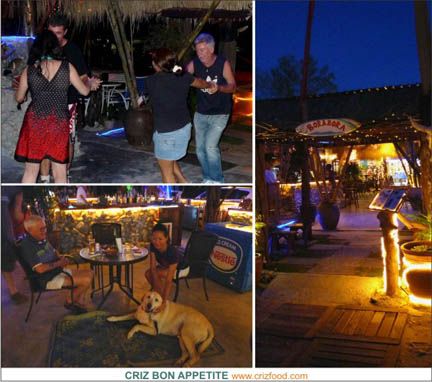 Do check out how fun-filled the crowd can be even on weekdays. 🙂
There would never be an ending to the choices of cuisine available here, ranging from light snacks, sandwiches, local food fares, spaghettis, pizzas to western cuisine and desserts. The Special Fried Rice (RM8.90nett) had a twist of everything Malaysian. The rice had a mild spiciness with chunks of chicken meat and prawns. The only thing that it lacked was that "wok hei" (high heat cooking) that the locals would love to have but the tourists just loved the way it was presented. It came with an Indian papadam, two big skews of succulent Malay satay, a sunny side up omelette and an assortment of fresh greens. Everything tasted well except that the kitchen should take note of the excess oil from the satay gravy. It made the rice a bit oily.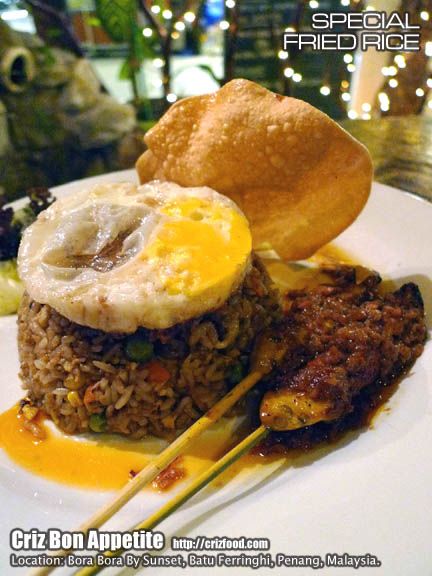 The newly introduced Pan Grill Lemon Citrus Butter Beef (RM31.90nett) had a touch of Mediterranean flavors. It had side dishes such as sautéed potatoes and fresh greens. The slight smoky flavor from the pan grilled beef, combined with the citrus butter with a touch of black pepper and herbs blended in well with the freshly handpicked greens. Although the dish was quite appetizing, in my opinion, this concoction would suit seafood better, preferably fish. Another thing that the kitchen should take note of would be the species of potatoes used. Certain potatoes imports such as those Australian or China ones are more suitable for deep frying or boil cook rather than being sautéed. Indian potatoes would be the ideal ones as they have that nice soft texture. Diners' choice of meat should also be considered here as some might not like their meat to be so well done. It should be a norm when ordering but somehow the waiter kind of forgotten about the importance of the diners' preferences.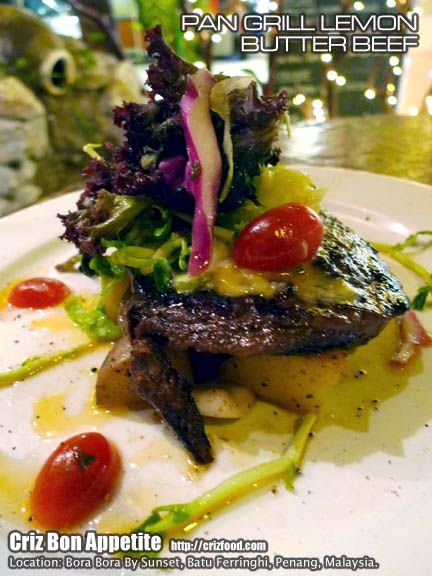 Pizzas… I always love thin crust pizzas or those wood fire ones. We ordered The Bora Bora Special Pizza (6" – RM12.90nett or 8" – RM13.90nett) which has turkey ham, pineapple, button mushrooms and olives. Compared to the dough for the pizza base from the former outlet, this one would need more experimenting. The base was rather compact and did not provide that mild crunchiness. Moreover, the pizza base sauce was rather thinly spread and did not have that distinctive tomato taste. On top of that, fresh pineapple cuts were used instead of the sweetened canned ones. There's nothing wrong with that except that the kitchen should have chosen a riper pineapple and got rid of the harder parts. It did not flow smoothly with each bite.
The best part was the dessert time. We ordered the Chocolate Brownie with Ice Cream (RM7.90nett). It was simply marvelous after a hearty meal. The slightly oven burned taste for the almond bits and raisin filled brownie went well with the scoop of vanilla ice cream. I just wished the scoop would be larger… haha! 😛
As for beverages, you can get just anything from coffee, tea, soda, fruit juices, lassi, milkshake, punch, cocktail, beers to any of your preferred hard liquor. Beer lovers would surely love this bistro as they have Skol (RM8nett per bottle), Anchor (RM9nett per bottle), Tiger (RM10nett per bottle), Carlsberg (RM10nett per bottle), Guinness Stout (RM12nett per bottle), Heinekken (RM13nett per bottle) or Corona (RM19nett per bottle) which ranges from as low as RM38nett per bucket to RM93nett per bucket. Paulaner is at RM26nett per bottle. Well, we just got ourselves Iced Peach Tea (RM5.90nett) and Mango Lassi (RM8.90nett).
With such a relaxing and stress-free environment combined with the ever friendly and fun-filled staff, it would be a great hangout place for just any ages. Moreover, all the items are at nett price. As for the food, there are still rooms for improvement since the newly appointed chief, Chef Mady Ahmad, just came in barely a week ago to revamp the whole kitchen. I guessed I may have to comment more on their food during my next visit.
It might be a bit hard for foreigners to find this bistro as it would not be visible from the main road. But no worries as I'm going to show you some landmarks that would lead you directly to their door step. Just drive all the way up to Batu Ferringhi until you reach the traffic lights with Petronas petrol station at the junction. Further up would be Lone Pine Hotel on your right. Drive slowly and watch out for the tall Tarbush Lebanese Restaurant neon signboard on your right. Just before the restaurant is the Beach Corner Seafood Restaurant (Happy Mart Mini Market is just across the road). Park inside the car park (RM3 per entrance) and you would see a green gate on the right. Walk through that gate, turn left and you would see the bistro there waiting to greet you with open arms.
Note: The entrance to Bora Bora By Sunset is actually opposite the Desire Reflexology Centre and Fish Spa (left side of Jalan Batu Ferringhi) but quite unnoticeable with a small signboard in yellow neon lights with a beach view background. As parking spaces would be very limited inside there, it would be a better idea to park your car next door (Beach Corner Seafood Restaurant) with ample parking spaces.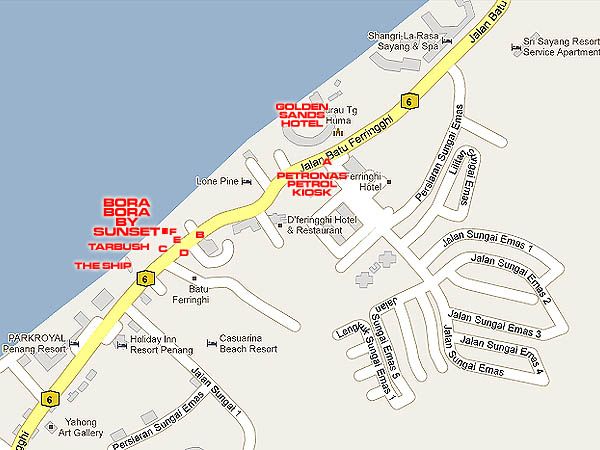 Name: BORA BORA BY SUNSET
Address: Lot 415, Jalan Batu Ferringhi, 11100 Penang, Malaysia.
Business Hours:
12.00noon-1.00am (Sunday to Thursday)
12.00noon until 3.00am (Friday, Saturday and Eve of Public Holiday)
4.00pm-7.00pm (Happy Hours)
Contact: 012-553 1313 (Ms. Melynda Soon)
GPS: 5.474476, 100.248114
RATING:
Ambience: 9/10 (1-4 cheap, 5-7 average, 8-10 classy)
Food Choices: 8/10 (1-4 limited, 5-7 average, 8-10 many choices)
Taste: 7.5/10 (1-4 tasteless, 5-7 average, 8-10 excellent)
Pricing: 7.5/10 (1-4 cheap, 5-7 average, 8-10 expensive)
Service: 8/10 (1-4 bad, 5-7 average, 8-10 excellent)