With the appointment of Chef Rizal Masir, a chef with more than 25 years of culinary experiences, locally and overseas, as the resort's Executive Sous Chef, you would get surely get a boosted-up dining experiences at the Golden Sands Resort. You would also get to experience his culinary skills using the freshest ingredients, herbs and spices available to pep up sumptuous local dishes in the current Selera Kampung Buffet Dinner Promotion. The promotion is priced at RM98nett per adult and RM49nett per child from 6.00pm until 10.00pm on every Monday until Saturday, excluding eve of public holidays and public holidays. The good news is, there would be a BUY-ONE-FREE-ONE offer for Monday until Thursday for all adults. Senior citizens would get a 40% off from the actual price on Friday and Saturday. Terms & conditions apply. The hotel would also contribute RM2 per purchase to charity. For reservations, please call +604-886 1911 (Direct Restaurant Line).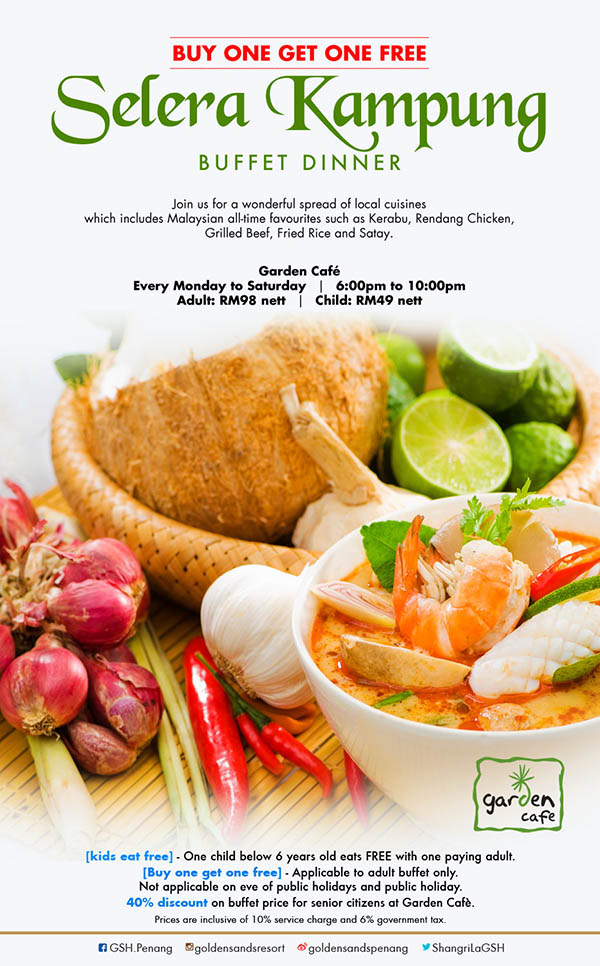 You would be expecting Appetizers and Salads such as Ulam-Ulam Tempatan (Petai, Timun, Tomato, Daun Ceylon,Ulam Raja,Terung Pipit, Kacang Botol, Jering, Daun Pegaga ,Ulam Rebus, Terung, Jantung Pisang, Kacang Panjang, Pucuk Ubi, Pucuk Gajus, Nangka dll), Salad Segar dan 3 jenis Dressing), Kerabu Ayam, Kerabu Sotong, Kerabu Taugeh, Chinese Salad, Sides such as Tempeh Sambal, Serunding Kangkung, Paceri Nenas, Acar Buah,Acar Rampai, Jelatah & Mango Chutney, Gado-Gado, Pickles and Condiments such as Jeruk Mangga, Jeruk Betik, Jeruk Kelubi, Jeruk Cermai, Jeruk Pala, Jeruk Halia, Jeruk Kedondong, Jeruk Kundang,Jeruk Jambu Air, Sambal Bajak, Sambal Belacan, Sambal Tomato, Sambal Goreng Berlada, Sambal Tempoyak, Cencaluk, Budu, Various Crackers and Salted Fish such as Keropok Ikan, Keropok Udang, Keropok Sayur, Keropok Lekor, Keropok Melinjau, Ikan Masin Kurau, Ikan Masin Tenggiri Jeruk, Ikan Kembung Masin, Ikan Masin Sepat, Ikan Gelama Kering, Garing-garing, Telur Masin. On top of that, you would also get Lemang, Lemang Pulut Hitam & Ketupat Daun Palas, Serunding Daging dan Rendang Pedas, plus Pasembut (Cucur Sayur, Telor Rebus, Timun, Sengkuang, Kentang, Bebola Ikan, Kepingan Ikan, Sosej, Isi Ketam), Mee Ayam dan Wantan Goreng.
The Main Dishes would include Cili Ketam, Kambing Maisore, Ayam Panggang Bumbu Bali, Beef with Dry Chili and Cashew Nuts, Crispy Catfish in Garlic Soya, Taugeh Goreng Ikan Masin, Dhalca Sayur, Kueh Teow Mamak, Nasi Puspasari, Nasi Jagung, Nasi Kukus Daun Pandan, Sup 'Gear Box', Nasi Briyani Tulang Rawan.
There would also be various grills outdoor at the garden, namely Kambing Panggang Bawang Putih with condiments such as Air Assam, Pudina Krim Masam, Acar Bawang Ros, Ayam 'Pasu', Panggang Ikan (Kembong, Pari, Selar, Cencaru, Tenggiri, Kerang, Sotong with condiments such as Air Assam, Cili Kicap dan Sambal Mentah.
As for Desserts to end the meal, you would be expecting items such as Tapai Ubi, Kek Pisang, Talam Ubi, Kuih Lapis, Buah Melaka, Ketayap, Onde-Onde, Puteri Ayu, Kuih Gelang, Kuih Bahulu, Sajian Kek dan Manisan Barat, Bubur Sumsum, Pengat Nangka, Buah Kurma, Pilihan Biskut dan Kuih Raya, Jeli Buah-Buahan, Puding Gula Hangus, Buah-Buahan, Ais Batu Campur, Cendol dan Ais Krim (3 perisa), Teh Tarik dan Kopi Tarik, Mata Kucing, Jus Kurma, Sirap Selasih.
The restaurant is just located within the premises of Golden Sands Resort. Drive all the way up towards Batu Ferringhi. When you see the Rasa Sayang Resort & Spa on your right, slow down and watch out for the Golden Sands Resort entrance which is right after the Rasa Sayang Resort & Spa. Park your car at the ample car park there and walk into the main lobby of the resort. Head towards the left side of the lobby and you would see the Garden Café there.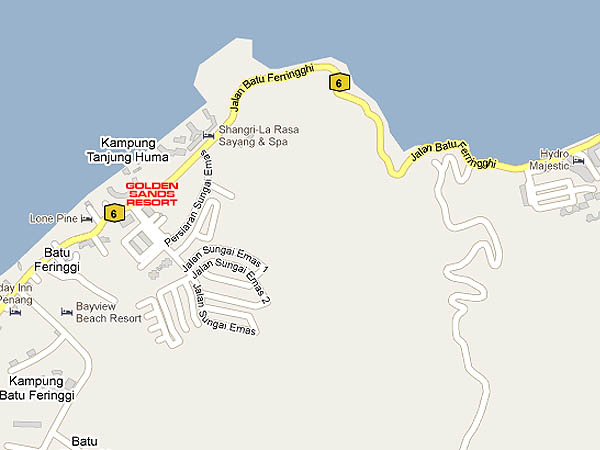 Name: GARDEN CAFE @ GOLDEN SANDS RESORT
Address: Batu Ferringhi Beach, 11100 Penang, Malaysia.
Contact: +604-886 1911 (Direct Restaurant Line)
Business Hours: 7.00pm-10.00pm (Ala Carte: 6.30am-11.00pm)
GPS: 5.477405, 100.251657
RATING:
Ambience: 9/10 (1-4 cheap, 5-7 average, 8-10 classy)
Food Choices: 8/10 (1-4 limited, 5-7 average, 8-10 many choices)
Taste: 8/10 (1-4 tasteless, 5-7 average, 8-10 excellent)
Pricing: 8/10 (1-4 cheap, 5-7 average, 8-10 expensive)
Service: 8/10 (1-4 bad, 5-7 average, 8-10 excellent)
About Shangri-La Hotels and Resorts Group

: Hong Kong-based Shangri-La Hotels and Resorts currently owns and/or manages 90 hotels under the Shangri-La brand with a room inventory of over 37,000. Shangri-La hotels are five-star deluxe properties featuring extensive luxury facilities and services. Shangri-La hotels are located in Australia, Canada, mainland China, Fiji, France, Hong Kong, India, Indonesia, Japan, Malaysia, Maldives, Mauritius, Mongolia, Myanmar, Philippines, Singapore, Sultanate of Oman, Taiwan, Thailand, Turkey, the United Arab Emirates and
the United Kingdom. The group has a substantial development pipeline with upcoming projects in mainland China, Cambodia, India, Myanmar, Philippines, Qatar, Saudi Arabia

and

Sri Lanka. For more information and reservations, please contact a travel professional or access the website at www.shangri-la.com.