For the holy month of Ramadan this year, Lexis Suites Penang, would be presenting a delicious array of sumptuous Iftar dishes under its 'Sajian Warisan Teluk Kumbar Ifter Bufet Lazat Di Lexis' promotion from 27 March 2023 until 20 April 2023, from 6.00pm until 10.00pm, priced at RM138nett per adult, RM88nett per senior citizen and RM68nett per child. Daily spreads during the holy month would be on rotational basis, therefore you would be expecting various surprises at the buffet line to soothe your appetite. For enquiries and reservations, kindly contact +604-628 2888 ext 2858 or email fbm@lexissuitespenang.com today.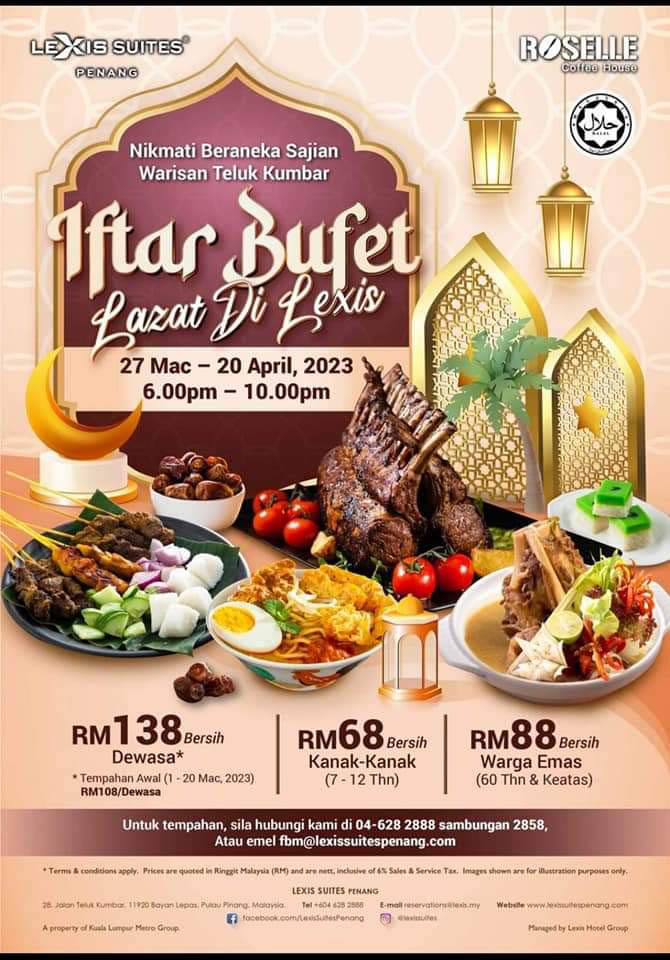 Other than the standard spread of ulam-ulaman, kerabu, ketupat & lemang with serunding, satay, shawarma, kuih-muih and various noodle-of-the day and more, do expect to find some of their signature dishes such as Kambing Golek, Sup Gearbox, Gulai Kawah Baby Lobster and more.
The dessert section is abundant with the availability of many local sweets and cookies, onde-onde, bubur manis, cakes, puddings and more to soothe your sweet tooth craving. Of course, you could also enjoy some childhood snacks and biscuits too.
Lexis Suites Penang is located right at the end of Teluk Kumbar before the main road into Gertak Sanggul. In fact, it's located just next to the Hao You Teluk Kumbar Seafood (公巴好友海鲜). The Roselle Coffee House is located at level 1 of Lexis Suites Penang. Just walk into the main lobby of the resort and move towards the right side of the lobby and you will see the elevator there. Take the lift to the mezzanine floor and you would see the restaurant there.
Name: ROSELLE COFFEE HOUSE @ LEXIS SUITES PENANG
Address: 28, Jalan Teluk Kumbar, 11920 Bayan Lepas, Penang, Malaysia.
Contact: +604-628 2888
Google Map: https://goo.gl/maps/6ikwXD6pZygjg5yr7
RATING:
Ambience: 8/10 (1-4 cheap, 5-7 average, 8-10 classy)
Food Choices: 8/10 (1-4 limited, 5-7 average, 8-10 many choices)
Taste: 7.5/10 (1-4 tasteless, 5-7 average, 8-10 excellent)
Pricing: 7/10 (1-4 cheap, 5-7 average, 8-10 expensive)
Service: 8/10 (1-4 bad, 5-7 average, 8-10 excellent)
About Lexis Hotel Group

: Lexis Hotel Group provides discerning leisure and business guests with practical and luxurious accommodations across various properties in Malaysia. It is steadfast in offering professional management services for hotels and resorts, and has successfully built a strong, profitable and visible premier niche brand in the hospitality industry especially in managing award-winning unique water chalets as well as pool villas. The brand currently manages three properties, namely Lexis, Grand Lexis and the iconic Lexis Hibiscus, all located in Port Dickson. Another upscale property, Lexis Suites Penang, opened for business in the 1st quarter of 2016.
About Lexis Suites Penang

: A luxurious resort by the beachfront that stands out as the only hotel on the island which offer guests the luxury of an individual private pool and steam room in every one of its 222 suites. Located at the idyllic Teluk Kumbar, Lexis Suites Penang is about ten minutes' drive from Penang International Airport. The guestrooms feature two king-sized beds and a host of practical amenities in a spacious enclave, with an awesome view of the sea.