Swez Brasserie @ Eastin Hotel, Penang is promoting its Chinese Cuisine for the whole month of September 2012 (1-30 September 2012). There would be an array of halal Chinese dishes ranging from appetizers, main dishes and desserts to fill your appetite. This promotion would be arranged under the skillful hands of Chinese Chef, Chef Cheah Teik Huat and Jr. Sous Chef, Chef Ong Chin Hock. For the month of September, there would also be a 15% off the bill for all MAYBANKARD, VISA, CIMB and UOB card members.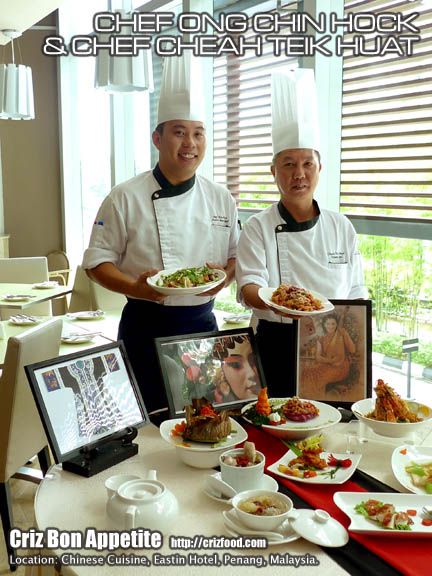 As for appetizer, we started with a bowl of Herbal Chicken Soup each. The soup was rich in herbs flavors which basically consisted of Chinese Angelica (Dong Quai/當歸), Codonopsis Pilosula (Dang Shen/黨參), Rhizoma Polygonati Odorati (Polygonatum odoratum (Mil.) Druce/Yu Zhu/玉竹), Red Dates (Jujubes/紅棗) and Wolfberries (Goji Berries/枸杞). Based on the Traditional Chinese Medicine (TCM) practice, this herbal soup is great to enhance energy (Qi), nourish the Yin, moisturize the lungs, Alleviate dryness and promote blood circulation. This was one soup most Cantonese would love to have in their meals occasionally.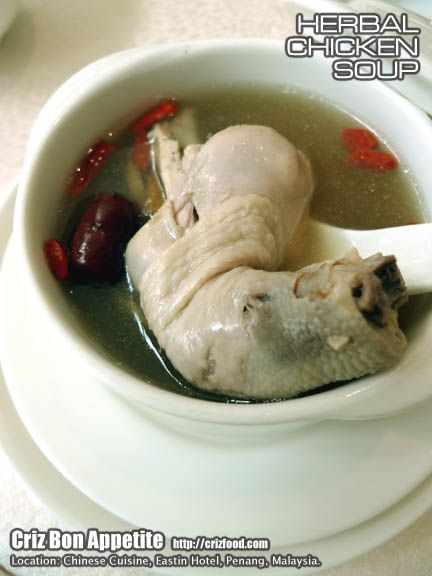 The next appetizer was Kerabu Jelly Fish. Although I quite like the chewy texture on the jelly fish, I found the dish to be out of the Chinese cuisine ingredient list. It was more of a Peranakan (Nyonya) cuisine. I would think that this dish would be best served chilled the traditional Chinese method by mixing with some soy sauce, sesame oil, chili oil and vinegar with a light touch of sugar.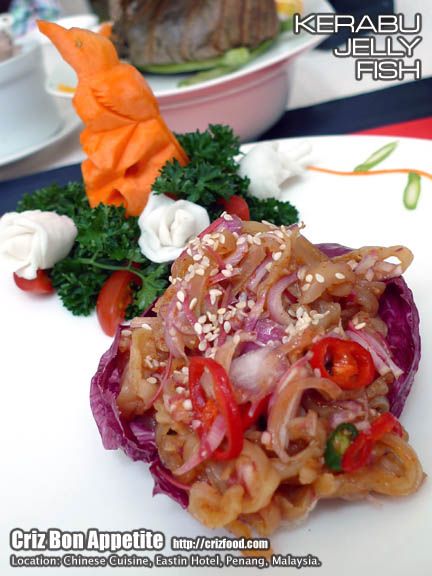 As for main courses, we had Fried Rice in Lotus Leaves. You can taste the flavor of the lotus leaves richly infused into the fried rice. It had some dried shrimps, mushrooms and cubed chicken slices added into the rice. However, it lacked the flavors from some added Chinese sausages – the halal version, since they can't serve pork ingredients in the restaurant.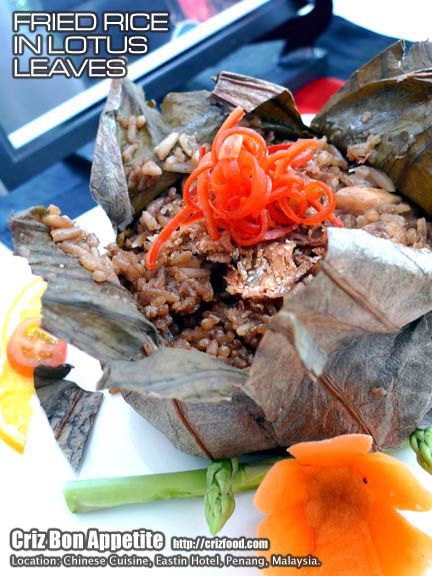 Next on the list was the Stir Fry Vegetables Treasure. It was just a simple starch gravy dish with various blanched vegetables added in such as white cabbages, mustard stems, water chestnuts, Chinese mushrooms, button mushrooms, ginkgo nuts, asparagus and carrots.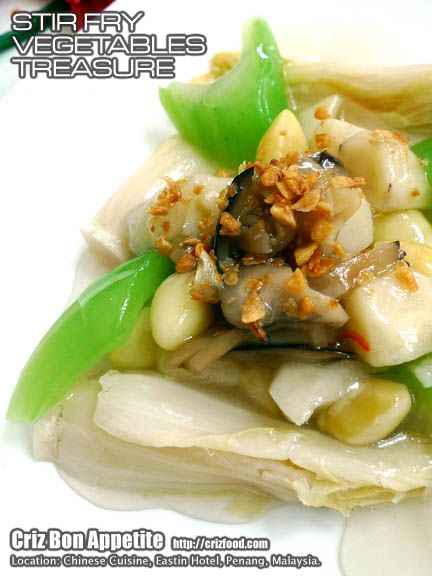 The Roasted Garlic Marinated Chicken was quite nice indeed as you can taste the right combination of seasoning on each of the chopped pieces. The condiment which consisted of slightly sauteed chopped garlic, blended ginger, spring onions, Chinese parsley, sesame oil with a light touch of salt was perfect. The sauce would also be great with just plain steamed white chicken the Hainanese style.
We also had some Wok Fried Butter King Prawns. The dish had some king Tiger prawns stir fried with some chilies, curry leaves in butter and garnish with some egg floss. However, I still think that this dish is more towards Asian fusion than traditional Chinese cuisine.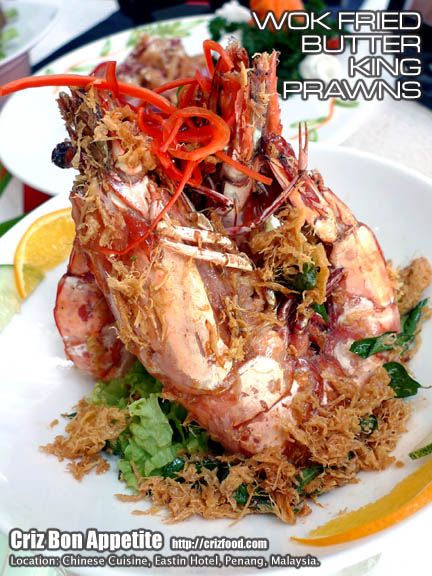 The last of the main course presented was the Sweet and Sour Fish. This was another common Chinese household dish. The dish had batter coated sea bass fillet topped with tomato ketchup based stir fried pineapple, tomatoes, cucumber, onions and red chilies. Simple as it may look but the fillet still had the slight crispiness that I like.
Last but not least, we had some Double Boiled Snow Fungus with Pears as dessert. This was another common Chinese household dessert which would be quite beneficial to strengthen the Yin in the body with the current weather which caused many people to be down with flu and cough. The dessert had snow fungus, Asian pear slices, dried longan, red dates and wolfberries. The only ingredient missing here was the Chinese almonds or commonly known as apricot seeds, which would be great to strengthen the respiratory system. Moreover, the chefs used sugar rather than rock sugar for this dessert, thus having a stronger sugar sweetness. You can also try out my personal recipe for this wonderful dessert.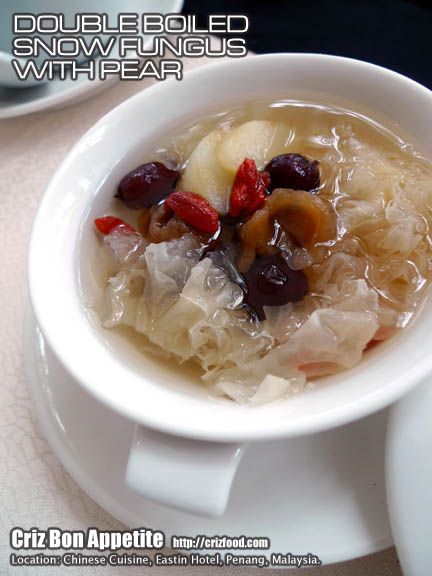 Since the Mid Autumn Festival would be celebrated on 30 September 2012 (15th day of 8th lunar month in the Chinese calendar), you would expect to savor the delicious mooncakes during the month of September 2012. Eastin Hotel Penang would also be selling their brand of Eastin Mooncakes at the hotel lobby from 1-30 September 2012. There would be 6 choices ranging from Red Bean Paste (RM16.50/pc), Assorted Fruits, Nuts & Chicken Bits (RM17.00/pc), Jade Custard (RM17.00/pc), Low Sugar White Lotus (RM17.50/pc), Golden Honey Grapefruit with Pineapple (RM17.50) and Lotus Paste Single Yolk (RM18.00/pc). Takeaway mooncakes would be subjected to 6% service tax while dine in would incur a 10% service charge and 6% service tax. You can place your order through +604-612 1128 (Tel), +604-612 1199 (Fax) or email to info.pg@eastin.com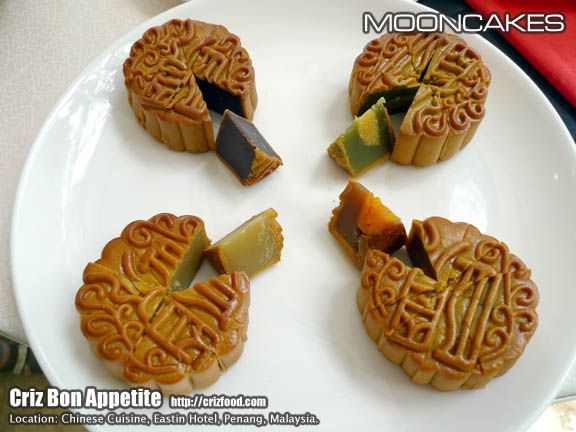 Overall, the spreads served in this promotion were a bit too common in my opinion just like how you would get during any wedding banquet. They lacked the creativity. The dishes have more localized flavors rather than exploring further into the international Chinese cuisine scenes from countries such as China, Taiwan and Hong Kong. There are so many regions in China alone and the chefs could have come out with some of the regional cuisine based on the Eight Cuisines of China such as Hui (Anhui), Yue (Guangdong), Min (Fujian), Xiang (Hunan), Su (Jiangsu), Lu (Shandong), Chuan (Sichuan) and Zhe (Zhejiang). Somehow, the dishes served lack the sourness and spiciness as you would get in certain regional Chinese cuisine. I hope the chefs would look into this matter further to provide more options to the diners.
For MAYBANKARD, VISA, CIMB and UOB card members, you can enjoy 15% discount for the Chinese Cuisine Promotion for the whole month of September 2012.
Here's the summary of the promotion.
CHINESE CUISINE PROMOTION (1-30 SEPTEMBER 2012)
Lunch (12.00 noon – 2.30pm): Monday – Friday
RM48++ (adult), RM24++ (child)
Hi-Tea (12.00 noon – 3.00pm): Saturday, Sunday & Public Holidays
Normal weekend: RM55++ (adult), RM28++ (child)
Festive Occasion: RM68++ (adult), RM34++ (child)
Semi Buffet Dinner (6.30pm – 10.00pm): Monday – Thursday (From 21 August 2012)
RM48++ per pax
Weekend Themed Buffet Dinner (6.30pm – 10.00pm):
Friday: Seafood Supreme
Saturday: Japanese
Sunday: East Meets West
RM80++ (adult), RM40++ (child)
The Swez Brasserie is located at the ring wing of Eastin Hotel, Penang (next to Queensbay Mall). If you are coming from Georgetown towards Bayan Lepas Free Trade Zone via Bayan Lepas Expressway, do watch out for the Pulau Jerejak signboard (leading to Pulau Jerejak jetty). Ignore the turning and drive on to the next left junction. Turn left into Jalan Aziz Ibrahim and drive on until you a roundabout. Turn 3 o' clock and drive on until you see a big Eastin Hotel signboard at the first right junction. Turn right and drive on. Park your car at the basement car park. Take a lift to the first floor lobby and you would see the restaurant there.
Name: SWEZ BRASSERIE @ EASTIN HOTEL
Address: 1 Solok Bayan Indah, Queens Bay, 11900 Bayan Lepas, Penang, Malaysia.
Contact: 604-612 1128, 604-612 1138
Business Hours: 12.00pm-2.30pm (Lunch), 6.30pm-10.00pm (Dinner)
GPS: 5.33643, 100.306345
RATING:
Ambience: 8/10 (1-4 cheap, 5-7 average, 8-10 classy)
Food Choices: 7.5/10 (1-4 limited, 5-7 average, 8-10 many choices)
Taste: 7/10 (1-4 tasteless, 5-7 average, 8-10 excellent)
Pricing: 8/10 (1-4 cheap, 5-7 average, 8-10 expensive)
Service: 8/10 (1-4 bad, 5-7 average, 8-10 excellent)