If you are an adventurous diner looking for exotic dishes from other Asian countries, you would realize that Vietnamese restaurants no longer exist in Penang as far as some years back. For the month of March 2012, it's great to have Swez Brasserie @ Eastin Hotel, Penang, to come out with such a promotion named Vivacious Vietnam. A large number of Vietnamese dishes would be added in their daily buffet spread. Here's the summary of the promotion.
VIVACIOUS VIETNAM (1-31 MARCH 2012)
Lunch (12.00 noon – 2.30pm): Monday – Friday
RM48++ (adult), RM24++ (child)
Hi-Tea (12.00 noon – 3.00pm): Saturday & Sunday
Normal weekend: RM55++ (adult), RM28++ (child)
Festive Occasion: RM68++ (adult), RM34++ (child)
Semi Buffet Dinner (6.30pm – 10.00pm): Sunday – Thursday
RM48++ per pax
Seafood Supreme Themed Buffet Dinner (6.30pm – 10.00pm): Friday
RM80++ (adult), RM40++ (child)
Mongolian Grill Themed Buffet Dinner (6.30pm – 10.00pm): Saturday
RM80++ (adult), RM40++ (child)
Let's start from the Soup and Salad Bar Sections. The Soup Section basically consisted of two types of soup such as the Vietnamese Pineapple Chicken Soup which had traces of chicken cubes, bamboo shoots, pineapple and tomatoes. It was mild and nothing special at all as it lacked the strong flavor from the bamboo shoots. At least the second soup which was the Crab Meat Soup with Asparagus had a richer seafood taste that suited me well. There were two "Make Your Own Salad" stations. One station had coral red lettuce, iceberg lettuce, frisee, boiled kidney bean, alfalfa sprouts, corn kernel, cherry tomatoes, pea sprouts, croutons, raisins, pickled olive, pickled onions, pickled zucchini, red pepper in oil, pickled black olive, pickled capers and cheese powder, to be topped with either vinaigrette dressing, French dressing, pesto dressing, thousand island dressing or Italian dressing. The other station had a more meaty selections such as roasted chicken slices, deep fried hams, coral red lettuce, frisee, black olive, cheese cube, carrots, cherry tomatoes, red & green capsicums, cucumber and onions, to be dressed with a citrus tasting green salad dressing and ranch salad dressing. There were also some bread rolls and loaves available with butter and margarine spreads.
Also at the Salad Bar were two types of Western Cold Platters being served such as the Beef Salami and Smoked Duck Breast cold cuts. The Smoked Duck Breast excelled better in terms of smoky flavor, taste and cuts. Some ready-made salads were also available such as the Bamboo Shoot Salad, Ground Meat & Crab Meat with Grapefruit Salad, Mixed Celery & Sea Bass Fillet Salad, Grilled Eggplant Salad with Vietnamese Dressing, Asparagus Salad, Grilled Paprika Chicken Salad, Fresh Crystal Spring Rolls with Beef and a selection of canapés.
Three items were served at the Action & Noodle Counter. Firstly, it was the Shrimp on Sugar Cane. As for texture and taste, it was quite fine but on a saltier side. Luckily, the condiment of a lightly fresh greens sweet sauce saved the dish from being too disastrous.
The Egg Pancake with Prawns was one of my favorite since it was done fresh. The fragrantly cooked prawns with some capsicum slices cooked in some sweet chili sauce blended in real well with some sliced iceberg lettuce, wrapped in an egg pancake.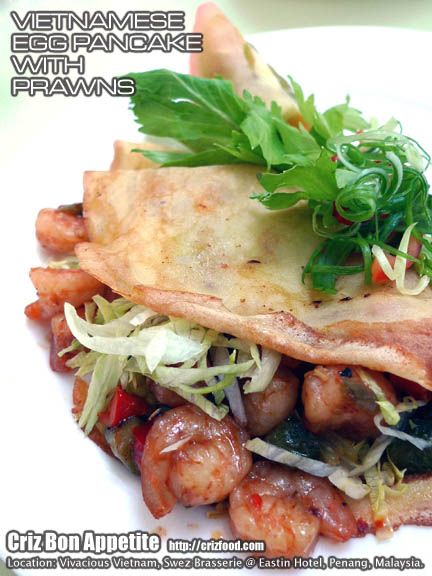 The Beef Noodles Soup did not suit my taste bud at all. It lacked the sweetness from some marrow or knuckle bones as it tasted more like chicken stock being used instead. Moreover, local "koay teow" flat noodles were used instead of the Vietnamese bahn pho or Thai chantaboon rice sticks, thus the noodles became too soggy if left alone for a long period of time. On top of the beef slices, fresh bean sprouts, red chili slices, cilantro, spring onions and chili paste being added in, the whole dish lacked the spicy and herb filled punch. I guessed the kitchen has to look more into some additional usage of ginger, clove, cinnamon stick, star anise and fish sauce to push up the flavors for this noodle soup.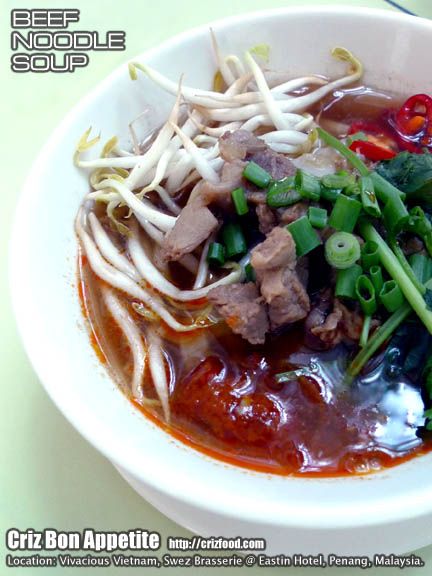 The Hot Dishes Section mainly consisted of a mix and match dishes not only from Vietnam but also from other countries such as Malaysia, Singapore, Indonesia, Germany, France, Italy and India. The spread included Nasi Tomato, Rendang Ayam, Goreng Sayur Campur, Stuffed Crabs, Sauteed Cauliflower with Prawns, Sliced Beef with Lemongrass, Fried Shrimp with Coconut Sauce, Stewed Sea Bass in Claypot, Stir Fried Chicken with Cashew Nuts, Stir Fried Bitter Gourd with Egg, Stir Fried Rice Vermicelli with Assorted Meat, Sauteed Vegetables with Almonds, Roasted Sweet Potatoes, Grilled Lamb Chop, Steamed Rice, Spring Rolls, Vegetarian Fried Rice, Long Bean Sambal and Aloo Gobi.
Personally, I quite like some of the dishes from the hot dishes section. The Nasi Tomato was full of fragrance from some of the nicely added spices. The Rendang Chicken cut was rather large and went perfectly well with the tomato rice. The Goreng Sayur was common just like those served at the Nasi Kandar stalls with added turmeric powder. The Stuffed Crab was just average as the stuffing had the texture of fish balls and tasted just like spiced fish balls without some added crab meat. The Sauteed Cauliflower with Prawns was also common. The Sliced Beef with Lemongrass had tender beef slices but lacked the spicy flavors. The Fried Shrimp with Coconut Sauce practically had the taste of frozen prawns without flavors. The back of the prawns should have some slits to allow flavors to seep in the flesh. The Stewed Sea Bass in Claypot tasted quite fine and it had chunks of fresh fish being used. The Stir Fried Chicken with Cashew Nuts was nice. The chicken cuts were juicy and tender. With the nutty flavors from the cashew nuts, the whole combination was perfect. The Stir Fried Bitter Gourd with Egg was simple but it had a nice fragrance from the added chili oil. The Stir Fried Rice Vermicelli with Assorted Meat was just average. The Sauteed Vegetables with Almonds no doubt was a simple dish but the roasted almond flakes sure pepped up the flavors. The Roasted Sweet Potatoes was just another simple stir fried dishes with added capsicums and onions. The Grilled Lamb Chop somehow was under marinated and a bit too tough. The chops had a strong lamb taste. Steamed Rice was just steamed rice. The Spring Rolls was normal. The Vegetarian Fried Rice basically was not my type of fried rice dish as it lacked flavors. The Long Bean Sambal which had some added deep fried bean curd was just nice. The Aloo Gobi which had cauliflower stir fried with some turmeric powder and cumin was totally out from the ones I had elsewhere. The dish was rather dry and lacked the taste from more spices and cilantro as garnishing. I saw only gobi (cauliflower) but where were the aloo (potatoes) then?
The Dessert Section had 6 flavors of Nestle Ice Cream with different types of toppings, Assorted Fruit Platters, Assorted Cakes and Pastries, Jelly, Pudding, Green Bean Soup, Assorted Local Nyonya Kuih and a few choices of Vietnamese delicacies.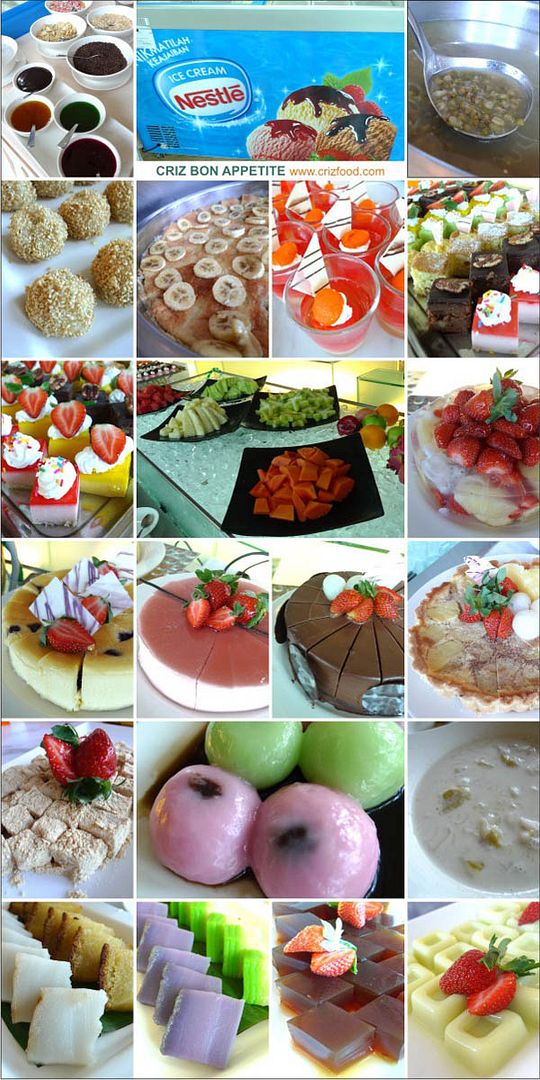 Basically, there were a few of the Vietnamese desserts that caught my attention. One of them was the Banana in Rich Coconut Sauce. It had cooked banana with young coconut meat in slightly sweetened fresh coconut milk. It was perfect to end the meal. Without the availability of shaved iced, I added in some Vanilla ice cream for that extra creaminess. Slurps~ 😛
Another great dessert was the Glutinous Rice Ball in Gingered Brown Syrup (Che Troi Nouc). The soft glutinous rice ball with either red bean paste or pandan kaya paste went well with the gingered syrup.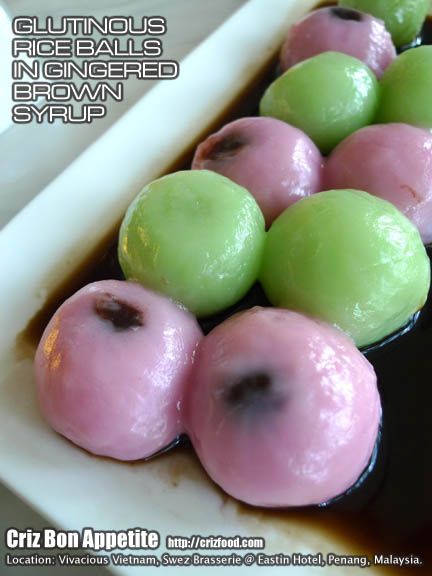 There was also the Vietnamese Rice Cake. The filling tasted like out Malaysian ketupat but with green bean powder sprinkled on those small piece of rice cakes. There was nothing special about this dessert as it was not sweetened at all.
Another of the dessert that caught my curiosity was the Vietnamese Potato Cake. It looked just like apple pie with sprinkled grounded cinnamon but the taste was not up to my expectation. I was surprised that normal French fries potatoes were used instead of sweet potatoes. Somehow the taste did not blend in real well as a sweet dessert.
Overall, the spread served here were more towards international dishes with at least half of the dishes consisted of Vietnamese cuisine. No doubt it was a well balanced mix and match dishes that would suit just anyone but I personally found that the taste and flavors for the Vietnamese dishes were too mild to my liking. The dishes somehow did not have much of the authentic Vietnamese cuisine. The kitchen should have looked into dishes with a much heavier usage of fish sauce, shrimp paste, fermented beans, spices and herbs.
The Swez Brasserie is located at the ring wing of Eastin Hotel, Penang (next to Queensbay Mall). If you are coming from Georgetown towards Bayan Lepas Free Trade Zone via Bayan Lepas Expressway, do watch out for the Pulau Jerejak signboard (leading to Pulau Jerejak jetty). Ignore the turning and drive on to the next left junction. Turn left into Jalan Aziz Ibrahim and drive on until you a roundabout. Turn 3 o' clock and drive on until you see a big Eastin Hotel signboard at the first right junction. Turn right and drive on. Park your car at the basement car park. Take a lift to the first floor lobby and you would see the restaurant there.
Name: SWEZ BRASSERIE @ EASTIN HOTEL
Address: 1 Solok Bayan Indah, Queens Bay, 11900 Bayan Lepas, Penang, Malaysia.
Contact: 604-612 1128, 604-612 1138
Business Hours: 12.00pm-2.30pm (Lunch), 6.30pm-10.00pm (Dinner)
GPS: 5.33643, 100.306345
RATING:
Ambience: 8/10 (1-4 cheap, 5-7 average, 8-10 classy)
Food Choices: 8/10 (1-4 limited, 5-7 average, 8-10 many choices)
Taste: 7/10 (1-4 tasteless, 5-7 average, 8-10 excellent)
Pricing: 8/10 (1-4 cheap, 5-7 average, 8-10 expensive)
Service: 8/10 (1-4 bad, 5-7 average, 8-10 excellent)