A new stall selling braised dishes by the name Leow Kee (廖记特色卤煮) has recently popped up at Spice Pisa Café (formerly known as Pisa Corner Cafe) in Penang. Instead of the usual braised meat which is normally drowned in dark soy sauce, Leow Kee provides a different version in a milder colored gravy with mild hints of soy sauce, rock sugar, red chilies and more. It's almost like having the Taiwanese-Style Braised Pork Rice but with your choices of pork chunks and side dishes.
Here are all the items served at Leow Kee, which is truly a meaty affair for those who loves to consume almost everything related to a pig. The servings would consist pork face, pork ear, pork neck, pork skin, pork belly, pork knuckle, pork trotter, pork large intestine, pork small intestine, chicken feet, fried bean curd, fried bean curd puff, egg, stir fried salted mustard, braised preserved mustard, served with your choice of either steamed rice or porridge.
The signature items at Leow Kee are their serving of the exotic Uterus and Umbilical Cords, which are rarely found on the menu of other eateries. A sow/gilt (with birth of piglets/without birth of piglets), or commonly known just as a female pig, especially its innards, are rarely found in wet markets as most pork cuts are from spayed males.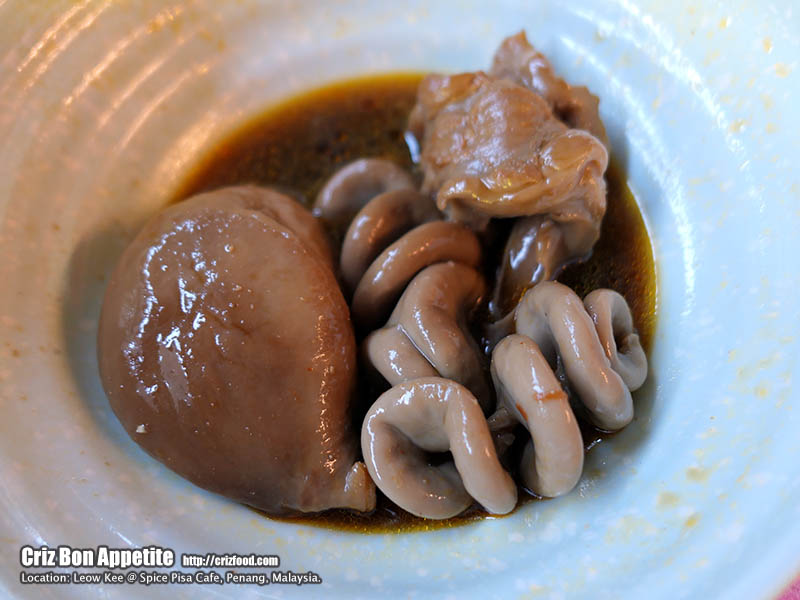 The standard set with either rice or porridge is quite affordable at only RM8.00nett.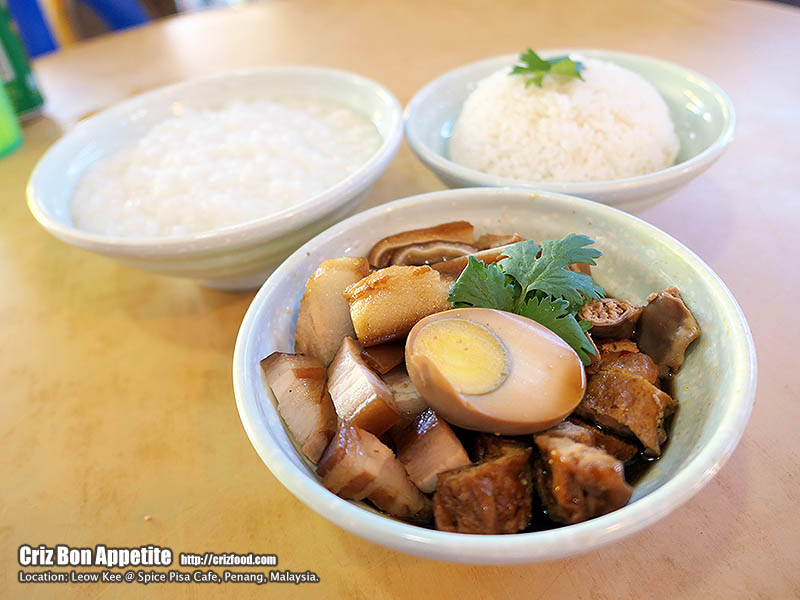 Other porky parts and dishes are chargeable. Please check out the individual pricing as shown on the menu at the stall.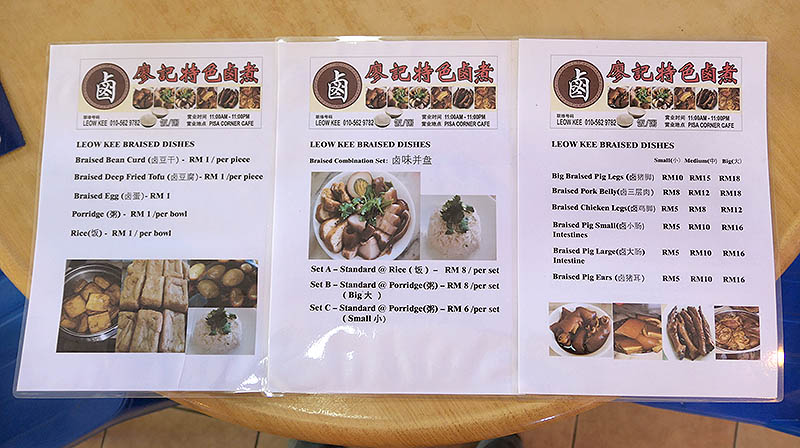 Leow Kee is located within the Spice Pisa Café. As you walk in via the Medan Bayan entrance, turn left towards the center of the food court and you would see the stall right on your right.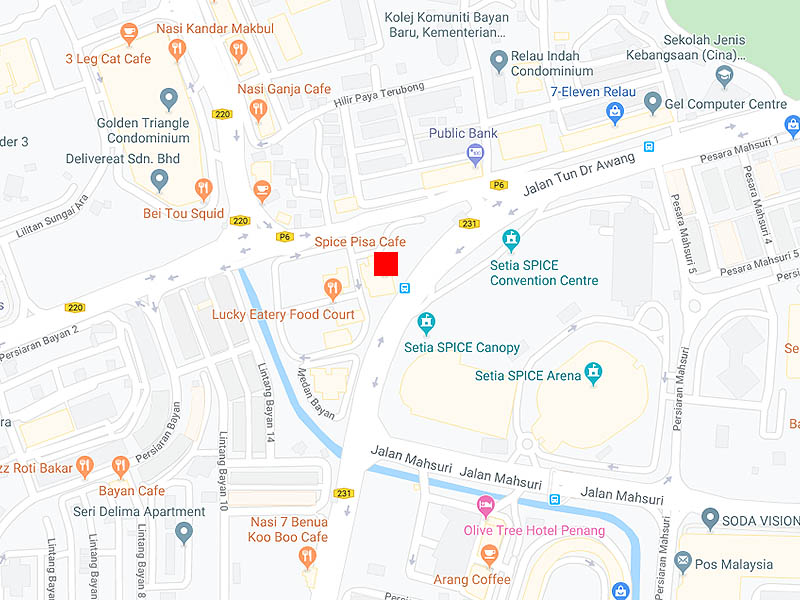 Name: LEOW KEE @ SPICE PISA CAFE
Address: Lot No.13180 MK12 DTL, Kompleks Makanan Relau, Medan Bayan, 11900 Bayan Lepas, Penang, Malaysia.
Contact: +6010-562 9782
Business Hours: 11.00am-11.00pm
GPS: 5.329760, 100.278374
RATING:
Ambience: 6/10 (1-4 cheap, 5-7 average, 8-10 classy)
Food Choices: 7/10 (1-4 limited, 5-7 average, 8-10 many choices)
Taste: 7/10 (1-4 tasteless, 5-7 average, 8-10 excellent)
Pricing: 6/10 (1-4 cheap, 5-7 average, 8-10 expensive)
Service: 6/10 (1-4 bad, 5-7 average, 8-10 excellent)