With the festive seasons of Christmas and New Year just around the corner, Hard Rock Hotel Penang will be having a few promotions to pamper its guests and diners with an extensive spread of delectable dishes under the expertise of the hotel's kitchen team [From left to right: Rizal bin Hashim (Sous Chef), Abdul Rahim Bin Mohammad (Sous Chef), Mohd Nazir Bin Aziz (Chef De Cuisine), Zulkanai Bin Md Elias (Kitchen Manager) and Wan Mohd Shahrul Bin Wan Mohd Saad (Sous Chef)]. Do enjoy the delightful holiday treats this Christmas & New Year eves at Starz Diner @ Hard Rock Hotel Penang from 6.30pm until 10.30pm. Please call +604-886 8057 or email fb.penang@hardrockhotels.net to book earlier to avoid disappointment.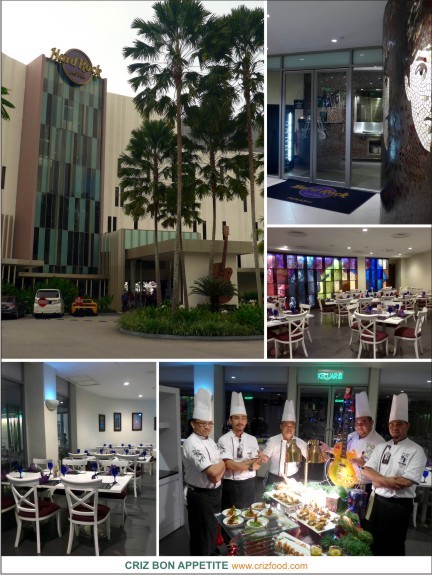 For both Christmas and New Eve dinners, you would get to indulge in their maki platters (Abuni Salmon Maki, Cheese Maki, Unagi Maki, Rainbow Maki, etc) plus bread and rolls (Grissini, Olive Bread, Multi Grains, Baguette, etc). Their Grissini (breadsticks) were one of the best I've tasted.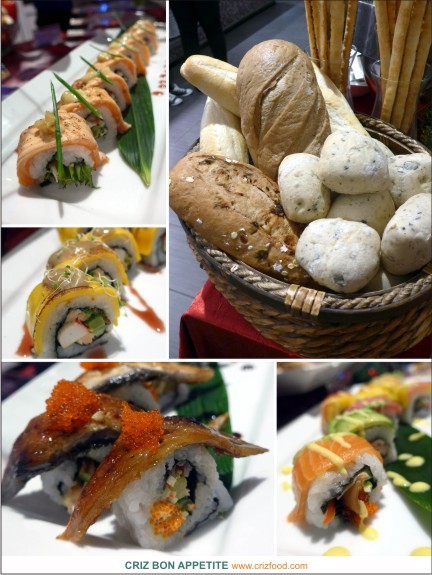 On the eve of Christmas, Starz Diner will be offering a Christmas Eve Rock 'n' Roll Buffet Dinner at RM186nett/pax, inclusive of a complimentary party pack and lucky draw.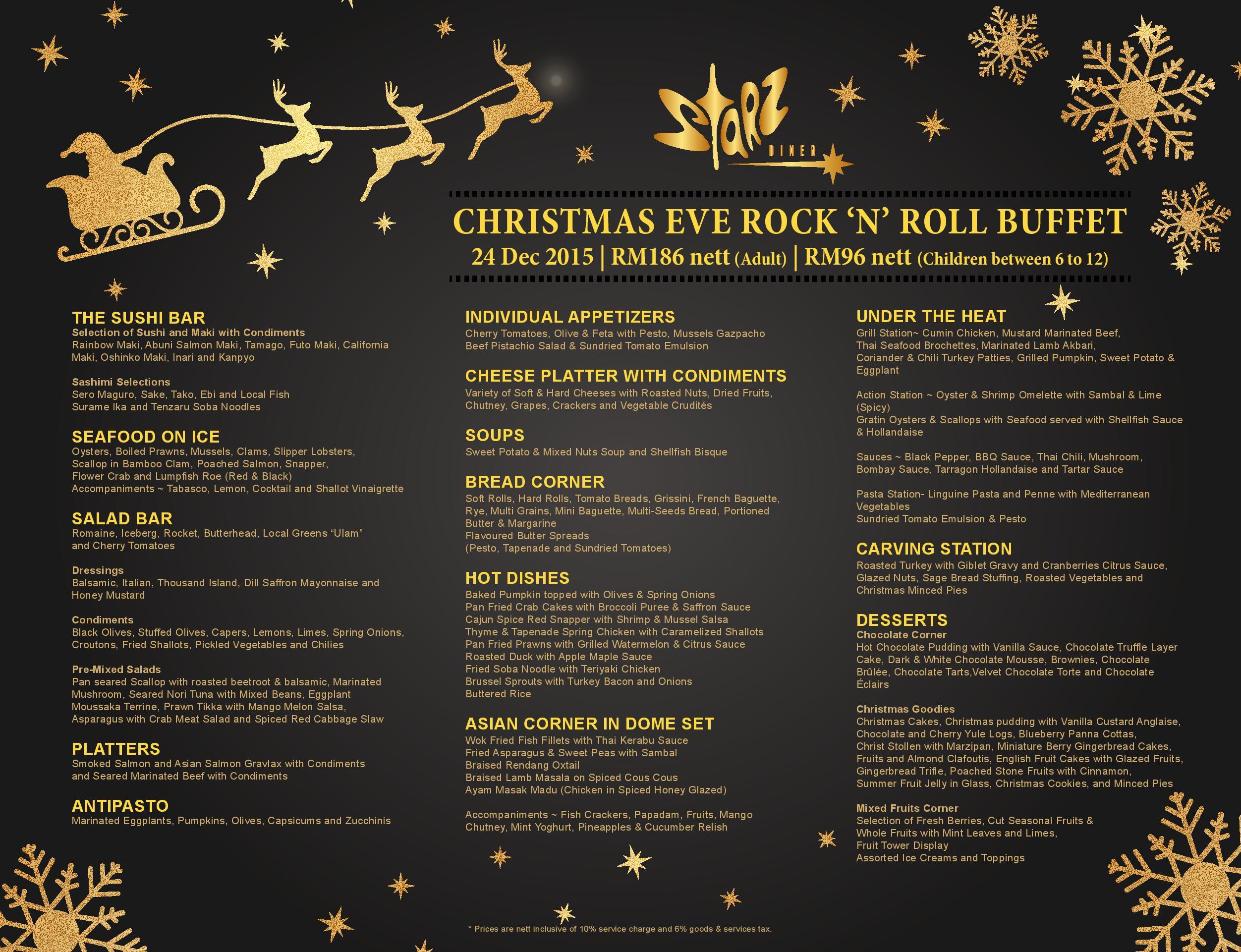 Some of the dishes to look out for would be their Prawn Tikka with Mango Melon Salsa, Asparagus with Crab Meat Salad, Shellfish Bisque, Roasted Turkey with Giblet Gravy & Cranberries Citrus Sauce, Cajun Spice Red Snapper with Shrimp and Mussel Salsa, Miniature Berry Gingerbread Cakes and Chocolate and Cherry Yule Logs.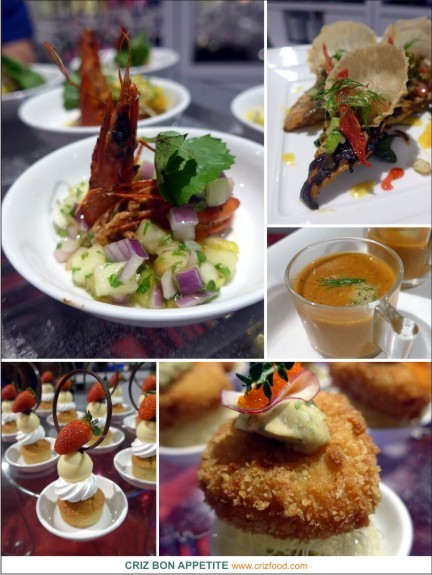 The highlight of any Christmas meal would be their Roasted Turkey with Giblet Gravy & Cranberries Citrus Sauce, Glazed Nuts Stuffing, Potatoes and Seasonal Vegetables. It was the perfect dish to start off the festive season. Ooo.. I always enjoyed my turkey with their sauces. Those condiments were some of the best ones around.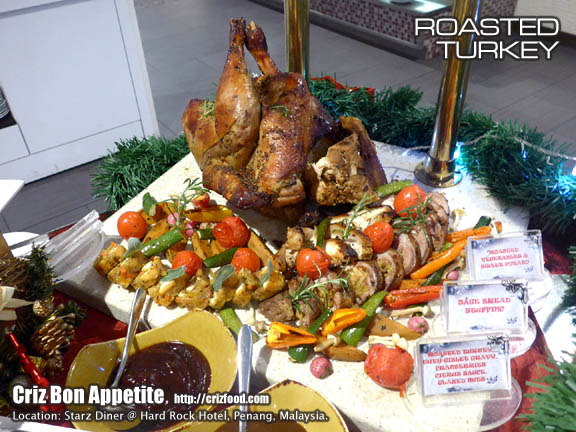 Their Chocolate & Cherry Yule Logs was one of the good ones around, considering that the cake was moist and fluffy without being too sweet.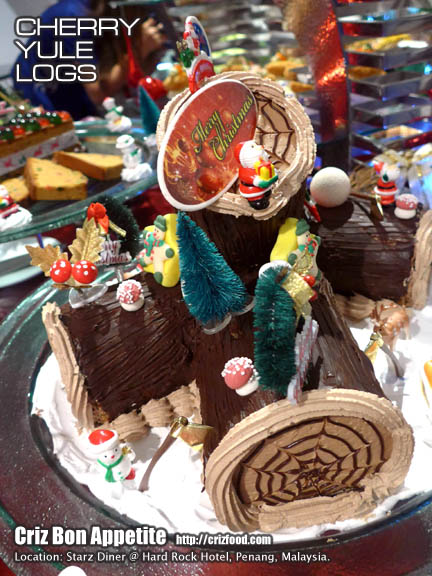 Of course, there would be the English Fruit Cake with Glazed Fruits. Sweet as it is, it's a great dessert to end the dinner over a cup of hot tea.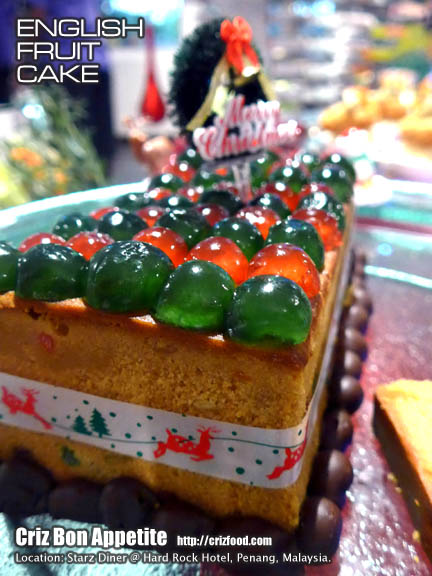 For those who would fancy a set dinner instead of a buffet dinner may opt for Hard Rock Café Penang's 4-course Christmas Eve Dinner at RM185nett/pax. The dinner offers a starter – Mini Citrus Salad and a Cream of Lobster and Crab soup. For the choice of mains, the café will be serving a choice of Roasted Five Spiced Lamb Rack, Roasted Turkey Breast and Pan-fried Atlantic Salmon. For dessert, diners will feast on a delicious Strawberry Meringue with Berry Compote and Wild Berry Macadamia Gelato. Dinner would include two selected drinks and a complimentary party pack.
If you are not into set or buffet dinners but wanted something fulfilling to celebrate with a group of family members or friends, you could always try out their December promotion at Pizzeria with Chef Joe's specially concocted Santarina Turkey Pizza (RM40nett), from 11.30am until 10.30pm daily. This pizza is oven-baked to perfection with grilled turkey breast with mushroom glaze, tomato salsa, spinach and cranberry sauce.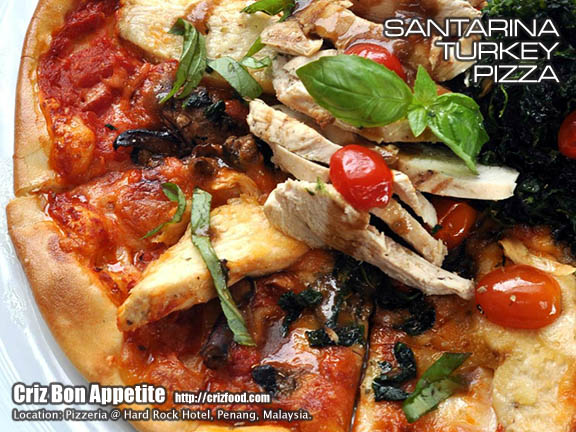 At the Hard Rock Café Penang, satisfy your taste buds with a Holiday Rock Platter, available for 2 persons at RM160nett or 3 persons at RM240nett. Serving until 23 December 2015, this platter is big enough to share and guaranteed to rock your palate. This platter comes with a choice of starter – House Salad or Soup of the Day. For the main course, diners will indulge in a sharing platter consisting of Potato Skins, Onion Rings, BBQ Beef Ribs, Spaghetti with Prawn Paste, Mini Beef Burgers with Satay Sauce, Chicken Wings with Chipotle BBQ Sauce, Ferringhi Ikan Bakar with Portuguese Sauce and Pulled Lamb Sandwich with Carolina Mustard BBQ Sauce. Homemade Brownie with Vanilla Ice Cream would be served for dessert.
On New Year's Eve, Starz Diner will be serving a New Year's Eve Buffet Dinner at RM199nett/pax inclusive of a complimentary party pack and lucky draw.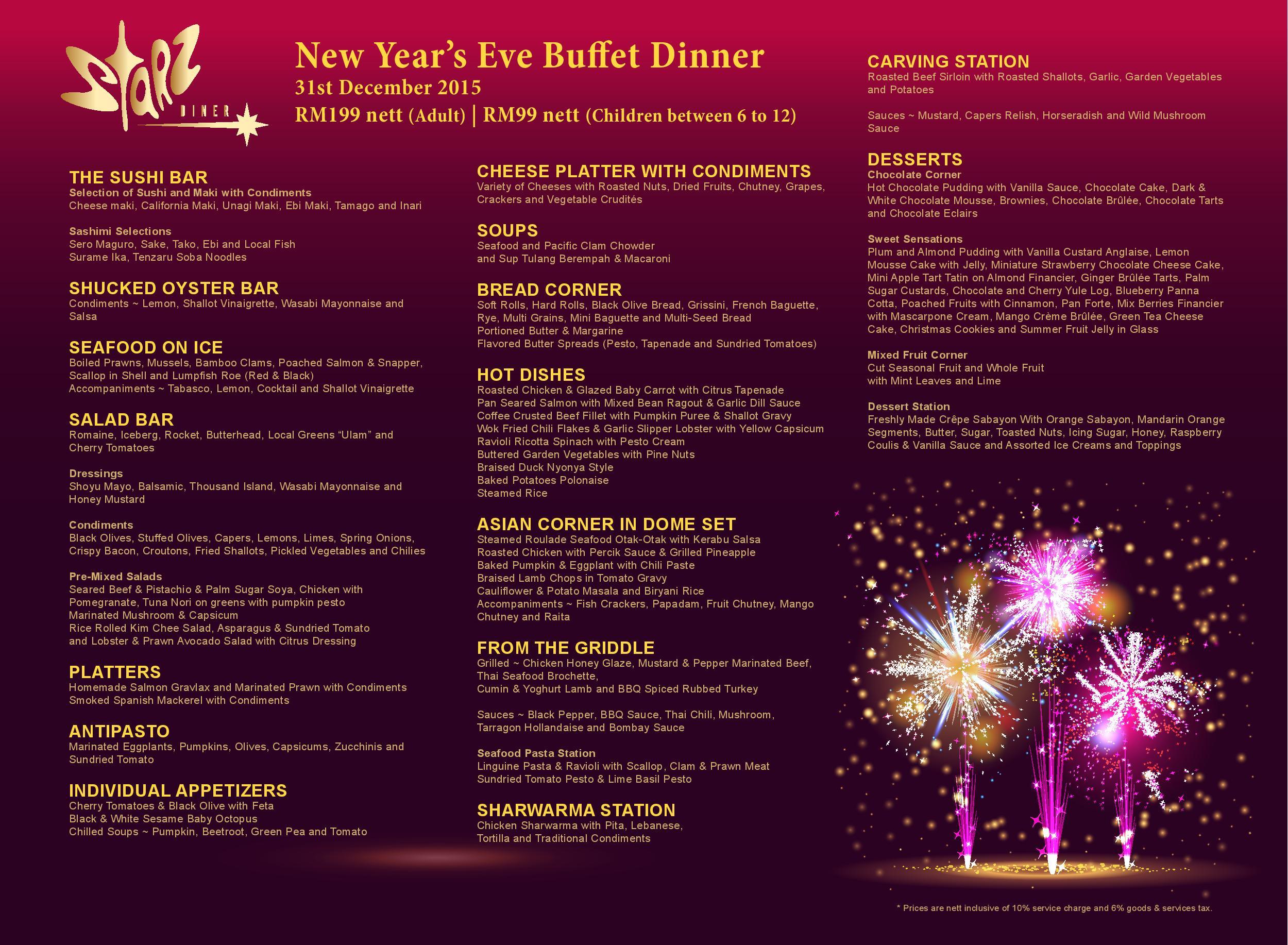 Some of the highlights to look out for are the Homemade Salmon Gravlax and Marinated Prawn with Condiments, Chilled Shooters (pumpkin, beetroot, green pea & basil tomato), Roasted Chicken served glazed baby carrot and citrus tapenade, Coffee Crusted Beef Fillet with Pumpkin Puree and Shallots Gravy, Mix Berries Financier with Mascarpone Cream and Mango Crème Brûlée.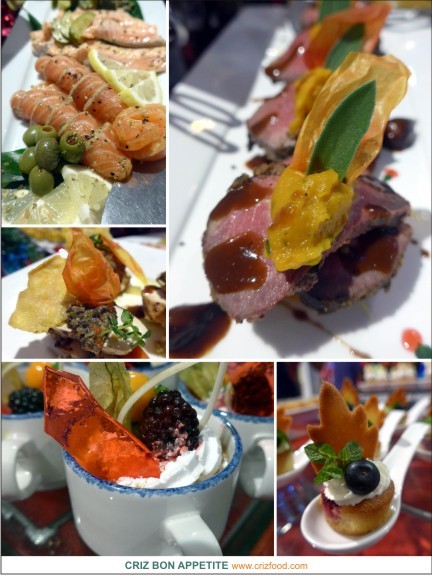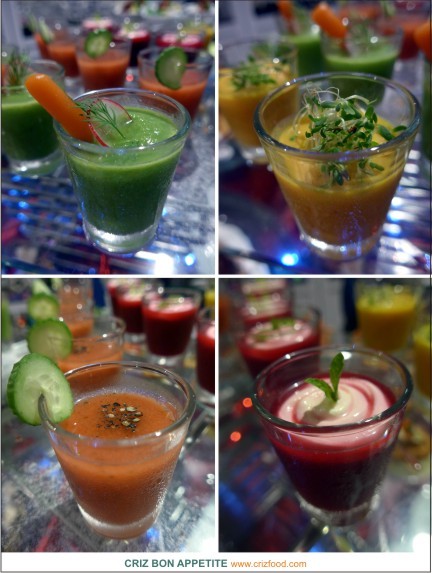 On top of that, there'll be two more promotions for New Year Eve at Pizzeria and Hard Rock Café. Pizzeria's New Year's Eve Seafood Buffet Dinner at RM199nett/pax which would include a variety of Cold Platters, Chilled Seafood, Salad, Antipasto, Cheese Platters, Soups, Hot Dishes, BBQ Seafood, Pasta & Carving Station, Pizzas and Desserts. The promotion would also include a complimentary party pack and lucky draw. On the other hand, Hard Rock Café Penang will be offering a 4-course New Year's Eve Dinner at RM195nett/pax. The Starter would include a Mini Chicken Chop Salad, Creamy Leek and Fennel plus Potato Soup. The options for the Main Courses would be either a choice of Grilled Marinated Angus Strip Loin & Pacific Scallop, Baked Sesame Cod Fish & Grilled Sambal King Prawn or Oven Baked Lamb Rack & Tandoori Salmon. Diners would be served a delightful Tiramisu Mascarpone Mousse with Pistachio Biscotti and Coffee Gelato to end the meal.
Overall, the specially crafted dishes were palatable for all who love to savor some traditional as well as fusion items during these coming festive seasons. Of course, the Roasted Turkey and Stuffing would be the main highlight during this Christmas promotion and that Coffee Crusted Beef Fillet with Pumpkin Puree & Shallot Gravy would be something new to savor during this New Year Eve.
The Starz Diner is located at the left wing of Hard Rock Hotel Penang. Upon entering, just head to the left side and you will see a little glass door leading to the eatery.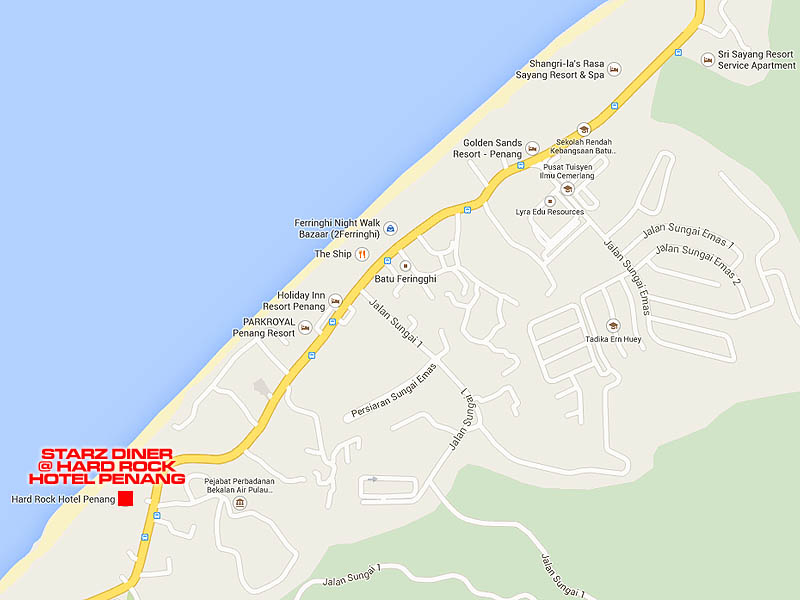 Name: STARZ DINER @ HARD ROCK HOTEL PENANG
Address: Batu Ferringhi Beach, 11100 Penang, Malaysia.
Contact: 604-881 1711
Business Hours: 6.30am-11.00am, 5.30pm-11.00pm
GPS: 5.467568, 100.241382
RATING:
Ambience: 8/10 (1-4 cheap, 5-7 average, 8-10 classy)
Food Choices: 8/10 (1-4 limited, 5-7 average, 8-10 many choices)
Taste: 7.5/10 (1-4 tasteless, 5-7 average, 8-10 excellent)
Pricing: 8/10 (1-4 cheap, 5-7 average, 8-10 expensive)
Service: 8/10 (1-4 bad, 5-7 average, 8-10 excellent)
RESERVATIONS:
Starz Diner/Pizzeria: Call +604-886 6057 or email fb.penang@hardrockhotels.net.
Hard Rock Café Penang: Call +604-886 8050 or email hrc.admin@hardrockhotels.net.
More information: Hard Rock Hotel Penang's F&B Promotions
Hard Rock International:
With a total of 204 venues in 64 countries, including 157 cafes, 22 hotels and 11 casinos, Hard Rock International (HRI) is one of the most globally recognized companies. Beginning with an Eric Clapton guitar, Hard Rock owns the world's greatest collection of music memorabilia, which is displayed at its locations around the globe. Hard Rock is also known for its collectible fashion and music-related merchandise, Hard Rock Live performance venues and an award-winning website. HRI owns the global trademark for all Hard Rock brands. The company owns, operates and franchises Cafes in iconic cities including London, New York, San Francisco, Sydney and Dubai. HRI also owns, licenses and/or manages hotel/casino properties worldwide. Destinations include the company's two most successful Hotel and Casino properties in Tampa and Hollywood, Fl., both owned and operated by HRI parent company The Seminole Tribe of Florida, as well as other exciting locations including Bali, Chicago, Cancun, Ibiza, Las Vegas, Macau and San Diego. Upcoming new Hard Rock Cafe locations include San Juan, Lagos and Gran Canaria, Spain. New Hard Rock Hotel projects include Daytona Beach, Dubai, Los Cabos, Tenerife, Abu Dhabi, and Shenzhen and Haikou in China. For more information on Hard Rock International, visit www.hardrock.com.