The Lone Pine Hotel at Batu Ferringhi, Penang, has provided wonderful buffet spreads for decades, even during my childhood days. For those who had missed those great years indulging in their luxurious lines of great delicacies, you could check out their coming Chinese New Year promotions under the skillful charge of the newly appointed Executive Chef, Chef Henry Ang Chye Hoe. The promotions would be available only on 8 and 9 February 2016. The Prosperity Buffet Lunch (12.30pm-3.30pm) is priced at RM98nett (adult) and RM49nett (child aged 6-12) and the Prosperity Buffet Dinner (7.00pm-10.30pm) is priced at RM168nett (adult) and RM88nett (child). Buffet Dinner diners would get free flow of wine, beer and refreshing beverages while those Buffet Lunch diners can also get the same privilege by topping up another RM60nett per person. For reservations and more information, contact +604-886 8566 or email to fb.coordinator@lonepinehotel.com.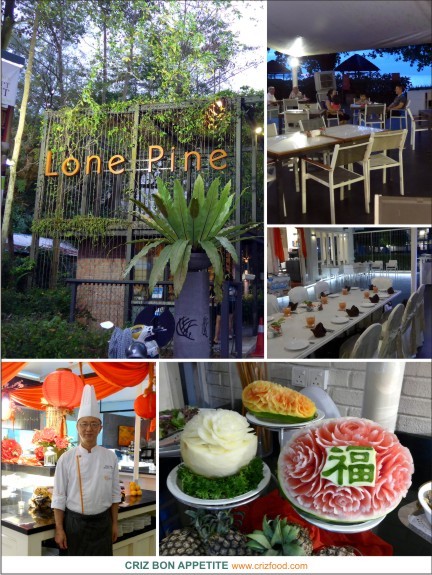 Here are summary of the promotions. You can also order Ala Carte Yee Sang from 5-15 February 2016 as shown in the poster below.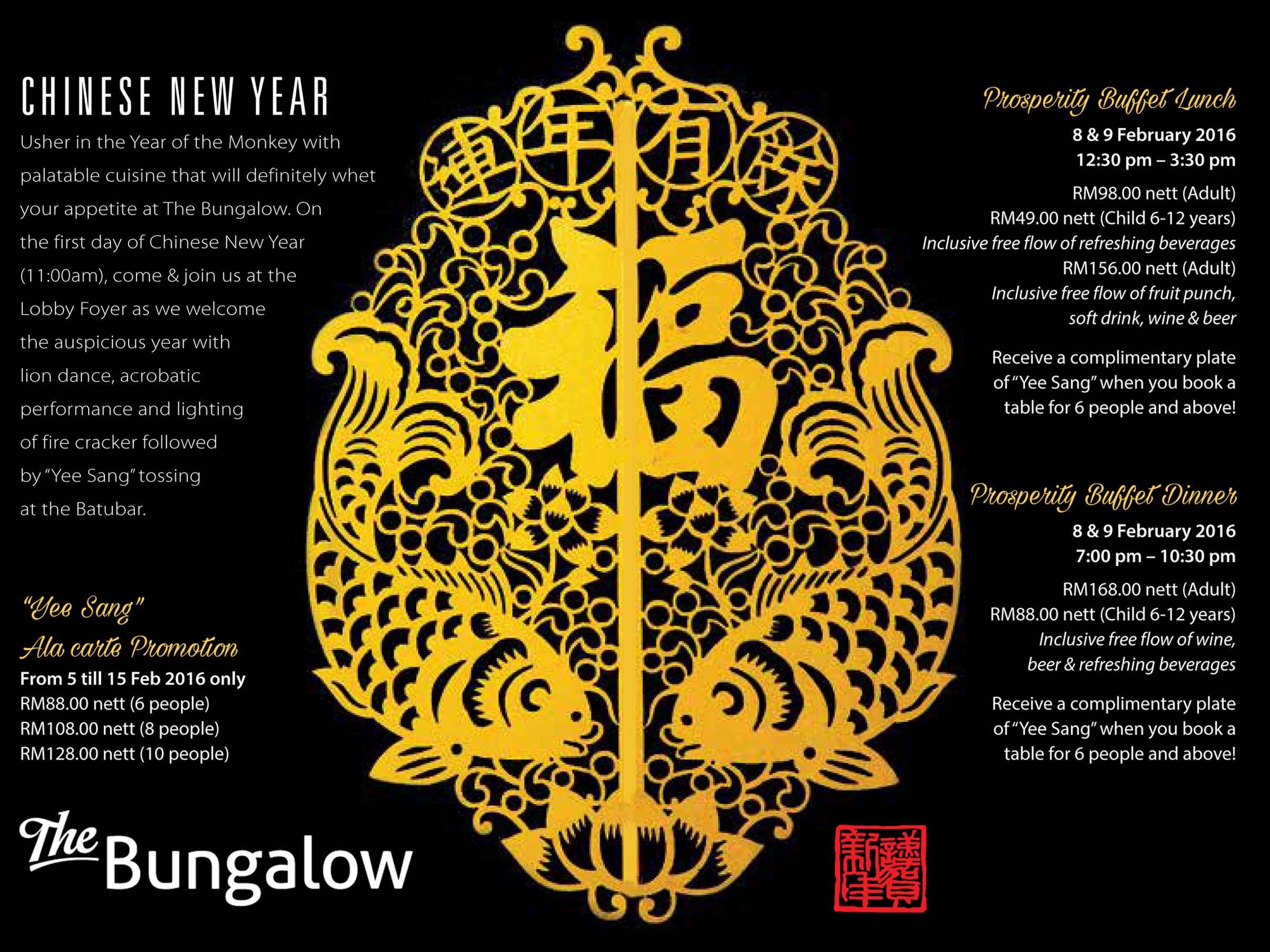 To start off, we had a fun time tossing the Salmon Yee Sang which resembled the face of a monkey, the Chinese zodiac for 2016.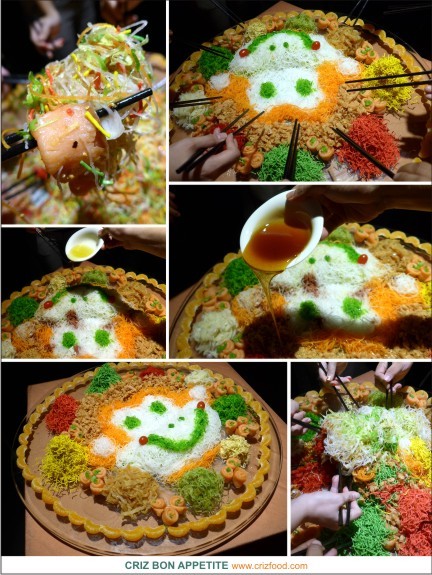 You can also visit the Salad, Soup, Bread, Fried Items & Cold Dishes Sections for Iceberg Lettuce, Romaine Lettuce, Radicchio, Frisee Lollo Rossa, Mixed Salad with Assorted Dressings and Condiments, Pineapple Salad, Calamari Salad, Kerabu Chicken Salad, Glass Noodle Salad, Tuna Nicoise Salad, Japanese Baby Octopus Salad, Popiah, DIY Kuih Pie Tee with Crab Meat, Seafood Pumpkin Soup, Assorted Bread, Chicken Lobak, Calamari Ring, Spring Roll, Money Bag, Prawn Cracker, Assorted Sushi & Sashimi, Fresh Seafood and more.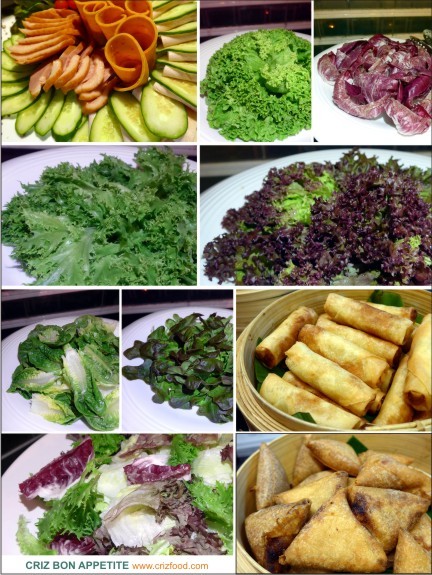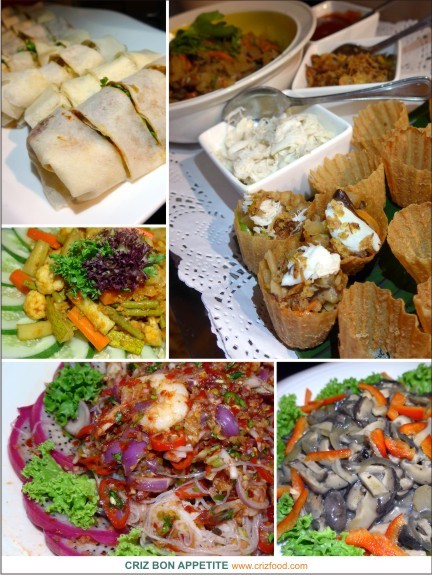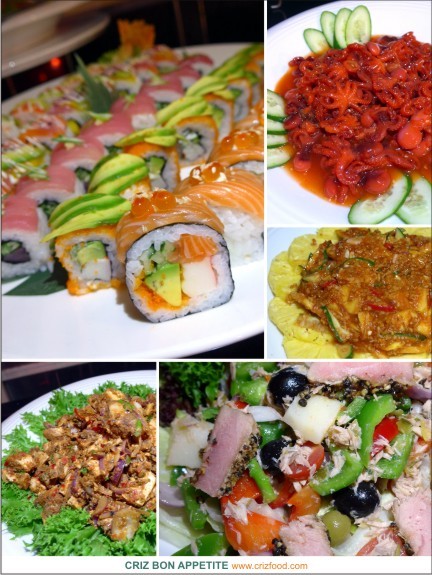 As for the Hot Dishes Section, you can expect a mix & match of Chinese & Nyonya cuisine such as Chicken Curry Kapitan, Deep Fried Red Lion Fish with Spicy Sauce, Braised Duck with Vegetables, Deep Fried Golden Prawns, Yam & Dried Shrimps Fried Rice Wrapped with Lotus Leaf, Braised Mixed Mushrooms with Sea Moss and Dried Oyster in Bean Curd Skin and more.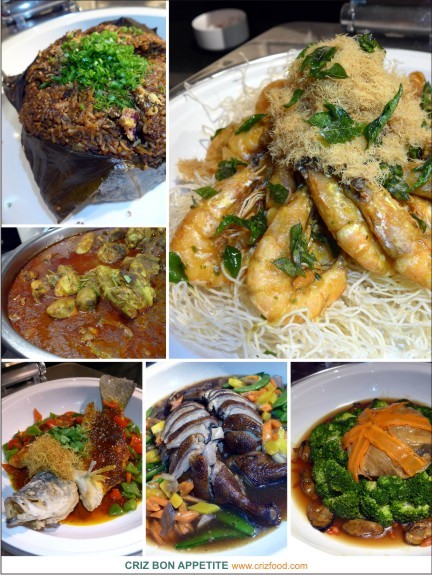 The Action Counter and Grill Sections could be quite interesting as could expect some of their signature dishes such as Roasted Duck, BBQ Chicken Wings, Lamb Char Siew, Chicken Char Siew, Lamb Chops, Chicken Satay, Chicken Sausages, Grilled Salmon Steaks, Tiger Prawns, Scallops, Mussels and more.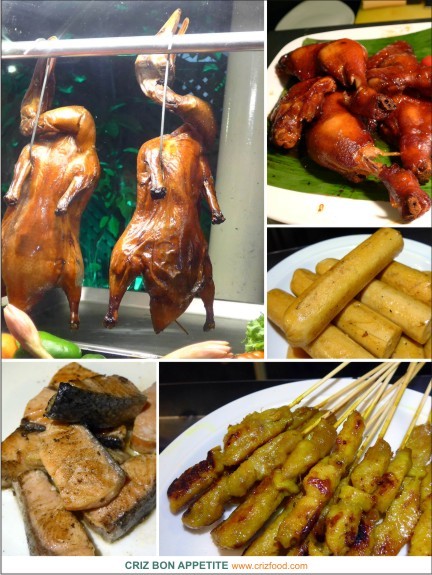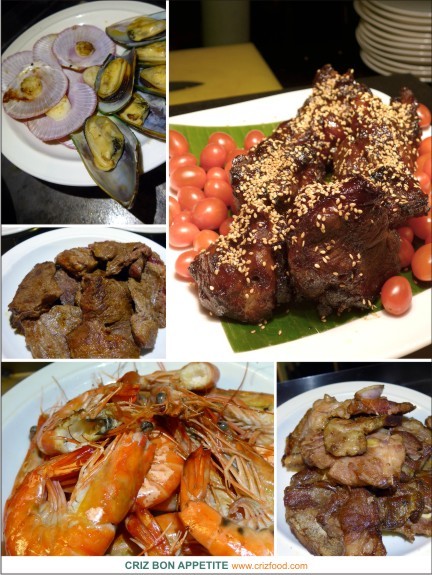 The Dessert Section would be filled with some specially concocted goodies such as Mandarin Orange Tarts, Cream Caramel Pudding, Warm Chocolate Pudding and an assortment of Chinese New Year festive cookies, Ice Cream and more.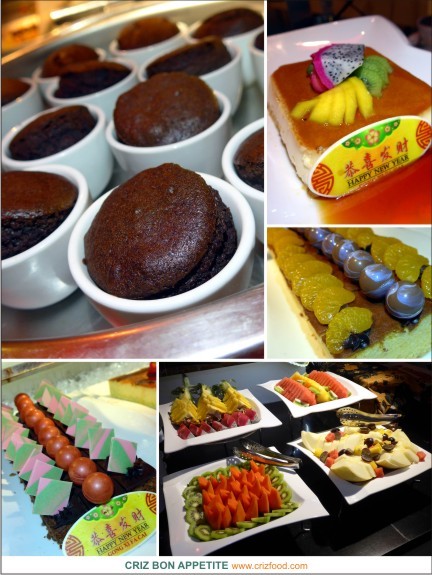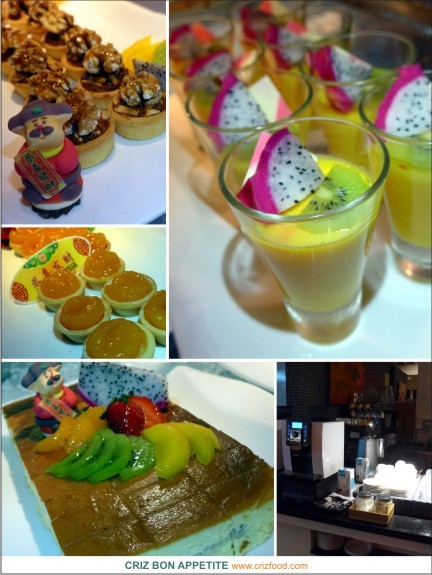 Overall, I was quite impressed with the buffet spread especially the roasted meat section where the kitchen had put in some fusion ideas into the dishes of yesteryears. You might have tasted Chicken Char Siew elsewhere but the idea of Lamb Char Siew was something way out from the world.
The Bungalow @ Lone Pine Hotel is located at the beach front of the hotel. After passing Rasa Sayang Resort & Spa on your right, you would reach a cross junction with traffic lights. After the traffic lights slow down, keep to your right and you would a small sign leading to Lone Pine Hotel just right after the Golden Sands Resort. Find a parking space within and just walk into the entrance of the hotel. You would see the Batubar on your right. Just keep to your right walk until the end where you can see the entrance to a bungalow. You won't miss the restaurant.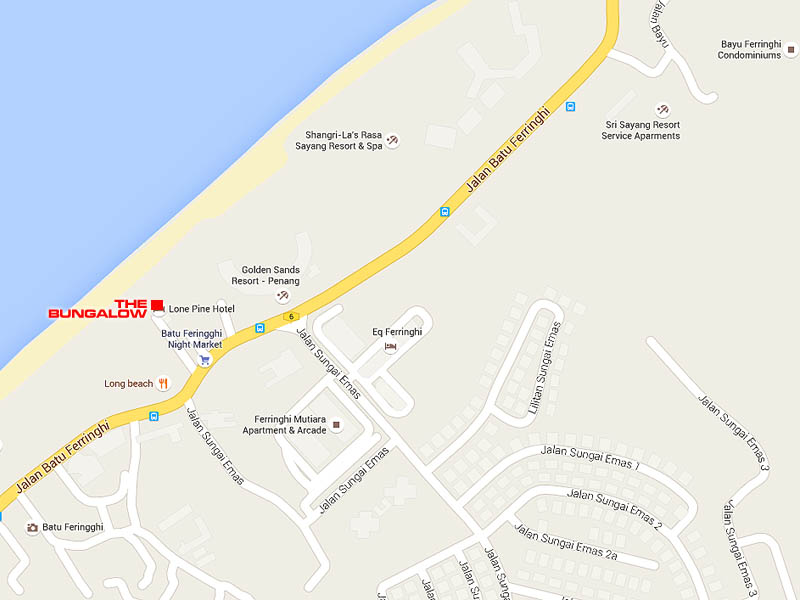 Name: The Bungalow @ Lone Pine Hotel
Address: 97 Batu Ferringhi, 11100Penang, Malaysia.
Contact: 604-886 8686
Business Hours: 12.30pm until 3.30pm (lunch), 7.00pm until 10.30pm (dinner)
GPS: 5.476144, 100.250041
RATING:
Ambience: 8/10 (1-4 cheap, 5-7 average, 8-10 classy)
Food Choices: 8/10 (1-4 limited, 5-7 average, 8-10 many choices)
Taste: 7.5/10 (1-4 tasteless, 5-7 average, 8-10 excellent)
Pricing: 8/10 (1-4 cheap, 5-7 average, 8-10 expensive)
Service: 8/10 (1-4 bad, 5-7 average, 8-10 excellent)
About Lone Pine Hotel: Lone Pine Hotel is the first hotel along Penang's picturesque Batu Ferringhi coastline and since 1948 and is known to this day for its unpretentious accommodation and genuine hospitality. It was given a new lease of life after undergoing extensive refurbishment and expansion in 2009/2010. It reopened in 2010 with an additional 40 rooms (bringing the total to 90) and an upgraded swimming pool, wellness spa, shop and gym, business centre and meeting rooms. Guests, especially loyal long time followers of Lone Pine, were relieved to see that the hotel has not lost its quintessential charm and character, including its signature casuarina trees and lawn. The successful refurbishment and expansion of Lone Pine was recognised by the architect fraternity when it won the PAM Gold Award (commercial category) at the Malaysian Institute of Architects (PAM) bi-annual awards for architectural design excellence. Lone Pine's recent accolades include the TripAdvisor® Top 10 Boutique Beach Resorts in the World 2011, Top 25 Trendiest Hotels in Malaysia (TripAdvisor Traveller's Choice® 2012) and TripAdvisor® Certificate of Excellence for the fifth consecutive year from 2011 till 2015
The E&O Group: The E&O Group (Eastern & Oriental Berhad) is a listed company on Bursa Malaysia that has established a reputation as the premier lifestyle property developer of exclusive addresses for the discerning. In Kuala Lumpur, E&O's landmark properties include The Mews, St Mary Residences, Dua Residency, Idamansara and Seventy Damansara, all located in the most prime and prestigious neighborhoods of the capital city. In Penang, Seri Tanjung Pinang is the island's first masterplanned seafront development that is now a highly sought-after and thriving community to locals as well as expatriates from over 20 nationalities. In Johor's southern development corridor of Iskandar Malaysia, E&O has embarked on Avira, a 207-acre wellness-themed development within Medini that has easy accessibility to the Second Link connection to Singapore. In its expansion overseas, E&O's international foray into real estate investment and development is focused within prime locations in London, including Princes House along Kingsway, ESCA House in Bayswater, and a commercial property in Hammersmith. E&O's leading position as a lifestyle developer is anchored by its niche in luxury hospitality derived from its namesake, the iconic Eastern & Oriental Hotel, a cherished heritage landmark in George Town established in 1885. Along the popular beachfront, Lone Pine Hotel stands as the only boutique resort on Batu Ferringhi and the Group has further leveraged on its experience and expertise in hospitality management with the opening of E&O Residences serviced apartments in Kuala Lumpur.