Sarkies @ E&O Hotel (Eastern & Oriental Hotel) would be promoting their Gong Xi Fa Chai Buffet Dinner 2016 from 7.00pm until 10.30pm on 7-13 February 2016. Priced at RM133.30nett (adult) and RM60.95nett (child from 6-12 years old), diners would get to savor a mix and match of both international and local cuisines. For adults, free flow of wines and beers would be available with an additional RM66nett per pax. Of course, on top of the great selections of salads, sushi, sashimi, grills, roasts, mains, local fares, desserts and more as you would expect from their festive promotion, you would be getting some specially prepared Chinese cuisine to mood up the auspicious occasion.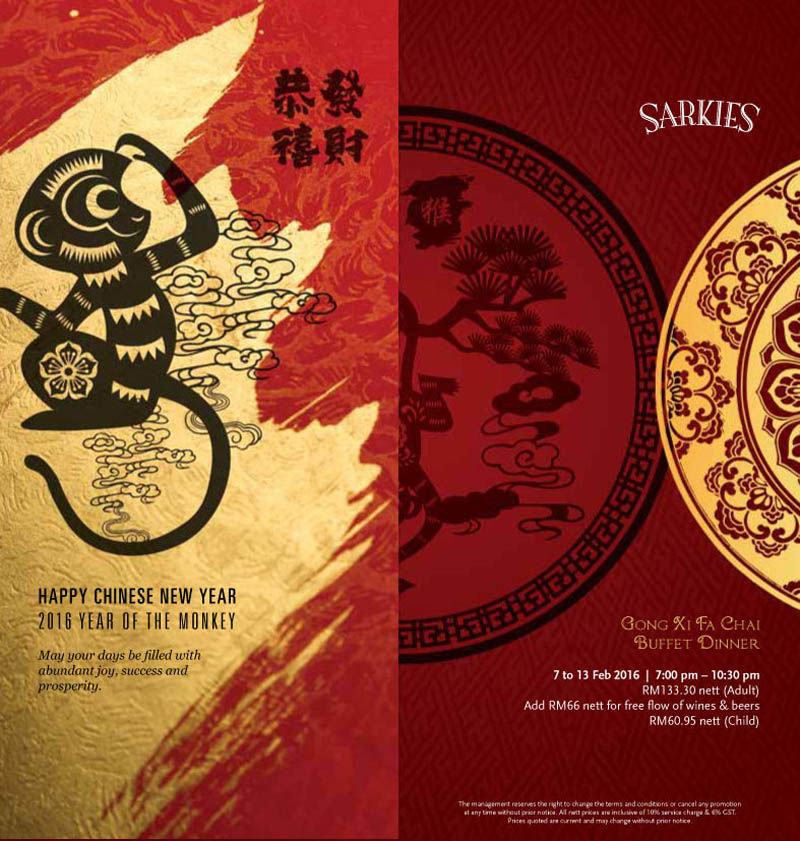 To start of the Chinese New Year with symbolic greetings of abundance, prosperity, vigor, good luck and more, Prosperity Yee Sang would also be available at the buffet spread. For 6 pax and above, you could request for a specially prepared set for your table upon booking. Baby abalones would be available too as an add-on but would be charged separately.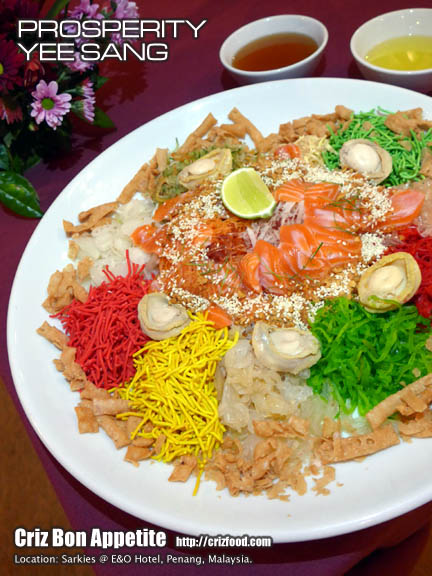 Special highlight for the buffet would be the Sea Treasures Seafood Soup. One sip and you would know that it had gone through many hours of simmering to get such a good broth. The whole concoction was filled with generous amount of sea cucumbers, fish maws and crab meat.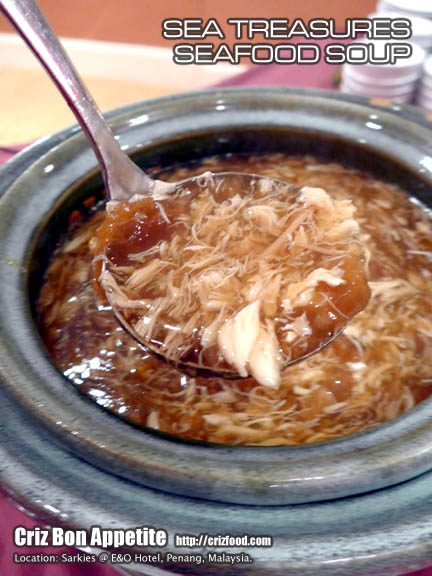 The next dish to savor would be their Individual Steamed Herbal Soup. For herbal soup lovers, you should not miss out this soup as it was really delicious and filled with nutrients.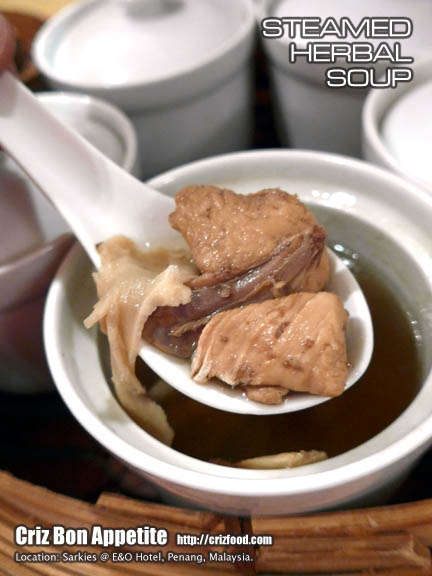 Ever since I tried the Steamed Fish with Nyonya Sauce some time back, I still could not forget that complex and yet distinctive flavors from the dish. It could be real addictive too. Obviously the concoction of blended lemongrass, chilies, ginger flower, sugar, salt, pepper with a light squeeze of fish sauce and lime juice indeed made the dish real appetizing.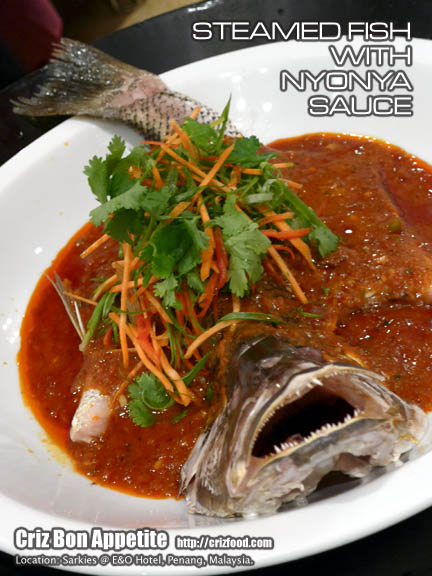 We also tried out their Sautéed Seasonal Vegetables with Two Treasure Mushrooms. It was just a simple dish. If only they could add in some deep fried wet bean curd sheet (Tao Bor), then it would add in a new dimension to the flavor of the oyster sauce.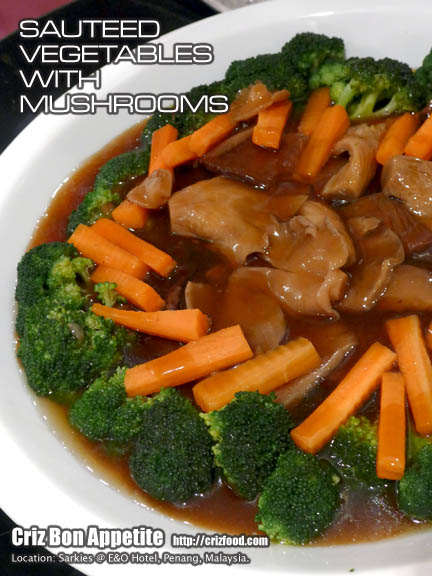 The Wok Fried Prawns with Oat and Butter had everyone yearning for more as it was filled with the fragrance from the butter with the crisp from the oats.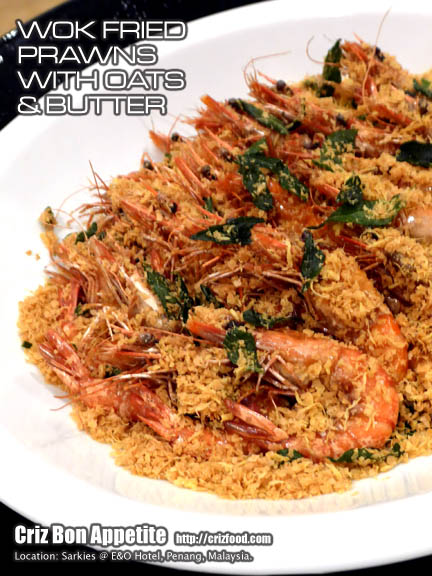 Who could resist the Signature E&O Roasted Duck? If you have yet to try this dish before, you would be in a lost. The chef sure knows well about his product as the duck meat was always tender plus its aromatic and fragrant skin would always be my favorite.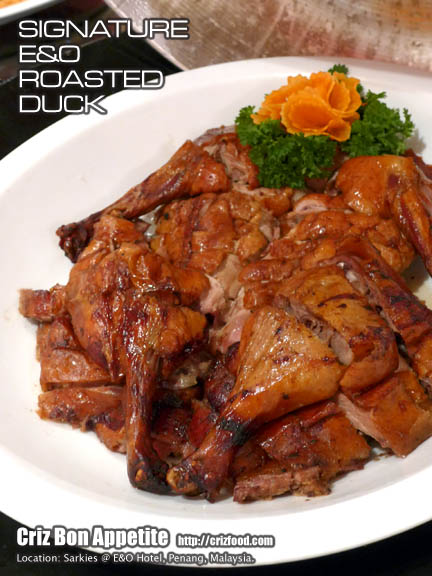 The Lotus Rice with Chicken Meat and Mushroom was nicely pepped up with flavors, especially from the unique flavor emitted by the steamed lotus leaves. However, it would be great if some Chinese sausage be added in for that special taste and texture, the halal version of course.
The Braised Chicken in Soy Sauce with Black Mushrooms was something quite common in any household. I don't mind if the kitchen pepped up the flavors more with some usages of ginger and sesame oil. The dish tends to be a bit flat to my liking.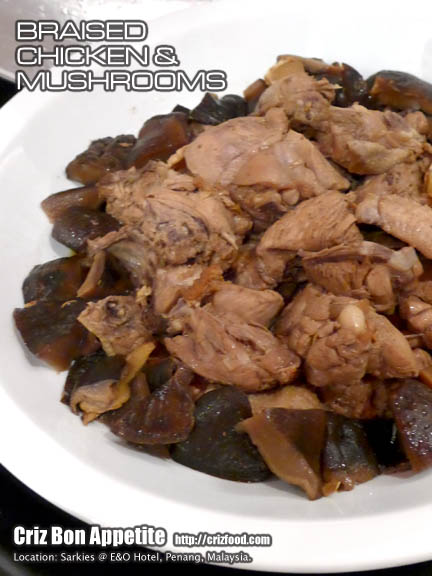 For desserts, other than the usual vast varieties of delightful sweet temptations, you would get more treats such as Red Bean Soup with Glutinous Rice Ball and Chinese Pancake.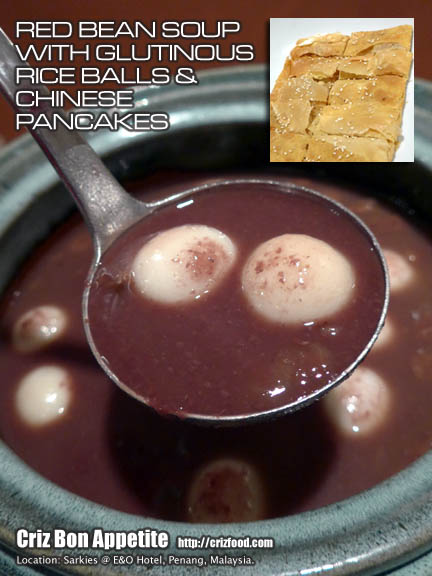 Overall, I like Sarkies @ E&O Hotel as it has lots of options for international and local cuisine. With their signature dishes and more add-ons for this coming Chinese New Year 2016, I can assure that it would be a great venue to celebrate the auspicious Red Fire Monkey year with family and friends.
Eastern & Oriental Hotel, Penang (next to Penang Bowl) is located along Lebuh Farquhar. If you are coming from Jalan Sultan Ahmad Shah towards Weld Quay, keep to your left immediately after passing by CitiBank. When you see the Penang Bowl building on your left (UMW Toyota opposite), please slow down. Turn left immediately after the Penang Bowl entrance. The E&O Hotel car park is situated just inside the Victory Annexe building. Parking charges would be a maximum of RM6 (weekdays: Monday-Thursday) and RM12 (weekends: Friday- Sunday)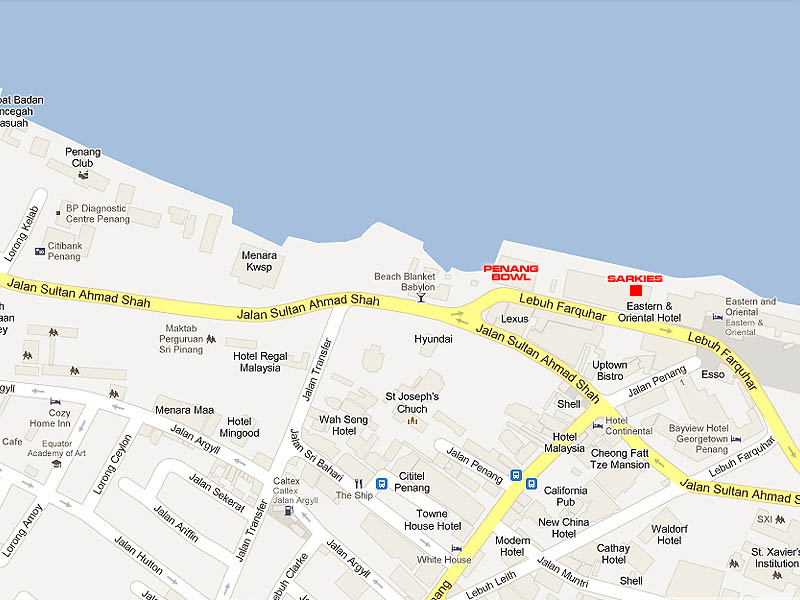 Name: SARKIES @ EASTERN & ORIENTAL HOTEL
Address: 10 Lebuh Farquhar, 10200 Penang, Malaysia.
Contact: 604-222 2000
Business Hours: 7.00pm until 10.30pm
GPS: 5.423624, 100.334988
RATING:
Ambience: 8.5/10 (1-4 cheap, 5-7 average, 8-10 classy)
Food Choices: 8.5/10 (1-4 limited, 5-7 average, 8-10 many choices)
Taste: 8.5/10 (1-4 tasteless, 5-7 average, 8-10 excellent)
Pricing: 8/10 (1-4 cheap, 5-7 average, 8-10 expensive)
Service: 8/10 (1-4 bad, 5-7 average, 8-10 excellent)