By now everyone should know that Sarkies @ E&O Hotel (Eastern & Oriental Hotel) has the reputation of pampering its diners with great choices for their buffet spreads and this year it's the best one would expect for their Christmas Eve 2019 Buffet Dinner. Other than being served with international and local cuisines, more delicious yet classic Christmas dishes and desserts would be added to the spreads, making the festive experiences even more joyous and memorable. The promotion would be held on 24 December 2019 from 6.30pm until 10.00pm with live band performances. Prices are as stated in the poster below.

Some of the main highlights of the buffet would include Starters (Chilled Green Tea Soba Noodles Served with Poached Chicken, Green Beans, Nuts, Seeds and Tahini Ponzu Dressing, Salad Nicoise with Grilled Sabah Tuna, Thai Glass Noodle Salad with Poached Seafood, Roast Chat Potatoes with Glazed Pear, Roquefort Cheese and Walnut Salad, Sous Vide Fennel and Orange Quinoa Salad, Pomegranate, Yoghurt Dressing, Baby Spinach Leaf, Homemade Marinated Salmon Side Fresh Dill and Lemon Wedges, Semi-Cooked Scallops Topped With Herb and Tomato Salsa, Galantine of Turkey with Chestnut Stuffing, Sushi and Sashimi with Condiments, Daily Catch Seafood on Ice with Dressings and Condiments (Lime Wedges, Lemon Wedges, Tabasco, Wasabi, Cocktail Sauce, Kikkoman), Soup served with Selection of Breads, Butter, Olive Oil and Balsamic (Creamy Smoked Salmon, Leek & Potato Soup, Classic French Onion Soup with Croutons), Fish Cartoccio served with Fennel, Mushroom, Spinach, Tomato, Basil, Rosemary, Homemade Meatballs served with Mint and Rosemary Tomato Concasse, Oven Baked Rib Eye with Chef Special Marinade served with Sauce and Condiments (Cranberry Jelly, Giblet Sauce, Black Pepper Sauce, Roasted Garlic Sauce, Mint Sauce, Rosemary Sauce, English Mustard, Horseradish, Mashed Potato, Wood Oven Roasted Vegetables with Peso, Potato Pumpkin Gratin and Yorkshire Puddings), Roast Turkey served with Sauce and Condiments (Cranberry Jelly, Giblet Sauce, Sauté Brussels Sprout, Apple Chestnut Stuffing, Braised Red Cabbage), Selection of Main Course (Fragrant Pilaf Rice with Dried Fruits and Nuts, Oven Roasted Marinated Chicken with Fennel, Onion, Tomato and Thyme, Lamb Osso Bucco with Root Vegetables, Slow Braised Beef with Beans Ragout, Mixed Seafood Lasagna, Mixed Vegetables with Herbs Butter, Aglio Olio with Roasted Vegetables, and maybe more)
The desserts served this year are of premium quality as always and the best news is that all the desserts are with the right amount of sweetness to send your sweet tooth craving for more without the fear of increasing your waistline. Cool right? Haha! Some of the dessert highlights are Strawberry Bavaroise, Chocolate Pear Chiboust Crème Tart, Morello Cherry Gateau, Fresh Wild Berries Flan, Chocolate Mousse in Shot Glass, Strawberry and Raspberry Jello, Crème Brulee, Christmas Fruit Cake, Mince Pies, Chocolate Yule Log, Pistachio Opera, Butterscotch Banana Cream Torte, Raspberry Chocolate Mille Feulle, Vanilla Mango Panna Cotta, Mont Blanc, Gingerbread/Panettone, Christmas Log Sensations, Berries Éclair, Framboise Crunch Feulle Bavaroise, Financier with Wild Berries, Lemon Tart, Assorted Chocolate Santa, Macaron Tower, Chocolate Bar, Gingerbread Man with Candy Hook, and maybe more.
There are also some Christmas items for your purchases to make your celebration filled with more festive moods. Here's the order form for your reference. Please call up +604-222 2000 (Ext. 3602) to make your order. All orders must be made at least 3 days in advance with the necessary payment.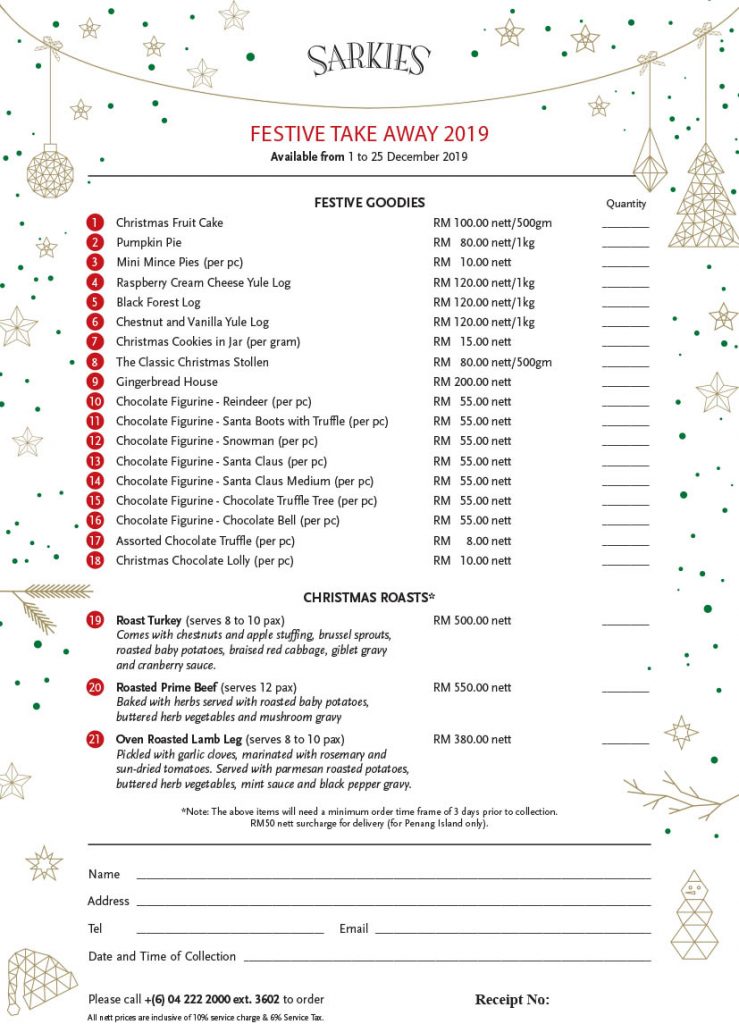 You could also view their other ongoing promotions from their website for November & December 2019.
Eastern & Oriental Hotel, Penang (next to Penang Bowl) is located along Lebuh Farquhar. If you are coming from Jalan Sultan Ahmad Shah towards Weld Quay, keep to your left immediately after passing by CitiBank. When you see the Penang Bowl building on your left (UMW Toyota opposite), please slow down. Turn left immediately after the Penang Bowl entrance. The E&O Hotel car park is situated just inside the Victory Annexe building. Parking charges would be a maximum of RM6 (weekdays: Monday-Thursday) and RM12 (weekends: Friday- Sunday)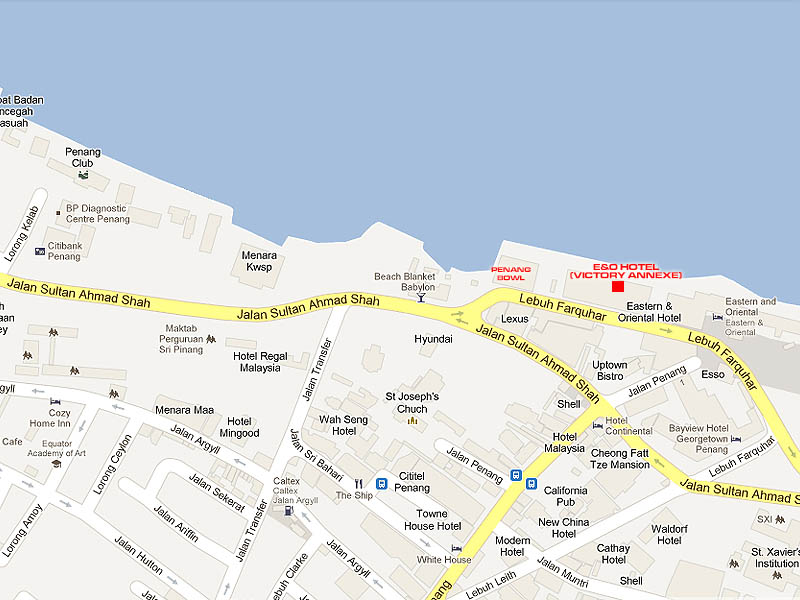 Name: SARKIES @ EASTERN & ORIENTAL HOTEL
Address: 10 Lebuh Farquhar, 10200 Penang, Malaysia.
Contact: 604-222 2000
GPS: 5.423624, 100.334988
RATING:
Ambience: 8.5/10 (1-4 cheap, 5-7 average, 8-10 classy)
Food Choices: 9/10 (1-4 limited, 5-7 average, 8-10 many choices)
Taste: 9/10 (1-4 tasteless, 5-7 average, 8-10 excellent)
Pricing: 8/10 (1-4 cheap, 5-7 average, 8-10 expensive)
Service: 8/10 (1-4 bad, 5-7 average, 8-10 excellent)