Swez Brasserie @ Eastin Hotel, Penang, would be having its "Eastin Ku Kampung Ku" Ramadan Buffet Dinner from 18 June until 18 July 2015 (7.00pm-10.00pm). The price would be at RM104nett/pax (Adult/Senior Citizens 60 years old and above will get 50% off) and RM52nett/pax (Child). If you are thinking of purchasing for 20 pax and above, there are some great voucher offers at good bargain prices stated below. The Ramadan Buffet Dinner would consist of traditionally prepared authentic and favorite kampung style Malay cuisine, under the experienced hands of the hotel's Malay Kitchen.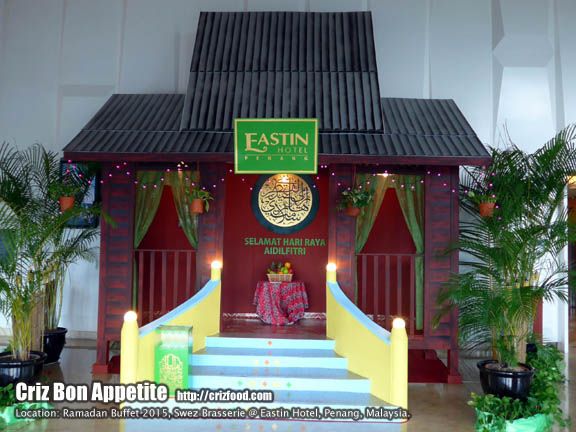 Here are some of the sections you might find interesting during the "Eastin Ku Kampung Ku" Ramadan Buffet Dinner.
GARDER OF GREEN SALAD (Tomato, Carrot, Cucumber, Corn Kernel, Onion Ring, Mix Lettuce) with DRESSING AND CONDIMENTS (Thousand Island, Cheesy Mayo, Italian, Mango & Vinaigrette)
INTERNATIONAL APPERTIZER (Semi-Dried Tomato & Mozzarella Salad with Basil Corn Relish, Cajun Squid Flower & Soba Noodles with French Dressing, Pan Seared Fish with Grill Zucchini Salad, Tomato, Aubergine & Citrus Dressing, Asparagus with Turkey Ham & Pineapple Salad, Ulam-Ulaman Serantau, Kerabu Perut, Kerabu Kacang Botol, Kerabu Ayam Dara, Kerabu Betik Muda & Kerabu Udang Suhun)
SAVORIES AND MALAYSIAN SAMBALS (Sambal Belacan, Sambal Cincaluk, Sambal Mempelam, Sambal Kelapa, Sambal Budu, Jelatah, Acar Buah, Keropok Ikan, Keropok Lekor, Keropok Udang, Papadam, Serunding Ayam, Serunding Daging, Acar Rampai, Sambal Ikan Bilis, Lemang, Ketupat Nasi, Ikan Masin, Telur Masin & minimum 5 types of Jeruk aka pickles)
SEAFOOD ON ICE WITH CONDIMENTS (Slipper Lobster, Tiger Prawn, Mussels, Crab)
SOUP & BREAD (Pumpkin Soup, Soup Ekor Cendawan, Bread Roll & Butter)
CITARASA MASAKAN KAMPUNG & MALAYSIAN FAVORITES (Ikan Asam Pesad, Gulai Daging Kacang Panjang, Gulai Asam Rom Sayuran, Ayam Pongteh, Rendang Ekor, Siput Sedut Lemak Cili Api, Pucuk Ubi Masak Lemak Putih, Stir Fried Crab with Basil Leaves, Thai Yellow Chicken Curry, Poached Indonesian Sea Bass with Cilantro Sauce, Sauté Squid with Macaroni in Tomato Herb Sauce, Fried Mussel with Chili & Hot Bean Sauce, Wok Fried Tiger Prawn with Butter Sauce, Nasi Putih & Nasi Tomato)
NASI LEMAK KUKUS ACTION COUNTER (Sambal Bawang, Ayam Goreng Berempah, Telur Rebus, Timun, Kacang & Ikan Bilis)
HAWKER STALL (Roasted Whole Lamb for minimum 80 Pax & above, Shawarma Corner, Ice Kacang with Condiments, Gearbox Soup with Condiments & Bubur Lambuk)
ACTION COUNTER (Mee Rebus, Panggang Station with at least 6 types of seafood & meat & sauces such as Mushroom Sauce, Black Pepper Sauce, Kam Hiong Sauce, Thai Chili Sauce, Assam Jawa & Kicap Bawang)
HOMEMEMADE MALAYSIAN PIZZA (Seafood Pizza & Beef Rendang)
DESSERT (Buah Kurma Madu Yusut Taiyoob's, Assorted Fruits Platter, minimum 8 types of Assorted French Pastry, minimum 6 types of Whole Cakes, Fruits Jelly In Glass, Coffee Mousse, Apple Crumble, Bubur Kacang, Linzer Torte, Pavlova With Fruit & minimum 7 types of Local Malay Kuih)
BEVERAGE STALL (Air Bandung/ Soya Milk with Cincau/ Mata Kucing/ Young Coconut, Teh Tarik, Kopi Tarik, Coffee & Tea)
What are the "MUST TRY DISHES" at Eastin Hotel Penang during this coming Ramadan?
1. There are many different types of sambal such as the sambal cincaluk, sambal mempelam and sambal kelapa to go with your dishes. Various kinds of sambal are must in most Malaysian cuisine and only during Ramadan do they produce certain varieties.
2. You should try out the Malaysian version of Oxtail Soup with added mushrooms known as Sup Ekor Cendawan. It's an impactful yet flavorful soup with the uses of local herbs and spices plus beef bones stock.
3. Another dish to take note will be the Gulai Asam Rom (Asam Rong/Aserong/Asrong) Sayuran/Siput Sedut, an appetite booster. This famous Pahang dish is quite rare in modern days as the main ingredient of buah perah (kelampai/rampeh/Elateriospermum tapos) is rather hard to obtain due to our fast development, except maybe from the jungle of Pahang, Sabah, Sarawak, Indonesia or Thailand. As it tastes just like the rubber tree seeds, some might use the rubber tree seeds instead. The curry has unique flavors and can be quite addictive.
4. You might have heard about Oxtail Soup but hardly would you get Oxtail Rendang aka Rendang Ekor from your usual Malay restaurants. This is the secret recipe of the chef's mother. It's best not to miss out the chance to savor this unique dish.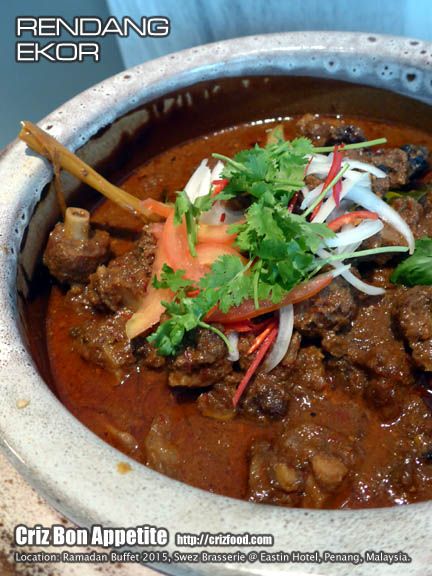 5. Do check out the Nasi Lemak Kukus Action Counter for Malaysian's favorite dish. It may look simple but once you have a mouthful of the fragrant coconut milk infused rice accompanied with the flavorful sambal tumis, hardboiled egg, ikan bilis, fried peanuts and ayam goreng berempah, you would want to seek for more. It's truly an addictive dish for all.
6. You would hardly see a Whole Roasted Lamb unless it's for grand occasions. The tender yet juicy meat had been marinated with special herbs and spices for 3 days prior to being roasted until perfection. This will be served with Middle East style of Bukhari Rice, using basmati rice cooked with tomato paste and various spices. One word~ Lazeez!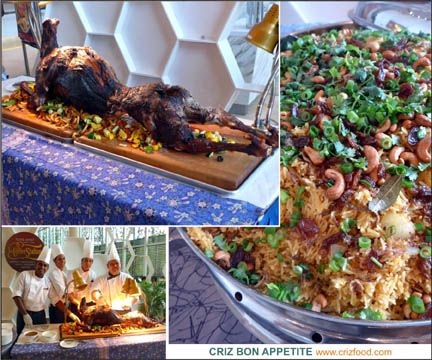 7. One of my favorite dishes to hunt at Pasar Ramadan will always be the Turkish style Chicken Shawarma and they have it here as one of the dishes for buffet. Perfect! Instead of my usual bread wrap, they are using pita bread pockets with their special dressing. Who's to complain since I can have as many as I ever wanted? 😛
8. For more energy and stamina during the puasa month, you should try out their signature Sup Gearbox. It's one great dish that I would always look forward to each year at Eastin Hotel Penang. The spices and herbs used in slowly simmering the bull's thigh bones combined with some potatoes and carrots were indeed "powerful". A bowl of this heavenly dish would surely keep the body energetic and rejuvenated for any activities during the fasting month.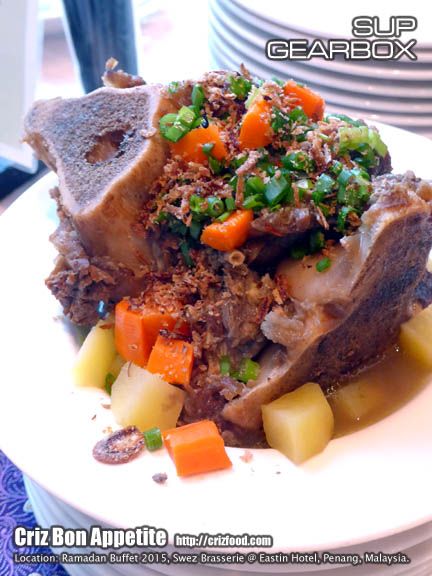 9. One of the popular Ramadan specialties would be an energy packed porridge known as Bubur Lambuk. The porridge is normally prepared by volunteers in mosques throughout the country and served to the public for free. The ingredients used from state to state might be different, ranging from poultry, meat and seafood. The most popular one would be the spice and energy packed porridge with the use of rich beef bone stock for that extra power.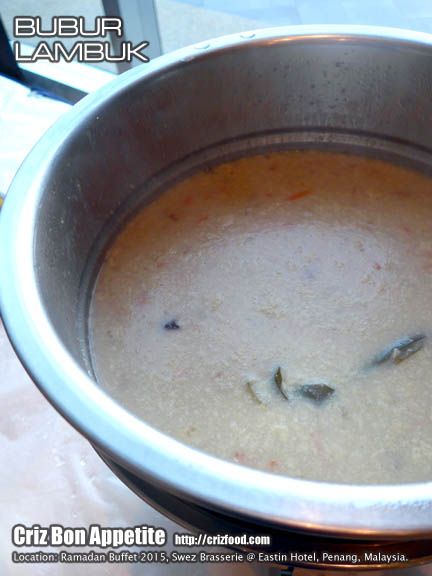 10. You should check out the Panggang Station for more flavorful grilled dishes. Depending on the stock available for the day, there will be at least 6 types of meat and seafood served daily during the fasting month.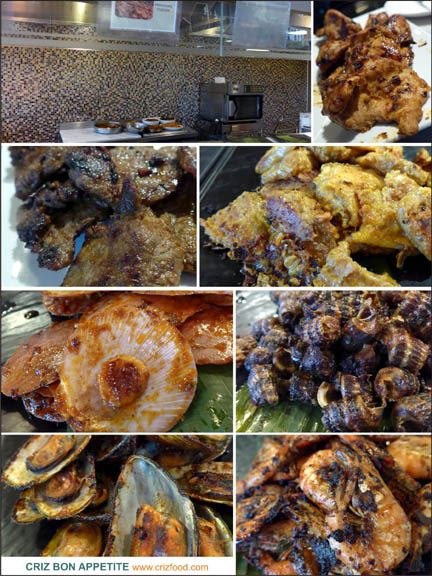 Overall, the Ramadan Buffet Dinner spreads have always been one of my favorites, considering that the kampung-style and family-oriented dishes were flavorfully prepared by the experienced Malay Kitchen team. Well done chefs~ 🙂
Promotions for Eastin Ku Kampung Ku Ramadan Buffet:
Early Bird F&B Promotion: Ramadan Voucher at RM80nett/pax
– For every 20 vouchers purchased FREE 1 voucher
– For every 50 vouchers purchased FREE 3 vouchers
– For every 60 vouchers purchased FREE 1 room of 2D1N DH
– For every 100 vouchers purchased FREE 2 room of 2D1N DH plus FREE 2 vouchers.
CITIBANK
RM88nett/pax for the Ramadan Buffet Dinner from18th June to 18th July 2015.
AEON Member
15% discount for members during the Ramadan Buffet Dinner.
Note: Senior citizens will get 50% discount.
The Swez Brasserie is located at the ring wing of Eastin Hotel, Penang (next to Queensbay Mall). If you are coming from Georgetown towards Bayan Lepas Free Trade Zone via Bayan Lepas Expressway, do watch out for the Pulau Jerejak signboard (leading to Pulau Jerejak jetty). Ignore the turning and drive on to the next left junction. Turn left into Jalan Aziz Ibrahim and drive on until you a roundabout. Turn 3 o' clock and drive on until you see a big Eastin Hotel signboard at the first right junction. Turn right and drive on. Park your car at the basement car park. Take a lift to the first floor lobby and you would see the restaurant there.
Name: SWEZ BRASSERIE @ EASTIN HOTEL
Address: 1 Solok Bayan Indah, Queens Bay, 11900 Bayan Lepas, Penang, Malaysia.
Contact: 604-612 1128, 604-612 1138
Business Hours: 7.00pm-10.00pm (Ramadan Buffet Dinner only)
GPS: 5.33643, 100.306345
RATING:
Ambience: 8/10 (1-4 cheap, 5-7 average, 8-10 classy)
Food Choices: 8/10 (1-4 limited, 5-7 average, 8-10 many choices)
Taste: 7.5/10 (1-4 tasteless, 5-7 average, 8-10 excellent)
Pricing: 8/10 (1-4 cheap, 5-7 average, 8-10 expensive)
Service: 8/10 (1-4 bad, 5-7 average, 8-10 excellent)