At times, we would love to dine out at a restaurant with great ambience and good service, thus Sea Queen Restaurant at Straits Quay, Penang could be the ideal choice with great options for delicious seafood. Overlooking a splendid seafront, the restaurant pampers its diners with freshly caught seafood in its most authentic and delicious ways. Sea Queen Restaurant can accommodate up to 1800 patrons or 180 tables for both indoor and outdoor events including weddings, annual corporate dinners, anniversaries, birthdays or any private functions.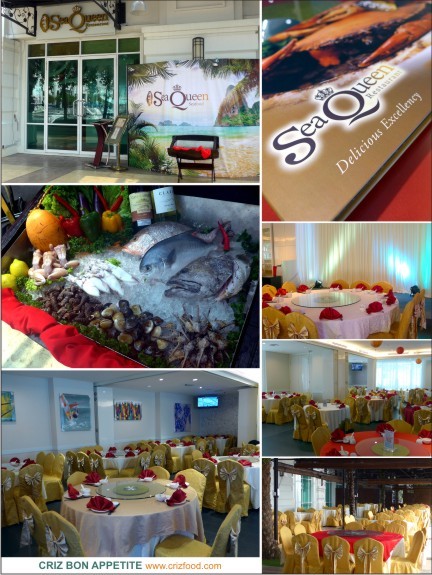 To start the meal rolling, you could always choose one of their Signature Appetizers which would be the Deep Fried Soft-shelled Crabs with Salad and Mustard Sauce (RM30++). The crispy batter fried soft shelled crabs combined with the wasabi spiced up mayonnaise were heavenly palatable especially when you combine with some of the fresh greens.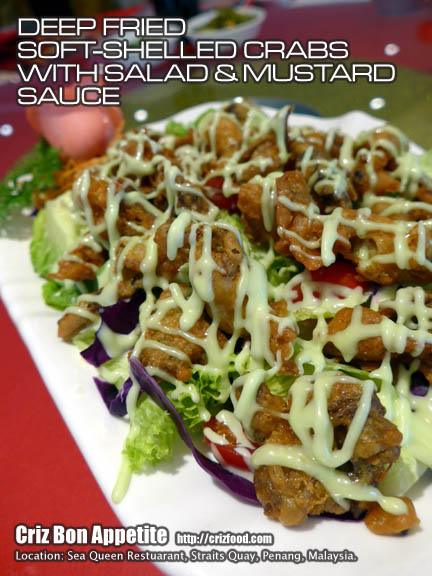 You may also want to try out their many varieties of quality enriched soup but we skipped that and went for their Signature Roasted Chicken in Thai Style (RM30++ for half bird). You may think that it would be just some roasted chicken in some Thai chili sauce but it was more than that. It was a 2-in-1 dish with some nicely roasted chicken with delicious crispy skin served alongside with some spicy Thai salad tossed with some chicken breast meat. It was a killer.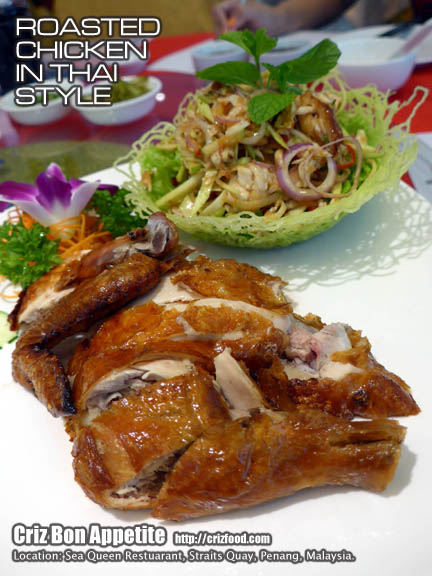 The main dish for the meal was definitely the Deep Fried Crab with Rock Salt & Spices (market price at RM12/100g – estimated price for this meat crab dish (~600g x 2 crabs) was at RM140++). It was a remarkably prepared dish that caught all of us licking our fingers endlessly to savor any excess flavors~ LOL~ 😛 The size of those crabs and the unique way in the preparation would surely make me go back for more in the future. However, do not be stingy and do request for bigger sizes of crabs as smaller ones won't be as fulfilling as bigger ones through my experiences dining there a few times.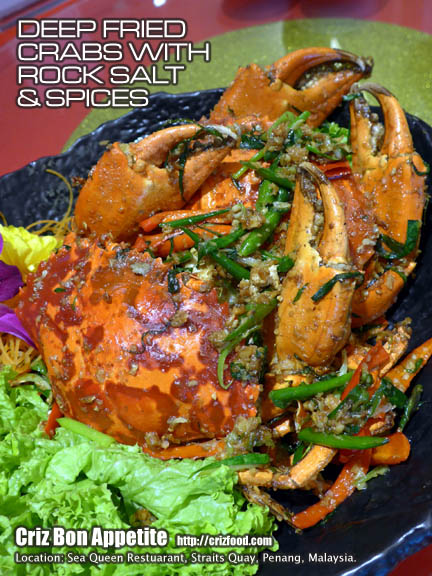 As for prawns, their Deep Fried Prawn "Tian Jin" Salad with Crispy Cheese (RM50++/ medium) was something great to indulge in. On top of being super fresh, each bite had the fragrance and flavors from the deep fried cheese crumbles.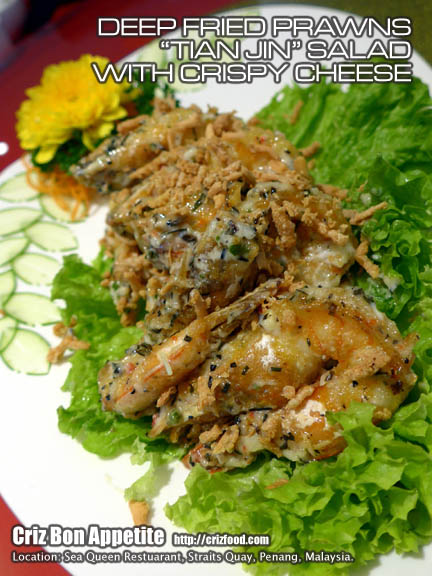 If you are into claypot dishes, their Braised Sliced Pork Belly with Salted Fish (RM20++/small) was a hit amongst us as the flavors were great to go with hot steaming rice.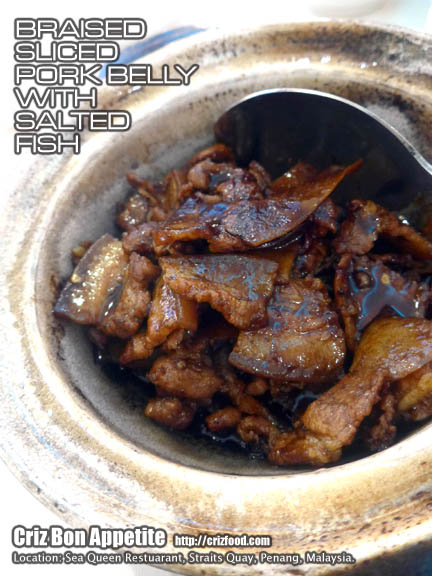 For more exotic flavors, you could always order their Braised Venison with Special Sauce in Stone Pot (RM20++/small). The dish was somewhat like the sweet and sour pork but with higher usages of pineapple slices and capsicums. Taste wise, it was fine except that I would have expected more tender venison slices for smoother bites. A light squeeze of grated ginger juice would have done that justice.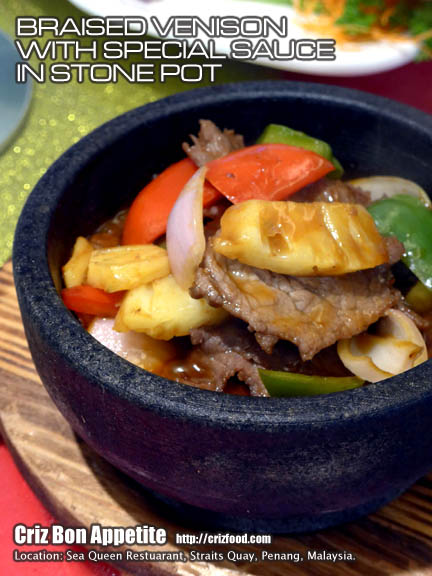 There should always be at least a healthy dish to balance up our meal, thus we ordered a few meatless dishes to go with our meal. Firstly, it was the Braised Bean Curd with Bean Roots (RM12++/small). The dish practically consisted of some slices of deep fried homemade tofu, topped with some bean curd sticks and served with baby bok choy in flavorful gravy. We also tried out their Stir Fried Crispy Vegetables with Almond Flakes (RM15+/small). It was just a basic stir fry vegetables with added lotus roots topped with some deep fried almond flakes. To top up more vegetables, we also had their Stir Fried Angel Luffa with Shimeji Mushrooms and Black Fungus (RM15++/small). Again, it was just another basic vegetables dish, except this dish has additional sweetness from the added wolfberries.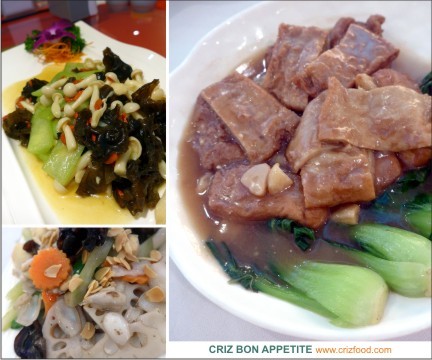 If you are not planning to have your dishes with steaming rice, you can always opt for other styles of stir fried rice and noodles. One of the recommended ones would be their Sea Queen Special Mixed Fried & Crispy Rice (RM12++/small). It was quite unique as it combined puffy yet crispy deep fried cooked rice, fried until perfection. You can also try out their Stir Fried Hor Fun with Seafood & Egg Sauce (RM12++/small). I quite like this dish as the added eggs were oozy and raw enough to my liking. On top of this, you can also try out their Signature Stir Fried Rice Vermicelli & Glass Noodles (RM12++/small). I loved the "wok hei" aka high heat cooking here as it had that extra burned taste to my liking. Moreover, the combination of rice vermicelli (bee hoon) and glass noodles (tang boon) were flavorful and great for my palate.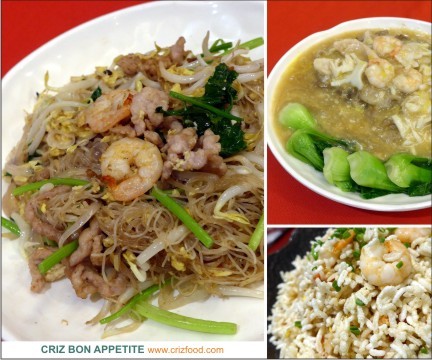 To complete our meal, we had desserts and one of my recommended ones would be their Signature Chilled Lemongrass Jelly with Lime (RM5++ each). The dessert was great after a hearty meal of rich food as the sourness from the added lime sorbet surely did clear the excess oiliness in the mouth. It came with some added basil seeds for the extra texture on top of the smooth crystal jelly like lemongrass jelly. If you like a firmer texture of jelly, you can try out their Chilled Osmanthus Jelly (RM5++/6 pieces). The jelly had a significantly distinctive chrysanthemum flavor with added osmanthus petals and wolfberries. You can also try out their Chilled Gui Ling Gao with Longan (RM5++/bowl) served with honey. It had the distinctive herbal bitterness, not something palatable to anyone if they do not like having bitter herbal tea for cooling the body. For me, it was a quality bowl of almost konnyaku jelly like texture which was quite ideal for my body's well-being as bitterness is one of the qualities beneficial to our body system to eliminate the toxic within.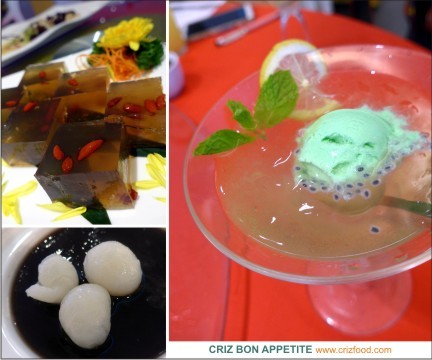 Overall, I quite like the spreads in their Ala Carte Menu, especially those fresh seafood items, namely the crabs. Moreover, they do have some unique desserts that would be quite ideal to end any meal either chilled or hot. Compared to many other restaurants of the same category, their pricing could be quite reasonable as they have their own fish farm to cater to their own supplies.
You can check out more on my reviews on their Set Lunch Promotion and Wedding Packages by clicking on the links.
It's easy to locate the restaurant as it's located within the Straits Quay Marina Mall premises. Drive all the way up Jalan Tanjung Tokong until you see Tesco Seri Tanjung Pinang on your right. At the traffic lights, turn right into Jalan Seri Tanjung Pinang. Drive all the way until you see the colonial style mall building. Turn into the left of the building and drive straight until the end towards the beach area and you will see the restaurant. Parking is at RM1 per entry.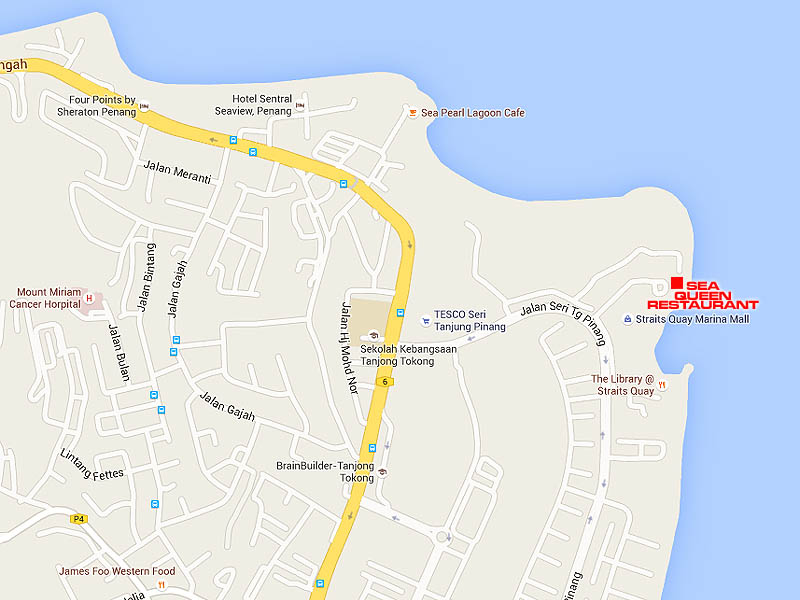 Name: SEA QUEEN RESTAURANT
Address: G3 & 3A, Straits Quay, Seri Tanjung Pinang, Tanjung Tokong, 10470 Penang, Malaysia.
Contact: +6010-404 0299, +6010-405 0299
Website: www.seaqueen.my
Business Hours: 11.00am-2.30pm/6.00pm-10.30pm (Daily), 11.00am-11.00pm (Public Holidays)
GPS: 5.459273, 100.314161
RATING:
Ambience: 8/10 (1-4 cheap, 5-7 average, 8-10 classy)
Food Choices: 8/10 (1-4 limited, 5-7 average, 8-10 many choices)
Taste: 8/10 (1-4 tasteless, 5-7 average, 8-10 excellent)
Pricing: 7/10 (1-4 cheap, 5-7 average, 8-10 expensive)
Service: 8/10 (1-4 bad, 5-7 average, 8-10 excellent)