For those who love cheesy snacks, you are in for a surprise as there's a stall selling cheesy banana fritters daily (off only if bananas are out of stock) at Plaza Ivory just opposite University Sains Malaysia (USM), Penang. Under the name Rutd's Fried Banana Cheese, this humble yet with endless flows of loyal customers stall is located at the al fresco area of the plaza's right wing, hidden from the main road of Jalan Bukit Gambir, Penang.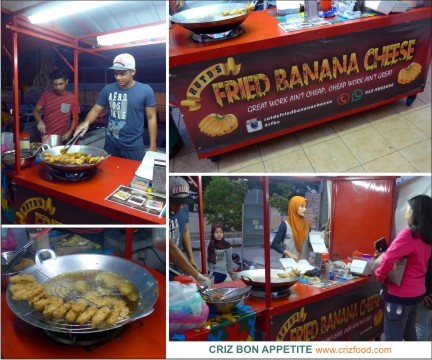 The best part of the banana fritters is that you can just eat it without any toppings, especially when they are using ripened bananas with extra crispy battered crust, unlike those you get from some of the roadside Malay fritters stalls. However, that's not how they are selling their products. Each set would come with 8 pieces of halved bananas, deep fried to perfections with 3 different toppings. Please refer to the menu below. As for the Rainbow Set, the fritters would be topped with different flavors of grated chocolate.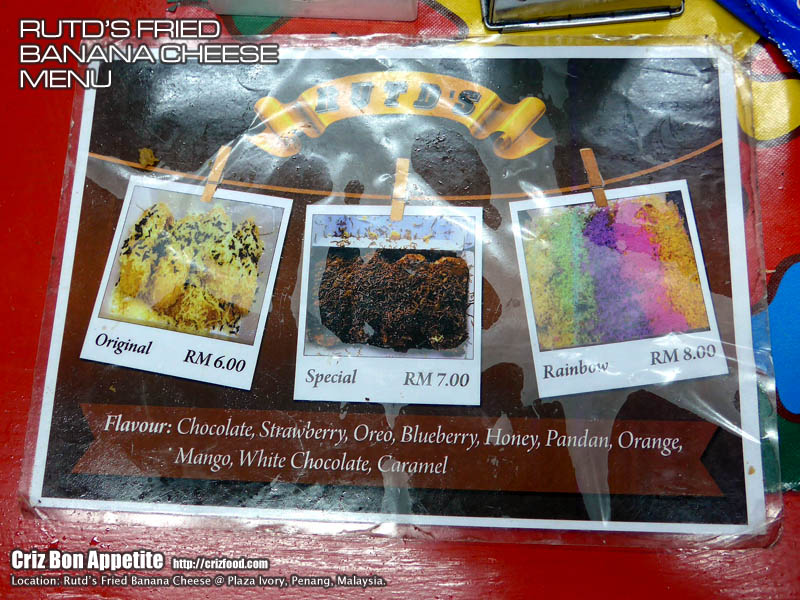 The Original Set (RM6.00) would have 8 halved bananas, drizzled with a light drip of condensed milk, topped with generous amount of grated cheese and sprinkled with some chocolate rice. The melted cheese on the hotly fried yet crispy banana fritters was something great to consume over a hot cup of teh tarik or kopi "O"~ 🙂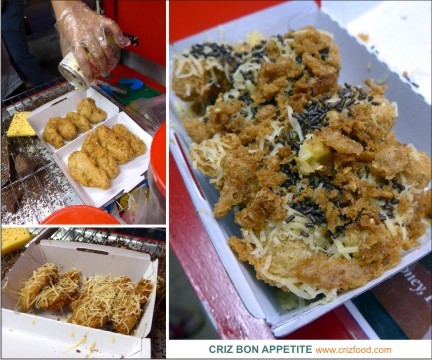 The Special Set (RM7.00) was almost the same as the former, except that it had a generous amount of grated chocolate on the fritters. It was indeed a value for money set for those sweet tooth consumers.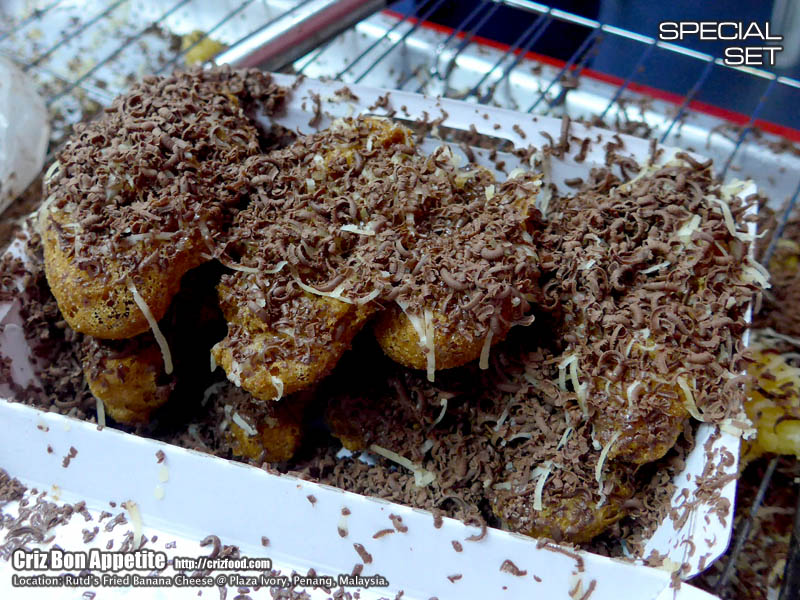 Overall, I quite like the crispiness of the batter used to deep fry those bananas. You can always request for some additional toppings of those leftover bits at no extra cost. However, it can get rather surfeit after a few bites as the abundantly given grated cheese could have an overpowering saltiness.
If you are new to this area, you might turn into the wrong side of the service road. If you are driving from Bayan Baru towards Green Lane via Jalan Bukit Gambir, keep to your left after the Universiti Sains Malaysia (USM) traffic lights. Drive on until you see the first left turning. Turn left into Halaman Bukit Gambir 1 and immediately turn right into the service road (Persiaran Buit Gambir). Follow the curved road until the end and you would see the stall on your left up at the al fresco area. Parking can be quite convenient here especially during dinner hours.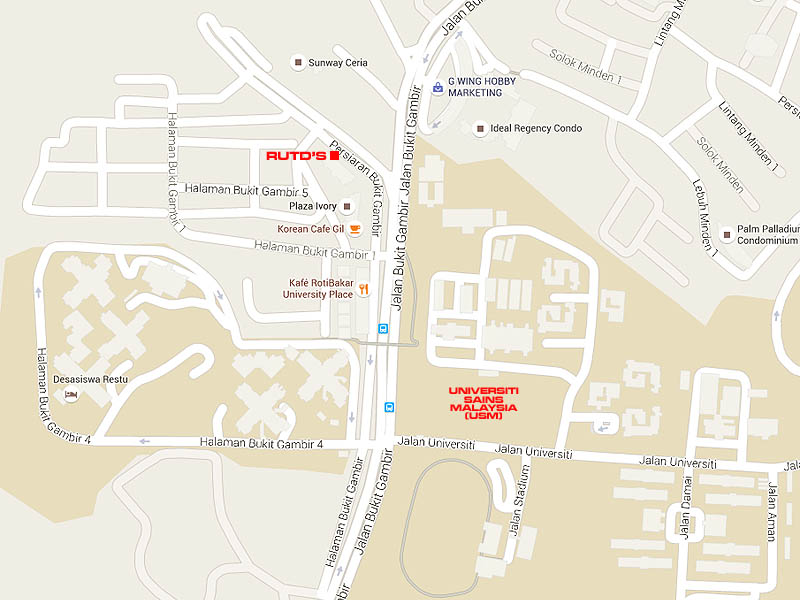 Name: RUTD'S FRIED BANANA CHEESE @ PLAZA IVORY, PENANG
Address: Al Fresco Area @ Persiaran Bukit Gambir, Gelugor, 11700 Penang, Malaysia.
Contact: +6012- 588 5696
Business Hours: 5.00pm-1.00am
GPS: 5.358744, 100.292307
RATING:
Ambience: 6/10 (1-4 cheap, 5-7 average, 8-10 classy)
Food Choices: 6/10 (1-4 limited, 5-7 average, 8-10 many choices)
Taste: 7/10 (1-4 tasteless, 5-7 average, 8-10 excellent)
Pricing: 7/10 (1-4 cheap, 5-7 average, 8-10 expensive)
Service: 7/10 (1-4 bad, 5-7 average, 8-10 excellent)