Note: This restaurant has ceased operation. In its place is a seafood restaurant. Will review them soon.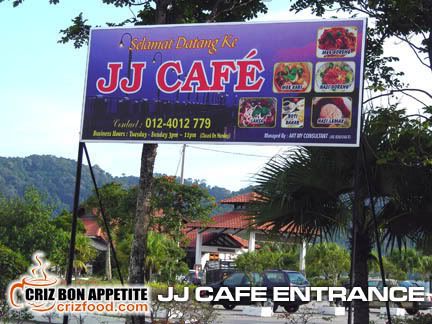 I had just realized that I have been in quite an adventurous trend for the past few weeks visiting restaurants by the beach or on an island within the Penang areas. This time it was a combination of both. I was by the beach watching the scenic view of the Penang Bridge while being opposite an island – Pulau Jerejak. LOL! Although this cool "more than a year in business" restaurant named JJ Café is within the premise of the Penang island jetty to Pulau Jerejak and near to the Queensbay Shopping Mall, not many people knew about its existence. Most would just assume this Malay restaurant as part of the jetty. The restaurant's patrons were still guests and visitors to the nearby Pulau Jerejak Resort & Spa and some workers within the surrounding areas. I would just show you some clips of how relaxing this place could be after a hard day's work.
Don't expect to get all the traditional Malay cooking in this restaurant as it merely served some light meals and finger food. Who's to complain when the most expensive dish in the menu would cost you only RM6 and it is tax-free. I was there to find some inspirations and to relax mentally and physically on a few occasions and managed to collect some shots to share with my readers. The drinks served there were big and cheap. The thick Iced Milo was only RM2.10. Iced Black Tea was at RM1.70, whereas Can Drinks would be at RM2 each (with ice cubes).
There would light meals such as the Nasi Lemak (steamed coconut milk rice – RM4) served with chicken curry, potato slices, half an egg, peanuts, fried anchovies and some cucumber slices. The rice was cooked in a different way and did not have the strong taste of coconut milk (santan). The chicken curry did not contain any santan as well. Overall, it was cheap but tasted just average.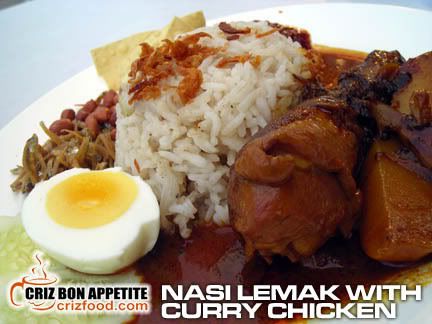 The Curry Noodles (RM4) tasted better as the soup base had all the natural ingredients in it but it could be real tongue burning for some. The dish came with some yellow noodles, lots of baby cockles, some cubes of fish cakes & balls, chicken slices, vegetables and half an egg. It had the spiciness that I love. Argh! Bring me more water please! 😛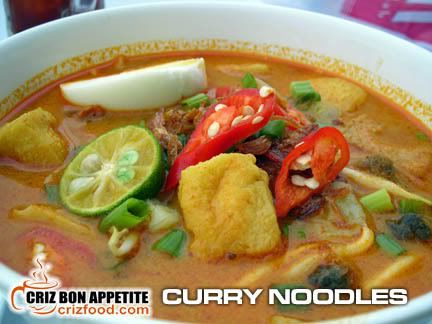 As I had mentioned earlier, the most expensive item would be the Chicken Lasagna (RM6). It had some layers of lasagna pasta with some tomato puree based minced chicken meat in between. Somehow the dish lacked the taste of mixed crushed herbs such as oregano, thyme, garlic, etc. On top of that, the serving was small with only a slice of tomato and some lettuce as garnishes.
As tea time prior to my dinner appointment, I ordered some Roti Bakar Double (toasted bread slices with coconut jam and butter – RM2) as snacks. Although it was nice and cheap to have as tea, I still prefer my kaya (coconut jam) to have more eggy taste in it.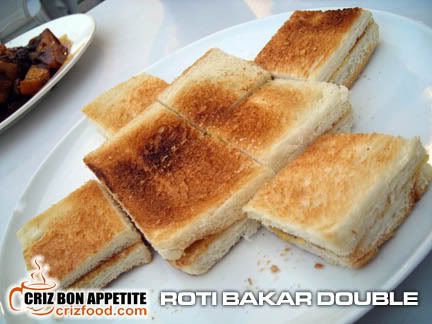 I also ordered some Chicken Samosa (RM3) to try out. The popiah (spring roll) skin was crunchy but somehow there were more spicy potatoes inside then chicken meat. I guessed they would have over minced their chicken to have that meaty mouthful bite.
Overall, JJ Café would be a great place to hang out with friends for a drink but the food quality has to be improvised and improved further. I found that not all the dishes had the required herbs and spices as I would have expected from a Malay establishment.
It would be easier to reach the restaurant if use the Jelutong/Bayan Lepas Expressway. Just follow the direction towards Queensbay Mall. Drive on until you see an overhead pass when nearing the mall. Watch out for a signboard (as shown below) to Pulau Jererak Resort & Spa. Turn left into the road and drive until the T-junction. Turn right and drive on a bit more and you will see the jetty on your left. JJ Café is within its premise.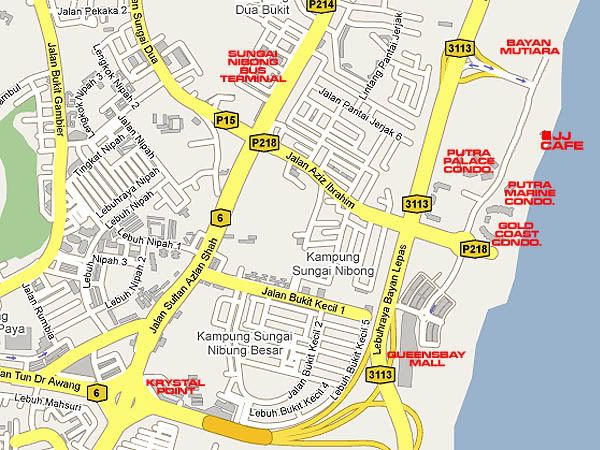 Name: JJ CAFE
Address: 1 MK13 Daerah Timur Laut, 11900 Bayan Lepas, Penang, Malaysia.
Contact: 012-401 2779 (Azhar), 017-553 2105 (Zamani)
Opening Hours: 3.00pm-11.00pm (Closed Monday)
GPS: 5.342083, 100.311763
RATING:
Ambience: 9/10 (1-4 cheap, 5-7 average, 8-10 classy)
Food Choices: 7/10 (1-4 limited, 5-7 average, 8-10 many choices)
Taste: 6/10 (1-4 tasteless, 5-7 average, 8-10 excellent)
Pricing: 7/10 (1-4 cheap, 5-7 average, 8-10 expensive)
Service: 9/10 (1-4 bad, 5-7 average, 8-10 excellent)