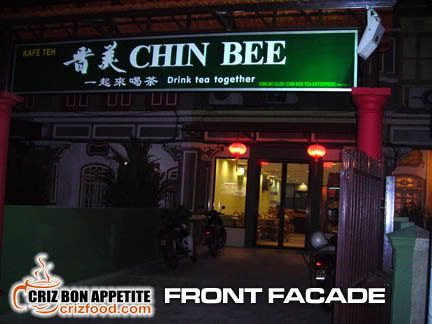 Who would have expected hidden amongst some of the heritage houses in Georgetown would have a tea café that served quality choices of tea as well as food? Of course, that would be Chin Bee Tea Café, an established tea supplier to most of the restaurants and hawker centers in Penang. I found out about this place a few months' ago when they were still undergoing renovation works and this place ended up as a treasure to me and I would strongly recommend them to my friends. I have even lost count of how many visits Steven Goh, whom I had first introduced this cafe, had brought his family along to patronize this place.
From the exterior of this place, most people would just assume it as a place serving solely tea and some light bites as most tea houses. If you look into the clear glass panels, you would even see rows of cupboards and urns filled with tea leaves and flower tea buds. Anyone would surely have that wrong perception.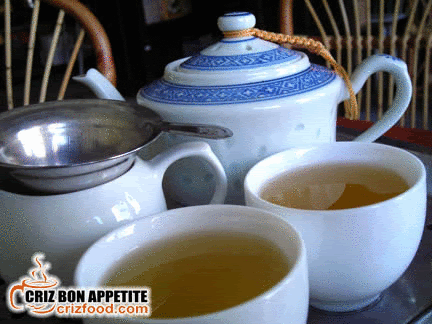 Going into the café is like moving into a place filled with hospitality. You would be served by the members of this family run business with all smiles. The service is remarkable. You would be given a menu with a list of tea which you would like to have as well as a simple menu for the food.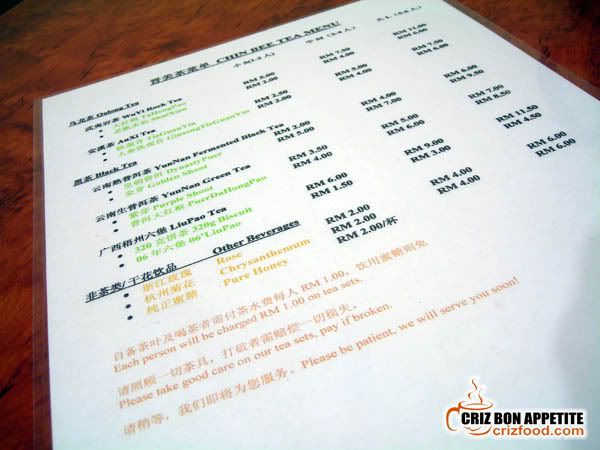 Do try out their quality Chrysanthemum bud tea which would give you the unique sweet after taste as well as their Ginseng Tie Guan Yin which would energize your moods and alertness.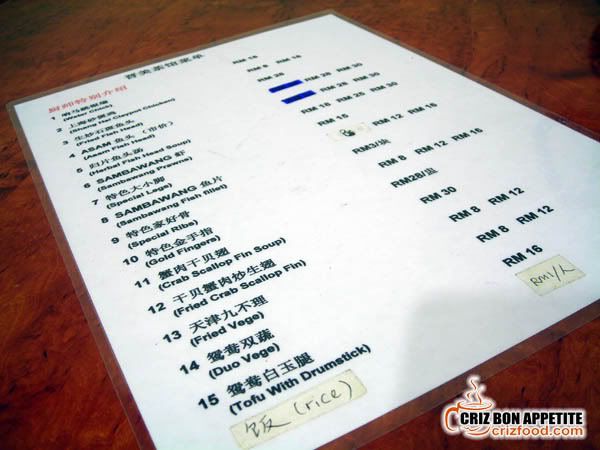 Do not be fooled by the simple list of food as shown in the menu as there are still many other wonderful dishes that the over 60 years old Sifu (Grand Master of the Kitchen), Mr. Malai Chong, have under his sleeves. I was truly surprised on how impromptu and creative this Sifu was in coming up with dishes that will make anyone drool just by looking at it. This showed that with his seasoned experiences, he could just combine any ingredients in the kitchen to make great dishes. What else would you expect from a chef who had work in overseas restaurants such as Ireland and UK, and also in reputable Malaysian hotels and restaurants for the past 40 plus years?
Let us now looked at some of the dishes the café is famous for such as the Special Pork Ribs (RM3/pc). The inner part of the ribs will always been soft while the outer layer has that crunchiness from the chef's secret formulated flour. The dish would be served in some sweet and delicious sauce. This dish is highly recommended for those who would not mind some fatty layers on the belly cum ribs portion of pork.
The next dish was a surprise. I wanted something nice mixed with some greens. The Sifu concocted a new dish called the Smooth Journey (一帆風順 – RM12). From the outlook of the long and round food on the plate, I was not sure what they were until I sliced open both of them. The long one appeared to be stuffed capsicum with some juicy minced pork and prawns. It was unique and yummy. The round one appeared to be stuffed button mushrooms with the same type of fillings. The slightly sweet and sour sauce made both simply irresistible.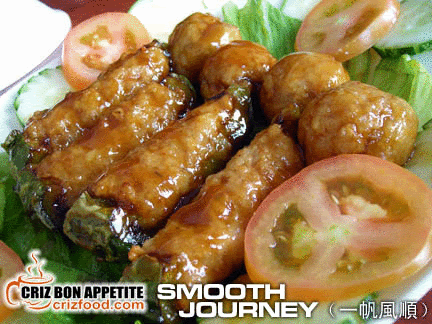 I wanted something lighter next and the Sifu recommended a homely dish called Three Jewels Steam Egg (三黃蛋 – RM8). It had three types of eggs, basically chicken eggs, salted duck egg and century eggs, all whipped up with some seasoning and steamed to perfection. The dish would then be garnished with some quality soy sauce, some fried garlic & oil and chopped spring onions. It was marvelous too as the texture of the steamed egg was without much bubbles and it was as smooth as consuming Japanese tofu.
Next, I got my "sort of personal chef now" (LOL!) to serve me with some chicken dish that he did not have in his menu. Again I was stunned by how well he had presented in the next dish which was the Sweet & Sour Chicken (燒汁雞 – RM10). It was basically a large chicken drumstick (the size as you would get from Western food) but the preparation was ten times tastier than I have tasted anywhere. I guessed the Sifu used only the best sauce to come out with something as great as this dish. The batter coated chicken was very crispy. It blended real well with sliced onions, chillies, sugar snap peas (mange tout) with some touches of sweet and sour sauce.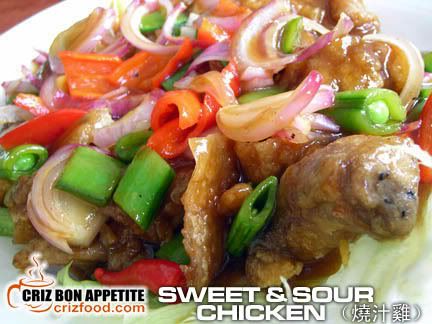 The next dish which was the Rakkyo In-house Tofu (蕎光豆腐 – RM12) was another eye opening dish for me. When I thought it was just the usual fried in-house made special tofu cooked with minced meat and mixed vegetables, the taste was totally not as I had expected. It was so appetizing. It has that unique sweetness combined with quality Chinese wine. The added sliced sugar snap peas, carrots and button mushrooms made the dish real colorful.
Do you want to know the secret behind the appetizing dish? Here they are. The dish has finely sliced pickled ginger (調味醋姜片) and pickled Rakkyo bulbs (酸甜蕎頭). You might want to know what Rakkyo is. It is a native plant in South East Asia, mostly grown in China, Japan and certain parts of Malaysia (Cameron Highlands) where the bulbs would me made into pickles. It also believed to have some medicinal properties such as the prevention of thrombosis, treatment of heart diseases in Traditional Chinese Medicine (TCM), remedy for fever, stomachache and eye infections. There are many names to this midget spring onion or allium-like plant such as the widely used English term which sounded so Japanese – Rakkyo, Japanese scallion or Allium chinense.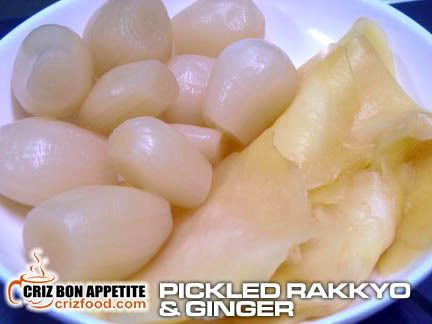 Another dish that the Sifu had specially prepared for the Chinese New Year season would be the Dried Oyster, Scallop & Black Moss Stew (大蠔燉乾貝髮菜 – RM20-40). This is a wonderful dish as the dried oysters and scallops were braised in some seasonings such as ginger, sesame oil, soy sauce and Shao Xing wine until soften. These would then be simmered along with some young lettuces and black moss. This specially prepared dish would normally be served in family reunion dinners on the eve of Chinese New Year.
On top of the above dishes with would be taken with rice, you could always opt for something lighter. They have only rice or Ee Foo noodles. Either you can ask the Sifu to cook Fried Ee Foo Mee or their famous Hong Tu Mian (鴻圖面 – RM8-15). This would be best taken with some black vinegar.
If you feel that you would like something drier, you can try out their Yong Chow Fried Rice, Egg Wrapped Fired Rice or my favorite Hot & Spicy Fried Rice (特色炒飯 – RM5-RM15). The "Wok Hei" aka high heat frying for this fried rice dishes is real good.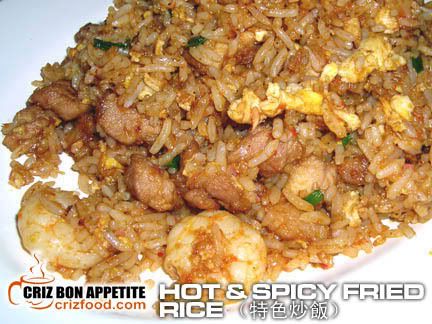 Overall, Chin Bee Tea Café is a great place to buy various quality tea leaves/flower teas as well as for family dine-in. There would always be surprises for you as you would not know what other delicious food the Sifu would stir up for you. The price for the food is reasonable, so are the selections of quality tea drinks. I will surely drop in to try out their other reputable dishes such as the exotic deer meat and fish head curry. By the way, the Sifu would also like to wish everyone a Happy and Prosperous Chinese New Year in the coming Ox year.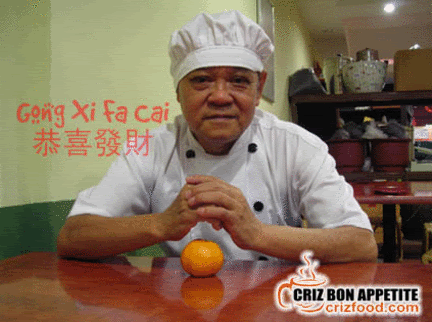 If you are coming from Trader's Hotel along Jalan Magazine, keep to your left and drive on until you have reach the second traffic light. Turn into the first road on your left (Jalan Gurdwara) and then the first left turning into Lebuh Noordin. The shop is just somewhere in the middle on your right within a row of heritage houses. In fact, this shop is just two houses away from another recommended confectionery manufacturer by the name of Hock Lok Siew Biscuit Trading. Please make sure you call up for reservation as this place could be packed during lunch or dinner hours.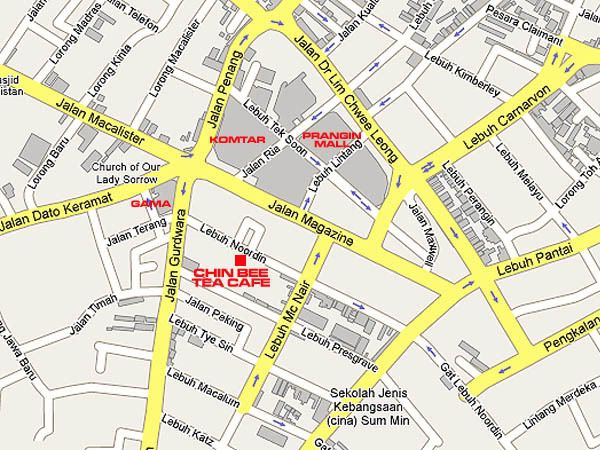 Name: CHIN BEE TEA CAFE
Address: 124, Lebuh Noordin, 10300 Penang, Malaysia.
Contact: 604-261 1761, 012-499 9972 (Mr. Ong)
Opening Hours: 12noon – 3.00pm, 6.00pm-9.00pm (Closed Alternate Wednesday)
GPS: 5.412361, 100.329541
RATING:
Ambience: 8/10 (1-4 cheap, 5-7 average, 8-10 classy)
Food Choices: 9/10 (1-4 limited, 5-7 average, 8-10 many choices)
Taste: 9/10 (1-4 tasteless, 5-7 average, 8-10 excellent)
Pricing: 7/10 (1-4 cheap, 5-7 average, 8-10 expensive)
Service: 9/10 (1-4 bad, 5-7 average, 8-10 excellent)