Note: Please refer to http://www.crizfood.com/1019/siongho/ for the update on the relocation of the stall effective 18 March 2010.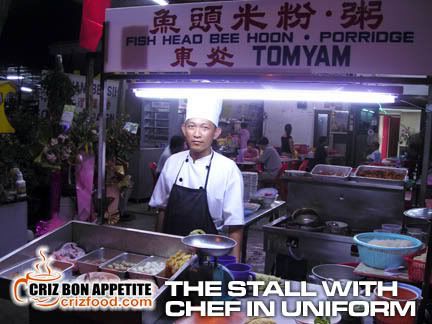 If you are thinking of having some fresh seafood noodles or porridge (especially during this humid and contagious flu and fever season), you can always head over to the newly open branch of Siong Ho Fish Head Bee Hoon (Sg. Tiram, next to Shell petrol kiosk Bayan Lepas) along Weld Quay, Georgetown, Penang. The owner, Mr. Teh (Ah Ho) had more than 20 years of experience in cooking up fresh seafood noodles and porridge just for you. If the ingredients were not fresh as it should, they will definitely not pass the regular QC check of the boss.
There are two types of soup you can choose from on top of the different arrays of seafood and meat. One would be the clear soup broth which was boiled with lots of chicken bones, dried shrimps with their secret recipe. The other would be a spicier choice with tom yam paste.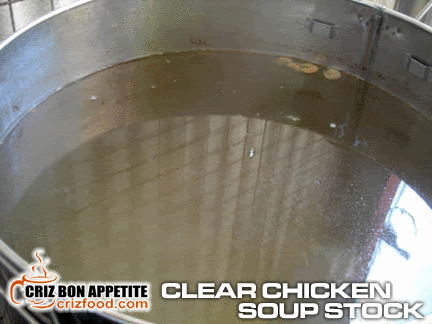 Firstly, you have 5 options for your bowl of hot steaming meal. You can either choose thin rice vermicelli (bee hoon), thick rice vermicelli (cho bee hoon), wheat flour vermicelli (mee sua), instant noodles (maggi mee) or porridge (moey).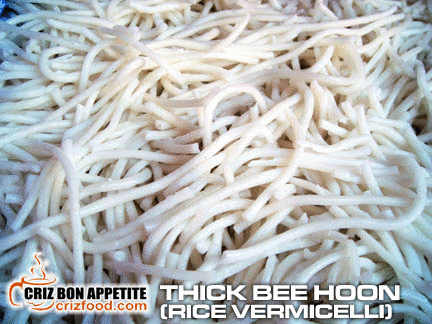 The next step would be choosing your main ingredients such as large white prawns, grouper fish head, grouper fillet, fried bass fillet, minced meat, frog, pork kidney, meat balls, fish ball and dried bean curd. More ingredients such as crabs, squids and so on would be available at a later date.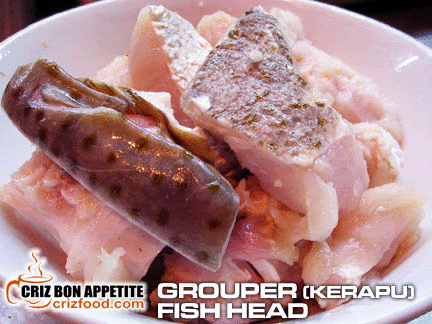 One of the most sought after dish would be the fresh Frog Porridge (RM6/100gms). One look at the color of the skinless frogs, you will know that they are real fresh. Those frogs may look rather gross to some but their flesh can be as smooth and tender as chicken meat. That's how the frogs got the name "Water Chicken" as in "水雞" in Chinese.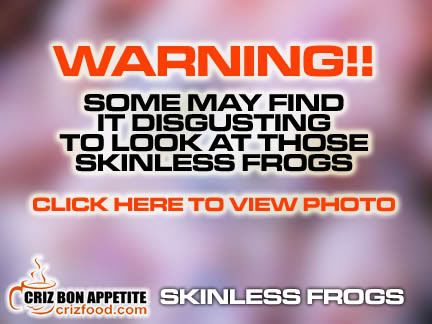 Here's an inside peep at what are the other ingredients that they would use make each bowl of the dish delicious. The best part is that the meals served here are MSG free, thus you won't feel thirsty after consuming.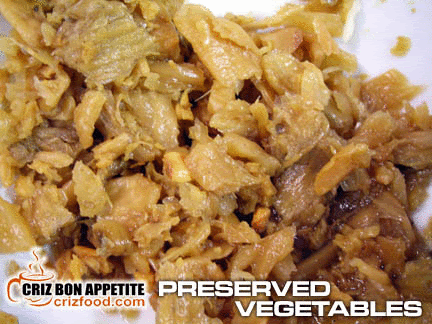 Since this is a "pick & choose" what you like concept, the pricing might be different for each individual bowl of order. Basically, a bowl of minced pork related noodles/porridge would cost you as low as RM3.50 to "God knows how much you love seafood" type of order which would cost you tens of dollars. Just to be on a safe side for those budget food hunters, let me share some of the basic pricing with you.
Majority of patrons over there would order fried bass fillet meals. All types of noodles or porridge with only fried fish fillets with vegetables would cost you RM5 per bowl.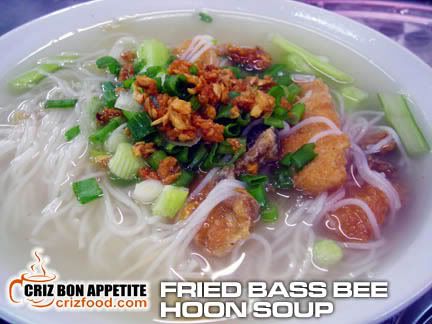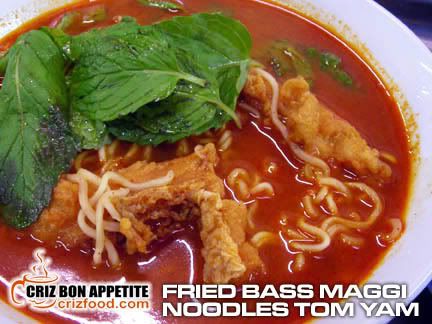 I managed to try out both the clear soup as well as the tom yam noodles. Let me share with you my experience on each bowl of the noodles. Firstly, it was the Tom Yam Bee Hoon without any fresh seafood. My bowl consisted of only fish balls, meat balls and dried bean curd together with bee hoon. It was priced at RM5. The color was fiery red but it was not chili hot at all for me. The soup was thick, sweet and tasty with the fragrance coming from the added Kaffir lime leaves and mint leaves but somehow it lacked some vegetables such as tomatoes, young corns or abalone mushrooms. I had suggested these additional items to the boss and hopefully he would have them during my next visit.
The next was my "pick & mix" items for my instant noodles with clear soup. I had picked fish balls, meat balls, dried bean curd with fresh grouper fillets. Although the bowl cost me RM10.50, it was worth the amount spent considering that there were a generous amount of grouper fillets inside the bowl. The taste of the soup was amazing. It has the sweetness from the fresh fish fillets with a hint of preserved vegetables (Dong Cai/冬菜 – salted dried cabbage with leeks and sea salt water). On top of the added ingredients, this bowl of noodles was rather fulfilling.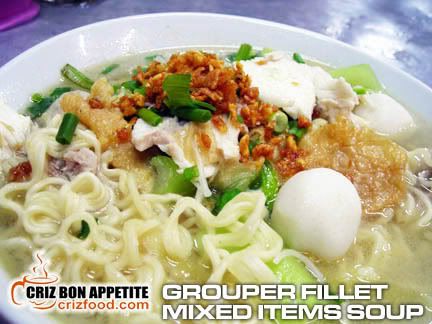 Here's a rough summary of all the possible combination of ingredients and prices (either with noodles or porridge in clear soup or tom yam):
Grouper Fish Head: RM9
Grouper Fish Fillet: RM7.50
Prawns (3 pcs): RM8
Frog: RM6/100gms
Fried Bass Fillet/Fish Head: RM5
Minced Meat: RM3.50 – RM5
Miscellaneous items such as pork kidney, fish balls, meat balls and dried bean curd: RM3+ per item or combined
If you are coming from Prangin Mall along Jalan Dr. Lim Chwee Leong, drive straight pass the Lebuh Carnarvon traffic light. You will reach another traffic light (Lebuh Pantai). Drive straight again until you have reached the Weld Quay (Pengkalan Weld) traffic light. Turn left and drive on until you have reached the first left junction (Lebuh Melayu). The shop is just diagonally opposite the newly constructed building in brown color.
If you are coming from the ferry terminal, keep a watchful eye on the landmarks on your left, especially those Jetty signboards. You would pass by Lim Jetty (temple), Chew Jetty (hawker area), Tan Jetty (Xen Teck Café), Lee Jetty and Mixed Surname Jetty. Immediately after the Mixed Surname Jetty, slow down your car. The shop is just after signboard maker, Chuan Advertising and next to Chun Heng Auto Repair. You won't miss it as the boss and his workers are all dressed in chef uniforms and cute Bermudas. 😛 You may find parking a bit hard along the heavy trafficked road as it's the main road leading to the Jelutong Expressway/Penang Bridge. Try driving a bit further up to Yeoh Jetty. You should be able to see some open space there. If not, you have to drive a bit further up to Lebuhraya Merdeka where Ghee Seng Seafood Restaurant is located.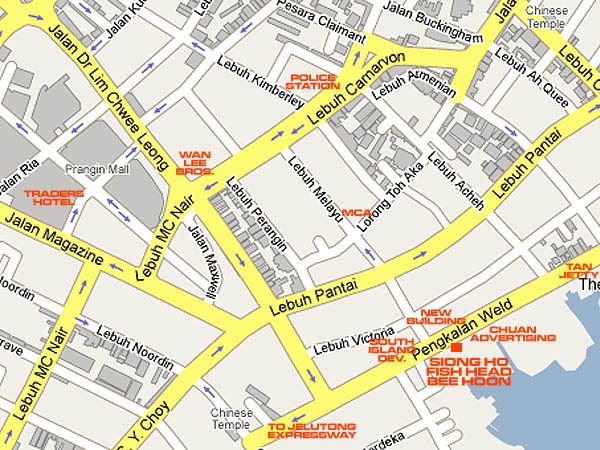 Name: SIONG HO FISH HEAD NOODLES AND PORRIDGE @ VILLAGE CAFE
Address: 107-A, Pengkalan Weld (Weld Quay), 10300 Penang, Malaysia.
Opening Hours: 12.00noon-11.30pm
Contact: 019-458 8693 (Mr. Teh/Ah Ho)
GPS: 5.411414, 100.336897
RATING:
Ambience: 7/10 (1-4 cheap, 5-7 average, 8-10 classy)
Food Choices: 7.5/10 (1-4 limited, 5-7 average, 8-10 many choices)
Taste: 8/10 (1-4 tasteless, 5-7 average, 8-10 excellent)
Pricing: 7.5/10 (1-4 cheap, 5-7 average, 8-10 expensive)
Service: 9/10 (1-4 bad, 5-7 average, 8-10 excellent)