Not many people are aware that along the quiet road of Jalan Pintal Tali (formerly named Rope Walk) housed a 130-year-old hotel building from the late 80's. After refurbished and given a new lease of life, the hotel is now named 1881 Chong Tian Cultural Hotel, the first and the only Chinese heritage hotel in Malaysia with 7 differently designed rooms for rental and a private museum with all the artifacts from the era. Within the premises of this hotel lie two restaurants – Chinese and Western. I had the privilege to try out their Chinese cuisine recently.
The Chinese dishes served here had a light touch of fusion, created by the experienced chef throughout his culinary journey. He's none other than Chef Wah Seong (Wah Ah Keat).
The first dish served was the Braised Duck With Preserved Mustard Cabbage (梅菜扒肥鴨- RM30++ for 1/2 Duck, RM60++ for Whole Duck). The dish was extremely good, considering that the flavors from the well managed preserved mustard cabbage (Mui Choy) was not over salty and the duck meat was juicy and tender. This is a must try dish~ 🙂
The next dish was the Stir Fry Assorted Mushrooms with Fish Cake (潮州小炒皇). Other than Shitake and Bunapi Shimeji (White Beech) mushrooms being stir fried with their signature homemade fish cake, the dish has also some pickled Chinese cabbage, chive flowers and added chili slices to pep up the overall taste. It's still a nice plate of dish although I prefer to have it minus the pickled cabbage but with added deep fried Chinese cruller (you tiao).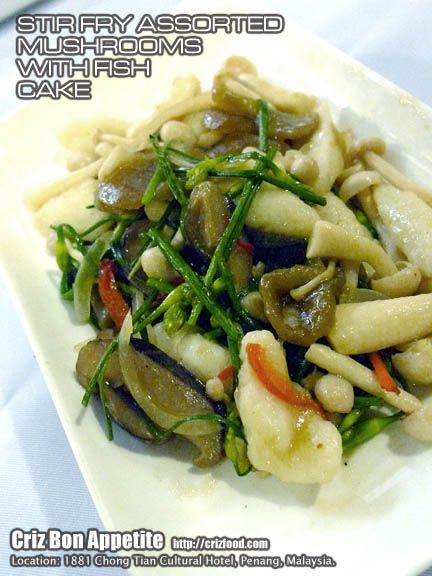 We were also served with a claypot full of Fragrant Spicy Lime Prawns (香辣青檸蝦 – RM20++ Small, RM40++ Medium or RM60++ Large). This dish tasted almost like the Thai version of Lime Prawns with less herbs and spices used. Basically, there were lots of chopped garlic being used, some chili paste, sugar, lime juice with some roughly smashed up bird's eye chilies. The overall taste was fine except that I found the spiciness was not up to my level~ Haha! 😛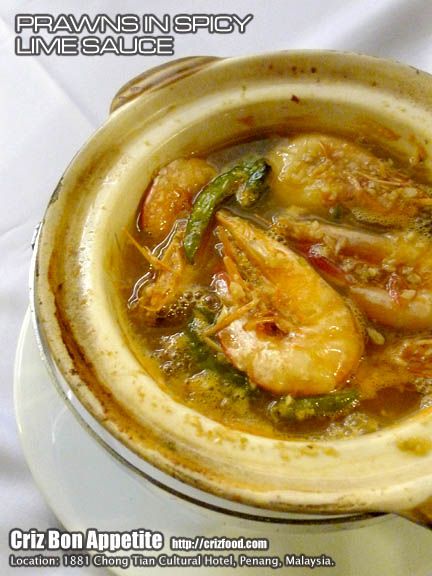 Another dish we had may look simple but it had the best flavors presence. It was the Fried Bean Curd with Minced Meat & Shrimps (辣子爆豆腐 – RM15++ Small, RM25++ Medium or RM35++ Large). Laced on the plate were some deep fried homemade bean curd topped with the chef's specially concocted recipe – spicy sauced minced meat, chopped shrimps with hints of some dried shrimps being added and garnished with some chopped spring onions. I can have bowls of rice with just this dish. Thumbs up!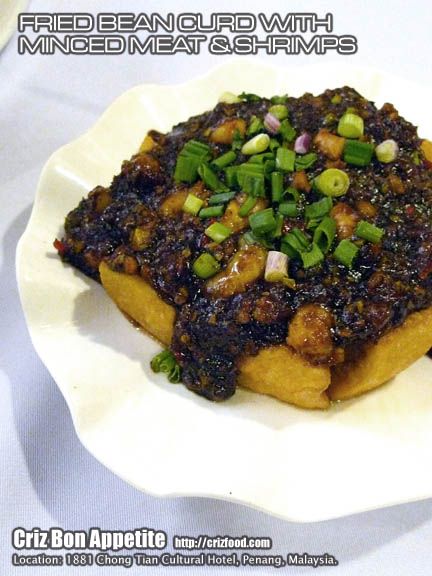 As Chinese New Year is approaching real soon, you can also make your reservation for your family, friends or colleague gathering at 1881 Chong Tian Hotel. The package which I had tried earlier was RM588nett. It was a 8-course dinner. Overall, it was quite reasonable in terms of flavors.
1881 Chong Tian Hotel is located along the center part of Jalan Pintal Tali. If you are coming from Jalan Penang into Lebuh Campbell, drive on until you have reach the third junction on your right. Turn right into Jalan Pintal Tali and you would see the brightly lighted up heritage hotel on your right. There would be some reserved parking spots for you (upon availability) in front of the hotel if you were to dine there.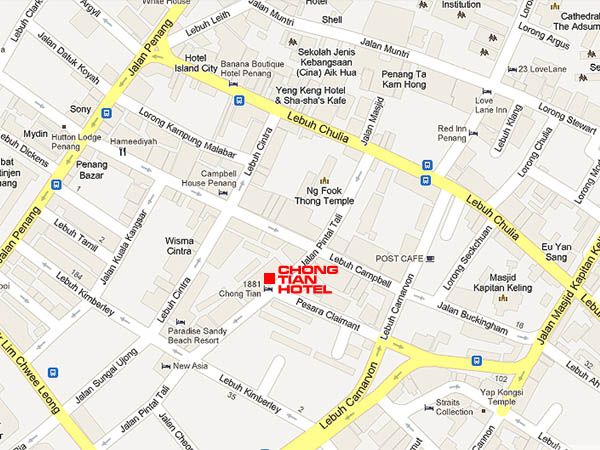 Name: 1881 CHONG TIAN HOTEL
Address: 38, 40, 42, Jalan Pintal Tali, 10100 Penang, Malaysia.
Contact: 604-263 1881
Business Hours: 11.00am-10.00pm
GPS: 5.417247, 100.33412
RATING:
Ambience: 9/10 (1-4 cheap, 5-7 average, 8-10 classy)
Food Choices: 8/10 (1-4 limited, 5-7 average, 8-10 many choices)
Taste: 7.5/10 (1-4 tasteless, 5-7 average, 8-10 excellent)
Pricing: 8/10 (1-4 cheap, 5-7 average, 8-10 expensive)
Service: 8/10 (1-4 bad, 5-7 average, 8-10 excellent)