The Third Penang Food Bloggers (Floggers) Potluck Meet at Gill & Jason's Place on 6 December 2008 was another great experience for many. The food was so wonderful that I do not think anyone else would ever experience such an international spread. We had food ranging from Western, Japanese, Korean, Malaysian, etc. This would not have happened if it were not the effort of everyone who had sweated it out in the kitchen to come out with something great to make the gathering such a success.
There were all together 12 attendees at the gathering from 10 food websites. To start the ball rolling, let me start with what I had bought to the gathering.
Criz Lai of Criz Bon Appetite – Western & Oriental Fusion (Nutmeg Cherry Tomatoes / Spicy Chicken & Abalone Salad / Jack Fruit Pork Strips / Fragrant Sambal Prawns). I had a fun theme for my self created recipes. I had the cherry tomatoes stuffed with sugared nutmeg strips. Each tomato had a mild tomato taste with a touch of the sweetness from the stuffed nutmeg strips.
The Spicy Chicken & Abalone Salad was quite a blast with the floggers. It contained some roasted chicken chunks, fresh Pacific abalone slices, wood ear fungus, ginger flower, kaffir leaves, dried grated coconut, roasted sesame seeds mixed with chili paste, dried shrimp powder and lime juices.
The stir fried Jack Fruit Pork Strips was another hit for a few floggers. It had a mixture of fresh jack fruit strips, turmeric flavored pork chop slices, cooked with some special sauce with a touch of Shao Xing wine.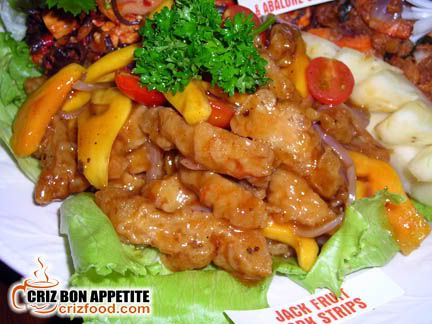 The Fragrant Sambal Prawns was cooked with a fusion between Indian and Nyonya Style. Some large prawns were cooked in sambal hae bee (spicy pounded dried shrimps) with onions and curry leaves to bring in that special fragrance in the dish.
Jason & Gill – Cheese Fondue with Baguettes / Salsa Salad / Lemonade with Pomegranates. Our loving couple came out with Cheese Fondue, imported directly from Europe. The frozen mixture has that unique liquor taste in it. Although the alcohol content is not that intoxicating, I love it best with the fresh German sausages Ken brought.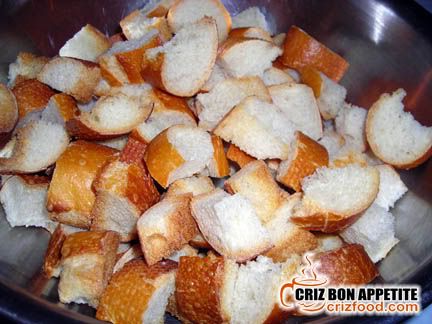 The Salsa Salad goes well with the meaty dishes as it has that pungent and sour taste in it – a great appetizing salad indeed. Sorry to say, I forgot about taking shots of the tasty lemonade drink.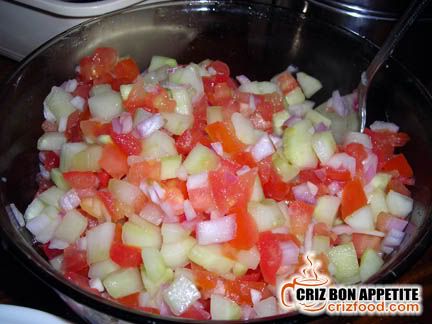 Ken Chan – Cantonese Style Spicy & Sour Pork Ribs / Fresh German Sausages / Roasted Stuffed Chicken. Ken brought a whole pot of the sour pork stew. It has a mild touch of some herbs with lots of cabbage. The pork ribs were tasty and tender.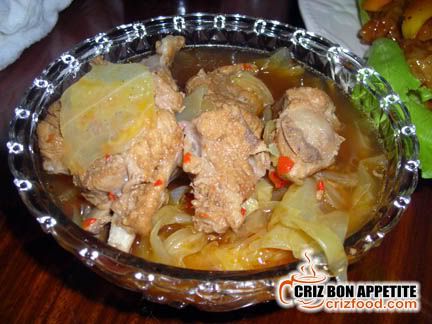 The fresh German sausages which Ken brought all the way from Kuala Lumpur were huge but juicy. We even have a small BBQ area for that.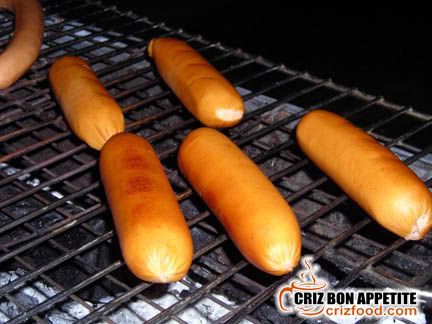 The Roasted Stuffed Chicken took quite some time to be defrosted and roasted to perfection. The waiting time was not disappointing at all as the meat had all the herby taste from the coating and ham stuffing absorbed deeply into the meat.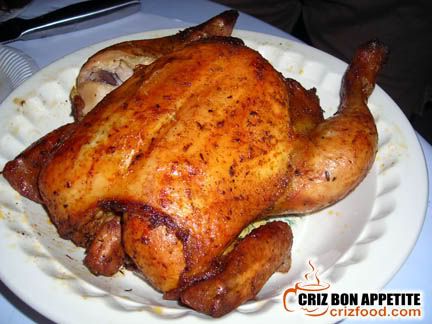 Lilian Chan – Smoked Salmon & Herb Focaccia Appetizer. Lilian did a great job by creating her own herb focaccia bread for the gathering. Her dish has a spread of mayonnaise on the bread slice and topped with a rolled smoked salmon and some cream cheese. It was something great that you won't get from any buffet appetizer menu.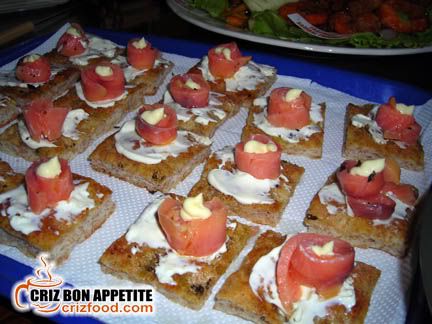 Lingzie of Lingzie's Tummy Treats – Cheesecake Brownies & Lime Pie. The Cheesecake Brownies Lingzie made was rather rich. It has a thick chocolate taste in it. Sweet for some but it was a lovely treats for us.
Although the Lime Pie was rather soft and sour in taste, it was very appetizing. It has crushed digestive biscuits as base, baked eggs, condensed milk and lime juice as topping and was served with whipped cream. Simply delicious! I even had three helpings to the dessert.
Steven Goh – Kimchi Fried Rice. The Kimchi Fried Rice was tasty. It has lots of chicken meat and prawns in it and the overall combination of the Kimchi with rice was just right.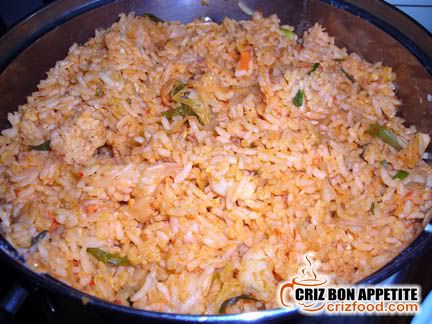 Allen Ooi of Yummy Station – Mashed Potatoes. Allen tried his best to come out with a recipe he had not tried before. That was a good effort indeed. The Mashed Potatoes was quite nice, although it could be slightly improved with some added sour cream and black pepper to make the dish more creamy and spicy.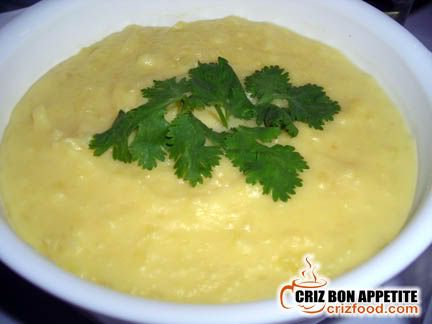 CK Lam of What2See Online – Sushi Rolls. CK brought along a big tray of Sushi Rolls with many varieties to choose from. We have Chopped Baby Octopus Sushi, Fish Roe Sushi, Crab Stick Sushi and Unagi Sushi. All the sushi tasted real fresh and yummy but the Wasabi plus the soy sauce accompanied was real fiery. Both my ears and nose almost caught fire due to my carelessness of applying too much on my sushi… haha 😛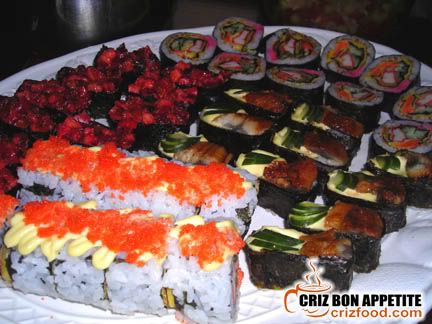 Rebecca of The Nomad Gourmand – Fruits. We have the privilege to meet up with Rebecca from KL. She had prepared what we needed most – fresh fruits. She served us with Vietnamese dragon fruit, Australian mangoes, Malaysian yellow watermelon and Thai wax apple (jambu air). Even the fruits were rather international too. 😛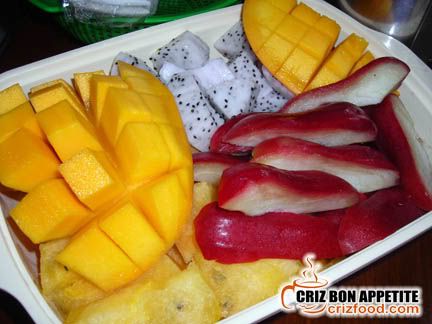 Min aka 550ml Jar of Faith of After Giovanni – Hakka Dish (Stir Fry Sohn Pan Tzai – 算盘子or Àbacus Beads) & Disposable Utensils. Min, also came all the way from KL, came out with a rather unique Hakka dish – Stir Fry Sohn Pan Tzai. The dough is formed by mixing tapioca and yam, cut into abacus-bead shapes and boiled until it looked translucent. The cooked dough is then fried with sliced cuttlefish, dried shrimps, wood ear fungus, some chopped celery stalks with a touch of light soy sauce, sesame oil and some seasonings. The taste was great as I had never tasted this Hakka dish before.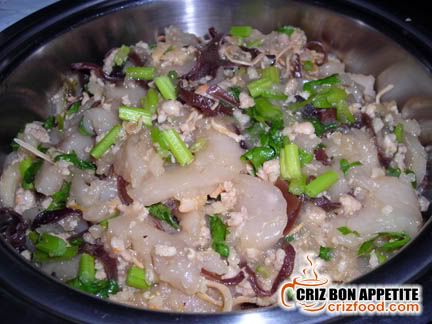 The gathering sure did foster closer relationships amongst the floggers. I could not wait for the next gathering. Most probably it would be held after the Chinese New Year which will fall on 26-27th January 2009.