NOTE: This restaurant has ceased its operation.
Prior to our 4th Penang Floggers Gathering scheduled to be held later in the evening, we were given a treat at 75 Celsius Restaurant & Bar, located along the promenade of the beautiful Gurney Drive last Saturday. Thanks to Ken and William for giving us this privilege to savor almost all that they have in the menu.
Although I did pass through the Gurney Drive stretch quite often, little did I know that the little hidden treasure could provide such a wide range of western cuisine to please my forever craving appetite. Let's start with what they have in their menu. Initially, they were 3 types of soup being served here. The Creamy Mushroom Soup (RM6.90) came with 3 freshly mixed mushrooms stewed to perfection, garnished with some cream, herbs and served with a slice of garlic bread. The taste was great compared to others except that it would be better if they cut down a bit on the level of saltiness. The Creamy Tomato & Bacon (RM6.90) was my favorite as it was mild enough for my liking and the sautéed beef bacon chips did add in that extra flavorful taste. This was served with a slice of garlic bread as well. The Oxtail Soup (RM8.50) was good too as it had the right amount of herbs and spices usage and the oxtail was tender and superb. This soup was also accompanied with a slice of garlic bread.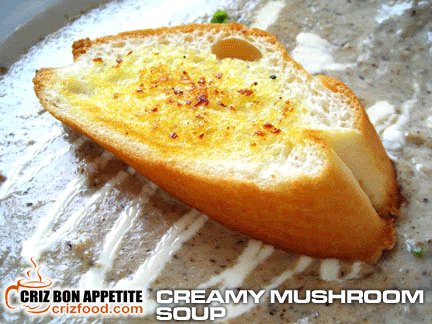 Next on the menu were the salads. The Crispy Chicken Salad (RM12.90) came with some pieces of golden fried bread crumbed chicken, sliced and laid on a bed of mix greens, dressed by some mayonnaise like oriental dressing. Except for the meat slices which were a bit dry to my liking, the whole combination justified each other well. The next salad which was the Chef's Salad (RM11.90) was normal except that it had additional tuna flakes and crab filament stick slices added in, topped with Thousand Island dressing.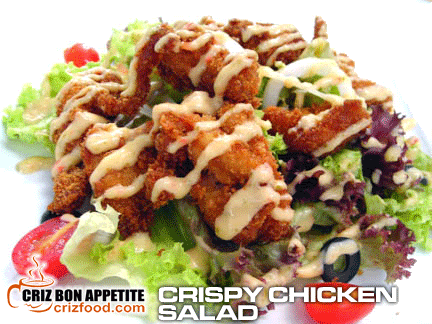 For those who would like to have some light meal with loads of greens, you should check out the Sandwiches section in the menu. The Turkey Fresco (RM11.90) was indeed lovely with a slightly butter toasted croissant filled with turkey ham, greens and oozing dressing. The Hamburger Delight (RM16.90) was our favorite as the beef patty was firm and tasty. The Cheezy Beef Roll (RM15.90) did not impress me much as it was just some marinated beef slices baked with cheese. The Tuna Supreme (RM12.90) was just another common tuna filled croissant but it was delicious as the filling was rather moist. All the above sandwiches would be presented with some green salads and French fries.
If you like to have something even lighter, you could always look into their Snacks sections. You could try out their Cheezy Garlic Bread (RM6.90), Tempura Prawns (RM9.90), Tempura Calamari (RM8.50), Fish Cocktail (RM8.50), Mushroom Bruschetta (RM7.90) and Lamb Bruschetta (RM8.90). All snack meals would come with some green salad. Except for the Fish Cocktail which had some blended fish, prawns and squids being a bit too soft for my liking, I loved the Lamb Bruschetta a lot. The lamb slices was stewed perfectly in their own secret recipe until the meat were tender. The only problem I had was the understanding on bruschettas. All along I thought they would be served with filling on top of the bread slices. Instead I had 5 slices of garlic bread served with a bowl of lamb stew. I guessed that would be their way to avoid the bread being soiled by the lamb gravy.
There would also be pasta dishes available here to tempt your appetite for Italian cuisine. We had the Aglio Olio (RM15.90). This dish was kind of fusion as it had some aubergine (eggplant/brinjal), ham slices and tiger prawns added in on top of the usual garlic, herbs, chili flakes and olive oil. Overall, the taste was still superb as it was just right for my level of spiciness. The Alla Carbonara (RM10.90) was also good with the right amount of creaminess but I would prefer a bit more sauce. It would be even better if only the beef bacons were not chopped so fine and linguini pasta be used instead of spaghetti pasta. My preference would still be the one I had at QEII. The next two pasta dishes which were the Alla Marinara (RM16.90) and Baked Cheezy Seafood Pasta (RM16.90) was a bit disappointment for most of us as both dishes lacked the special unique taste of some white wine and cognac. Moreover, I'm still pondering which item in the ingredients caused the overpowering fishy taste.
Now, let's look at the colorful Main Course dishes. The Tagarashi Salmon (RM17.90) was uniquely presented. It had Nori (seaweed) rolled into salmon fillet, mildly grilled and topped with some spicy curry cream sauce. This was served with ratatouille on mashed potatoes and green salad. Each flake of the salmon with the sauce was delicious, so was the ratatouille with the mashed potatoes.
The Lemon Butter Fish (RM12.90) was next. It had some French fries laid on a pool of buttered lemon cream sauce, topped with a battered fried fish fillet and some shredded carrot strips as garnish. The tangy flavored white sauce blended in well with the whole presentation.
The Jacuzzi Beef (RM16.90) was presented on a bed of fresh lettuce and was served on a hot plate. It had some paprika sprinkled French fries and black pepper sauce as gravy. Everything on the hot plate was good except that I found the gravy to be a bit mild for my taste bud. This dish would be mild enough for a kid's consumption.
For those Ribeye Steak (RM17.90) lovers, the next dish would be a great bargain. The accompanied simple yet fragrantly sautéed potato slices with onions itself was a kill. The steak was cooked medium and the pepper mushroom sauce clicked well.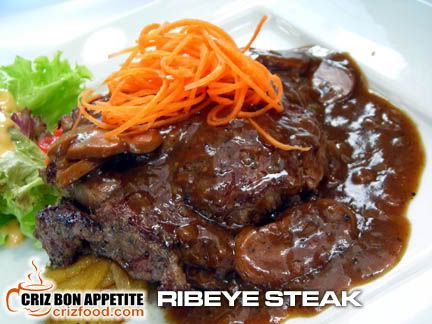 The Spice Lamb Leg (RM18.90) was presented on some sautéed potatoes with rosemary. The meat was grilled fragrantly and served with some Pineapple Jack Daniels (JD) sauce. Except for the meat which was a bit dry, that was a great way to have lamb minus the mint sauce.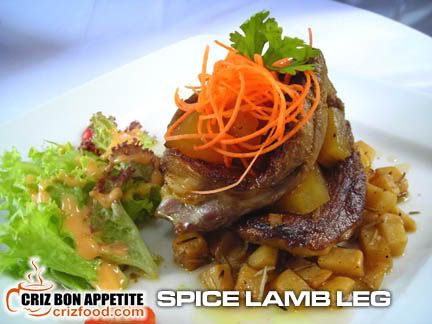 There was also the Lamb Cutlet (RM20.90) served with ratatouille on mashed potatoes and mint yogurt sauce. The mint yogurt sauce was something new to me and it was delicious with the grilled cutlets. The ratatouille was as tasty as before. Now, that made me missed Remy from Walt Disney's Ratatouille more and more. 😛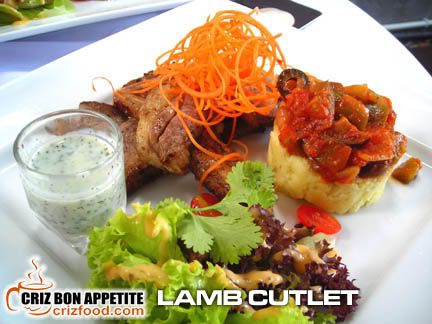 Teriyaki Chicken (RM15.90) was served next. Except for the beautiful presentation, everything tasted quite normal. I would suggest to the chef that the chicken be marinated longer to get the best out of the teriyaki taste.
The Roasted Chicken Drumstick (RM15.90) looked great with the sautéed potatoes with rosemary and orange ginger sauce. The combination might be unique for many but my preference would still be the classic gravy where some chicken broth are to be pan cooked with some remain juices from the roasting, some flour, salt and black pepper to taste. A dash of dry white wine would surely boost up the taste further.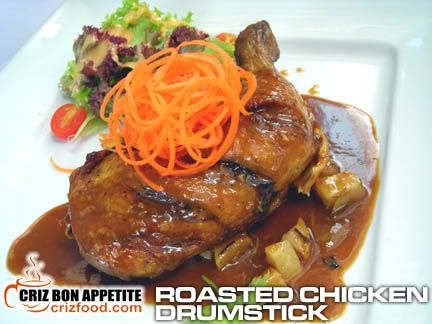 Everybody was complimenting on the Chicken Chop (RM10.90). It may be the most common item in any Western food menu but the one served here was rather unique. Maybe it was our luck that day but the chicken drumstick fillet was indeed thick and juicy. The outer crust was still crispy after being exposed so long for our photo shooting and the oriental sauce on it was delicious. It's a great bargain here!
The last of the main course we had was the Black Pepper Mushroom Chicken (RM10.90). It looked as if the drumstick had shrunk compared to the chicken chop earlier. It surely had something to do with the frying flour as this was grilled. Overall the taste was still fine. This would suit me better if the gravy was a bit spicier for my taste bud.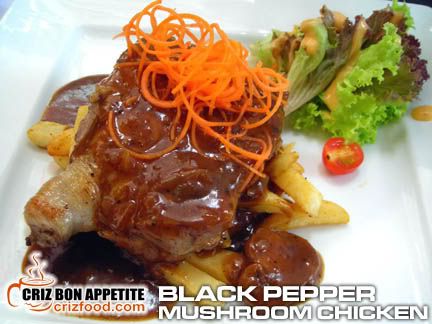 Hmm… I had just realized something here. They do not have any desserts in their menu. I think they should consider on having some for those for visiting families with kids. Nevertheless, they do have a wide selection for beverages, ranging from coffee, ice coffee, coffee with liquor, chocolate, blended, milkshake, juice, tea, special, sodas, cocktails, liquor and beer. Here are some of the non-alcoholic drinks some of us had ordered (except for Caffe Baileys which contained some Baileys Irish Whisky Cream). They are Cappuccino (RM5.00), Hazelnut Cappuccino (RM5.50), Ice Expresso (RM7.00), Caffe Baileys (RM8.00), Ice Blended Green Tea Special (RM9.50), Ice Blended Chocolate (RM9.50), Ice Blended Wildfruit (RM9.50), Vanilla Milkshake (RM8.00), Strawberry Milkshake (RM8.00), Lemon Temptation (RM7.00), Philadelphia (RM7.50) and Dawn of The Beauty (RM7.00).
As for the alcoholic section, I found something interesting. Don't you think some of the names given were rather kinky? LOL!
There are over 30 types of cocktails, hard liquor and beers for you to choose here. Some of the alcoholic drinks ordered by us included Michael Jackson (RM10), Lemon Drop (RM10), AK47 (RM18.00), Tequila Sunrise (RM13.00) and Screwdriver (RM13.00).
Dining here can be rather humid during sunny afternoon as the place is open air. I would advise you to dress casually or dine during late evening. Please take note that all prices would be subjected with a 10% service charge.
The shop is strategically located along the sea front of the famous Gurney Drive (right before Coffee Island and Crepe Cottage). If you are coming from town into Jalan Kelawei, turn right at the first junction (Jalan Lim Chin Guan) where Gurney Tower is. Drive towards the end and turn left. You would pass through Evergreen Laurel Hotel and a stretch of hawker centers on your left. Slow down as 75 Celsius is immediately after the last hawker center (Song River Café). I would advise you to park your car in the Jalan Birch Car Park (the road after Song River Café) and walk up to the restaurant cum bar, especially during weekends.
Name: 75 CELSIUS RESTAURANT & BAR
Address: 75, Persiaran Gurney, 10250 Penang, Malaysia.
Contact: 604-227 3775
Business Hours: 11.00am-2.00am
GPS: 5.433140, 100.316246
RATING:
Ambience: 7.5/10 (1-4 cheap, 5-7 average, 8-10 classy)
Food Choices: 8/10 (1-4 limited, 5-7 average, 8-10 many choices)
Taste: 8/10 (1-4 tasteless, 5-7 average, 8-10 excellent)
Pricing: 7.5/10 (1-4 cheap, 5-7 average, 8-10 expensive)
Service: 7/10 (1-4 bad, 5-7 average, 8-10 excellent)