I was honored to be invited to grace the launching of Time Out Penang, The Insider's Guide to Penang 2011/2012 yesterday, together with the honorable Chief Minister of Penang, YAB Lim Guan Eng at Aseana Café & Bar, Straits Quay, Penang. This guidebook is published by Mongoose Publishing (M) Sdn Bhd, and showcased the wonderful state of Penang, from the historic architecture and the unique street food culture to the world class hotels and resorts. "Here's a guidebook which captured the spirit of Penang. I felt like I was being shown around Penang by a proud Penangite," said YAB Lim Guan Eng.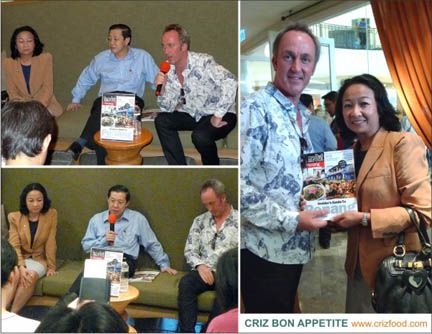 Time Out Penang, The Insider's Guide to Penang 2011/ 2012 is a 150 pages, A4 sized, glossy magazine-guide, presenting a typically comprehensive, honest and trustworthy account of Penang's travel hotspots for the high-end tourists, business travelers, expatriates, and huge affluent local readership who enjoy and act upon what they were told by Time Out. This annual publication is distributed to relevant countries across the region and key international destinations around the world. This well-traveled audience is eager to explore more of the world and cannot wait to read and see more about the breathtaking sights and sounds of Penang, from the historic architecture and the unique street food culture to the world class hotels and resorts.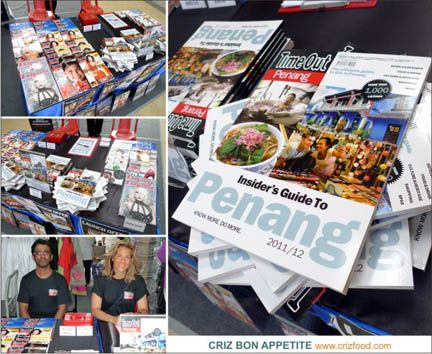 Time Out is an international, multimedia publisher of cultural experiences that provides inspiration to city dwellers around the world. Currently operating regular magazines in 40 cities around the world and guidebooks in several more, the Time Out brand is instantly recognized and trusted by residents from the world's top cities. "Time Out Penang is no exception as it derives deep into Penang and presents the best that this beautiful state has to offer, as recommended by insiders who know the best," said Graham Paling, Group Managing Director of Mongoose Publishing. We are glad to have CK Lam, one of the best food writers around Penang to be part of the Time Out Penang team.
The invited guests were served with some refreshments during the Time Out Penang 2011/2012 launch by Aseana Café & Bar, Straits Quay, Penang at their sophisticated yet cozy restaurant. Some of their finger food could be quite impressive in terms of presentation and taste.
On top of that, there were numerous ongoing programs that kept the Straits Quay visitors occupied. Amongst them were the weekend flea market and promotional booths that had interesting items up for sales, ranging from natural soap, herbs and spices, cakes, magazines and books, toys, costume jewelries, hotel promotions, tea & wine and more.
Many fun-filled activities were held throughout the day such as dance performance by the Burlesque troupe from SuperStar Libra, traditional Nyonya dance, fashion show by the Bran et Daguet boutique, Straits Quay, which specializes in elegantly cut couture and ready-to-wear cocktail dresses and occasion wear with international appeal and local bands.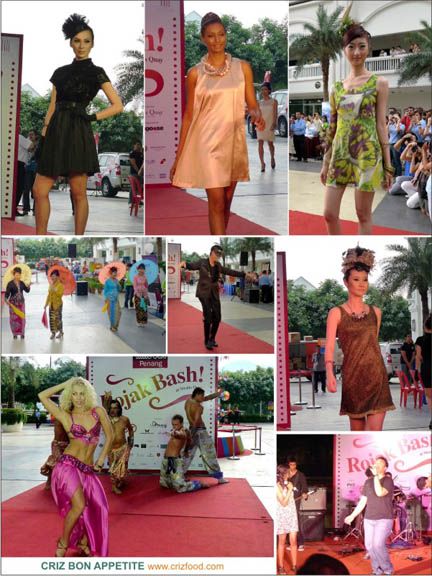 I guessed the highlight from the one-day event would be the belly dancing from the SuperStar Libra's Burlesque troupe that caught most of the ladies there putting on their best pair of binoculars to stare at the handsome and hunky European dancers. On top of that, the guys were not excluded as I saw some jaws dropping with eyes fixed on the belly dancer from Ukraine. Well, here's the video on the dance performance in case you missed it~ LOL! 😛
If you would love to get your hand on a copy of the newly launched Time Out Penang 2011/2012 or the soon to release Time Out Malaysia 2011/2012, do check out your nearest newsstands or any leading bookstores. Each book would cost you RM38. You could also buy direct and get a 10% discount if you purchase online through their website. Those who would like to enquire more about their coming issues, whether it's Time Out KL, Time Out Malaysia, Esquire, Expatriate Lifestyle, Gold Vacations, RSGC's The Circular, Al Musafir, Essential Education or the newly launched Time Out Penang, can do so by filling up their contact form or call up +603-2166 6650.