Penangites finally have the opportunity to lead a healthier lifestyle with the opening of You Shan Fine Soup House, located at Auto World Complex, Penang. The restaurant was officially opened on 14 May 2011 by our YB Ms. Betty Chew, wife of the Penang Chief Minister, YB Mr. Lim Guan Eng. The one and only of such restaurant in Penang, would help diners to balance their Yin and Yang Qi, two hidden forces that would cause illness if found to be out of balance. This is something that most of us ignored with our hectic lifestyles as we find the lack of time in spending hours brewing nutritious soup for our own health. Leave it to the experts to help you in your food therapy as the restaurant has the strong backup of their advisor, Mr. Chew Hock Eam, a Chinese Physician, who has over 3 decades of experience in TCM (Traditional Chinese Medication), to help you in seeking out the healing powers from their selected soups.
There will be over 60 types of soups, whether savory or sweet, available at this restaurant, ranging from as low as RM5 to as high as RM68. Most of the soup would need to be preordered at least 24 hours before dining. This would enable the kitchen to slowly select the best herbs to brew up your personalized bowl of nutritious soup. You don't have to worry too if you missed out ordering your favorite soup as they would also be having 3 different types of soups available each day. To avoid the disappointment, I have attached below the full menu of the soups. Please do click on the individual photo for a clearer view of your PREORDERS.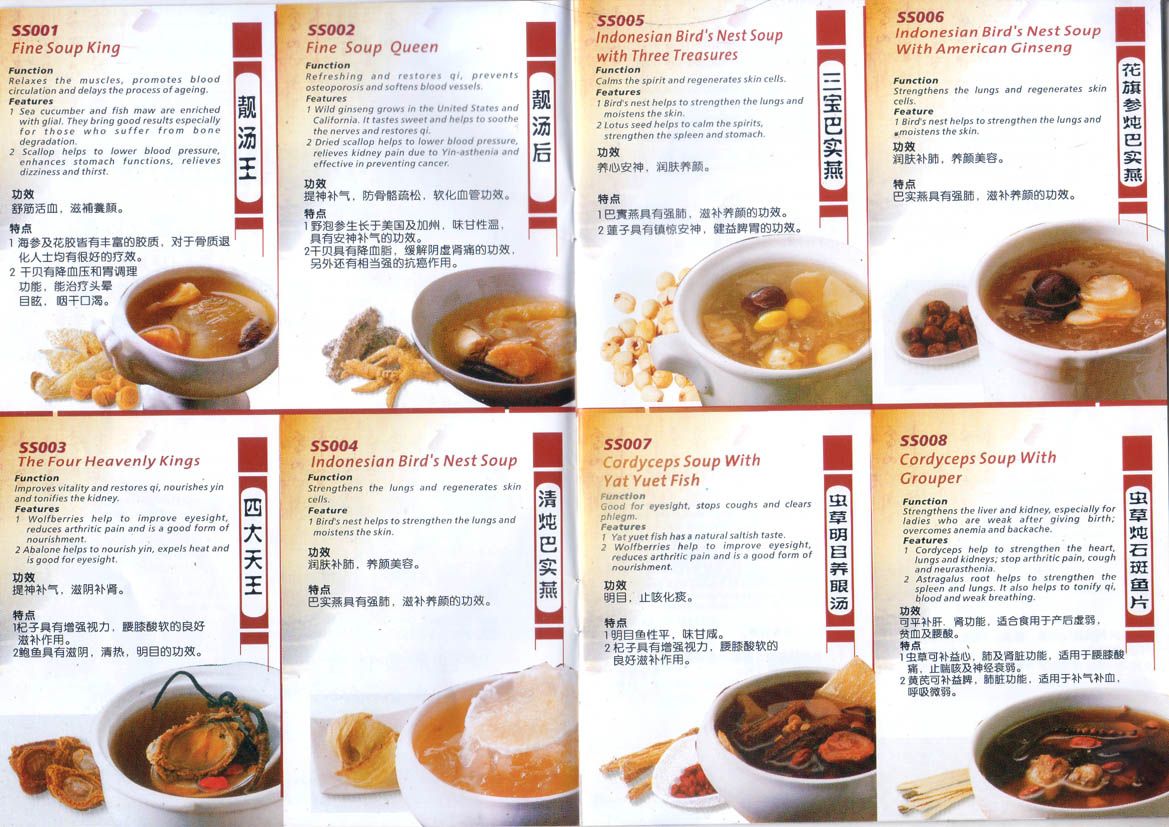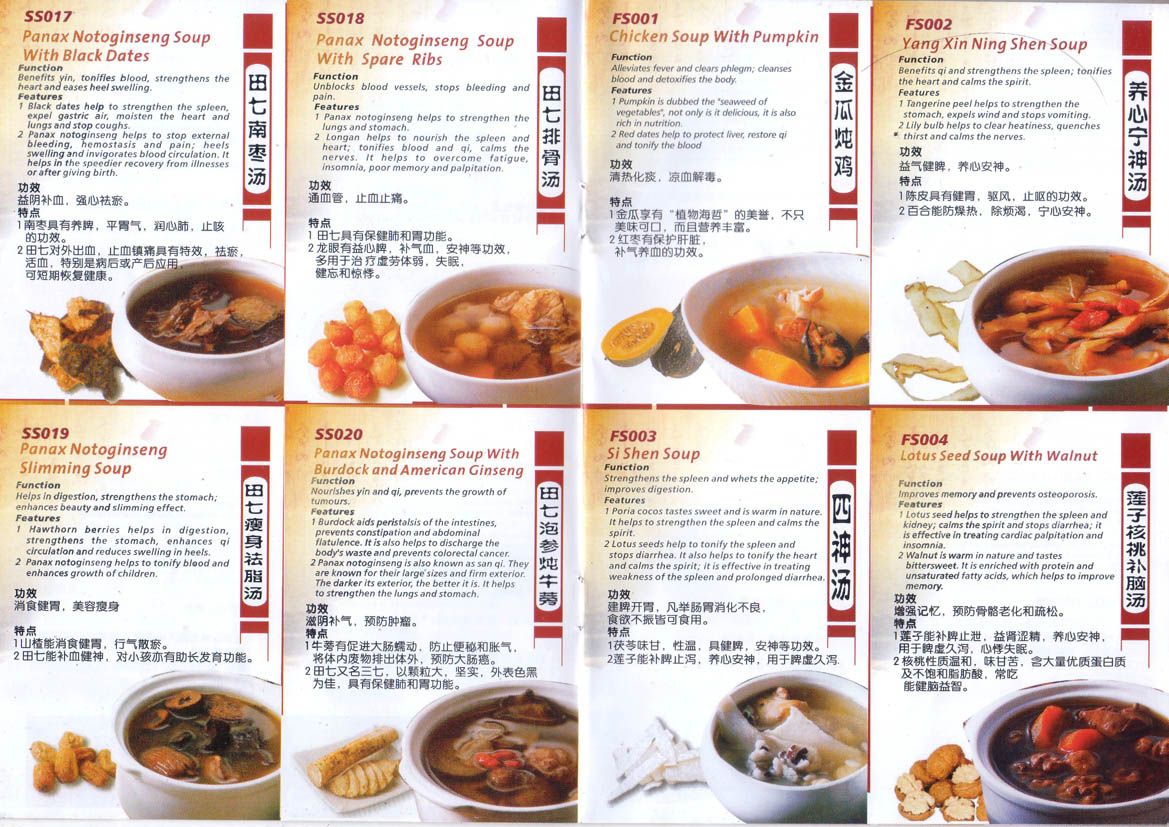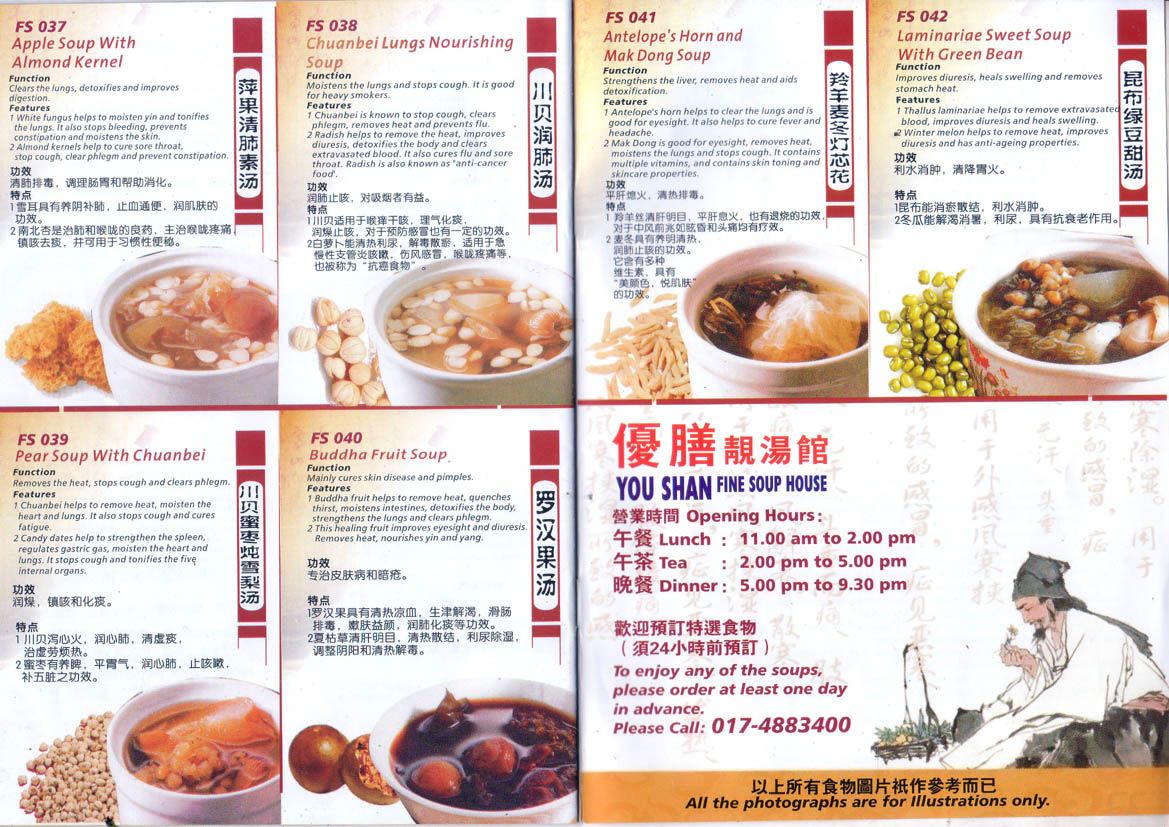 Two soups were served during the opening day. One of them was the Fine Soup King which contained sea cucumber, fish maw and scallop. This soup would help in relaxing the body muscles, promote blood circulation and delay the process of aging. It would be suitable for those with bone degradation and high blood pressure. The other soup was the Yang Xin Ning Shen Soup. The rejuvenating soup has the citrus flavor of tangerine to strengthen the stomach and lily bulbs to reduce the body heat.
You might think that this is just a soup house from the name but you are wrong as they do serve dishes just like any other Chinese restaurants. There would be options such as fish, crabs, frogs, prawns, squids, pork, chicken, venison, vegetables, tofu to general soups. The price, depending on serving size, would range from RM8 to RM 30 or based on market rate for some seafood dishes.
If you think the items from the ala carte would be a bit too much for a small group, you should also check out their daily set lunch and set dinner deals. Each set would come with individual portion of 3 dishes, a soup plus a drink, ranging from RM12 to RM19.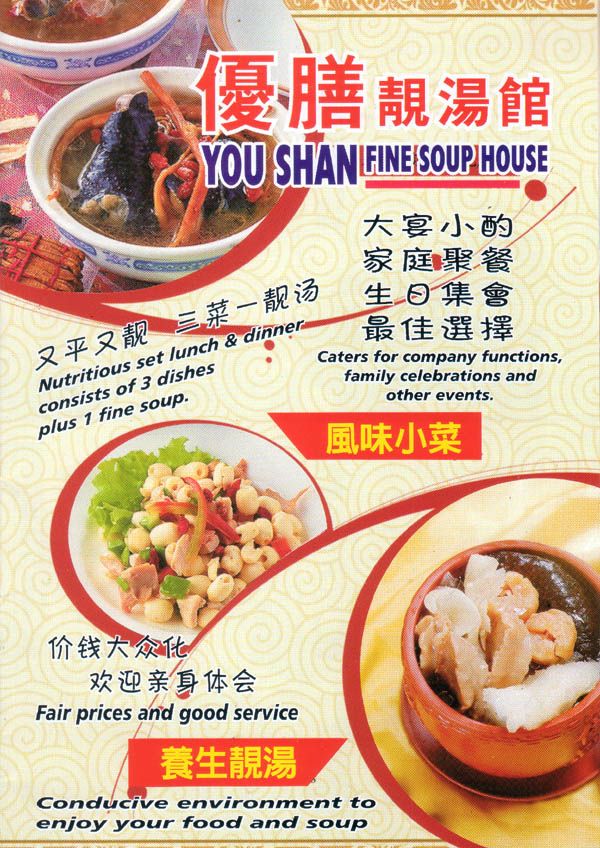 If you are coming from Penang Bridge towards the North-South Highway, you would see the Juru Rest Area on your left. Drive further a bit and you would see an overhead bridge which would lead you to the Juru Interchange. Do not drive up the overhead bridge but turn left instead until you see a traffic light. Turn right into Jalan Kebun Nenas. Drive on until you see the second traffic lights at a T-junction (Jalan Kebun Nenas/Jalan Perusahaan). At the traffic light, turn right into Jalan Perusahaan. A few meters away, keep a look out for Maybank at Kompleks Auto World on your right. The restaurant is just on the left of the bank.
Name: YOU SHAN FINE SOUP HOUSE
Address:
1797-G-12, (Beside Maybank), Kompleks Auto World,
Jalan Perusahaan, Juru Interchange, 13600 Perai, Penang, Malaysia.
Business Hours:
11.00am-2.00am (Lunch), 2.00pm-5.00pm (Tea), 5.00pm-9.30pm (Dinner)
Contact: 017-488 3400
GPS: 5.33994, 100.429605
RATING:
Ambience: 8/10 (1-4 cheap, 5-7 average, 8-10 classy)
Food Choices: 8/10 (1-4 limited, 5-7 average, 8-10 many choices)
Taste: 7.5/10 (1-4 tasteless, 5-7 average, 8-10 excellent)
Pricing: 7/10 (1-4 cheap, 5-7 average, 8-10 expensive)
Service: 8/10 (1-4 bad, 5-7 average, 8-10 excellent)