Swez Brasserie @ Eastin Hotel, Penang, would be having its Texas Grill Promotion for the whole month of June 2012 (1-30 June 2012). You can now savor all the mouth-watering dishes as how the cowboys would. This promotion would be under the skillful hands of the newly appointed Jr. Sous Chef, Chef Kelvin Cheong.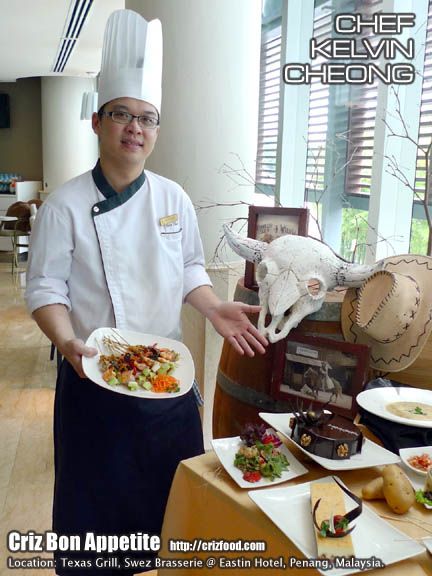 We started with the Texas Wild Potato Soup (德式馬鈴薯浓湯). The soup had a slightly burned earthly flavor due to the fact that the USA imported potatoes were marinated with herbs and had gone through the process of baking prior to being blended and mixed in with some flour and cream. It had a brown creamy texture and was quite nice, though a bit salty to my preference. A light touch of fresh herbs added in with a gentle grind of fresh black pepper would have pepped up the taste even better.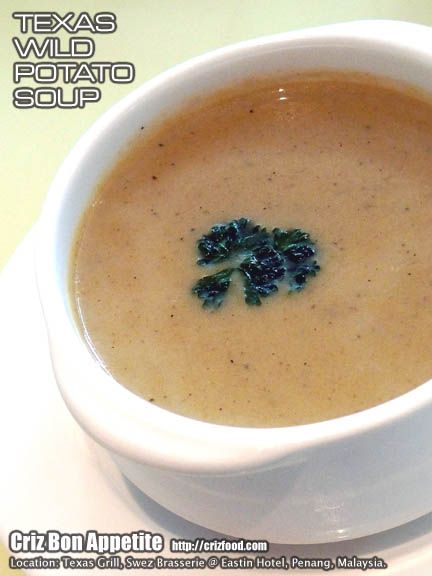 As appetizer, we were served with Grilled Shrimp and Strawberry Salad (草莓烤蝦沙拉). For non cheese lover, this salad might be quite intruding as it was slightly overpowering. Grilled prawns were tossed together with rocket lettuce, cherry tomatoes, fresh strawberry cuts, fresh herbs, black pepper in a dressing made from a combination of bleu cheese and fruity vinaigrette. The concoction was not bad except that I found the name to be a bit deceiving as there were no distinctive flavors of strawberries. Alternatively, if the cherry tomatoes and strawberry cuts were sun-dried or the strawberries be made into compote and added it, the salad would surely taste better.
Another appetizer we tried out was the Texas Broccoli and Turkey Slices Salad (德式火雞片與西蘭花沙拉). I would say, this salad would suit the palate of everyone. The salad had tossed blanched broccoli, carrot cubes and fresh seedless grapes in a concoction of mayonnaise and desiccated coconut flakes dressing, garnishes with crispy turkey bacon and almond flakes. I was glad that the dressing has just the necessary mild touch of desiccated coconut flakes and was not too overpowering.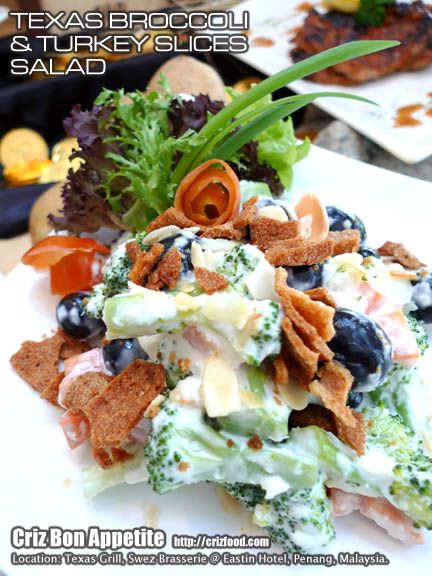 As for the main course, we had the Texas BBQ Grilled Skewer (德州燒烤串). It consisted of 3 different options of grilled chicken, lamb and seafood (shrimp, mussel & squid) skews. All the skews were nicely marinated as they should.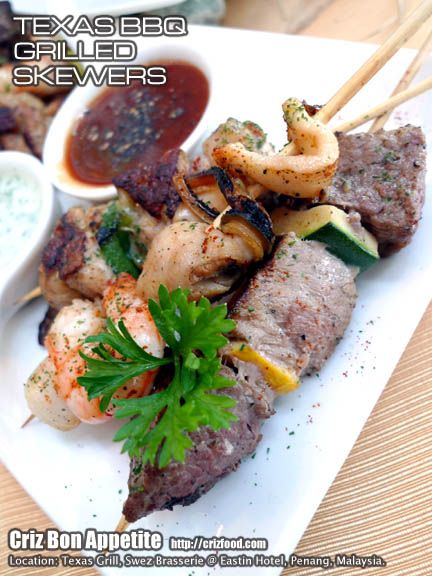 The main perfection for grilled skewers actually came from the accompanied dips to boost up the right combination of flavors. BBQ Sauce and Yoghurt Mint Sauce were provided. Although the BBQ Sauce had the right flavors and smoky taste from some added liquid smoke, it somehow lacked the puree thickness. It might be great as marinate for grilled ribs but it was a bit too diluted as a dip to stick well to the meat. Some chopped onions or tomato puree added in might help solve this issue. It also lacked a light spicy touch of Tabasco sauce. The Yoghurt Mint Sauce on the other hand tasted too "tandoori style" rather than "Texan style" to me. I personally prefer simple mint jelly/sauce to go with my grilled lamb.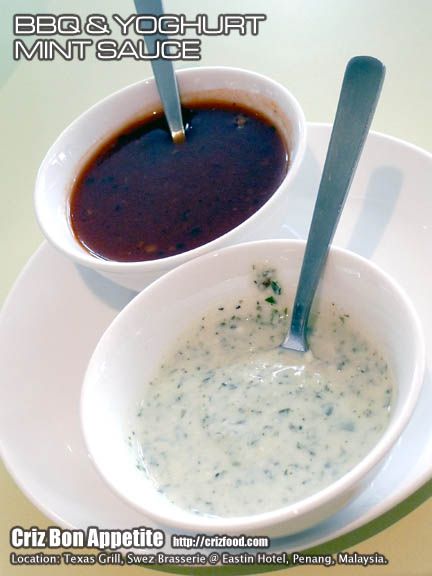 The Grilled Chicken with Honey Mustard Glaze (蜂蜜芥末醬烤雞) was one of the dishes I can't get enough of. It was wise of the chef to use chicken drumstick fillet as that would be the best part of a chicken to get that tender and juicy texture. Even after some period of time, those choice pieces still maintained the moist within. Well done Chef Kelvin!
The last dish was the Grilled Beef with Tortilla (烤牛肉片與玉米薄餅). These cut rolls of stuffed grilled beef tortillas were served on a bed of nachos dressed with salsa. My first impression was, "Gosh! They looked so dry!" The first bite had me in amazement. Not only were the roll soft and delicious with tender pieces of grilled beef, it had a light spicy crunch from the added capsicum slices. The chef was smart to add into two secret ingredients to moisten the roll – caramelized onions and garlic mayonnaise. Way to go Chef!
More salsa was provided for dressing up the stuffed grilled beef tortilla rolls. I won't mind if some sour cream was to be provided too to dip in the nachos.
The desserts were just simple as how you would get from the buffet line. It was too American in general. It lacked the Texan feel and taste. We had the American Cheese Cake (美式乳酪蛋糕) and Texas Brownies (德州巧克力布朗尼).
Overall, Swez Brasserie fairs rather well in their Texas Grill Promotion. After all, you can't go wrong with grills if the cooking time were monitored carefully. Too bad they are concentrating more on grills rather than adding in more fried and Texas State Fair items which are also in the recommended top dishes in Texas. Their Texas Grill Promotion was more towards the Wild West Country Theme where the flavors were wild and suspense. I was rather surprise that they did not promote the #1 Texas State Food which is the Texas Chili. A bowl of the famed thick, hot and steamy chili con carne would add in more excitements in the dishes served, may it be tacos, tortillas, cornbread and more. Corn dogs are common in Texas and they are something that would attract just any age group who loves to have deep fried corn battered hotdogs. As for dessert, I hope they do come out with more options such as the delicious Pecan Pie as it's the state tree of Texas, as I found the desserts served were too American in general.
Here's the summary of the promotion.
TEXAS GRILL PROMOTION (1-30 JUNE 2012)
Lunch (12.00 noon – 2.30pm): Monday – Friday
RM48++ (adult), RM24++ (child)
Hi-Tea (12.00 noon – 3.00pm): Saturday, Sunday & Public Holidays
Normal weekend: RM55++ (adult), RM28++ (child)
Festive Occasion (Fathers' Day – 17 June 2012): RM68++ (adult), RM34++ (child)
Semi Buffet Dinner (6.30pm – 10.00pm): Monday – Thursday
RM48++ per pax
FATHERS' DAY SPECIAL PROMOTION (1-30 JUNE 2012)
A happy Dad dines for FREE with every 2 paying adults on all weekends in June 2012. Weekend buffet dinner themes are as following:
Friday – Seafood Supreme
Saturday – Japanese Night
Sunday – East Meets West
For MAYBANKARD & VISA card members, you can enjoy 15% discount for Texas Grill Semi Buffet Dinner (Monday to Thursday) and Weekend Buffet Dinner (Friday to Sunday) from 6.30pm – 10.00pm.
The Swez Brasserie is located at the ring wing of Eastin Hotel, Penang (next to Queensbay Mall). If you are coming from Georgetown towards Bayan Lepas Free Trade Zone via Bayan Lepas Expressway, do watch out for the Pulau Jerejak signboard (leading to Pulau Jerejak jetty). Ignore the turning and drive on to the next left junction. Turn left into Jalan Aziz Ibrahim and drive on until you a roundabout. Turn 3 o' clock and drive on until you see a big Eastin Hotel signboard at the first right junction. Turn right and drive on. Park your car at the basement car park. Take a lift to the first floor lobby and you would see the restaurant there.
Name: SWEZ BRASSERIE @ EASTIN HOTEL
Address: 1 Solok Bayan Indah, Queens Bay, 11900 Bayan Lepas, Penang, Malaysia.
Contact: 604-612 1128, 604-612 1138
Business Hours: 12.00pm-2.30pm (Lunch), 6.30pm-10.00pm (Dinner)
GPS: 5.33643, 100.306345
RATING:
Ambience: 8/10 (1-4 cheap, 5-7 average, 8-10 classy)
Food Choices: 8/10 (1-4 limited, 5-7 average, 8-10 many choices)
Taste: 7.5/10 (1-4 tasteless, 5-7 average, 8-10 excellent)
Pricing: 8/10 (1-4 cheap, 5-7 average, 8-10 expensive)
Service: 8/10 (1-4 bad, 5-7 average, 8-10 excellent)