When you want to live and feast like rock stars, you have to pay a visit to Malaysia's sole rock & roll concept themed hotel – Hard Rock Hotel, Penang. Do be quick in wearing your rocking shoes with your family and friends to experience their Bintang Rock Buffet Dinner at Starz Diner @ Hard Rock Hotel Penang. The buffet has started since 18 June 2015 and will continue to tempt your palate until 16 July 2015 from 6.30pm until 10.30pm. The seasonal buffet dinner is priced at RM88nett (adult) and RM48nett (child aged 6-12 years old). Please call +604-886 8057 or email fb.penang@hardrockhotels.net to book earlier to avoid disappointment.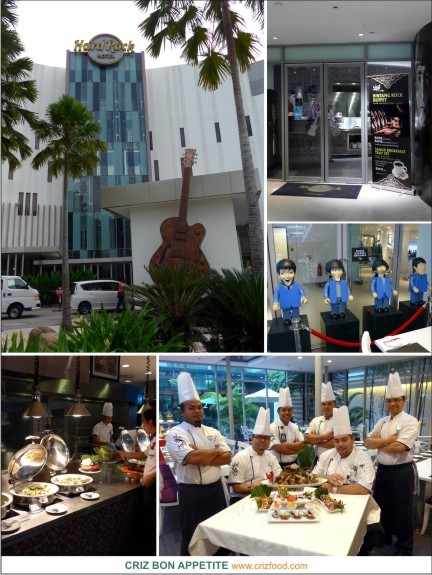 Bintang Rock Buffet Dinner would offer a wide selection of freshly prepared dishes from local starters to meat grills, hawker fares, and desserts to cater to the taste buds of diners. Other than the commonly available ready-made salads, I did find something unique that I have yet to come across in patronizing the many buffet spreads out there. They have a special counter set up to cater to those who love having salads – the Malaysian style. It was not about having Ulam-ulaman (wild herbs and vegetable) served with the usual sambal condiments but a DIY counter for your favorite Kerabu (Malaysian salad). Gosh! Can you imagine how heavenly it was to have Kerabu of your preference made freshly right in front of you? This is truly one of it kinds I have encountered throughout my food writing career.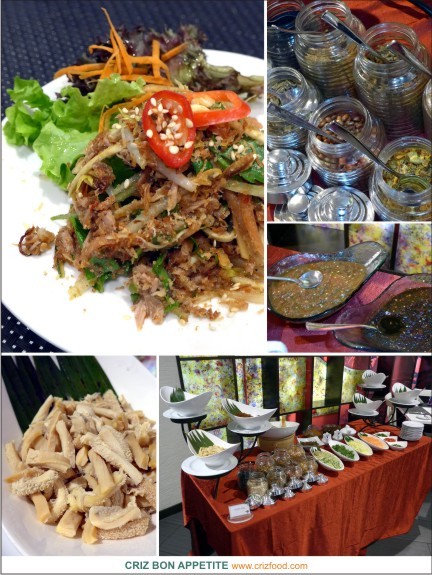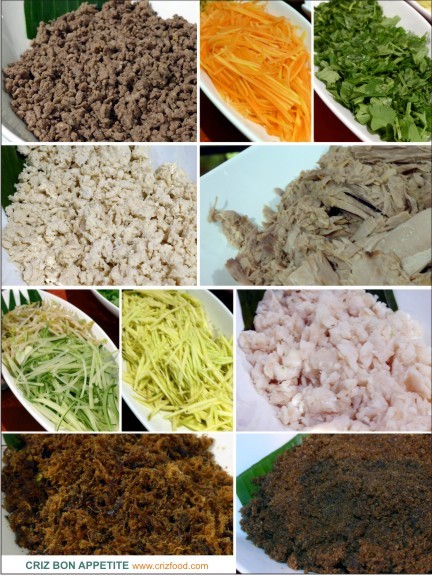 On top of that, I did also find this section to be full of surprises as those little glasses of appetizers were not there just for display but were packed with small bites that were amazingly appetizing. I quite like the Tandoori Marinated Chicken Cubes that were hidden amongst the food treasures.
Coming to the Starters Section with items of the day such as Bubur Lambuk and Minestrone Soup served with an assortment of bread rolls, the dishes were flavorfully packed with ingredients. I did find the Minestrone Soup to be tasty as it was filled with a variety of vegetables, meat and seafood to give its rich flavors.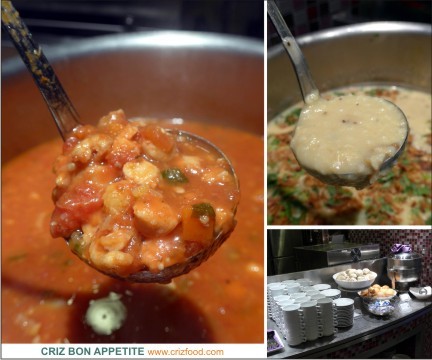 The Nasi Kandar Section were simple and yet fulfilling for those who love this Penang favorite. It had some rice options with a few varieties of local spiced up dishes such as Fish Molee, Ayam Masam Mamak, Daging Masak Congo and more. Beside these dishes were some local and international hot dishes that might interest you as well such as Sauteed Vegetables, Seafood Thermidor, Green Curry Chicken and more.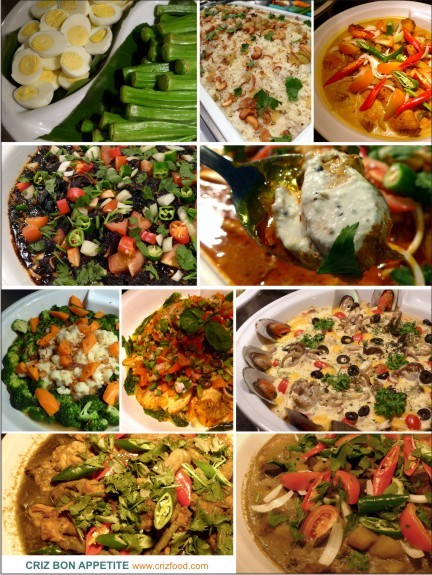 You should not miss out the Arabian section for their nicely pepped up Arabic Roasted Lamb Leg in Dome served with Arabic rice, cous cous, pita bread, alongside with chutney and yoghurt as condiments. Each mouthful of the fragrantly cooked rice with the tender pieces of the roasted lamb was above cloud 9. I must compliment Chef Joe Elias for a job well done.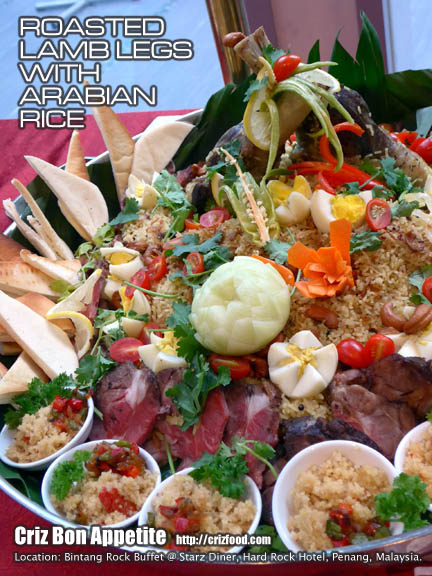 The Hot Dishes and Grill Section would stretch from indoor until outdoor and I found it to be rather interesting. Other than Chicken Shawarma Wrap, I did also find my usual Mamak Roti John there. Again, this was something that caught my attention. Moving along the line of many individually banana leaves wrapped grilled fishes and shellfish was something quite rare on any buffet spread. It was the Pahang originated Pais Ikan Sambal or quite commonly known as Balinese Style Pesan Be Pasih aka Grilled Fillet of Fish in Banana Leaf. It looked quite similar to the herbs and spices packed Nyonya style Otak Otak, but had more distinctive flavors from added lemon basil, bay leaves and lemongrass minus the usage of egg. Wow! That was a bonus! Following the buffet line were Char Koay Teow, Chicken Wings and an assortment of Satays.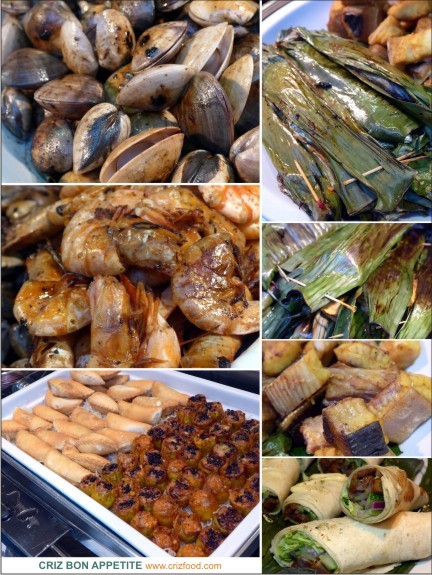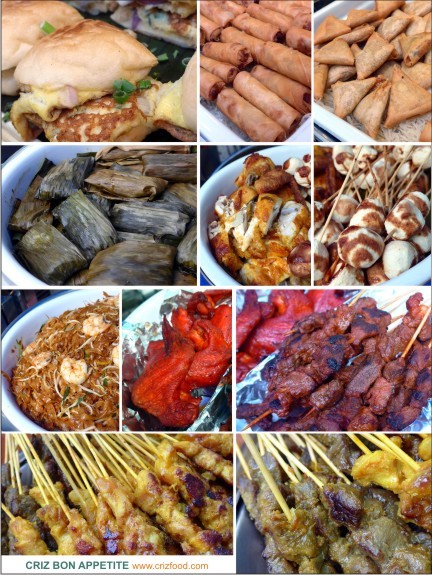 If all those interesting dishes did not tempt you, you can always lay back and enjoy their cool Dessert Section with a selection of free-flowing Beverages of the Day. I would say their desserts which consisted of international standards of cakes and pastries plus some add-ons of local kuih-muih were plentiful enough to ease the craving of those sweet tooth diners. Ais Kacang, Chinese Pancake with Lotus Paste/Red Bean Paste served with Hot Caramel Sauce, Ice Cream, Sago Gula Melaka were some of the desserts to look out for. However, the winners would go to their rich Spiced Cardamon Bread & Butter Pudding, Hot Chocolate Pudding and Crème Brulee. I just wished I had the stomach space for more as these desserts were amazingly saliva dripping.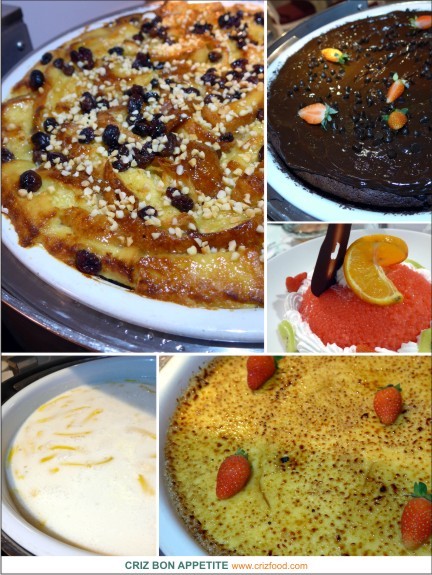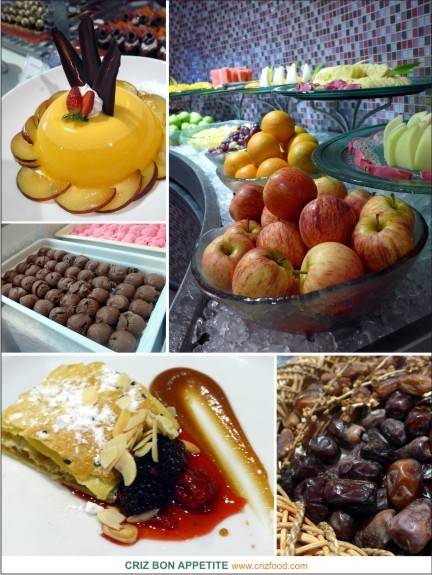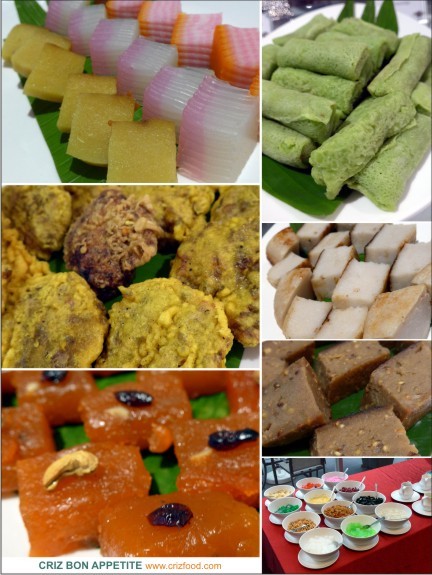 We had Menu 5 for the day and it was impressively presented. I'm sure the rest of the menus will be just as great as well. Let's have a peep onto the menus which would be on a rotation basis for the whole promotion. Do click to enlarge for a better view.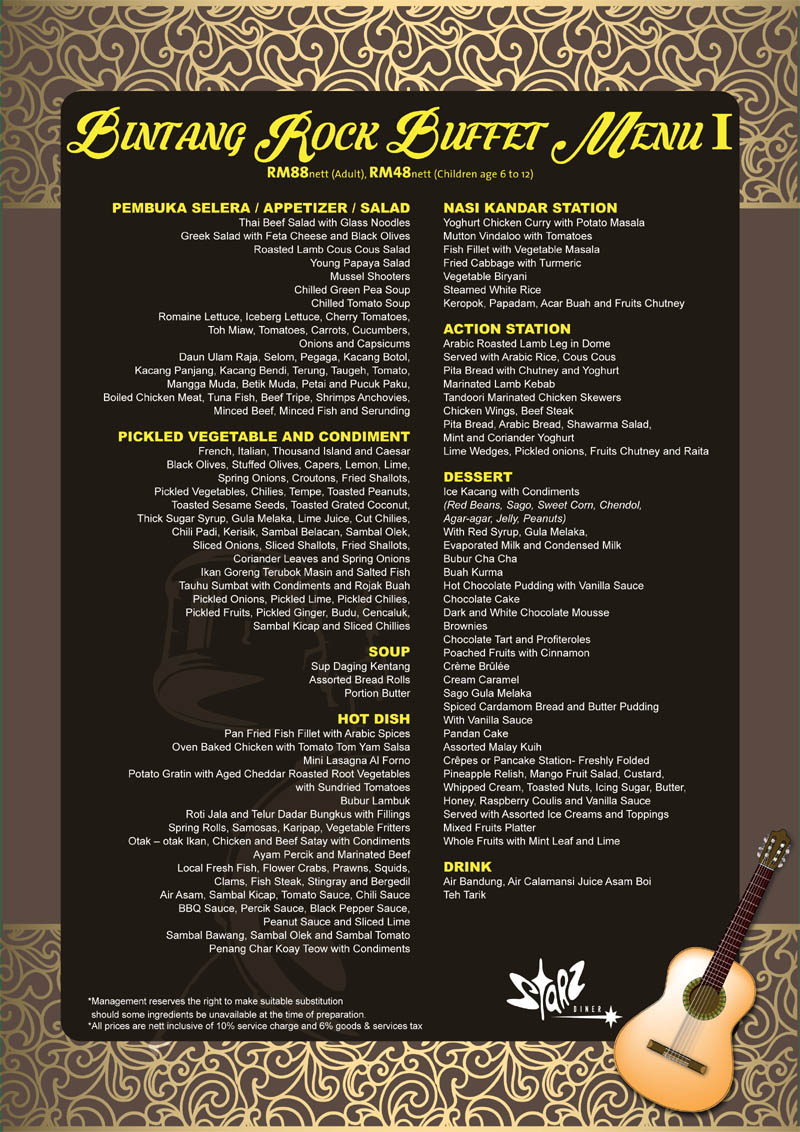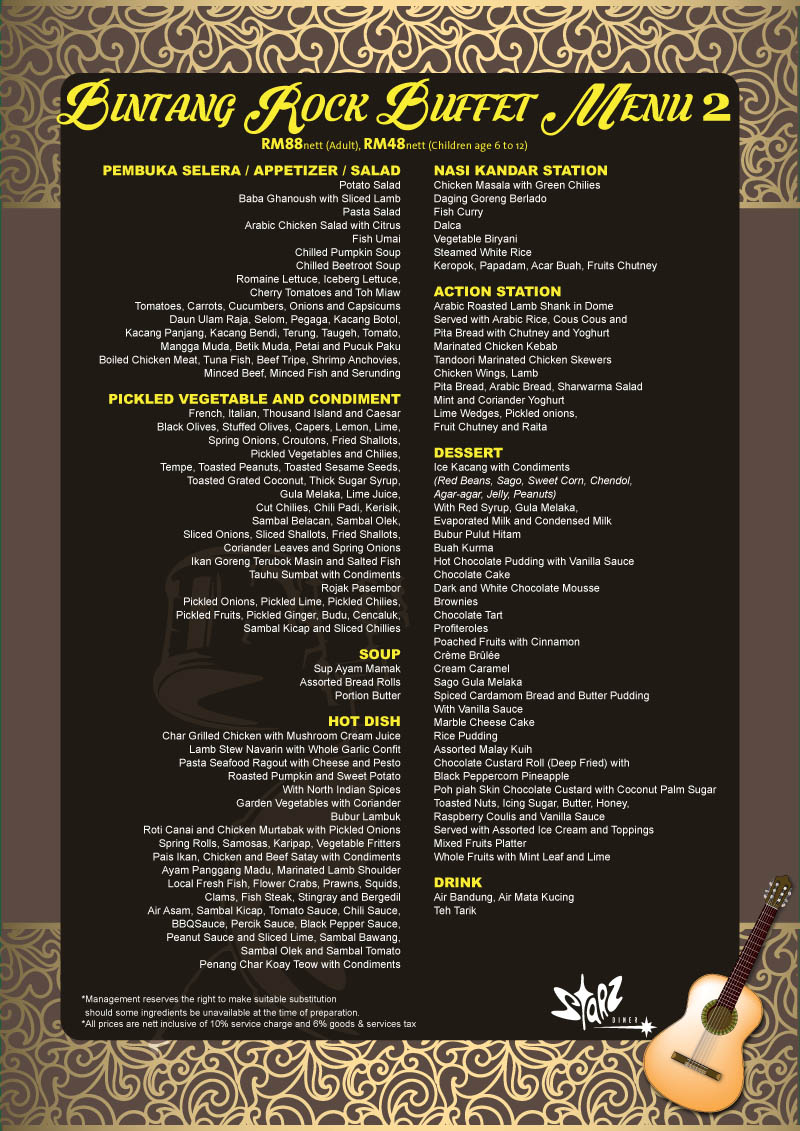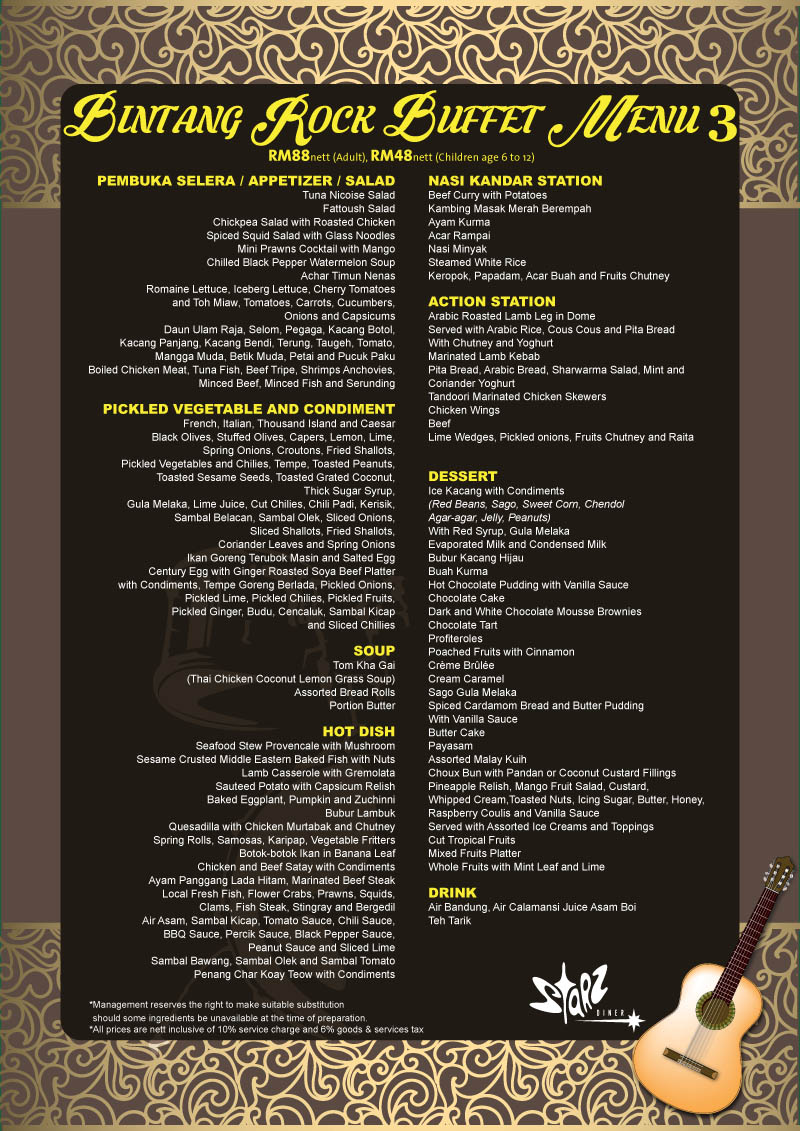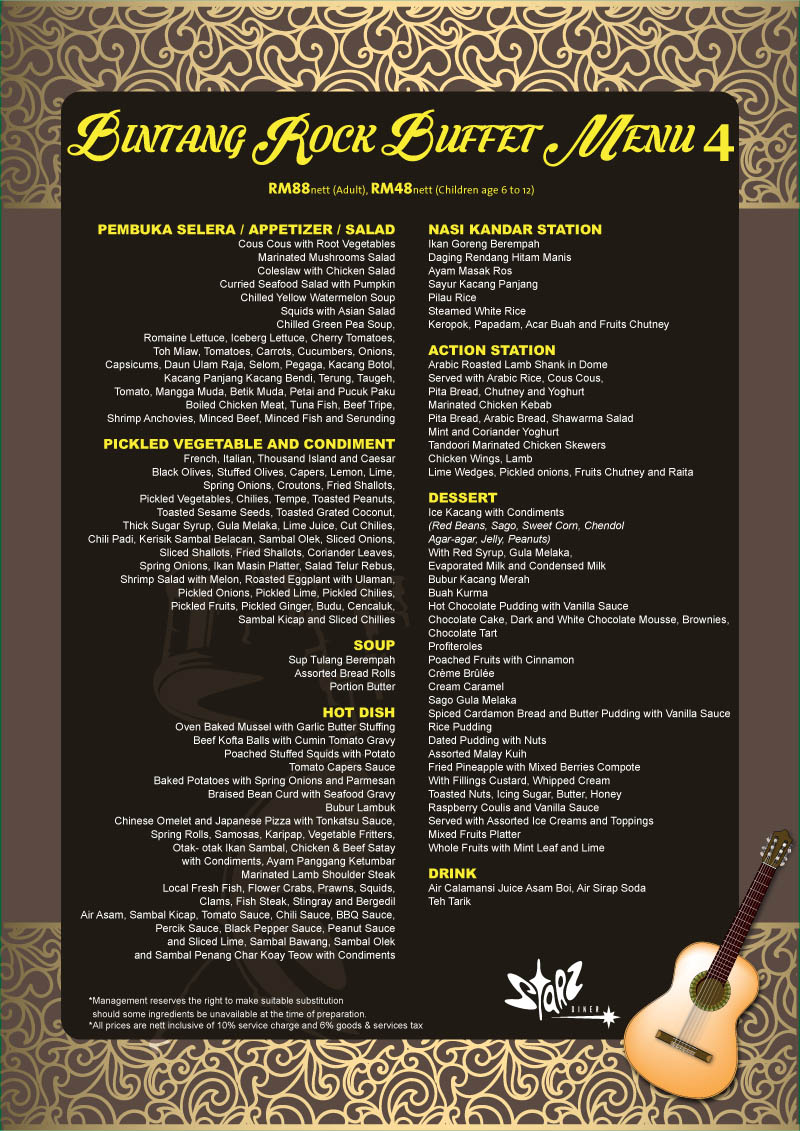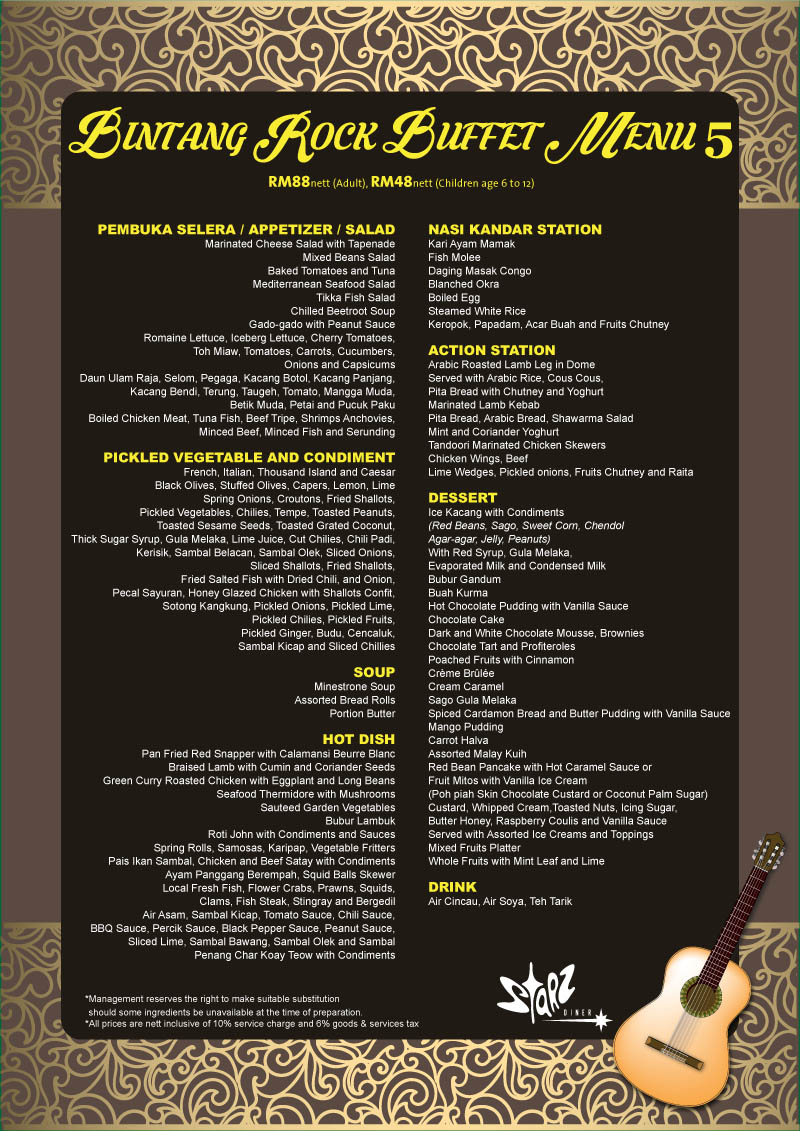 Overall, from the Menu 5 which we had tasted, I did find the dishes to be rather attractive and out of the norm from the usual dishes served at the rest of the buffets out there. Dining here was like being a nomad trekking his way from continent to continent into Europe, then into Middle East before landing on the shore of Asia for more herbs and spices spiked up cuisine. As for the desserts, they sure know how to tempt those sweet tooth diners with their amazingly concocted selections of good quality pastries and cakes.
For those who are not ardent fans of buffets, you can always opt for their gigantic serving of Rock Platters at Hard Rock Café instead. The promotion is from 18 June until 16 July 2015 (11.30am-10.30pm) at RM160nett (for 2 pax) and RM240nett (for 3 pax). For reservations, please contact the Hard Rock Cafe admin at +604-886 8054.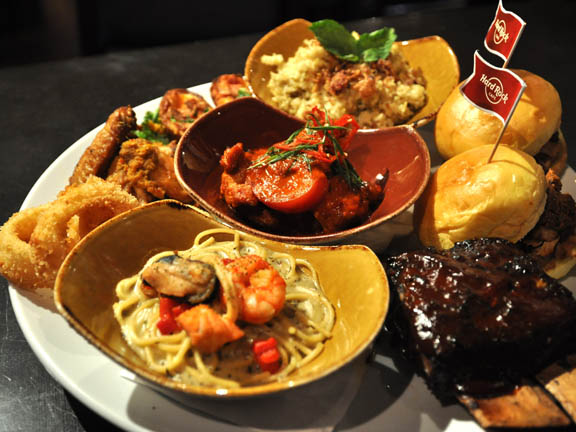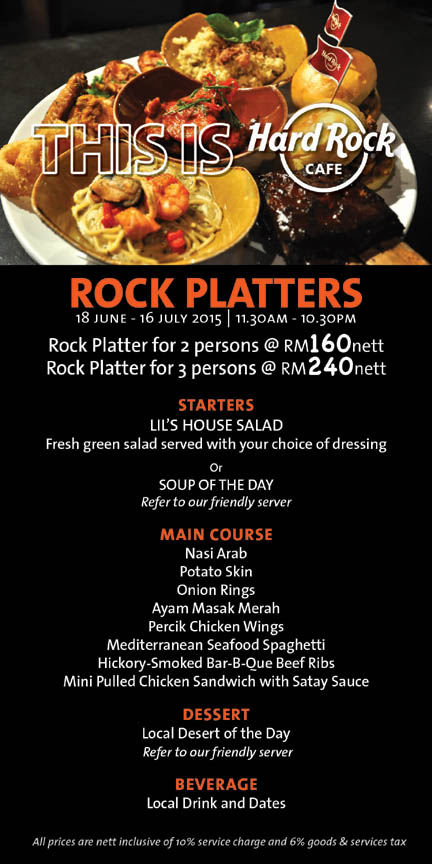 As for their Relax & Feast Package Promotion (18 June until 16 July 2015), a specially designed package to cater to your need to get away from the hustle and bustle of the city life, the rates will start from RM420++ per room per night inclusive of buffet breakfast for two adults and two children. Enjoy a choice of daily Early Bite Breakfast (4.00am-5.30am) or Buffet Breakfast (6.30am-11.00am). They have got your dinner covered too with option to try out their Bintang Rock Buffet in Starz Diner or savor the Rock Platter at Hard Rock Cafe Penang. For more info, please visit www.penang.hardrockhotels.net.
The Starz Diner is located at the left wing of Hard Rock Hotel Penang. Upon entering, just head to the left side and you will see a little glass door leading to the eatery.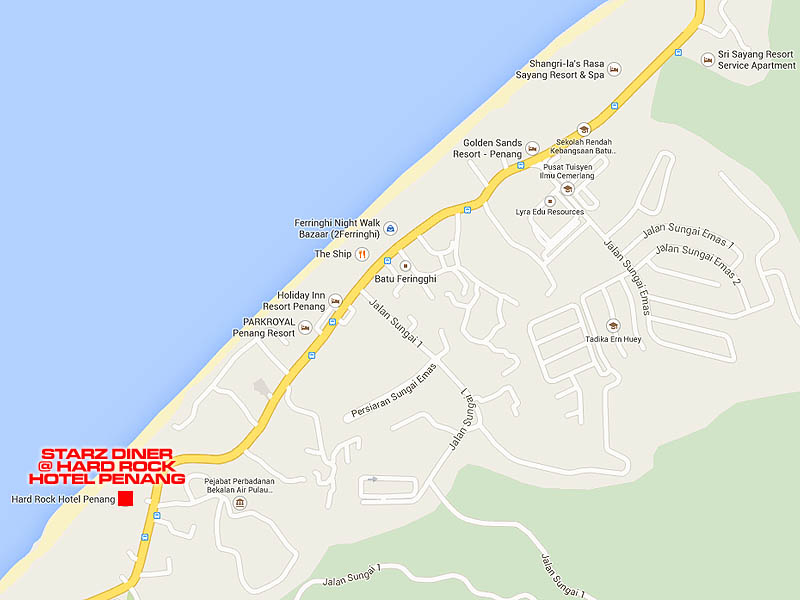 Name: STARZ DINER @ HARD ROCK HOTEL PENANG
Address: Batu Ferringhi Beach, 11100 Penang, Malaysia.
Contact: 604-881 1711
Business Hours: 6.30am-11.00am, 5.30pm-11.00pm
GPS: 5.467568, 100.241382
RATING:
Ambience: 8/10 (1-4 cheap, 5-7 average, 8-10 classy)
Food Choices: 8/10 (1-4 limited, 5-7 average, 8-10 many choices)
Taste: 8.5/10 (1-4 tasteless, 5-7 average, 8-10 excellent)
Pricing: 7/10 (1-4 cheap, 5-7 average, 8-10 expensive)
Service: 8/10 (1-4 bad, 5-7 average, 8-10 excellent)
About Hard Rock International: With a total of 200 venues in 64 countries, including 154 cafes, 21 hotels and 10 casinos, Hard Rock International (HRI) is one of the most globally recognized companies. Beginning with an Eric Clapton guitar, Hard Rock owns the world's greatest collection of music memorabilia, which is displayed at its locations around the globe. Hard Rock is also known for its collectible fashion and music-related merchandise, Hard Rock Live performance venues and an award-winning website. HRI owns the global trademark for all Hard Rock brands. The company owns, operates and franchises Cafes in iconic cities including London, New York, San Francisco, Sydney and Dubai. HRI also owns, licenses and/or manages hotel/casino properties worldwide. Destinations include the company's two most successful Hotel and Casino properties in Tampa and Hollywood, Fl., both owned and operated by HRI parent company The Seminole Tribe of Florida, as well as other exciting locations including Bali, Chicago, Cancun, Ibiza, Las Vegas, Macau and San Diego. Upcoming new Hard Rock Cafe locations include San Juan, Lagos and Busan, South Korea. New Hard Rock Hotel projects include Daytona Beach, Dubai, Los Cabos, Tenerife, Abu Dhabi, and Shenzhen and Haikou in China. For more information on Hard Rock International, visit www.hardrock.com.