NOTE: This kiosk has ceased its operation at Prangin Mall, Penang.
You have heard about the term "Blogger", a person who archives all his/her thoughts online through the mean of a weblog (weBLOG). Sometimes you might even come across people using the term "Flogger" which represents a Food Blogger but this is the first time I have known that someone had decided to name his café as Bloggers Café. Well, that would be a brilliant idea to gather bloggers under one roof. Presently, the management had decided to launch the Bloggers Café kiosk in Prangin Mall, Penang today prior to the official opening of their main headquarter in Maju Utama, Bukit Mertajam, Penang.
You might be asking what would they serve in their menu since it will be a café? Basically, to catch up with the trends of franchise companies such as J.Co Donuts, Big Apple Donuts and the newly open Krispy Kreme in Malaysia, they have decided to go into the donut business concept of producing sweet treats to the public. Since this is just a kiosk, you might not get the experience of seeing them making those donuts, buns and muffin. Instead, you will only get to watch the process of decorating the imported pastry (from HQ in BM of course). At the moment, they have 5 flavors such as rainbow colored rice candies, strawberries, blueberry, orange and lemon.
On top of those donuts, they have sweet and savory buns. Since it's a pork-free establishment, it has chicken floss, chocolate crème, custard chocolate chips, canned pear slices and many more. They do serve muffin as well.
The packaging for the food items looked professionally designed but you have to take note that they do not provide you with plastic bags in case you have decided to purchase many boxes just like I did (Every single items in four large boxes :P). Well, who can resist promotions? For the first 2 days of their opening (25 & 26 April 2009), every items would be sold at only RM1 instead of the regular RM1.70 per item.
Here is the menu for the beverages and fruit juices as well.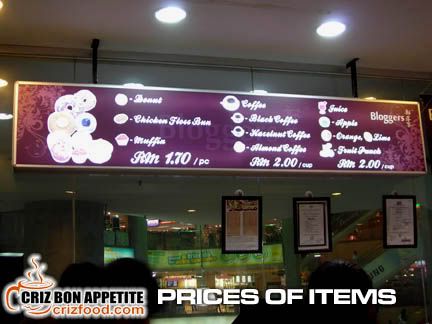 I'm sure most of you would like to know my verdict towards the products since I'm more of a food critic, right? Firstly, I must admit I'm not a sweet tooth and sweet to me means overused of sugar for the product. To me, except for the chicken floss bun, every single item was extremely sweet. Moreover, the donut pastry was not fluffy and light at all. The donuts have heavier texture and compound. Thus, they would be suitable for those who would want something to fill up their stomach. Two were my maximum intake as I was full by then. There was nothing special about the buns either. They were of a different shape of dinner rolls, rough and dry. They did not combine well with any of the toppings/fillings. I would have expected the usage of more fine textured buns instead. The muffin tasted quite good except that I felt that it was a bit too moist if anyone were to store it for the next day's consumption. Let alone what might happen if the muffin were to be left unrefrigerated in a hot and humid weather.
The kiosk is located at level one of Prangin Mall Atrium A (where Bread History, Secret Recipe, Starbucks, 7-ELEVEN, etc are). Use the main bubble lift to level 1. As you walk out of the lift, make two left turns and you will see the kiosk in between Pappa Roti and the police's summons payment counter.
Name: BLOGGERS CAFE
Prangin Mall Kiosk:
Lot A1/K07A, 1st Floor, Atrium A, Prangin Mall,
33, Jalan Dr. Lim Chwee Leong, 10100 Penang, Malaysia.
Business Hours: 11.00am-9.00pm
Contact: 016-256 6336 (Mr. Jimmy Siew)
GPS: 5.414701, 100.3318971
Headquarters:
Bloggers Café Sdn. Bhd. (launching soon)
No.11 Lorong Maju Utama 1, Pusat Perniagaan Maju Utama,
14000 Bukit Mertajam.
Contact: 604-538 2525
RATING:
Ambience: 6/10 (1-4 cheap, 5-7 average, 8-10 classy)
Food Choices: 6.5/10 (1-4 limited, 5-7 average, 8-10 many choices)
Taste: 6/10 (1-4 tasteless, 5-7 average, 8-10 excellent)
Pricing: 7/10 (1-4 cheap, 5-7 average, 8-10 expensive)
Service: 7/10 (1-4 bad, 5-7 average, 8-10 excellent)