I heard a lot about the many cat cafes around the world, with the opening of the first cat café in Taipei in 1998 (Café Dog & Cats/貓花園) and subsequently went viral in Japan, which received tremendous responses from the public. I was hoping all these while that they would have one here in Penang though there's already one being set up in Kuala Lumpur, Malaysia, not long ago. Finally, someone caught up with the concept and set up one such café in Penang. Since the end of last quarter in 2013, the news had spread to my ears that there would be a cat café opening soon in Penang. Being a pet lover ever since my childhood days and also as a cat blogger during the days when most of my little furry angels were still here running around on earth, the amazing news was something to be happy about. Finally, Purrfect Cat Café was officiated by our Penang Chief Minister, YAB Lim Guan Eng, on 26 January 2014. It's the first of its kind in Penang, located along Lebuh Muntri, within the buffer zone of the UNESCO World Cultural City of George Town, Penang.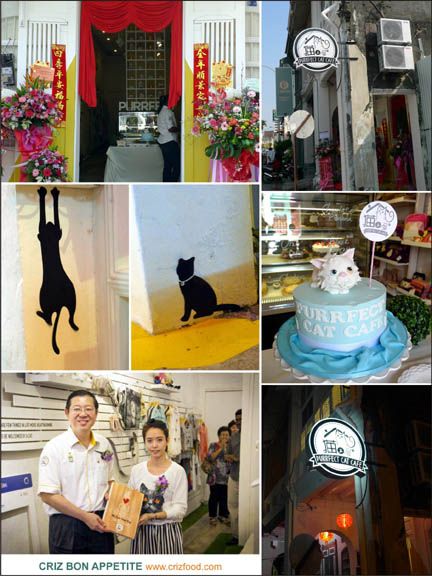 Here's a video clip on the Grand Opening by our Chief Minister, YAB Lim Guan Eng.
Unlike the one in Kuala Lumpur which also provides pet supplies, pet hotel and also pet grooming, Purrfect Cat Café basically sells cat related merchandizes at the ground floor and the café would utilize the top floor. The merchandizes range from T-shirt for both genders, bags, stationeries, soft toys, mugs, cute cat figurines, earrings, key chains and more. I do hope that they would also sell some cat supplies as well in the near future. Here's a peep at what you would be expecting upon entering the premises.
Currently, Purrfect Café is charging a minimum spending of RM18/pax. Depending on what their menu are on that day, there will be a fuss-free range of cakes, pastries, coffee and tea for you to choose from. The cakes at times would include crepe cakes and would be priced at RM11.90+/RM13.90+ per piece. The pastries on the other hand might include puff (RM6.90+ to RM8.90+/pc), pies (RM9.90+/pc to RM11.90+/pc), quiches (RM12.90+/pc) and pizzas (RM13.90+/pc). Beverages would include Brewed Coffee (RM7.90+ to RM10.90+), Germany's Ronnefeldt Tea by the Pot (RM12.90+), Dark Chocolate (RM12.90+), Fruit Champagne (RM8.90+) and Sparkling Ice Signature Drinks (RM12.90+). You would surely be impressed with the cat shaped teapots and mugs they utilized.
Prior to visiting the cats, you have to sanitize your hands and take off your shoe before moving upstairs where the cats are. Moving up the white wooden stairways of the premises would lead you to an enclosed area where there would be two segregated zones. One zone would be cat-free where you could sit down and enjoy your food and beverages while watching the adorable cats in their play room. The other zone would be the cats' personal play room and guest room where they would mingle with the guests while showing off their cuteness. Please take note that the cats' play room is out of bound for unauthorized humans.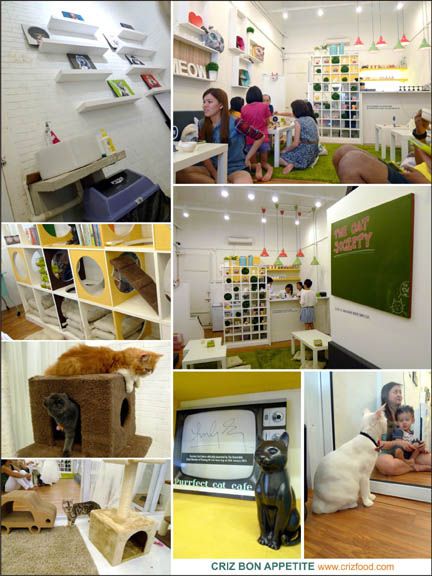 There's also the Terms & Conditions (as shown in photo below) while patronizing the cat café. Do take some time to digest the information stated within before moving into the cats' play room. Failing to do so, you might get yourself slapped with a heavy fine of RM100. Another new term would be that children below 10 years old cannot go into the room by themselves, unaccompanied by adults.
The cat café has 8 cats at the moment. They are the café mascot, Snowy, Orange, Bear, Teddy, Leo, Molly, Marble and Nala. To find out more on the breed and characteristics of the cat, please check out CRIZ CATS SANCTUARY.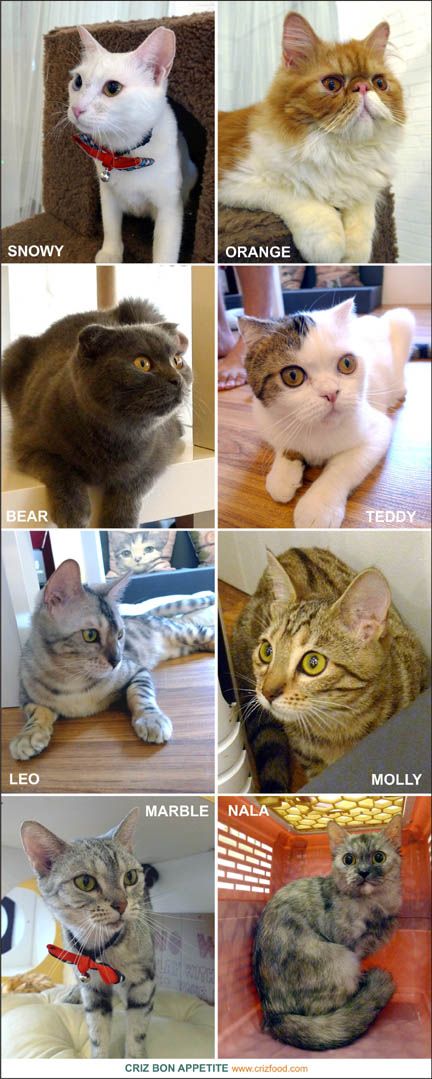 Generally, there are many complaints by the locals on the exorbitant charges of minimum RM18 for a two-hour session, which would be based on the accumulative cost of the food and beverages you have ordered. Just to be fair before I pass on any verdict, let's study the other cat cafes' charges in Malaysia as well as from overseas. In Kuala Lumpur, the "Country Cat Café" is charging RM14.90 per person per hour inclusive of one drink. In Japan first cat café, "Cat Store @ Neko no Mise", is charging RM5 (USD1.50) for every 10 minutes, meaning RM30 (USD9) an hour and they do have a special three-hour plan for RM72 (USD21.50). In Korea such as in the "Cat Attic" in Gangnam, no entrance fee or minimum hours limitations but you have to purchase at least one RM19 (USD6) worth of drink. Most patrons would spend around 1-2 hours of their time there. In Singapore, there's also the entrance fee of SGD14 (about RM36) plus a drink but unlimited time frame. So, you see, Purrfect Cat Café is not overcharging exorbitant fees compared to the rest of the same themed cafés throughout the world. Much like renting a pet, people do need to pay a surcharge to spend time with the cats and rules may vary from cafe to café. After all, such cat cafes would need to find ways to survive with the high cost of maintenance, especially when most of their cats are pedigrees. A true animal lover would understand this well. On top of that, it's also a way to keep away cheapskates and curious visitors, thus to avoid unwanted attention, distraction and stress towards the welfare of the cats.
However, it would be great if Purrfect Cat Café would have an hourly rate instead or maybe a minimum purchase of a drink. This would generate more turnovers and at the same time would cut down with the unnecessary overcrowded situations resulting in the lack of sitting spaces. Sadly, this also means that regulars such as yours truly would have to spend more by the hours. I do hope they have special memberships for regulars in the near future too. Overall, I love the café a lot but it won't do much good to my pockets if I were to visit those cute cats in a long run.
Purrfect Cat Café is located just 2 shop houses away from the Camera Museum along Lebuh Muntri. Finding a parking space along the narrow heritage stretch of road can be rather painstaking. The most practical way to get to the café would be by parking your car opposite the Cititel car park (Jalan Penang/Lebuh Muntri corner), along Leith Street or along Lorong Love (next to the St. Xavier's Institution) and go by foot towards the café. Please remember to buy your parking coupons or you would be slapped with a parking fine.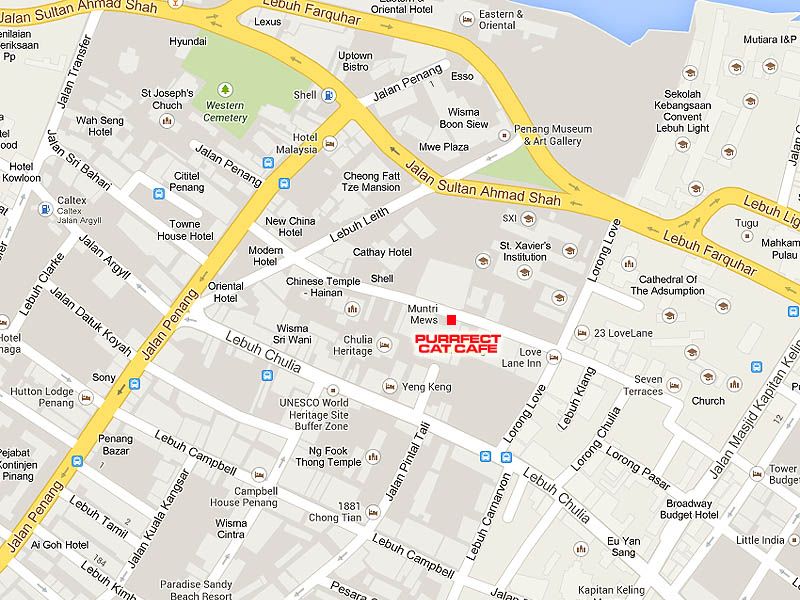 Name: PURRFECT CAT CAFE
Address: 53 Lebuh Muntri, 10200 George Town, Penang, Malaysia.
Contact: 604-261 1197
Business Hours:
Merchandize: 10.00am-7.00pm
Café: 11.00am-9.30pm
Cat Entry: 12.00pm-9.30pm
GPS: 5.419947, 100.335707
FB: www.fb.com/penangcatcafe
RATING:
Ambience: 7.5/10 (1-4 cheap, 5-7 average, 8-10 classy)
Food Choices: 7/10 (1-4 limited, 5-7 average, 8-10 many choices)
Taste: 7/10 (1-4 tasteless, 5-7 average, 8-10 excellent)
Pricing: 7/10 (1-4 cheap, 5-7 average, 8-10 expensive)
Service: 8/10 (1-4 bad, 5-7 average, 8-10 excellent)