SPECIAL PROMOTION FOR MY READERS: Just print this banner by showing my blog URL (http://www.crizfood.com/2283/chef-petrs-catch-seafood-buffet-sarkies-eastern-oriental-hotel-penang/) and make an early reservation with the hotel (604-222 2000 ext 3601/3602) before 24 April 2013 and you are entitle to dine in with a discounted rate of RM80++/pax (adult) and RM38++/pax (child). Offer only limited to the first 80 early reservations. One printout is for one pax only. Terms & Conditions apply.
If you are in for a seafood buffet of a different kind, do check out Chef Petr's Catch at Sarkies @ E&O Hotel, Penang. Priced at RM110++/pax (adult) and RM48++/pax (child), you'll get to savor quite a variety of imported seafood such as Alaskan Snow Crab Claws, Boiled River Cray Fish, Duo of Gravlax, Fresh Oysters on Ice, Marinated Cuttlefish, Seasoned Squid, Deep Fried Snow Crab Claws, Poached Black Mussels, Oyster Omelette and many more on a rotation basis. The seafood promotion which would be held on every Wednesday of the month would last until the end of April 2013. The seafood promotion would be headed by Chef Petr Feher, Executive Chef of E&O Hotel.
There were a few sections for this seafood buffet, starting with the Salad Section, Appetizer Section, On Ice Section, Baked, Grilled, Fried & Roasted Section, Hot Dishes Section, Action Counters, Fresh Fruit Cuts Section, Sweet Dessert Section to Hot Beverages Station. Let's start the meal healthy with the Salad Section. This section practically has a variety of items such as frisee, rocket, romaine lettuce, purple cabbage, red & green corals, iceberg lettuce, cherry tomatoes, olives, onion rings, pickles, dried fruits, croutons, pine nuts, sauteed mushrooms & garlic, capers and more with a selection of 8 dressings. On top of that, there was also a section where you can have some crackers to go with a variety of cheese such as Cheddar, Emmenthaler, Limberger, Camembert and more plus vegetable sticks for your crudités.
As for the Appetizer Section, there are many choices ranging from raw to cooked items. Some of the dishes included Salmon Sashimi, Assorted Sushi/Maki, Chuka Wakame, Chuka Idaho, Duo of Gravlax, Gado Gado, Grilled Vegetables, Canapes, Assorted Ready Made Salads, Smoked Mackerel (Tenggiri), Pan Seared Tuna and more.

On Ice Section was where all the imported seafood attractions were located. We have the famed Alaskan Crab Claws, River Cray Fish, Prawns, Black Mussels and Fresh Oysters.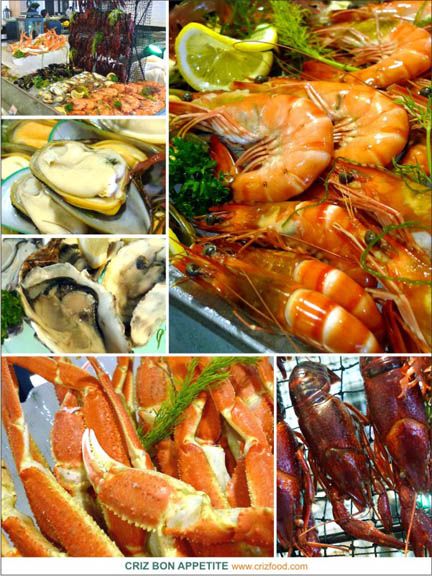 Along this stretch would be the Baked, Grilled, Fried & Roasted Section where you can savor the famed E&O Roasted Duck. It was indeed one of the best in town. On top of that, you can have some Cheese Baked Oysters, Oyster Omelette, Herbs Roasted Beef & Lamb, Grilled Meat (Beef, Lamb, Satay & Sausages), Grilled Seafood (Salmon & Scallop), Deep Fried Prawns, Spring Rolls, Samosa & Pandan Wrapped Chicken.
While waiting for your grilled items, you could always pay a visit to the Hot Dishes Section. Of course, there would be the Soup Station here where we had Onion Soup plus Tomyam Soup served with some bread and dinner rolls. On top of that, there would also be some Steamed Rice to be taken with a variety of hot dishes such as Masak Kicap Kambing (Dark Sauce Lamb), Roasted Chicken with Black Pepper Sauce, Sweet & Sour Fish (Deep Fried Sea Bass), Stir Fried Fish with Dried Chilies, Prawns in Coconut Paste, Thai Style Beef in Yellow Curry, Baked Potatoes and Chinese Stir Fry Mixed Vegetables.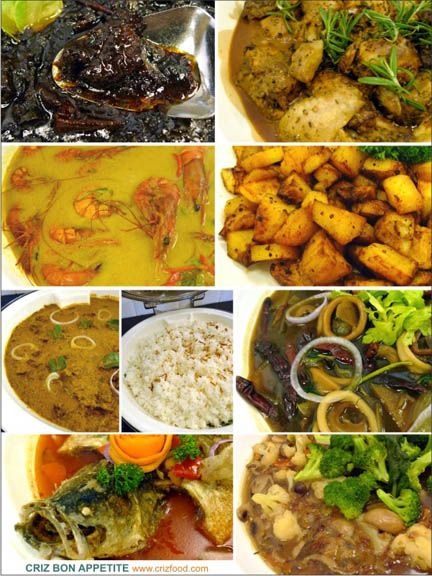 There was also the Action Counters where you can order your choice of Fried Noodles plus Stir Fried Seafood.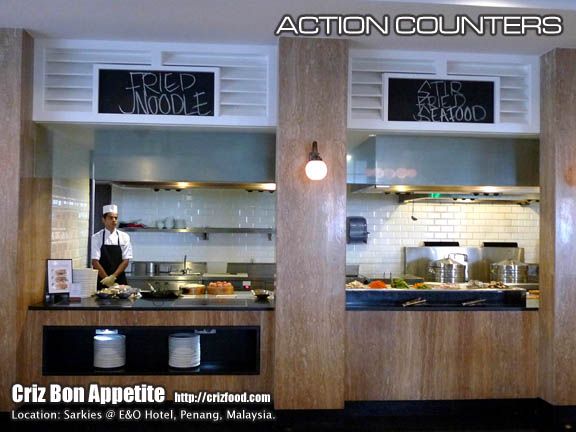 As for the Dessert Section, there would be two stations. One station would have a variety of fresh fruit cuts while the other would serve all the sweet temptations such as cakes, pastries and ice cream. You could also gather some sweet treats at the so called "Dessert Tree" in the middle of the dining room.
Scattered around the dining area would be two Hot Beverages Stations. There would be some Brewed Coffee & Tea and a machine for you to make your choice of coffee. You can be creative here too just like how I made my Affogato with 2 scoops of Vanilla ice cream plus double shots espresso. 😛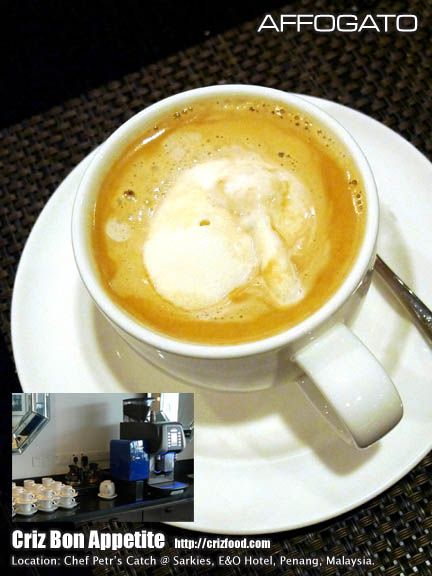 Overall, the quality of the seafood is there with quite a number of imported seafood. However, since it's a seafood theme with such an amount charged, the combination of seafood ought to be improved further with more options rather than using the same few seafood species and preparing them differently. Moreover, the combination of dishes is 3:2 for seafood versus meat. Ideally, it should be 7:3 or 4:1 combinations. For example, preparations of oysters have 3 types, namely fresh, cheese baked and omelette. Prawns also have 3 styles, boiled, fried and curry. The usage of salmon is definitely in abundance from sashimi, sushi, canapés, gravlax or even grills. Personally, I felt that the kitchen should infuse more local seafood with Asian flavors into the theme to make it more interesting. I'm sure both locals and tourists would love to try out our Banana Leaves Grilled Stingray, Sambal Stuffed Hardtail Mackerel or even various Portugese Seafood Grills, right? Even without the usages of the local seafood, the seafood theme should be more international. It could just be with the addition of the Spanish's Gambas Al Ajillo or Stuffed Grilled Squids or the French's way of Simple Baked Fish with herbs, salt & pepper. On top of that, some of the dishes served tend to be on the salty side while others were under flavors. The desserts may be attractively colorful and abundant but somehow they consisted mostly of different versions of cupcakes and macarons or a mix & match of both, a bit lack in unique choices.
Current Promotions by E&O Hotel can be viewed clearer by clicking and downloading the photo below:
Sarkies is located at the new wing of Eastern & Oriental Hotel, Penang (next to Penang Bowl) along Lebuh Farquhar. If you are coming from Jalan Sultan Ahmad Shah towards Weld Quay, keep to your left immediately after passing by CitiBank. When you see the Penang Bowl building on your left (UMW Toyota opposite), please slow down. Turn left immediately after the Penang Bowl entrance. The E&O Hotel car park is situated just inside the building. Parking charges would be a maximum of RM6 (weekdays: Monday-Thursday) and RM12 (weekends: Friday- Sunday)
Name: SARKIES @ EASTERN & ORIENTAL HOTEL
Address: 10 Lebuh Farquhar, 10200 Penang, Malaysia.
Contact: 604-222 2000
Business Hours: 7.00pm-10.30pm (Chef Petr's Catch on Wednesday only)
GPS: 5.423624, 100.334988
RATING:
Ambience: 8/10 (1-4 cheap, 5-7 average, 8-10 classy)
Food Choices: 8/10 (1-4 limited, 5-7 average, 8-10 many choices)
Taste: 8/10 (1-4 tasteless, 5-7 average, 8-10 excellent)
Pricing: 9/10 (1-4 cheap, 5-7 average, 8-10 expensive)
Service: 8/10 (1-4 bad, 5-7 average, 8-10 excellent)