To further celebrate the Chinese New Year 2014, Swez Brasserie @ Eastin Hotel, Penang, would be having its Chinese Odyssey Promotion for the month of February 2014 (2-28 February 2014). The promotion would be under the skillful hands of the Asian Kitchen Chef, Chef Chan Teik Onn. You would be able to savor the many varieties of authentic and fusion Oriental cuisine during this month.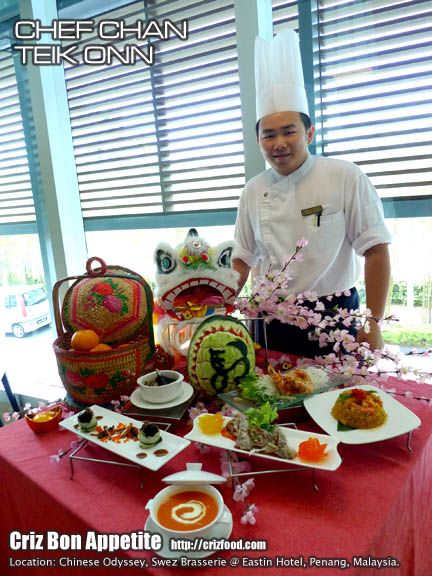 Some of the dishes that would be highlighted in the Chinese Odyssey Promotion in February 2014 would included dishes such as the Roasted Duck Roll with Spring Roll Skin (烤鴨春卷). Some fragrantly roasted duck slices would be wrapped together with some julienned vegetables such as cucumber and carrots in the traditional poh piah skin (spring roll skin) and served with their specially pepped up sauce.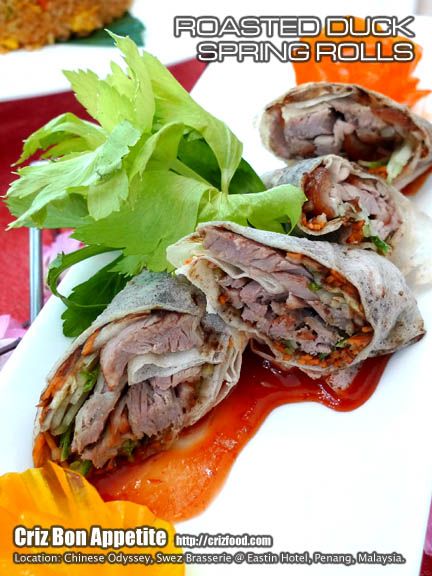 You would also get to savor the herbal soup – Braised Black Chicken with Snow Pear Soup (上禮雪梨烏雞湯). Black chicken or sometimes known as silkie, is a superfood that has been used in Chinese medicine for centuries. It contains an antioxidant known as carnosine which is beneficial to slow down the oxidation of other chemicals in the human body. Snow pear on the other hand is a great immune booster. It also has some cooling effect to lower the inner heat within the human body.
Another good dish to try out would be their Wok Fried Prawn with Mayonnaise and Nutmeg (豆蔻蝦). You would sure be impressed with how our local nutmeg would infuse a unique flavor into the dish.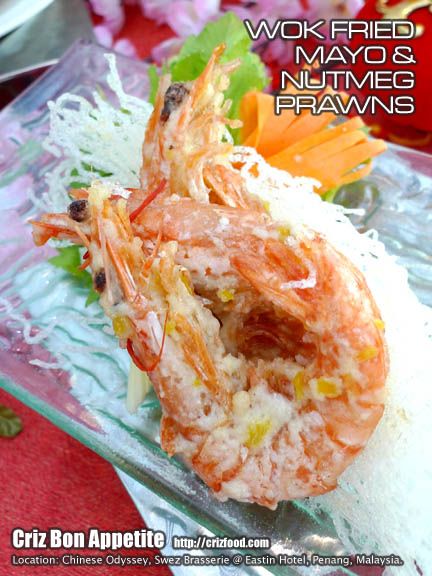 The Chinese New Year festive would not be complete with the symbolic Fatt Choy (sea moss) which carries the meaning of abundance in wealth. Thus, you would get to savor the Braised Trio Mushroom and Fatt Choy with Garden Green (發菜好旺市).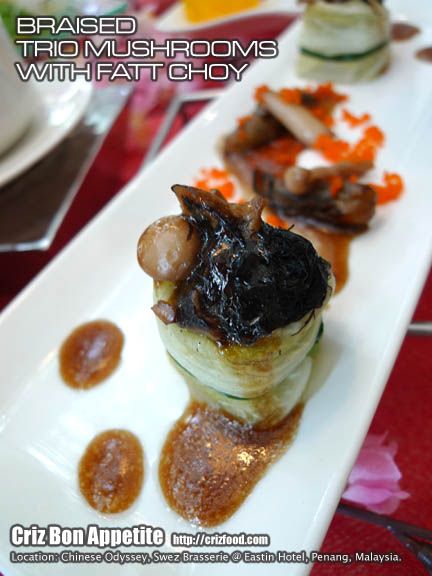 Of course, you would also get to try out their XO Fried Rice (頂级XO飯), created with their special XO sauce.
Since Malaysian is a tropical country with lots of local fruits, you would also get to taste their Double Boiled Papaya with Fresh Milk (木瓜燉奶). Papaya is a delicious tropical fruit which has a great taste, mouthwatering flavor and great health benefits. Some of its benefits include preventing constipation, lowering blood cholesterol, anti-aging, promoting weight loss.
Overall, the choices of dishes served here have the balance of yin and yang for general wellness. The kitchen are also quite creative this time round to make full use of the local ingredients to pep up the flavors of their dishes more. Great work!
Here's the summary of all the promotions throughout the year.
SWEZ BRASSERIE PROMOTION 2014 (JANUARY-DECEMBER 2014)
Lunch (12.00 noon – 2.30pm): Monday – Friday
RM50++ (adult), RM25++ (child)
Hi-Tea (12.00 noon – 4.00pm): Saturday, Sunday & Public Holidays
Normal weekend: RM58++ (adult), RM29++ (child)
Festive Occasion: RM68++ (adult), RM34++ (child)
Weekend Buffet Dinner (6.30pm – 10.00pm): Friday & Saturday
Friday (Free Flow Friday with Wine): RM128++ (adult), RM48++ (child)
Saturday (Pirate Seafood Night): RM80++ (adult), RM48++ (child)
Semi Buffet Dinner (6.30pm – 10.00pm):
Sunday – Tuesday & Thursday: RM50++ per pax
Wednesday (Wine & Dine): RM95++ per pax
For Standard Chartered Bank, CIMB Bank, Citibank and MasterCard Worldwide card members, you can enjoy 15% discount for the Semi Buffet Dinner (Sunday to Thursday, excluding Wednesday) and Weekend Buffet Dinner (Friday & Saturday) from 6.30pm – 10.00pm.
The Swez Brasserie is located at the ring wing of Eastin Hotel, Penang (next to Queensbay Mall). If you are coming from Georgetown towards Bayan Lepas Free Trade Zone via Bayan Lepas Expressway, do watch out for the Pulau Jerejak signboard (leading to Pulau Jerejak jetty). Ignore the turning and drive on to the next left junction. Turn left into Jalan Aziz Ibrahim and drive on until you a roundabout. Turn 3 o' clock and drive on until you see a big Eastin Hotel signboard at the first right junction. Turn right and drive on. Park your car at the basement car park. Take a lift to the first floor lobby and you would see the restaurant there.
Name: SWEZ BRASSERIE @ EASTIN HOTEL
Address: 1 Solok Bayan Indah, Queens Bay, 11900 Bayan Lepas, Penang, Malaysia.
Contact: 604-612 1128, 604-612 1138
Business Hours: 12.00pm-2.30pm (Lunch), 6.30pm-10.00pm (Dinner)
GPS: 5.33643, 100.306345
RATING:
Ambience: 8/10 (1-4 cheap, 5-7 average, 8-10 classy)
Food Choices: 7/10 (1-4 limited, 5-7 average, 8-10 many choices)
Taste: 7.5/10 (1-4 tasteless, 5-7 average, 8-10 excellent)
Pricing: 7.5/10 (1-4 cheap, 5-7 average, 8-10 expensive)
Service: 8/10 (1-4 bad, 5-7 average, 8-10 excellent)