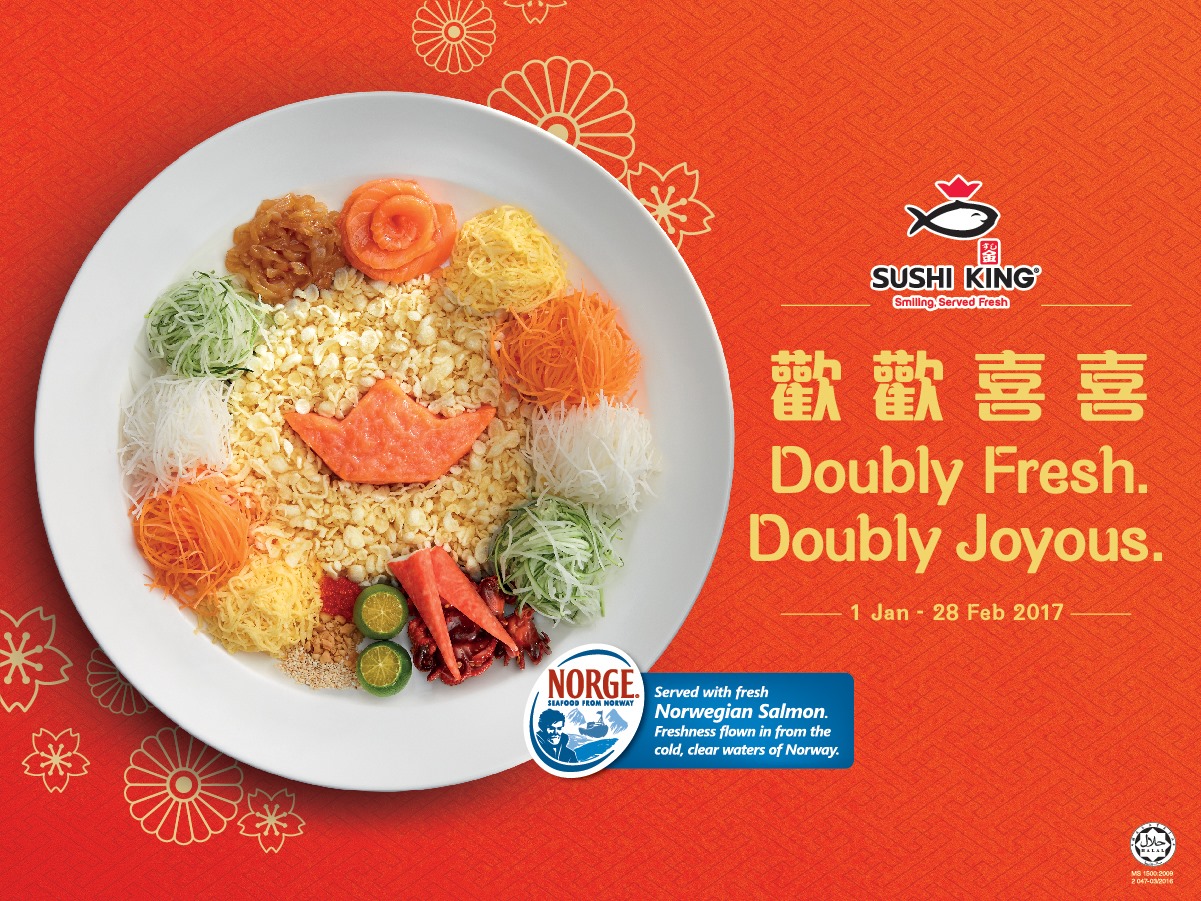 Malaysia's all-time favorite Japanese restaurant, Sushi King from nationwide would be promoting several delectable auspicious dishes this festive season to usher in the Rooster this coming Chinese New Year 2017. Quality and Freshness have always been the priorities of Sushi King to ensure the fulfillment of its diners. The promotion would be "Doubly Fresh, Doubly Joyous" from 1 January 2017 until 28 February 2017. More surprises would be shared below.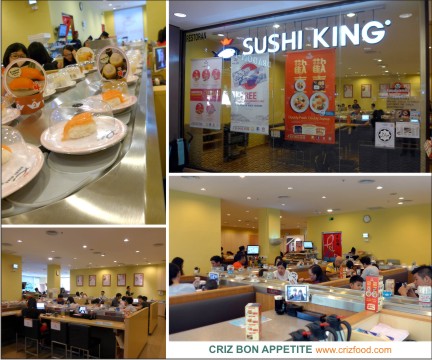 To start off a brand new season, do toss to a doubly joyous and prosperous year with the highlight of the season, Prosperity Yee Sang (RM45.88++ for 4-6 pax). The dish is made with fresh quality ingredients rather than those prepacked versions and served with premium Norwegian salmon, harvested from the clear blue waters of Norway. Sushi King's Prosperous Yee Sang is indeed a version out from the norm as it has all the healthy julienned vegetables plus crunchiness coming from their daily made tempura bits. Moreover, what I like most about this version is that it has both sliced and minced salmon added. Thus, everyone would have a fair share of the delicacy. You would have an option to choose their Tangy Plum Sauce or with a combination of Tangy Plum Sauce & Wasabi Sauce. You can also have their Regular Yee Sang (RM38.88++ for 4-6pax) or Longevity Yee Sang (RM18.88++ for 2-3 pax). However, my preference would still be the Prosperity Yee Sang.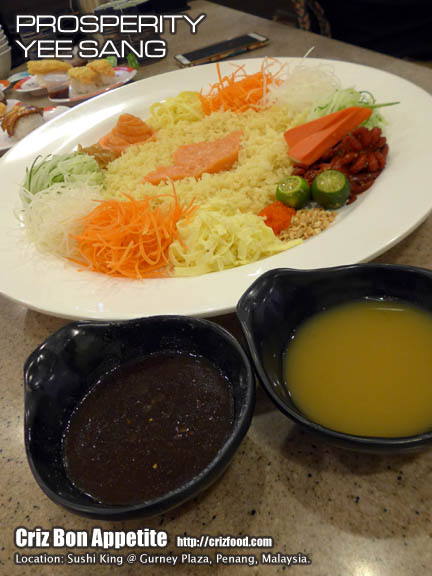 For those who would like to try out their Yee Sang but do not have the crowd to join in, you can have your personal mini Yee Sang, by ordering their CNY Bento (RM19.90++). The bento would come with deep fried chicken, deep fried salmon and served with fragrant Japanese rice.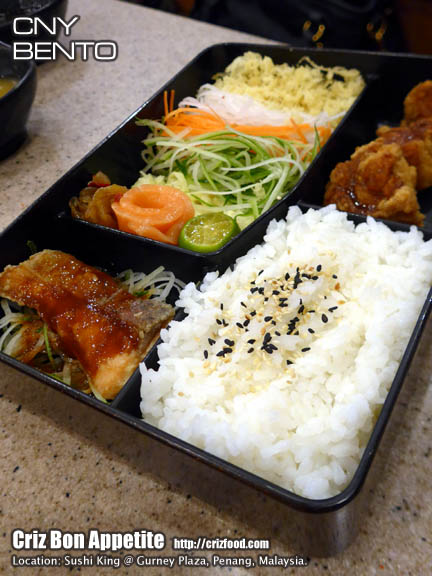 Alternatively, if you do not like Yee Sang, you could also try out their Seafood Bento (RM18.90++). This dish has tempura batter fried salmon, squid, prawns, long bean and korokke (potato croquette), served with fragrant Japanese rice.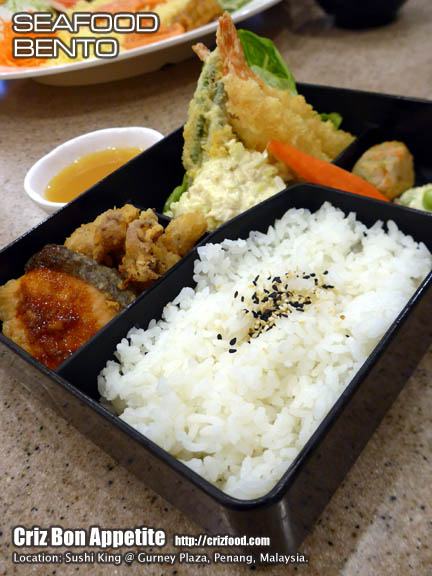 For this festive season, you would also get to try our Sushi King's own version of Salmon Don (RM8.88++). It has deep fried salmon belly and flying fish roe on top of their fragrant Japanese rice.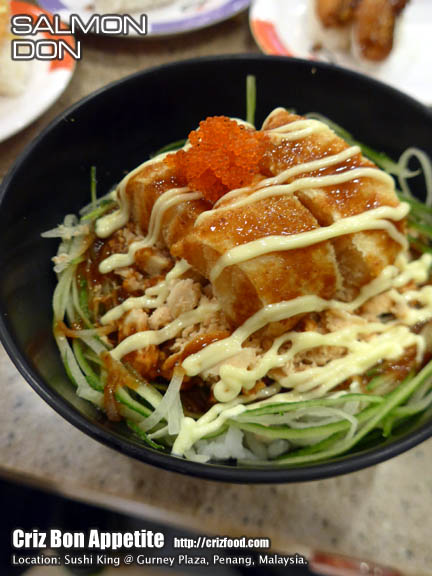 On the other hand, their Ontama Salmon Don (RM8.88++) would be a little different as it has salmon flakes, soft boiled egg and flying fish roe on top of their fragrant Japanese Rice.
There will also some special sushis exclusively created for this season such as the Spicy Salmon Teriyaki Sushi (RM5++), Salmon Teriyaki Sushi (RM5++), Fried Salmon Sushi (RM5++) and Assorted Sushi (RM6++).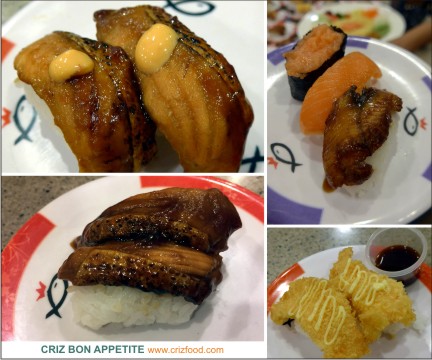 For dessert, we had Hanjuku Cheese Cake (RM4++/pc), a soft baked cheese cake that caught me yearning for more. It was extremely delicious for everyone, regardless of age, as the sweetness and fluffiness of the cake was just right. I would advise you to request for a chilled version as it was perfect to end any meal.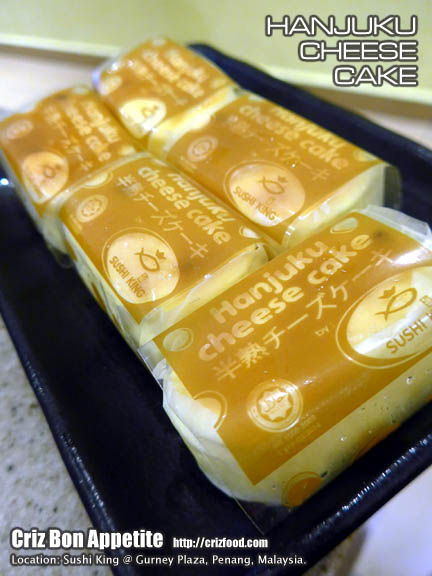 Do check out on the current promotion (1 January 2017 – 28 February 2017) as each customer who spends RM68 and above in a single receipt at any Sushi King outlet, can receive an exclusive set of Sushi King Daruma Ang Pows and he/she would also be entitled in the running of the "Win an all expenses paid" trip to Tokyo.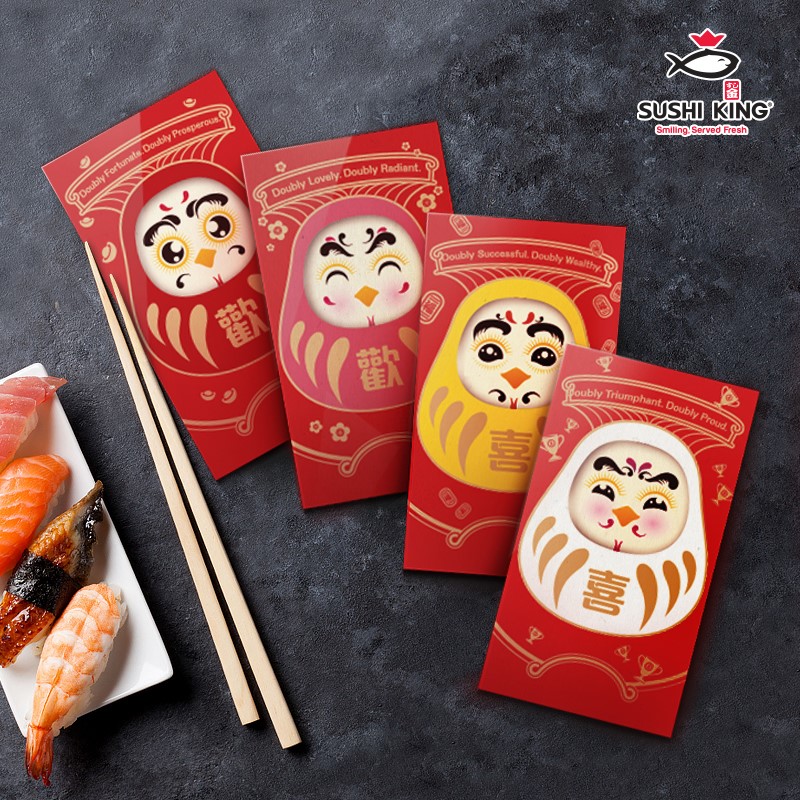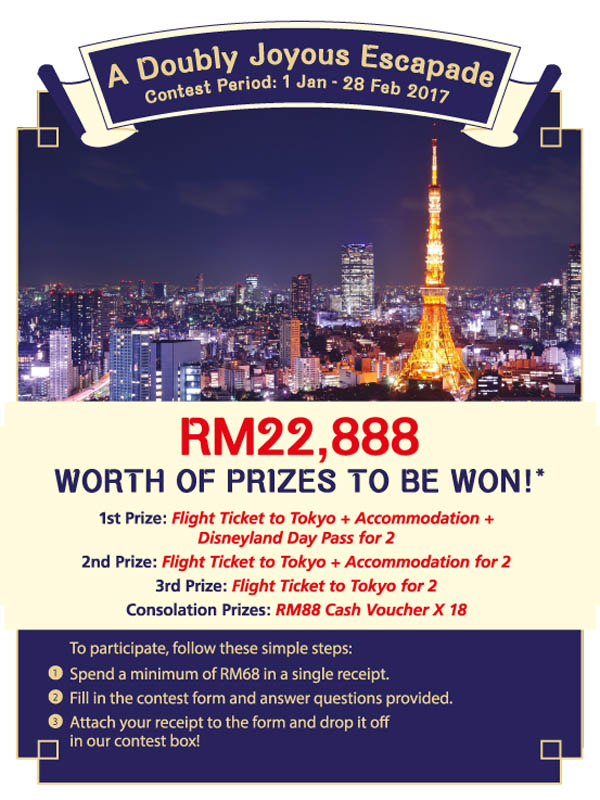 Overall, I'm contended with the dishes served, especially the fresh air-flown Norwegian salmon dishes. On top of that, the Prosperity Yee Sang with sliced and minced salmon is a great way to enjoy the dish to ensure that everyone has their share of raw salmon. The CNY Bento on the other hand was also a great dish to ensure that each diner would have their own portion of yee sang for the joyous occasion.
The Sushi King @ Gurney Plaza is located at level 2 of the new wing. Just use the escalator up to level 2 and you can see the outlet on the right.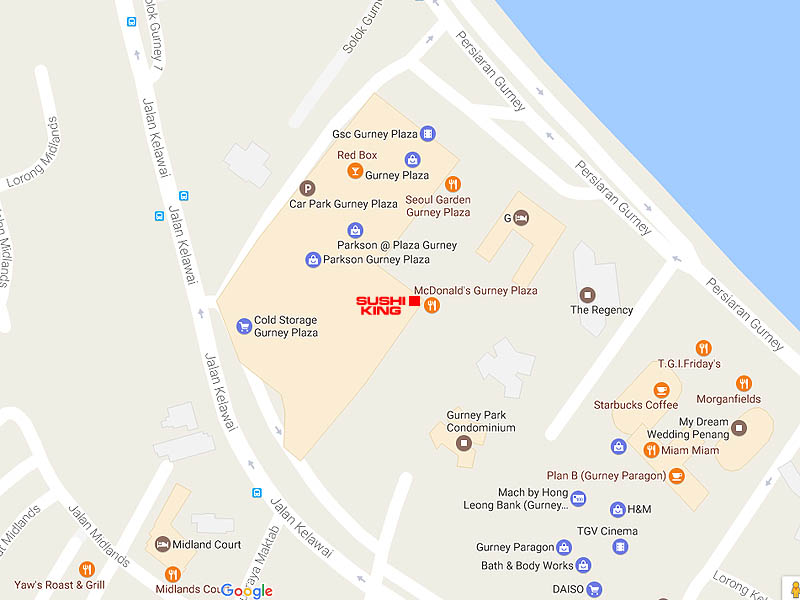 Name: Sushi King @ Gurney Plaza
Address: Lot No. Lot 170-02-58, Plaza Gurney, Persiaran Gurney, 10250 Georgetown, Penang, Malaysia.
Contact: +604-227 5285
Business Hours: 10.00am-10.00pm
GPS: 5.437096, 100.309867
RATING:
Ambience: 7/10 (1-4 cheap, 5-7 average, 8-10 classy)
Food Choices: 8/10 (1-4 limited, 5-7 average, 8-10 many choices)
Taste: 8/10 (1-4 tasteless, 5-7 average, 8-10 excellent)
Pricing: 7/10 (1-4 cheap, 5-7 average, 8-10 expensive)
Service: 9/10 (1-4 bad, 5-7 average, 8-10 excellent)