Who would say that no one could ever prosper in local product businesses in Penang? One great example would be Gartien(小田佳園), a local manufacturer of pineapple cakes, which obtained their raw pineapples from nearby plantations throughout the southern part of mainland Penang. The Penang Hokkiens would depict pineapples as "Ong Lai! Ong Lai!", which would translate as "Endless Flow of Prosperity!" in simple English – a great omen to start any business, especially with pineapple products. Within a short two years, Gartien had expanded from a humble heritage unit to double multi-storey units, with more state-of-the-art equipments to cater to the ever increasing demands of its customer. It was indeed an honor for me to be invited to be present at the grand opening of the new Gartien on 20 July 2014. Gartien – a confectionery company set up by a Penang boy, using Penang's own natural resources to make Penang's own pride product to promote to the rest of the world – Gartien Pineapple Cakes. Thumbs up!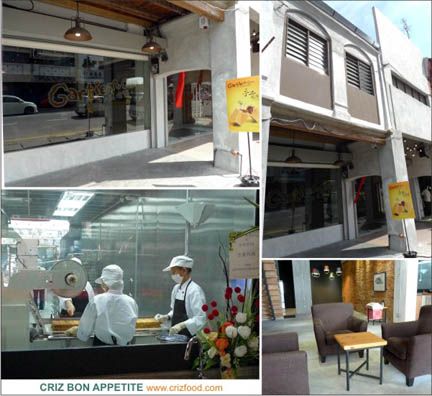 The grand opening of Gartien was officiated by YB Dr. Afif bin Bahardin, Pengerusi Pertanian & Industri Asas Tani, Pembangunan Luar Bandar dan Kesihatan, witnessed by Joseph Tan, Gartien's Pastry Chef, YB Teh Lai Heng, State Assemblyman of KOMTAR, Tuan Haji Ahmad, Pengarah Pertanian Pulau Pinang, Dato Dr. Kenny Ong, Group Executive Chairman of MTT Group of Companies and Mr. Lee See Hai, main supplier/partner.
(Left to Right) Tuan Haji Ahmad, YB Teh Lai Heng, YB Dr. Afif bin Bahardin, Joseph Tan, Mr. Lee See Hai & Dato Dr. Kenny Ong
The guests-of-honors also unveiled the new Gartien Mid Autumn edition of the pineapple cakes with vibrant and attractive packaging.
GARfield, the long distance relative of GARtien, also came all the way to witness the grand occasion~ LOL~ 😛
The grand opening was witnessed by dignitaries, media, bloggers and invited guests. Finger food items catered by Bamboo Catering were also provided during the occasion.
What makes Gartien Pineapple Cakes so in demand by its loyal fans? Firstly, each delectable piece of the pineapple cakes is filled with strict quality controlled fresh homegrown pineapples cubes minus the preservative and artificial colorings. Thus, you would have pure bites instead of puree. Secondly, it took the pastry chef months of painstaking research and development (R&D) to come out with the perfect ratio for the perfect bite. Each piece of the pineapple cakes is affectionately handcrafted to ensure the right combination of shortbread pastry and filling based on its strict standard operation procedures (SOP). The end product would be an aromatic, crumbly, buttery shortbread pastry with a healthy level of sweetness from the freshly simmered brunoised pineapples. Each guilt-free piece of the pineapple treats would best to go with a cup of hot and unsweetened tea such as Oolong (烏龍茶), Jasmine (茉莉花茶), Ginseng Tie Guan Yin (人參鐵觀音), Earl Grey with a slice of lemon and more.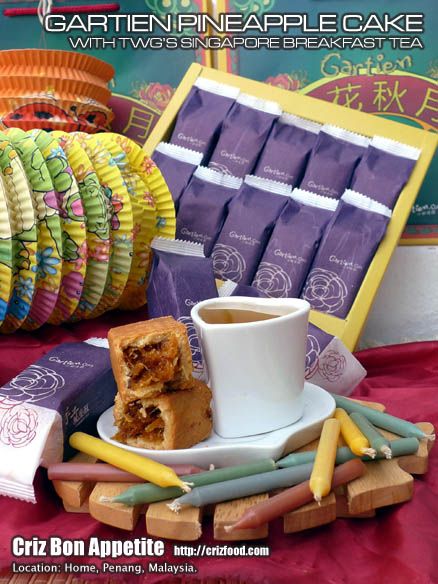 Alternatively, these yummy snacks would also go well with unsweetened flower teas such as Rose, Lavender, Butterfly Pea, Chrysanthemum and more.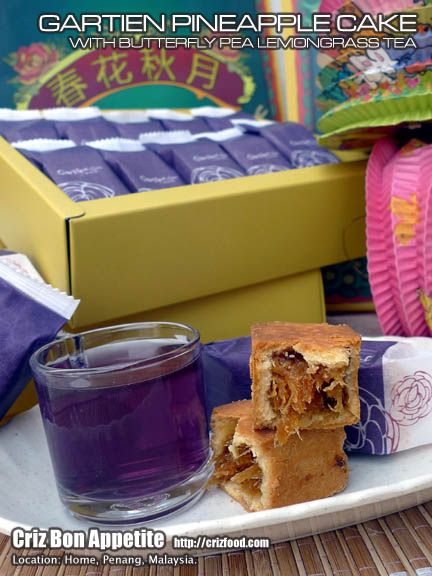 PROMOTION FOR MID AUTUMN 2014:
BY 4 AUGUST 2014:
In order to get your FREE BOX of Gartien 小田佳园 Pineapple Cakes with EVERY 5 BOXES purchased, please submit your pre-order form by 4 August 2014 at http://gartien.com/shop/
5 AUGUST 2014 onwards:
In order to get your FREE BOX of Gartien 小田佳园 Pineapple Cakes with EVERY 10 BOXES purchased, please submit your pre-order form at http://gartien.com/shop/
Note: Each box is fixed price throughout the year. The selling price per box with 10 pieces of pineapple cakes is RM45 (self collect only). A fix courier charge of RM10 & RM40 will be applicable to all deliveries within Peninsular Malaysia & East Malaysia respectively.
So, what did Garfield think about Gartien's pineapple cakes? Well… He would forgo his favorite lasagna for awhile~ LOL~ 😛
Overall, I find the pineapple cake to be awesome, not only through its freshness and real pineapple texture but also due to its versatility to be served during any occasion. After all, pineapples are low in fat and cholesterol and contain calcium, potassium, magnesium, copper, Vitamin B1, B6 & C and dietary fiber, which are rich in nutrients for the body.
Finding the bakery won't be hard as it is situated right in the heart of George Town, Penang. If you are coming from KOMTAR along Jalan Penang via Jalan Magazine, you would see the outlet just next to the famous Kek Seng Coffee Shop (格成茶室). Parking can be quite limited since it's a main road. However, the good news is that Gartien had recently worked out a deal with the management of Hotel Central. You can now park your car at their car park via Lorong Bertam and Gartien can stamp your parking ticket for free parking. How convenient it is now, right? 🙂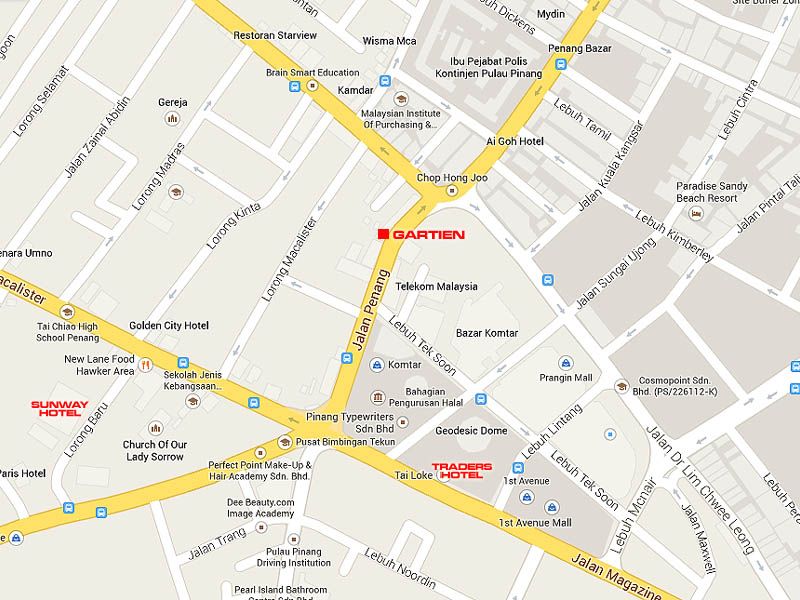 Name: GARTIEN @ 小田佳園
Address: 380, Jalan Penang, 10000 Penang, Malaysia.
Contact: 604-229 0068
Website: www.gartien.com
Email: info@gartien.com
FaceBook: www.fb.gartien.com/
Business Hours: 9.00am-6.00pm
GPS: 5.416298, 100.329380
RATING:
Ambience: 8/10 (1-4 cheap, 5-7 average, 8-10 classy)
Food Choices: 4/10 (1-4 limited, 5-7 average, 8-10 many choices)
Taste: 8/10 (1-4 tasteless, 5-7 average, 8-10 excellent)
Pricing: 7.5/10 (1-4 cheap, 5-7 average, 8-10 expensive)
Service: 9/10 (1-4 bad, 5-7 average, 8-10 excellent)