GARTIEN@小田佳園, Penang's foremost pineapple cake manufacturer, has recently launched their limited edition of Seasonal Crystal Pineapple Confiture, retailed at RM16.80 per bottle. It's basically chopped up pineapple slices, slowly stewed under pasteurized conditions with minimal added sugar, combined with a mild touch of lemon zest. The differences between confiture and jam is that confiture contains more fruits and is normally prepared using a whole or chopped up piece of fruits while jam is normally mashed up and cooked until a puree like consistency. Gartien's Seasonal Crystal Pineapple Confiture is almost near the natural flavors of pineapple with just the right amount of sweetness to make it the perfect, convenient and versatile ingredient to complement with many sweet and savory dishes.
Before I show you how versatile this confiture is with my own creations, let me show you the many ways you can get your hands on the product. Firstly, you can purchase a bottle off the counter. However, please take note that the crystal pineapple species is seasonal, thus the supplies are quite limited. Secondly, you can try to win yourself a bottle by joining in the simple requirements as listed below.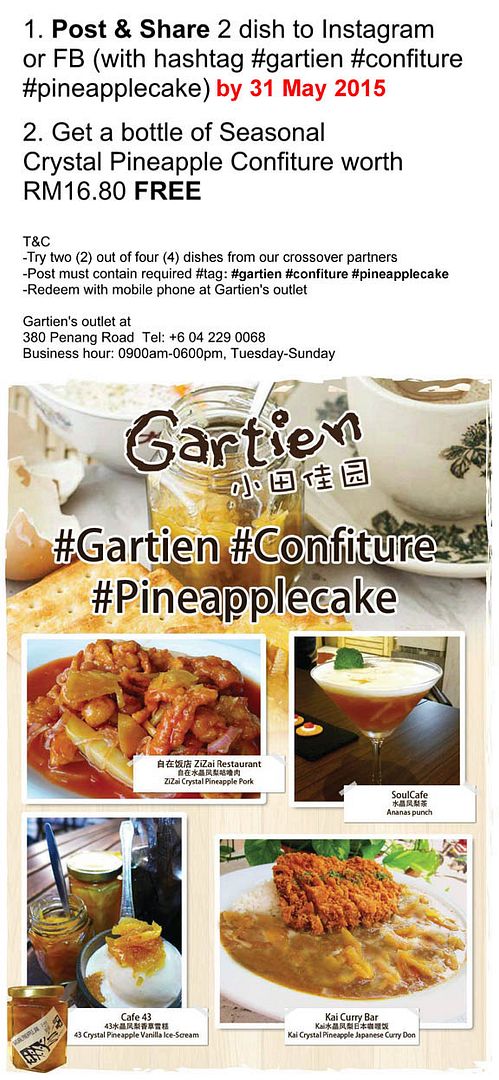 The Gartien Crossover Partners are:
Name: ZI ZAI RESTAURANT (自在飯店)
Address: 1239-G, Ground Floor, Jalan Paya Terubong, 11600 Penang, Malaysia.
Contact: +604-826 5173
Business Hours: 5.30pm – 10.30pm (Closed Tuesday)
GPS: 5.387212, 100.274013
FB Page: https://www.facebook.com/zizairestaurant
Seasonal Dish Promotion: CRYSTAL PINEAPPLE SWEET & SOUR PORK (RM12)
Other recommended dishes: Poon Choi, Salted Fish Steamed Minced Pork, Sambal Lala, Braised Hammock, Belacan Chicken and more.
Name: KAI CURRY BAR
Address: 15, Jalan Phuah Hin Leong (Off Jalan Burma), 10050 Penang, Malaysia.
Contact: +604-226 0322
Business Hours: 11.00am-3.00pm, 6.00pm-9.00pm (Closed Sunday & Monday)
GPS: 5.423637, 100.322570
FB Page: http://www.facebook.com/pages/Kai-Curry-Bar-15-Jalan-Phuah-Hin-Leong-Off-Jalan-Burma-Penang/1513938712195108 and http://www.facebook.com/UmaiKitchen
Seasonal Dish Promotion: CRYSTAL PINEAPPLE JAPANESE CURRY RICE (RM18.90)
Other recommended dishes: There will be options for pork, chicken, fish and hamburg on rice/udon with either pork gravy or vegetarian gravy.
Name: 43 CAFE
Address: 43, Jalan Sungai Dua, 11700 Penang, Malaysia.
Contact: +6016-430 7009
Business Hours: 5.00pm-10.00pm (Daily)
GPS: 5.353265, 100.303813
FB Page: http://www.facebook.com/43Cafe
Seasonal Dish Promotion: CRYSTAL PINEAPPLE TOPPING ON HOMEMADE ICE CREAM (RM9)
Other recommended dishes: Dry-aged Pork Belly, Dry-aged Pork Steak, Sous-vide Chicken, Pork Satay, Egg Pecah and a wide selection of homemade alcoholic & non-alcoholic ice cream.
Name: SOUL CAFE
Address: 12, Jalan Kek Chuan, 10400 Penang, Malaysia.
Contact: +6016-430 7009
Business Hours: 11.00am-11.00pm (Closed Sunday)
GPS: 5.415079, 100.324503
FB Page: https://www.facebook.com/yourSoulCafe
Seasonal Dish Promotion: ANANAS PUNCH (RM11)
Other recommended dishes: Linguine al Vongole Pesto, Spaghetti al Amatriciana, Chicken Roulade with Aioli Sauce, Salmon Steak with Mustard Tarragon Sauce, Gula Melaka Cheese Cake and more.
Since I have some of the Gartien's Seasonal Crystal Pineapple Confiture around, I created some healthy recipes out of the product and the end products were excellent.
The first creation was Prawn & Meat Ball with Crystal Pineapple Salsa. The prawn and meat ball had a little marinate of soy sauce, sesame oil, pepper, sugar, corn starch with lots of chopped onions. The inner part was moist and juicy while the crust had that mild crisp from slow pan searing. The Salsa basically consisted of chopped crystal pineapple confiture, onions, cherry tomatoes, parsley with some light touches of extra virgin olive oil and salt. The whole concoction will be great for tapas parties.
The next creation was the Crystal Pineapple Mint Tuna Yoghurt on Cheese Toast. As for the bread, I had a piece each of round cut and ring cut wholemeal bread with a piece of cheese stuffed in between. These were oven toast for 5 minutes to bind them into a "cup" base. The filling had yoghurt, chopped mint leaves, dry herbs, tuna chunks in olive oil and chopped crystal pineapple all stirred together to get the right balance in flavors. I had some sprinkles of ebiko and sweet paprika to boost up some colors. This would be another great party idea to impress your healthy guests.
Since most of us have been indulging in rich meals most of the time, I had decided to come out with a healthy beverage to help you all in detoxification. LOL~ 😛 I called this drink – Healthy Detox Juice with Crystal Pineapple and it's full of digestion-boosting enzymes. You can either juice or blend the ingredients. However, I only have a blender in hand, thus I just sieved the end product and pour it into a glass filled with a scoopful of the Gartien's Seasonal Crystal Pineapple Confiture. Just top up with some ice cubes and you can start enjoying your refreshing drink. The recipe is rather easy as you need to blend in just a green apple, 10 mint leaves, a cup of fresh coconut water, a teaspoon of honey and a mini pinch of salt. Sieve and serve chill.
You can also check out Nicole's Homemade Delicacies. She came out with a nice Crystal Pineapple Cheese Cake to share with some of us. Nicole is not new in the game of making and baking delicious homemade cakes. Some of her orders include Mango Cake, Belgium Chocolate Cake, Party Cupcakes, Tambun Biscuit, Bak Kua, Bak Hu and so on. Do check out her FaceBook for more information. Please also take not that she'll also be producing the limited edition of Crystal Pineapple Cheese Cake for the month of May 2015. You can call Nicole Ann Ng at +6012-492 1648 to make your order now~ 🙂
Overall, I personally feel that this is a great add-on product to ease many kitchens. Not only will it save a long period of time in pepping up some confiture for a dish, it also adds some boosting flavors to many dishes. In short, it's a miraculous creation for just any dish, from meat, poultry, seafood, vegetables to desserts. I have created some recipes here and let's see what else you can create with this product. So, go grab a bottle or more at Gartien now before the season is over. Lastly, let's hope Gartien can keep the supplies ongoing by coming out with other pineapple species as well?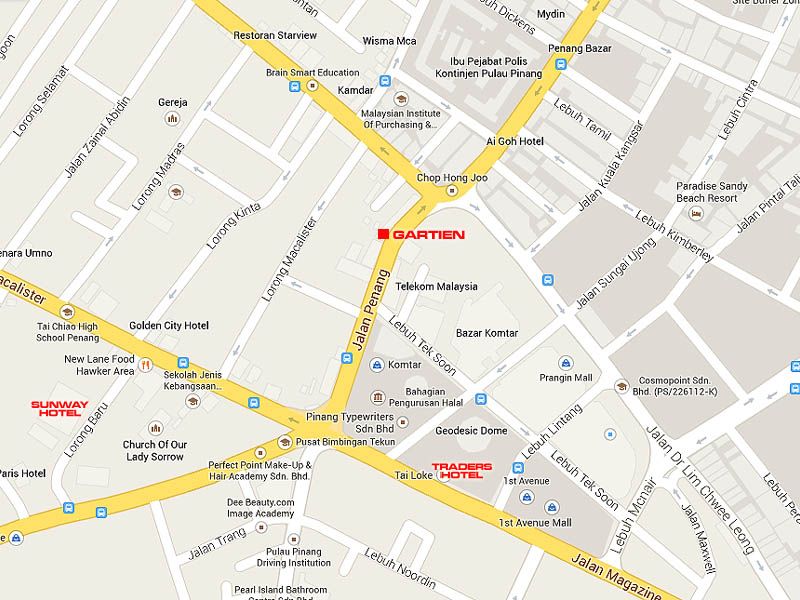 Name: GARTIEN @ 小田佳園
Address: 380, Jalan Penang, 10000 Penang, Malaysia.
Contact: 604-229 0068
Website: www.gartien.com
Email: info@gartien.com
FaceBook: www.fb.gartien.com/
Business Hours: 9.00am-6.00pm
GPS: 5.416298, 100.329380