During my recent stay at E&O Residences, right in the heart of Kuala Lumpur, I managed to pay a visit to Delicious @ Bangsar Village II to check out their forth coming "Inspired by Tapas" promotion as well as new items in their menu. The "Inspired by Tapas" menu would cover 10 small dishes created by Delicious' CEO, Steve Allen, and Executive Chef, Sandy Alan Rowe. The menu would run from 4 January 2016 until 31 March 2016. The price quoted within would be in nett price, which is inclusive of 6% GST and service charge free.
Let's have a peek at what would be in store for you in the "Inspired by Tapas" promotion in January 2016. Firstly, you would get to try out their Baked Pumpkin with Grilled Prawns (RM17.50). I loved this dish a lot as the aromatic and earthy flavors from the baked pumpkin, combined with some arugula salads and flavors from the grilled prawn, was palatable to my liking. At least, it was less sinful to my healthy diet.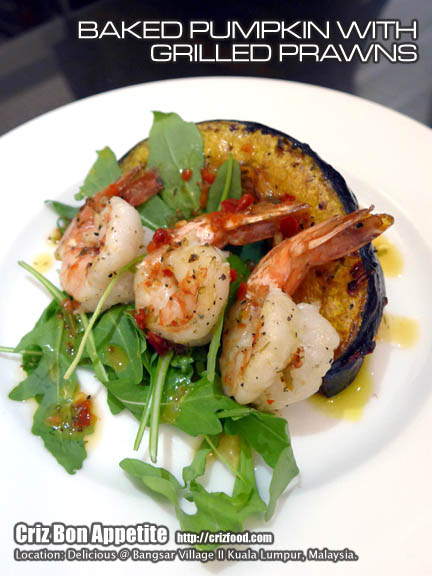 Next on the list was the Baked Chicken Thigh with Romesco Sauce and Toasted Almonds (RM15.50). Though the baked chicken thigh was nothing much to shout about, I would personally think that it needed a bit more herbs to pep up the flavors. However, I liked the complement of the romesco sauce as it had that earthly, nutty and yet garlicky tomato sweetness to my liking. It was a bonus to have some additional toasted almond flakes on the dish.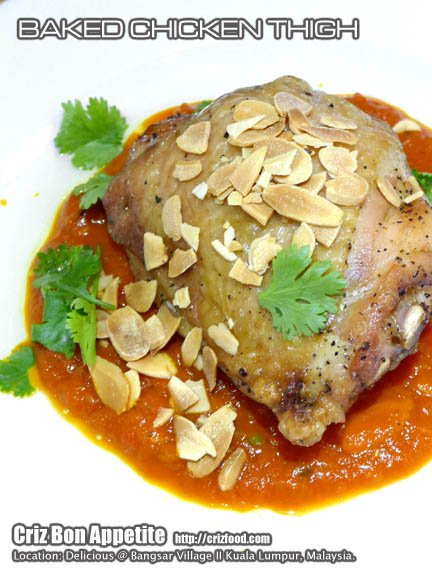 The next dish reminded me of sauteed mushrooms on bruschetta. It was their Creamed Garlic Mushrooms with Croutons and Poached Egg (RM13.00). Immediately, I fell in love with this dish as I loved how the kitchen had presented the dish in a different style. The oozy greatness of the poached egg added some extra creaminess to the dish. However, it would be great if there were some added greens to go with the dish as it could be quite surfeit to drown in all the creaminess.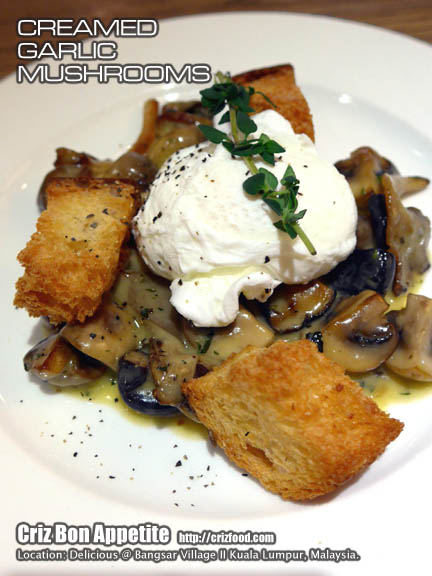 Malaysians love satays and the next dish was something that caught everyone yearning for more. It was their Grilled Beef Skewers (RM18.00), served with tomatoes, red onions and peppers on a bed of garlic fried potatoes. The nice marinate and the smoky flavors on the tender yet juicy skews of beef chunks were heavenly.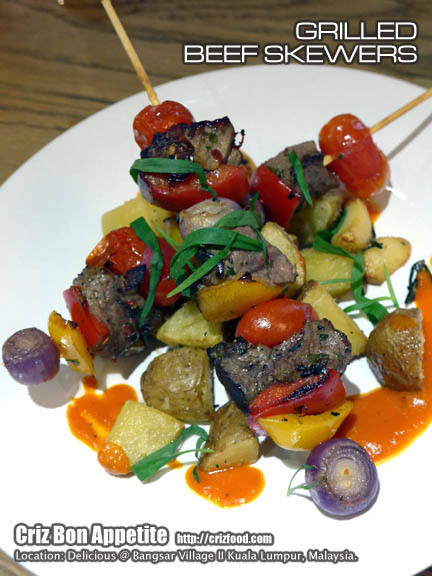 The next dish in the list was their Black Cod with Capsicum Sauce (RM18.00). Somehow, this dish did not impress me as the flesh was not as smooth and fatty as that of a Pacific cod. Anyway, black cod is not a cod fish as named but more towards the texture of halibut which is firmer and flaky. Its actual name is sablefish. Moreover, I personally felt that the taste from sauce overwhelmed the true flavors of the fish.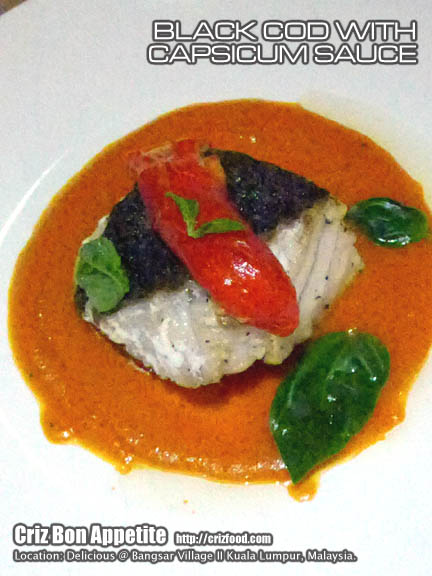 On top of the tapas inspired dishes, there are some new items added into the menu such as the Crunchy Chicken Wings with Sesame and Seaweed Crust (RM18.00), served with mustard mayonnaise. We all loved the wings as each bite was pepped with flavors. With a little dip into the provided condiment, it was the perfect dish to sink your teeth onto.
Who would have thought that such basic item such as the Pumpkin Risotto Balls (RM13.50) would have created a list of followers? The pumpkin, mushroom and rosemary infused risotto balls, deep fried to perfection and served with some pesto mayonnaise was something out of the world. The dish was quite a nice snack to my liking.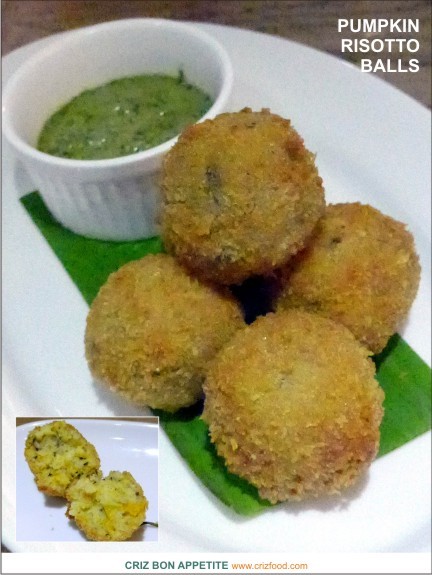 The kitchen had ingeniously created a Malaysian salad with their Roasted Pumpkin, Coconut, Beef Serunding Salad with Papaya (RM26.50) and dressed in spicy lime dressing. It was quite a playful concoction with the usage of the mildly spiced up coconut milk infused beef floss. It would be great too if some cubes of ketupat were to be added in place of the papaya slices as they do go well with any meat serunding (floss).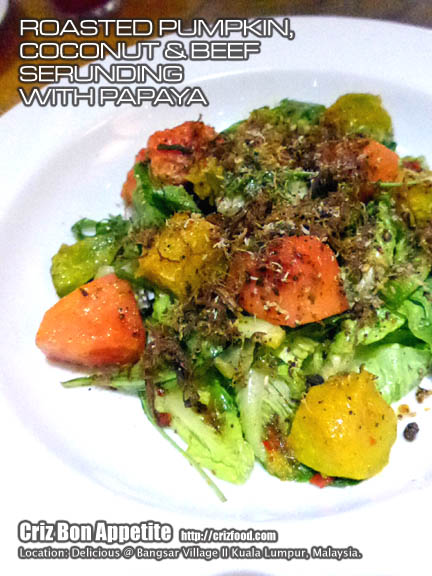 For pasta lovers, you could try out their Carbonara with Seaweed Egg (RM28.00) in parmesan cream with Mushrooms with the option of either beef bacon or shredded chicken. I had the beef bacon version and it was great as there were also some peels of parmesan cheese being added in as garnish.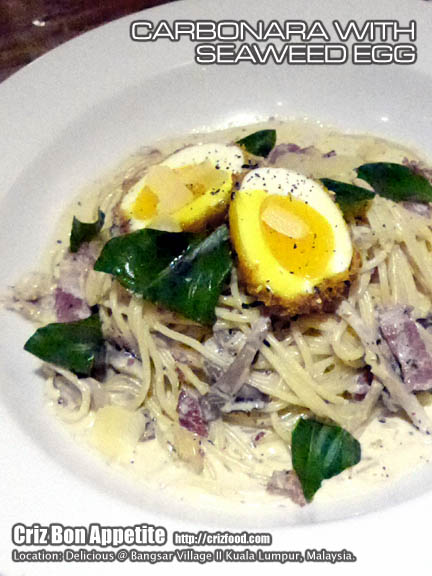 For a healthier bite, you might want to try out their Wild Mushroom Wrap with Cherry Tomatoes, Parmesan Cheese, Cucumber and Pine Nuts (RM26.50). Of course, they would be some French fries to keep you all filled up.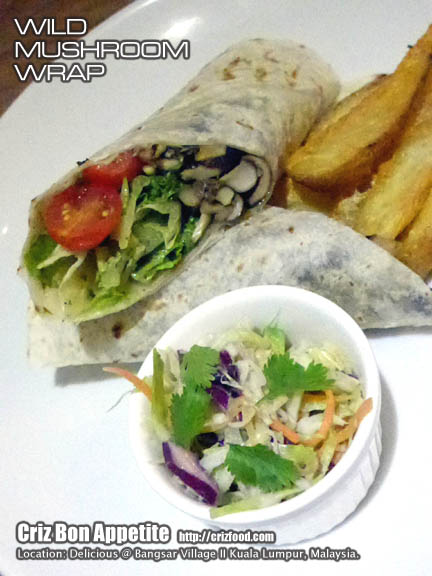 There would be some new and old desserts to end your meal. If you have a big appetite for desserts after your meal, you should try out their Macadamia & Salted Caramel Cheesecake Sundae (RM17.50). The portion was humongous. I would advise you to share out between two persons. They do have Chocolate & Raisons Cheesecake (RM15.00) too. If you feel that you would like to consume your dessert at a slower pace without having the ice cream melting up so fast, just go for their Macadamia & Salted Caramel Cheesecake (RM15.00). It's basically the same thing minus the added ice cream as per the sundae. As for me, I would always love something sour to wash down all the meaty stuff after a hearty meal. I went for their Lemon Meringue Pie (RM15.00).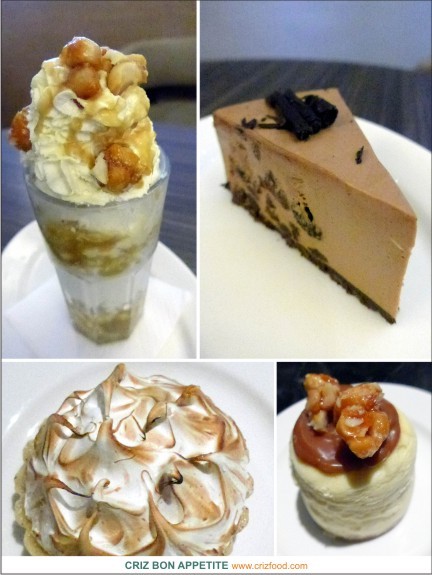 As for beverages, they do have some new drinks too such as the Rose Lychee Frostie (RM12.50) and Apple, Mint & Lemon Frostie (RM13.50). Other than iced or chilled beverages, you could always try out their Hot Latte (RM13.00) or their Ronnefeldt Tea Selections (RM9.00 – English Breakfast, Chamomile, Earl Grey, Peppermint or Jasmine).
In addition to all the new menu items, the eatery had started to roll out a Monday & Tuesday Specials night of "BUY 1 FREE 1" dishes. In December, Asian Mains get the spotlight followed in January with Sandwiches, Burgers & Wraps. Available from 3.00pm every Monday and Tuesday, the guests can choose any two of these dishes and they receive the lower priced item absolutely free. Popular amongst students and young professionals, we hope everyone can enjoy these value added specials in difficult times.
Overall, the chefs had done some great jobs in revamping the menu as I do find some of the new dishes to be rather innovative, healthy and flavorful. I do hope to find other new creations in the near future.
Though Delicious @ Bangsar Village II is located within the ground floor of the complex, it's actually situated at the junction of Jalan Telawi 2 and Jalan Telawi 4, directly opposite the Balai Polis Bangsar or Restoran Devi's. It's not hard to reach there even if you are not locals. You can just key in the GPS via WAZE app or just grab a taxi.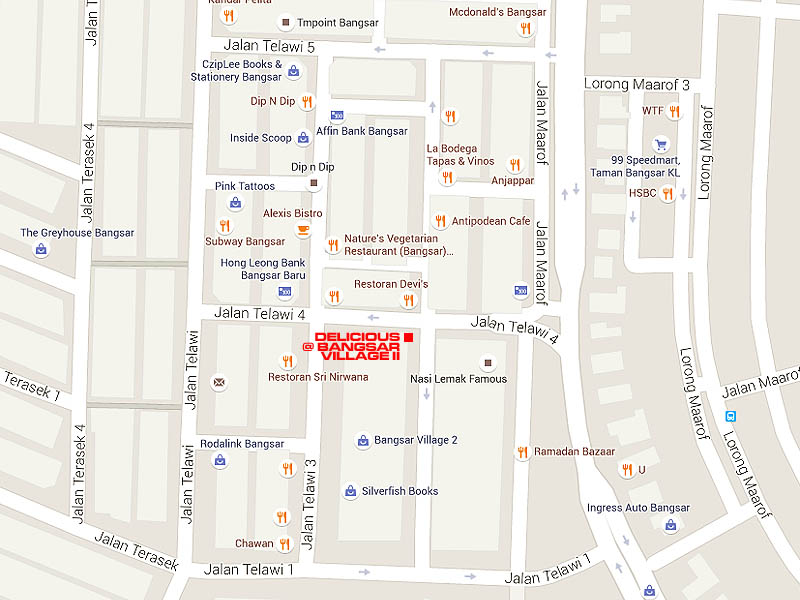 Name: DELICIOUS @ BANGSAR VILLAGE II
Address: Lot GF-1, Ground Floor, Bangsar Village II, 2 Jalan Telawi 1, 59100 Kuala Lumpur, Malaysia.
Contact: +603-2287 1554
Business Hours:
Mon-Wed: 11.00am to 10.30pm (last order 9.45pm)
Thurs-Fri: 11.00am to 11.00pm (last order 10.15pm)
Sat, Sun & PH: 9.00am to 11.00pm (last order 10.30pm)
GPS: 3.131327, 101.671562
RATING:
Ambience: 7.5/10 (1-4 cheap, 5-7 average, 8-10 classy)
Food Choices: 8/10 (1-4 limited, 5-7 average, 8-10 many choices)
Taste: 8/10 (1-4 tasteless, 5-7 average, 8-10 excellent)
Pricing: 7/10 (1-4 cheap, 5-7 average, 8-10 expensive)
Service: 8/10 (1-4 bad, 5-7 average, 8-10 excellent)
About The Delicious Group

: Named after the signature Delicious Cafe, the Delicious Group now consists of nine F&B outlets operating under three separate F&B entities. The six Delicious Cafes are located in prime spots across the Klang Valley (St Mary Place, 1 Utama, Bangsar Village II, Mid Valley, Sunway Pyramid and Setia City Mall), Simplyd (The fast casual café concept has three outlets located in Nu Sentral Mall, The Curve and Avenue K) as well as a strong catering division for all types of events, weddings and parties. The Delicious Group is 100% owned by the Eastern & Oriental Group.