For meat lovers, especially beef and poultry lovers, you are in for a meaty treat this coming October 2012 as Swez Brasserie @ Eastin Hotel, Penang, would be having its German Galore Promotion for the whole month of October 2012 (1-31 October 2012). You can now savor all the delectable spread of German cuisine under the skillful hands of the Jr. Sous Chef, Chef Kelvin Cheong. However, you won't be able to try out any pork related items the Germans are famous for as the restaurant is halal. For MAYBANKARD, VISA, CIMB and UOB card members, you can enjoy 15% discount for the Semi Buffet Dinner (Monday to Thursday) and Weekend Buffet Dinner (Friday to Sunday) from 6.30pm – 10.00pm.
One of the main appetizers of the day would surely be the German Potato Salad (德式馬鈴薯沙拉). This nicely chilled authentic German salad recipe had me digging in for more. It was a simple dish with just a few ingredients and yet the slight creamy and sour flavors in it were truly refreshing and appetizing. Can you imagine a dish with just diced potatoes, diced onions, diced turkey ham, black pepper, vinegar, salt & sugar to taste with a light sprinkles of chopper spring onions can be so fulfilling? Yummy!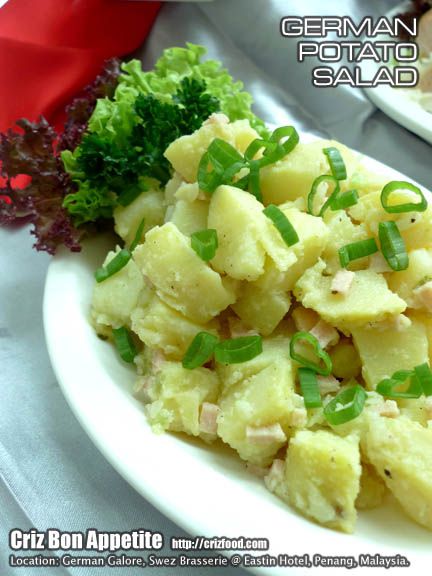 The next appetizer was the German Sauerkraut Salad (德式酸菜沙拉). The sauerkraut which is basically shredded cabbage and sugar under pickling processes through lacto-fermentation, had that slight sourness. When combined with some sliced celery, capsicum, onions and tossed with some sliced bratwurst, it was another great dish to start off prior to a heavy and meaty meal.
As for main, we had an assortment of German Sausages (Bratwurst) and Chicken Schnitzel served on Rotkohl, with Onion Sauce (with diced turkey ham) and Dijon Mustard as condiments.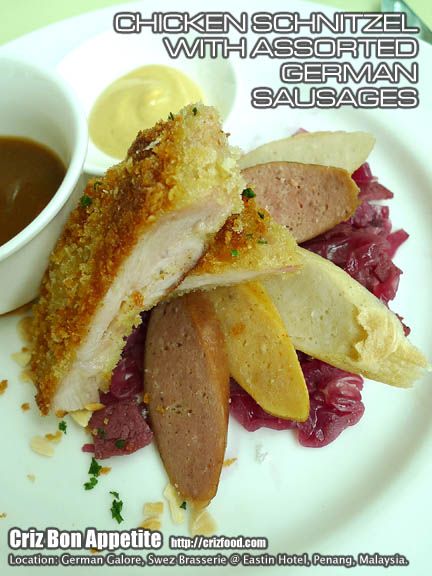 The Germans are the experts in making wurst (sausages) for centuries and they claimed to have created more than a thousand types of wurst throughout Germany, with variants in different regions of course. Their wurst basically falls into 4 categories such as Rohwurst (fresh/raw), Kochwurst (cooked), Buchwurst (boiled/scalded) and Bratwurst (grilled/pan-fried). There are also the schinken (hams) such as the Rohschinken (fresh/raw), Kochschinken (cooked) which would be ideal for topping breads. We managed to try out 5 types of the wurst (chicken & beef) such as the Bratwurst, Foot Long and Weisswurst.
The Chicken Schnitzel (德式雞排) on the other hand was a hit amongst us. The golden breadcrumbs crusted boneless chicken thigh meat had just the right marinates with a mild touch of parmesan cheese, butter, pepper and a light hint of lemon juice. It was perfect with some sprinkles of roasted almond flakes for the extra crunchiness.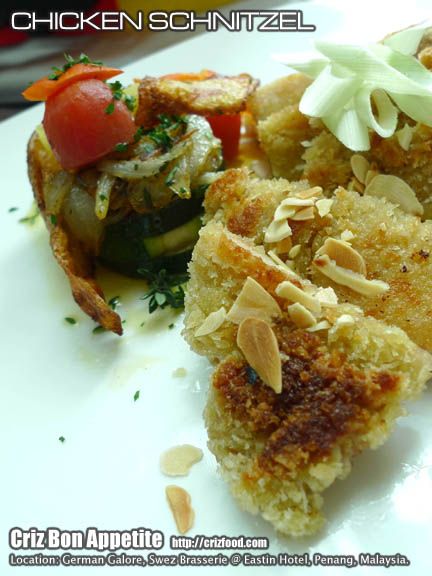 One of the side dishes that came severed with the main dishes was the Rotkohl (Sweet & Sour Red Cabbage), another staple dish in Germany. Compared to the Sauerkraut, this dish had a more distinctive tangy sweetness from some added apple cider and spices such as cloves and cinnamon barks. Some toasted turkey bacons were added in for a mild tad of saltiness. This dish went well with all the meat dishes.
Another of the main dishes served was the Beouf (Beef) Stroganoff on some puff pastry. This is quite a flexible dish as it can be use to top any of the starches such as rice, noodles, pasta, bread and more. The taste of this dish was quite similar to those beef stews except that it was rather mild in spices. Basically, you can taste the natural sweetness from a high usage of onions, mild peppery taste from some mustard and black pepper, earthly taste from some mildly sauteed mushrooms and some creamy and sour flavors from the added sour cream. The only doubt I had was on the origin of the dish. It was to be a Russian dish but got famous throughout the surrounding countries and the Germans also claimed it as theirs. LOL!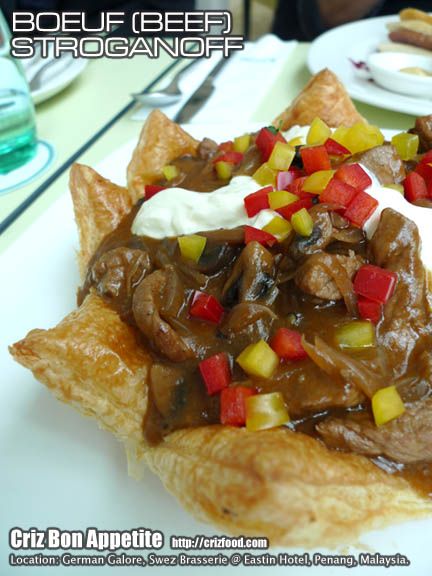 A meal won't be complete if you did not have the national dessert of Germany – the Schwarzwalder Kirschtorte (Black Forest Cake) or simply known as the Black Forest Cherry Torte. Resident Pastry Chef, Chef Franco Ho did a great job here by producing the most amazing slice of cake I had for a long time. The cake was filled with the right sweetness of cream with added juicy black forest cherries. Thumbs up!
Another two desserts that got the Germans munching practically any time of the day was the Berliner (Berlin Donuts) and Pretzels. The Berliners were simply deep fried yeast dough balls with custard, crème or jam fillings. On the other hand, the Southern Germany favorite of Pretzels came plain with some sprinkles of icing sugar. This light snack would be great if dunked into some black coffee, especially those filtered coffee.
Overall, Swez Brasserie had its limitation in serving the German cuisine as pork remains the most popular choice of meat in Germany. Due to the restriction in serving pork related dishes, you would see more of chicken, beef or turkey being used as alternative ingredients. The taste of the dishes might differ significantly from the authentic ones by this substitution of meat choices. I do hope there would also be some German schinken (hams) being served during the actual promotion dates rather than having only German wurst (sausages). For bread, it would be great if they also have some of the famous ones such as those with sourdough and/or Pumpernickel, a deep brown colored steamed, sweet-tasting rye bread. These bread choices would be lovely to go with the meaty dishes such as the Beef Stroganoff or maybe Kartoffelsuppe, a potato and wurst soup. I guessed the kitchen should consider serving some German soup as well for those light eaters. There are many soup options in Germany such as the Gebundene Ochsenschwanzsuppe (German Oxtail Soup), Ueberbackene Zwiebelsuppe (German Onion Soup), Graupensuppe Eintopf (German Barley Soup with Bacon) or even a simple Erbsensuppe (German Pea Soup) to consider.
Here's the summary of the promotion.
GERMAN GALORE PROMOTION (1-31 OCTOBER 2012)
Lunch (12.00 noon – 2.30pm): Monday – Friday
RM48++ (adult), RM24++ (child)
Hi-Tea (12.00 noon – 3.00pm): Saturday, Sunday & Public Holidays
Normal weekend: RM55++ (adult), RM28++ (child)
Festive Occasion: RM68++ (adult), RM34++ (child)
Semi Buffet Dinner (6.30pm – 10.00pm): Monday – Thursday
RM48++ per pax
For MAYBANKARD & VISA card members, you can enjoy 15% discount for Texas Grill Semi Buffet Dinner (Monday to Thursday) and Weekend Buffet Dinner (Friday to Sunday) from 6.30pm – 10.00pm.
The Swez Brasserie is located at the ring wing of Eastin Hotel, Penang (next to Queensbay Mall). If you are coming from Georgetown towards Bayan Lepas Free Trade Zone via Bayan Lepas Expressway, do watch out for the Pulau Jerejak signboard (leading to Pulau Jerejak jetty). Ignore the turning and drive on to the next left junction. Turn left into Jalan Aziz Ibrahim and drive on until you a roundabout. Turn 3 o' clock and drive on until you see a big Eastin Hotel signboard at the first right junction. Turn right and drive on. Park your car at the basement car park. Take a lift to the first floor lobby and you would see the restaurant there.
Name: SWEZ BRASSERIE @ EASTIN HOTEL
Address: 1 Solok Bayan Indah, Queens Bay, 11900 Bayan Lepas, Penang, Malaysia.
Contact: 604-612 1128, 604-612 1138
Business Hours: 12.00pm-2.30pm (Lunch), 6.30pm-10.00pm (Dinner)
GPS: 5.33643, 100.306345
RATING:
Ambience: 8/10 (1-4 cheap, 5-7 average, 8-10 classy)
Food Choices: 8/10 (1-4 limited, 5-7 average, 8-10 many choices)
Taste: 7/10 (1-4 tasteless, 5-7 average, 8-10 excellent)
Pricing: 8/10 (1-4 cheap, 5-7 average, 8-10 expensive)
Service: 8/10 (1-4 bad, 5-7 average, 8-10 excellent)